Transport w Gambii nie jest zbyt rozbudowany, z drugiej strony jest to tak mały kraj, że w miarę sprawnie dotrzemy wszędzie. Jak?

Patrząc na mapę Gambii naturalnym wydaje się, że najlepszym sposobem przemieszczania się jest transport po rzece Gambii, która przecina cały kraj ze wschodu na zachód. I tak jest w istocie – po rzece regularnie kursują promy, pirogi, canoe, z których korzystają wszyscy – i miejscowi, i turyści, dla których pewnym szokiem jest to, że na małej i chybotliwej łódce może brakować tak podstawowego sprzętu jak kamizelki ratunkowe czy radio. Główny przystań promowa znajduje się w Bandżul, skąd regularnie odpływają promy do Barra, miasta na przeciwległym brzegu ujścia rzeki Gambia. Podróż trwa około 2-3 godzin i nie chodzi tutaj o odległość, która jest niewielka, a powolność promu.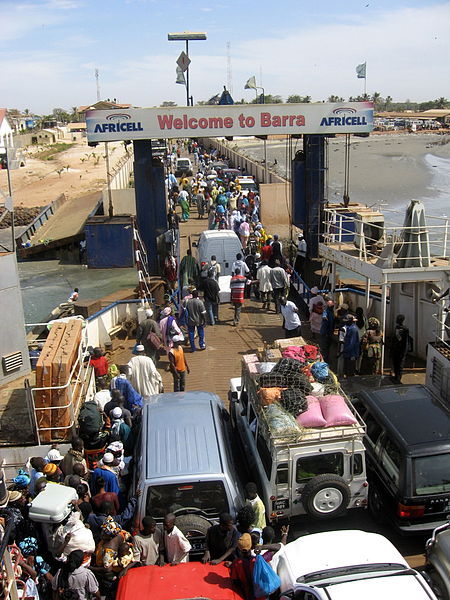 Prom kursujący na trasie Bandżul – Barra


W Bandżul można wynająć pirogę od miejscowych rybaków lub skorzystać z usług agencji, które organizują kilkudniowe wycieczki po rzece połączone ze zwiedzaniem parków narodowych. Opcja warta rozważenia.

Minibusy – potocznie nazywane gelli gelli są bardzo popularnym środkiem przemieszczania się, kursuje na wielu trasach, docierając często nawet do małych miejscowości, koszt przejazdu takim mini vanem nie jest wygórowany. W Gambii nie istnieje pojęcie przystanku, bus zatrzymuje się na życzenie pasażera i odjeżdża dopiero wtedy, gdy jest szczelnie wypełniony. Stan dróg w Gambii nie jest najlepszy, sygnalizacja świetlna – mocno ograniczona, a przejścia dla pieszych to ewenement.

Taksówki – w ich przypadku ważny jest kolor. Zielona taksówka jest zarezerwowana dla turystów i oczywiście droższa. Żółtymi taksówkami, znacznie tańszymi, przemieszczają się miejscowi, przy czym w turystycznych enklawach taksówki "dla lokalsów" nie mogą zabierać turystów, by nie psuć rynku. Wystarczy jednak wyjść kilkaset metrów dalej poza hotelową strefę i możemy bez problemu złapać taksówkę koloru żółtego. Krótki przejazd po mieście z punktu A do B kosztuje 7 GMD (ok. 0,6 PLN).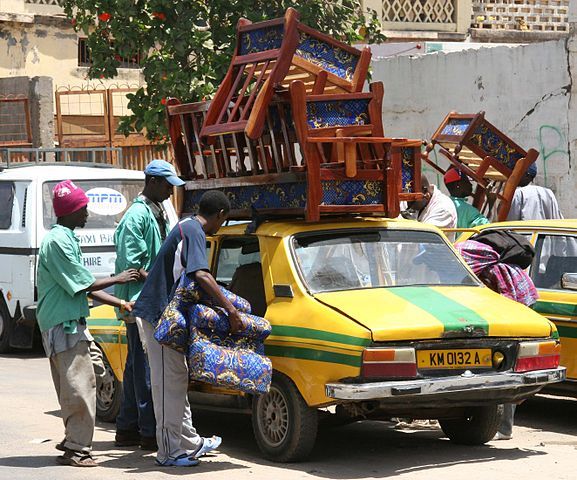 Taksówki mogą pełnić różne funkcje, transport pasażerów jest tylko jedną z wielu. Fot. Ferdinand Reus (CC SA)

Autostop – próbując tego sposobu podróżowania, musimy uważać na gesty, jakich używamy, chcąc zatrzymać samochód. Wyciągnięty kciuk w Gambii nie oznacza tego samego co w Polsce, mało tego, jest gestem obscenicznym, dlatego lepiej machać ręką. Autostop jest możliwy, zwłaszcza w zachodnich regionach kraju, gdzie miejscowi przemieszczają się w ten sposób na niewielkich dystansach.

Pociąg – w Gambii nie ma linii kolejowej, ale ten brak skutecznie uzupełniają gelli gelli, taksówki i łodzie.

Wynajem samochodu – w Gambii znajduje się kilka firm oferujących wynajem samochodu: AB Gambia Car Rental, Avis i Hertz zlokalizowany na lotnisku w Bandżul. Ceny zaczynają się od 1000 GMD za dzień. Konieczne jest posiadanie międzynarodowego prawa jazdy. W Gambii, mimo że to była angielska kolonia, obowiązuje ruch prawostronny.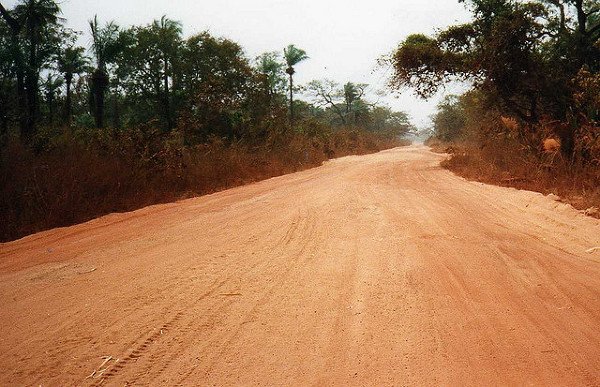 Gambijskie drogi i bezdroża. Fot. wallygrom (CC SA)