James Island to wyspa na rzece Gambii w jej zachodniej części, ok. 50 km od Bandżul. Wyspa jest niewielka – ma zaledwie 200 metrów długości, ale istotna dla Gambii z punktu widzenia kulturowego, o czym świadczy wpis na listę światowego i kulturowego dziedzictwa UNESCO (na liście znajdują się dwa gambijskie obiekty – James Island i kamienne kręgi Wassu).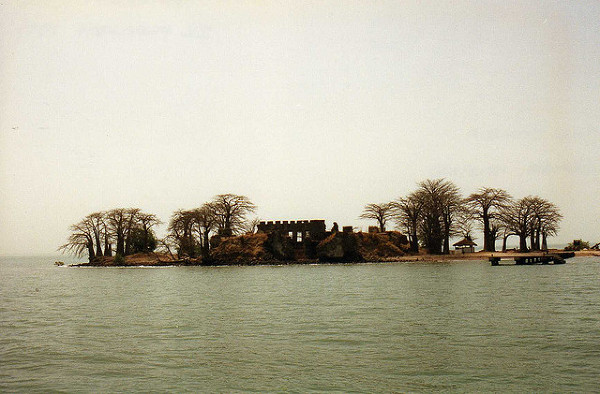 James Island. Fot. wallygrom (CC SA/Flickr.com)


Wyspa została odkryta w XVI wieku przez Portugalczyków, jej kolejnymi "rezydentami" byli Kurlandczycy, którzy wznieśli tutaj fort i posterunek handlowy. Nowi właściciele nadali budowli nazwę Fort Jakob, przy czym Kurlandczycy nie zagrzali długo miejsca na wyspie, która przechodziła z rąk do rąk. Za panowania Brytyjczyków James Island była administrowana przez Royal Adventurers in Africa Company, towarzystwo, które prowadziło na szeroką skalę handel kością słoniową, złotem i niewolnikami. To właśnie stąd w drugiej połowie XVII wieku zabrano Kunta Kinteh i prawie 100 innych niewolników, którzy chybotliwym statkiem popłynęli do Annapolis w stanie Maryland w Stanach Zjednoczonych. Kunta Kinteh stał się bohaterem książki "Korzenie" Alexa Haleya, na podstawie której nakręcono słynny serial, emitowany również w Polsce w latach 80. Swoją drogą, wyspa została niedawno przemianowana na Kunta Kinteh Island. Ważna informacja – wyspa może już za kilkadziesiąt lat przestać istnieć, a to za sprawą ciągle podnoszącego się poziomu wody. Ponadto fale oceanu stale podmywają fundamenty fortu, które zaczynają się wykruszać. Być może to już ostatnie momenty, kiedy można obserwować fort i wspominać historię Gambii, dodajmy, że historię niezbyt optymistyczną.

Jak dotrzeć na James Island? Najlepiej skorzystać z promu Bandżul-Barra, w Barra wynająć taksówkę do Juffareh, a stamtąd wynajętą pirogą podpłynąć na wyspę, co zajmuje około pół godziny.