Janjanbureh to drugie pod względem wielkości miasto w Gambii znane także pod nazwą funkcjonującą za panowania Brytyjczyków – Georgetown, położone na wschodzie kraju, 300 km do Bandżul.

Janjanbureh leży na wyspie o tej samej nazwie, która oficjalnie funkcjonuje od kilkunastu lat. Wcześniejsza nazwa wyspy to MacCarthy Island, zresztą z przyzwyczajenia wielu Gambijczyków używa tej nomenklatury także dziś.

Historia Janjanbureh jest nierozerwalnie związana z historią niewolnictwa w Gambii. To tutaj znajdowało się największe więzienie dla niewolników, zaś na początku XIX wieku przybyli do miasta pierwsi chrześcijańscy misjonarze – z tych czasów pochodzi szkoła i kościół, najstarsze tego typu placówki w całej Gambii.

Co Janjanbureh oferuje turystom? Miasto, a zwłaszcza jego okolice są coraz bardziej znanym ekoturystycznym kierunkiem, gdzie amatorzy wędkowania, podglądania dzikich zwierząt z hipopotamami i krokodylami na czele oraz obserwatorzy ptaków poczują się jak w raju. Wszystko to za sprawą niezwykłej bioróżnorodności, którą można obserwować na kilka sposobów. Jeden z nich to pobyt Bird Safari Camp, przystosowanym dla turystów kompleksie, gdzie można wykupić wycieczkę i popłynąć w rejs po rzece połączony z wędkowaniem lub podglądaniem ptaków. Inną opcją jest kilkugodzinna wycieczka do Kunkilling Forest Park na południowym brzegu Gambii lub do rezerwatu Bao Bolon (lub jak kto woli Baobolong), największy rezerwat w kraju i jednocześnie największe siedlisko ptaków. Najlepszym sposobem eksplorowania Bao Bolon jest wynajęcie łodzi. Szczęśliwcy wracają z wycieczki chwaląc się, że widzieli manata, krokodyla nilowego, hipopotama, wydrę czy gdzieś z daleka – antylopę.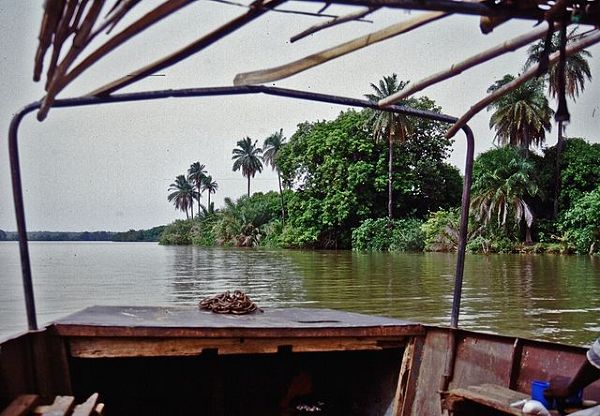 Rejs po Gambii w okolicach Janjanbureh. Fot. Atamari (CC SA/Wikimedia Commons)