Niewielka, ale zjawiskowa oaza położona około 40 km od Ataru. To dobre miejsce na jednodniowy wypoczynek i chwile odetchnienia od wszechobecnego pustynnego krajobrazu. Spomiędzy niewielkich skupisk palm daktylowych wytryskują gorące i zimne źródła, w których można sobie do woli hasać i kontemplować rześką wodę w kraju, gdzie bywa ona luksusem (nawiasem mówiąc, w Mauretanii jest tylko jedna rzeka stała – Senegal, reszta to rzeki okresowe pojawiające się tylko w porze deszczów).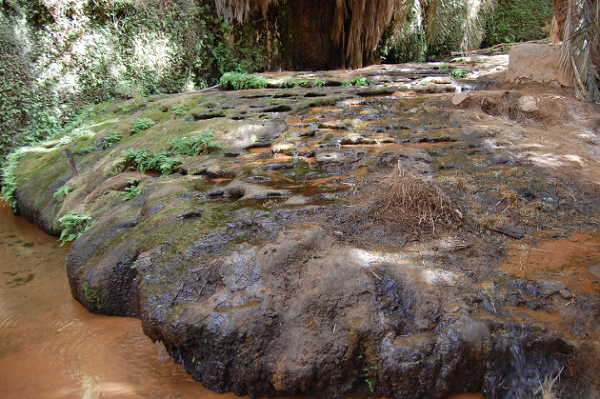 Źródła w Terjit. Fot. Ewa Pluta


Przejście całej oazy zajmuje maksymalnie pół godziny, ale warto pokusić się o eksplorację pobliskich, niewysokich co prawda, gór. Z ich wierzchołków roztacza się panorama doliny, w której znajduje się wioska Terjit, niewielka, ale spokojna i malownicza. Turyści zaglądają do niej raczej przejazdem, oaza leży na uboczu, trzeba zjechać z głównej drogi prowadzącej do Nawakszut, jeśli nie mamy własnego transportu, musimy go szukać w Atarze, ruch w drugą stronę jest niewielki, stąd konieczność albo łapania stopa, albo wynajęcia taksówki. Warto jednak rozważyć pozostanie tam na noc. W Terjit bez problemu znajdziemy nocleg w auberges lub tikits (czyli w namiocie) w przystępnej cenie (ok. 4-5 euro za osobę), następnego dnia rano można wybrać się do Nawakszutu lub do Ataru i Chinguetti.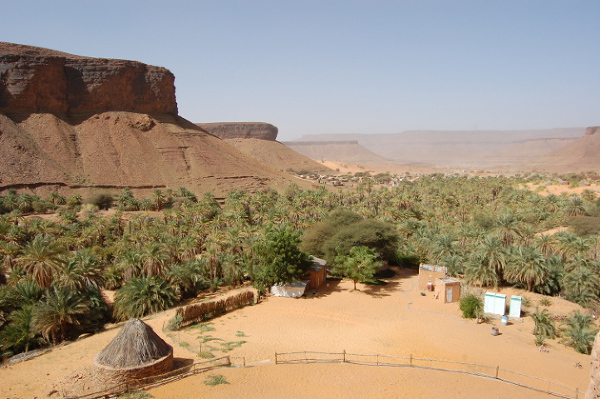 Oaza Terjit, widok ze skał otaczających źródła. Fot. Ewa Pluta