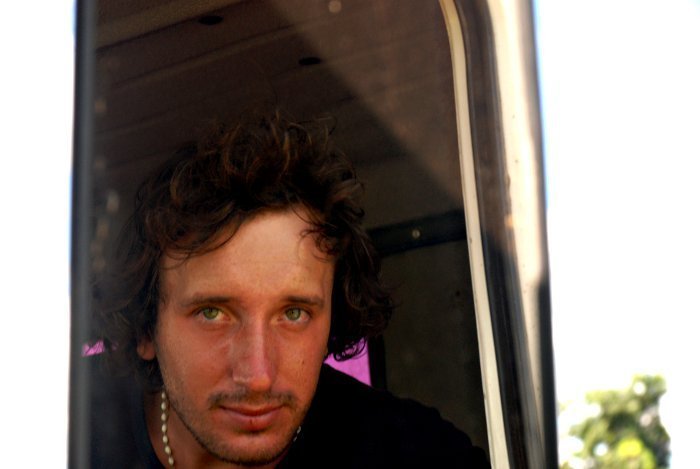 – Twoja podróż po Ameryce Łacińskiej trwała 7 miesięcy. Jakich przygotowań wymaga tak długa wyprawa?
– Szczerze mówiąc, w ogóle się nie przygotowywałem. Wystarczyło, że kupiłem namiot, plecak i bilet lotniczy. W zasadzie to nie miałem żadnego planu. Wsiadając do samolotu, wiedziałem tylko tyle, że chcę dotrzeć do Patagonii, a przy tym zobaczyć i przeżyć jak najwięcej. Ale jeśli uznać, że przygotowywaniem się do wyprawy jest zarabianie na nią, to zajęło mi to 6 miesięcy.
– Miałeś już na koncie wcześniejsze wyjazdy?
– Tak, wyjeżdżałem dosyć często, w zasadzie kiedy tylko miałem okazję. Na Wielkanoc 2007 roku pojechałem stopem do Izraela, Boże Narodzenie tego samego roku spędziłem na Azorach, a potem z Lizbony stopem wróciłem do Polski. Stany Zjednoczone zjeździłem w zasadzie wzdłuż i wszerz, przy okazji wyjazdów na Work & Travel. Wiedziałem więc, czego się spodziewać i jak żyć tanio.

– Z jakimi kosztami musi liczyć się osoba, która chce jechać do Ameryki Łacińskiej, zostać tam ponad pół roku, ale dysponuje raczej niskim budżetem?
– To oczywiście zależy od tego, jakie kraje chce odwiedzić. Ameryka Łacińska jest bardzo zróżnicowana, także ekonomicznie, a więc można się spodziewać sporych różnic w cenach. Meksyk i Kolumbia są tanie, natomiast podróżowanie po innych krajach Ameryki Centralnej, po Gwatemali czy Hondurasie jest już znacznie droższe, co trochę dziwi. Nie zakładałem, że będę 7 miesięcy i tylko 7 miesięcy. Chciałem zostać jak najdłużej i niezależnie od tego, ile zajęłaby podróż na południe Ameryki Południowej, tyle chciałem tam być. W trakcie całej podróży wydałem 2,5 tysiąca funtów, czyli ok. 11 tysięcy zł.
– Przed wyjazdem na pewno miałeś wyobrażenia o krajach, które zamierzasz odwiedzić. Jak wyglądała ich konfrontacja z tamtejszą rzeczywistością? Coś Cię szczególnie zaskoczyło?
– Moje wyobrażenia o Ameryce Łacińskiej, przynajmniej pod kątem podróżowania autostopem, w znacznej mierze ukształtowała książka Kingi Choszcz i Chopina "Prowadził nas los". Oni też sporo czasu spędzili w Ameryce Centralnej i Południowej. Od tego czasu niewiele się zmieniło. Opisy z ich książki zgadzały się z tym, co zastałem. Ludzie byli mili i gościnni, a jeżdżenie autostopem łatwe.
– Pojechałeś sam. Dlaczego?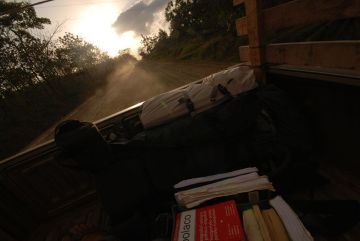 fot. Łukasz Siwiec
– Według mnie jest to jedyny sposób, w jaki można podróżować naprawdę. Podróżowanie z kimś, zawsze w ten czy inny sposób ogranicza. Trzeba liczyć się ze swoimi kompanami, konsultować decyzje i wydatki, iść na kompromisy, a za tymi nie przepadam. Po za tym, cierpi na tym kontakt z ludźmi, których spotka się w drodze, a ci są dla mnie najważniejsi, to dzięki nim, w znacznej mierze, podróżujemy. Nie wszystkim osobom starcza śmiałości, by podejść do dwóch osób, a do jednej już tak. Poza tym łatwiej podróżować autostopem.
– Ale jest też mniej bezpieczne. Poza tym cały czas jest też zdany tylko na siebie…
– Co kształtuje charakter i uczy radzenia sobie w trudnych sytuacjach.
– Czy w trakcie Twojej podróży zdarzyły się jakieś niebezpieczne sytuacje?
Tak, kilka razy. Częściej niżbym chciał. W północnym Meksyku próbowano mnie okraść dwukrotnie. Raz facet z nożem wszedł za mną do obskurnego motelu, gdzie wynajmowałem pokoik i zażądał 200 pesos. Drugi raz, kierowca pickupa i jego kompan, którzy mnie podwozili, chcieli zwiać z moim plecakiem na pace. Wynikła z tego istna tragikomedia, ale ostatecznie, na szczęście, nie udało im się. Dzień wcześniej zostałem zatrzymany przez amerykańską straż graniczną na przejściu w Tijuanie za to, że przekroczyłem żółtą linię. Zrewidowano mnie, przesłuchano i zatrzymano na jakieś 4 godziny.
Ogólnie rzecz biorąc, miasta Ameryki Łacińskiej nie należą do najbezpieczniejszych. Jeżeli ktoś wybiera się np. do Maracaibo, drugiego co do wielkości miasta Wenezueli, to musi się liczyć z tym, że przez większość pobytu będzie się czuł niepewnie i nieswojo, tak jakby był cały czas obserwowany.
Niezapomniane wrażenie wywarła na mnie Managua (stolica Nikaragui – przyp. red.). Pod względem bezpieczeństwa to chyba najgorsze miasto, jakie można sobie wyobrazić. Centrum to w zasadzie dzielnica duchów, pełna opuszczonych budynków, z pustą katedrą, którą kilkadziesiąt lat temu zniszczyło trzęsienie ziemi i od tamtej pory nikt się nią nie zajmował. Stolica rozgrzana przez słońce i wypełniona jaskrawym światłem. W środku dnia na ulicach nie było prawie nikogo, każda napotkana osoba natomiast, mówiła mi, żebym na siebie uważał, bo jest tu bardzo niebezpiecznie i owszem, było.

– Jak najlepiej zachować się w takiej sytuacji? Patrząc na tę sytuację z perspektywy czasu, co poradziłbyś innym?
Jeżeli chodzi o sytuację z kierowcą, który próbował mnie okraść, to uważam, że zachowałem się bardzo nierozważnie. Ten facet od początku zachowywał się dziwnie, a po za tym już sam jego wygląd powinien dać mi do myślenia. Byłem po prostu zbyt ufny, przekonany, że wszyscy chcą mi pomóc. Poradzić mogę tylko jedno, żeby zawsze być w pogotowiu i owszem ufać, ale nie bezmyślnie, jeżeli ktoś, kto nie wzbudza naszego zaufania, oferuje, że nas podrzuci, może lepiej zaczekać na kogoś innego.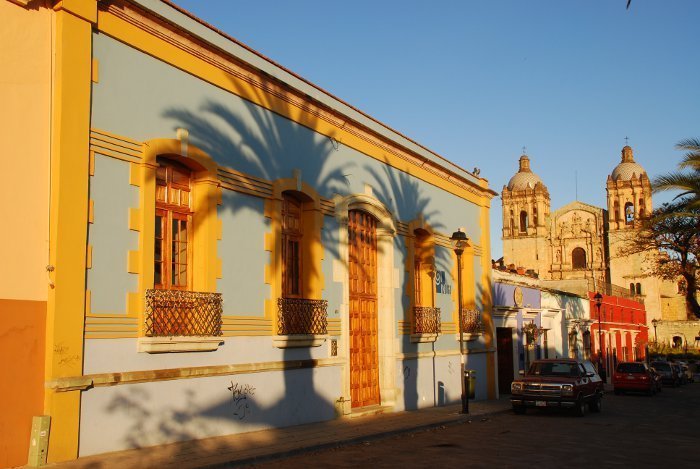 Kościół św. Dominika Guzmana w Oaxaca. Fot. Łukasz Siwiec
Gdzie spałeś?
– To akurat wyglądało bardzo różnie. Pierwsze 10 dni spędziłem w małym hoteliku w Mexico City, częściej jednak rozbijałem namiot na polu namiotowym albo "na dziko". Równie często zdarzało się, że ktoś, spotkany zupełnie przypadkowo, zapraszał mnie do siebie do domu. Takie miłe historie przydarzały mi się, gdy byłem poza turystycznymi centrami, w miasteczkach bądź na wsiach. Poza tym korzystałem z Couchsurfingu, który w Ameryce Łacińskiej funkcjonuje świetnie.

– Czy w trakcie wyjazdu nie pojawiła się pokusa, żeby zostać dłużej niż 7 miesięcy, może znaleźć pracę, zapuścić korzenie w Ameryce Łacińskiej?

– Ja nie miałem takich pokus. Ja po prostu chciałem zostać dłużej. Nie mogłem, bo nie miałem wystarczających funduszy. Chociaż raz dostałem propozycję pracy, od kierowcy ciężarówki, który zabrał mnie "na stopa". Miałem z nim jeździć i pracować przy załadunku i rozładunku. Szybko jednak zrezygnowałem z tego pomysłu: skończyłaby mi się już wiza, znowu nie miałbym żadnego zakorzenienia, poza tym zarabia się mało, bardzo mało.
– Jak widziałbyś siebie za 10 lat?
– Nie lubię wybiegać w przyszłość aż tak daleko. Mam nadzieję, że skończę studia – kulturoznawstwo i filozofię. Oczywiście chciałbym dalej podróżować, ale nie wiem, na ile to marzenie wytrzyma zderzenie z rzeczywistością. Rzecz w tym, że nie jestem pewien, czy dalej będę chciał i mógł podróżować w ten sam sposób. Ten wyjazd wymagał wielu wyrzeczeń, najpierw spędziłem pół roku, pracując w Londynie, potem wyjechałem na 7 miesięcy do Ameryki Łacińskiej. Nie jestem pewien, czy znowu zrobiłbym to samo: rzucił wszystko, pojechał zarabiać i znowu wybrał się na tak długi wyjazd.
– Czym dla Ciebie jest podróż?
– Podróż to doświadczenie, w którym dzięki zmianie miejsca, wchodzimy w bliski kontakt z innym krajem, co w efekcie prowadzi do zmiany perspektywy, poszerzenia naszej wiedzy na temat świata, samych siebie i horyzontów myślowych. To raczej idealistyczna definicja. Wielu, którzy uważają się za podróżników, zgodnie z nią, podróżnikami nie są. Podróż, w którą się wybrałem była czymś więcej, głównie z racji tego, że – co dziś już bardzo rzadkie – trwała tak długo. Była stylem życia i pewnym wyjątkowym stanem umysłu, świadomością braku zakorzenienia.