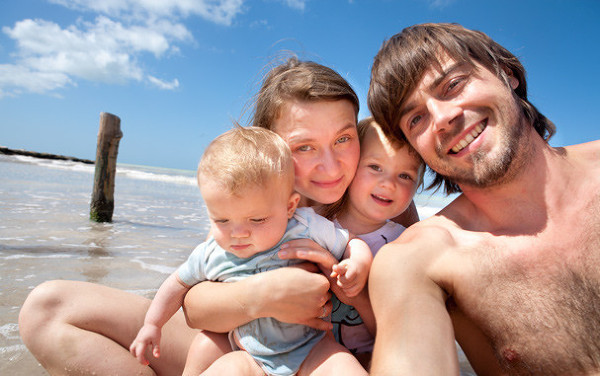 Rodzina Alboth w komplecie. Fot. Thomas Alboth/http://thefamilywithoutborders.com/
Gdzie można najczęściej spotkać rodzinę Alboth? W drodze. Dwa lata temu razem z kilkumiesięczną Hanią wyruszyli w półroczną podróż dookoła Morza Czarnego. Teraz jadą znowu, tym razem do Ameryki Południowej, na pół roku i w powiększonym składzie.
Ewa Pluta: To wywiad niemalże na gorąco. Za kilka dni ruszacie w kolejną podróż, tym razem do Ameryki Centralnej, mało tego, w powiększonym składzie, bo w międzyczasie na świat przyszła Mila. Jak wyglądają przygotowania do tej wyprawy? Kiedy je rozpoczęliście?
Anna Sulewska-Alboth: Tym razem przygotowania rozpoczęliśmy wcześniej. Przy poprzedniej podróży na 3 miesiące przed startem zdecydowaliśmy, na tydzień przed wyjazdem zaczęliśmy zakupy, a spakowaliśmy się w kilka godzin. Ale teraz wyruszamy dalej, samolotem, no i z dwójką dzieci. Od początku 2011 roku wiedzieliśmy, że pojedziemy, czytaliśmy, sprawdzaliśmy. Długie listy "do zrobienia" wisiały na ścianie i tylko tydzień po tygodniu wykreślaliśmy kolejne punkty.
– Czy macie podział obowiązków: Ty przygotowujesz trasę, Twój mąż – strategię spakowania bagaży lub na odwrót?
– Podział wyszedł sam z siebie, w praniu. Każde robi to, co umie lepiej i lubi bardziej. Czyli: ja piszę (bo jestem dziennikarką), Tom robi zdjęcia (oczywiście z wyjątkami), Tom ogarnia sprawy samochodowe (bo ja nie mam pojęcia), ja wszystkie kontakty (bo mam i lubię), Tom sprawdza loty, ubezpieczenia, pozwolenia (bo po niemiecku), ja czytam i planuję trasę (a potem mu streszczam). No i tak, ja pakuję (bo jestem w tym dużo lepsza:), a Tom zajmuje się blogiem (bo na co dzień ma agencję internetową).
– Na blogu piszecie, skąd wziął się pomysł na podróż dookoła Morza Czarnego: zainteresowanie akurat tymi krajami, język, przyjaciele, do których zawsze po drodze można było zawitać. A jak jest w tym przypadku?
– Zainteresowanie regionem – to po pierwsze. Od zawsze chcieliśmy jechać do Ameryki Łacińskiej, ale przy pierwszej podróży trochę się baliśmy – tak daleko, na tak długo. Teraz już się nie boimy! Najpierw myśleliśmy o Ameryce Południowej, ale przy pierwszej podróży bardzo podobało nam się przekraczanie granic i posmakowanie wielu krajów, a w Ameryce Południowej można by jechać pół roku przez jedną Brazylię. Ameryka Środkowa pod tym względem jest idealna: niedaleko siebie 8 innych krajów. Hiszpański też trochę znamy, więc powinno być dobrze. A co do przyjaciół – tym razem na naszej drodze jest ich mniej, ale po pierwsze, mamy przyjaciół naszych przyjaciół do odwiedzenia, a po drugie, wiemy też teraz, jak łatwo zdobywa się nowych, szczególnie z dwiema słodkimi dziewczynkami.
– Jesteście już rozpoznawalną rodziną, zwłaszcza w podróżniczo-turystycznych kręgach. Czy łatwiej Wam teraz zorganizować wyjazd, np. pozyskać sponsorów?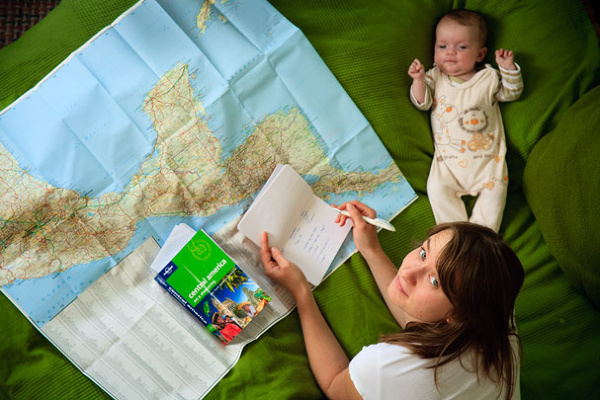 Praca wre – przygotowania do nowej podróży
fot. Thomas Alboth/thefamilywithoutborders
– Tak :) Z dwóch powodów: po pierwsze – po podróży wokół Morza Czarnego mamy mnóstwo zdjęć i tekstów, które mogą posłużyć za przykład. A po drugie – mamy statystyki bloga, które nas samych każdego dnia zaskakują. Zaczęliśmy od pisania dla rodziny i znajomych (żeby widzieli, że Hania żyje i jest zdrowa), a tu czytają nas świeżo upieczeni rodzice, młodzi, którzy boją się być rodzicami, i wszyscy inni, w 144 krajach świata.

– Kiedy usłyszałam, że ruszacie w półroczną podróż z kilkumiesięczną córką, z trasą wiodącą przez kraje, które w powszechnym mniemaniu nie zawsze bywają miłe i przyjemne (m.in. Mołdawia, Azerbejdżan, Gruzja, Górski Karabach), byłam zaskoczona. Minęło kilka miesięcy, a na Waszym blogu czytam informację: "8 krajów, 6 miesięcy, dwoje dzieci. Z Meksyku do Panamy" i jestem podwójnie mile zaskoczona. Jak reagują ludzie na Wasze podróżnicze projekty? Bywa, że spotykacie się też z krytyką?
– Otwarcie jeszcze się nie zdarzyło. Ale na pewno są tacy, którzy myślą inaczej. Ci, którzy się z nami spotykają, piszą do nas czy przychodzą na pokazy zdjęć to ludzie, którym pomysł się podoba. Dostajemy bardzo dużo e-maili od młodych, podróżujących, którzy boją się, że przy dzieciach życie się skończy. Piszą, że cieszą się, widząc taki przykład. A my się cieszymy, jeśli ktoś choć trochę dzięki nam zdecyduje się na taki styl życia. Bo te pół roku w drodze z Hanią to było najpiękniejsze pół roku naszego życia.
– Często zdarzały Wam się sytuacje, że obecność dziecka rozładowywała napiętą sytuację, otwierała drzwi, zjednywała sympatię ludzi?
– Bez przerwy. Z małą, wesołą dziewczynką, a tym bardziej blondyneczką na Kaukazie, wszystkie drzwi były dla nas otwarte. Zaprosili nas do siebie na herbatę i ciasto nawet Osetyńczycy w obozie dla uchodźców w Gruzji, z którymi nie bardzo mogliśmy rozmawiać. Ale to jest właśnie czar dziecka – można po prostu usiąść razem i wspólnie bawić się z Hanią. Pasterze przynosili mleko, kobiety częstowały owocami. A że Hania nikogo się nie bała, dobrze czuła na każdych rękach – to było jeszcze milej. Nie mówiąc już o praktycznych sytuacjach, w których nam się Hania przydała, np. podczas dyskusji z rosyjską policją (która zatrzymywała nas co pół godziny, próbując wyłudzać łapówki) albo podczas przekraczania granic, kiedy oficjele otwierali dyplomatyczne bramki, żeby nas szybciej odprawić. Inaczej ludzie patrzą na parę dziennikarzy z aparatami, a inaczej na rodzinę. Zabieramy swój największy skarb do nich, do ich wioski, ufamy im na tyle – więc oni chcą pokazać, że doceniają i że będzie miło i bezpiecznie.
– Gdyby pokusić się o ogólne podsumowanie: dzieci pomagają czy przeszkadzają w podróżowaniu?
– Przeszkadzają wieczorami: bo nigdzie się nie można ruszyć (nie ma dziadków czy przyjaciół, którzy zostaną z nimi). I "przeszkadzają" w chwilach, kiedy na skróty przejechałoby się przez Czeczenię, albo konno parę dni przez góry, ale ze względów bezpieczeństwa (dziecka) się tego nie robi. Poza tym – tylko pomagają, zwalniają pozytywnie, urozmaicają.
– Nie biegaj, bo się spocisz! Nie dotykaj, bo kopnie cię prąd! Nie wierć się, siedź spokojnie! Itd., itp. Takich haseł nie przeczyta się na waszym blogu, ale usłyszeć je np. na ulicy można już bardzo często. Dlaczego?

– Hmmm, no czasem też czegoś zabraniamy:). Ale tylko wtedy, kiedy Hania robi coś, co może zagrażać jej bezpieczeństwu. Ale wtedy też wyjaśniamy dokładnie (w dwóch językach) dlaczego. Poza tym wyznajemy zasadę, że dziecko może być albo czyste, albo szczęśliwe:). No i przecież ona by się zanudziła, jakby nie biegała, nie dotykała i siedziała spokojnie. Zupełnie jak i my.

– Wasza starsza córka, Hania jest już doświadczoną podróżniczką:) Czy widzicie, że wojaże miały wpływ na jej rozwój?
– Jest otwarta i w ogóle nie boi się nowych: miejsc, sytuacji, ludzi, zwierząt. Próbuje się dogadywać w różnych językach, jak ktoś nie rozumie, co mówi, powiedzmy po polsku, to próbuje po niemiecku i po angielsku (ja i Tom rozmawiamy po angielsku, więc ona też angielski rozumie). Ale to chyba za dużo mówić, że to dzięki podróżom. Dzięki podróżom ma na pewno szczęśliwych rodziców, a to chyba też ważne:). No i pierwszy rok życia spędziła z nami obojgiem, 24/7, myślę, że mamy fajny układ plus (głównie oczywiście dzięki zdjęciom) dużo wspólnych wspomnień.

– Jak wyobrażacie sobie rodzinę Alboth za kilka lat?
– Chcemy oczywiście jeździć dalej, ale tak na dużej to tylko do momentu, w którym dziewczynki pójdą do szkoły. Rówieśnicy, nauczyciele, społeczne życie w szkole – to wszystko jest ogromną wartością i chyba nie mamy prawa im tego zabierać. Wtedy będziemy musieli znaleźć jakiś inny system. Ale to jeszcze odległa przyszłość, na dziś nie wiemy nawet czy z Meksyku pojedziemy najpierw do Gwatemali czy do Belize, co tu mówić o innych planach!
Trzymamy kciuki za podróż!!! Cały czas i bardzo mocno