E.S.: Pierwsza podróż do Azji?
Indie. Nie miałem problemu z wytypowaniem kraju, gdzie chce pojechać. Miało być ciekawie i tak egzotycznie jak tylko można. Miało być tak, jakby to był pierwszy i ostatni wyjazd. Był rok 2001, więc organizacja była bardziej skomplikowana niż obecnie. Początki Internetu, nie tak dużo relacji i osób, które podzielą się swoim doświadczeniem. Bazowało się na programach tv, spotkaniach z podróżnikami i na książkach. Oczywiście nie zawiodłem się i wracałem jeszcze do Indii dwukrotnie. Na pewno jeszcze tam wrócę... Wiele osób twierdzi, że Indie albo się pokocha, albo znienawidzi...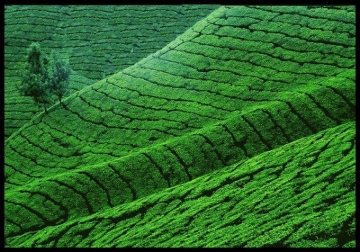 fot. Krzysztof Synowiec
Do Indii wyjechał Pan już z profesjonalnym sprzętem fotograficznym, żeby utrwalać chwile czy po prostu poznać tę niezwykle egzotyczną obyczajowość?
Oczywiście miałem ze sobą aparat, chciałem mieć pamiątki z podróży, ale fotografowanie nie było głównym celem. Tak jest do teraz… Używam tego samego aparatu i tych samych slajdów. Tylko obiektywy się zmieniły. Za dowód może posłużyć fakt, że na wyjeździe 4-7 tygodniowym robię około 5-8 rolek 36-klatkowych. W dobie aparatów cyfrowych to chyba niewiele. Jednak wiem, że jest wiele sytuacji, które zapamiętuje się na długo, ale których nie można sfotografować.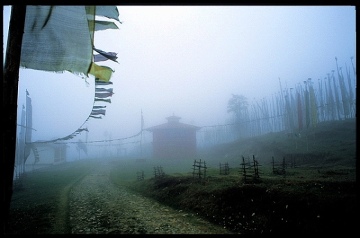 Gompa we mgle. Wokół flagi modlitewne, INDIE
fot. Krzysztof Synowiec
Skąd wzięła się miłość do Azji?
To nie jest tylko miłość do Azji, to fascynacja podróżami. Od dziecka lubiłem czytać. Książki podróżnicze rozwijały moją wyobraźnię i pobudzały do marzeń o podróżach. Chciałem przekonać się osobiście, czy gdzieś tam daleko, faktycznie jest tak niesamowicie jak w książkach i w programach telewizyjnych...
Później ta fascynacja pogłębiała się, bo trudno nie wracać do miejsc, w których prawie każdy napotkany człowiek uśmiecha się do nas, chce pomóc, zaprasza do swojego domu… Wszystko jest inne, począwszy od zapachów, jedzenia, poprzez architekturę, zwyczaje i przyrodę.
Podróże to w końcu jakaś forma nałogu i najwspanialsza forma spędzania czasu. To także sposób na życie.
Najprzyjemniejszy sposób zdobywania wiedzy...
Tak!
Wróćmy do tematu organizacji wypraw. Jak wygląda to w Pana przypadku?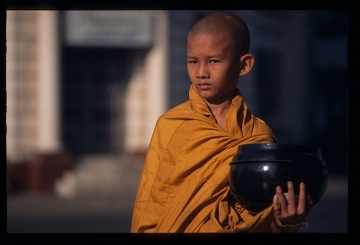 Śramanera - buddyjski mnich nowicjusz, BIRMA
fot. Krzysztof Synowiec
W obecnych czasach organizacja wyjazdu jest banalnie prosta. Problem to brak czasu, rzadziej pieniędzy. W moim przypadku wygląda to tak. Przeglądam zdjęcia, czytam relacje i typuję miejsca, które chciałbym zobaczyć. Ustalam prowizoryczny plan i sprawdzam komunikację pomiędzy wytypowanymi miejscami. Następnie szukam taniego połączenia lotniczego, ewentualnie załatwiam wizy, dokupuje potrzebne rzeczy, i już!
Na miejscu plan może ulec zmianie, bo czasami chcemy zostać gdzieś na dłużej, albo odkrywamy fajne miejsca, o których nie wiedzieliśmy...
Jak się przygotować do wyjazdu? Proszę o 4 rady dla tych, którzy chcieliby podróżować po Azji?
Nie lubię nikomu udzielać rad, ale spróbujmy. Wyjedźcie jak najszybciej. Świat bardzo się zmienia i wiele miejsc powoli traci swój wyjątkowy charakter. Nie planujcie zobaczyć zbyt wielu miejsc w zbyt krótkim czasie. Naprawdę lepiej zobaczyć mały fragment danego kraju, pobyć gdzieś przez kilka dni, niż pędzić na złamanie karku… Azja to bardzo różnorodny kontynent. Bardzo często dany region w obrębie jednego kraju różni się pod względem obyczajów, przyrody i architektury. Można to docenić i nieco lepiej poznać tylko wtedy, kiedy przebywam dłużej w jednym miejscu. Poza tym odległości są bardzo duże a transport często bardzo wolny.
Nie bójcie się otworzyć na inną kulturę. Obserwacja miejscowych zachowań i zwyczajów, sposobu życia najbardziej zapada w pamięć. Chyba bardziej niż kolejna świątynia czy plaża... Polecam korzystanie z transportu lokalnego, bo to dobry sposób na obserwacje i zawieranie znajomości.
fot. Krzysztof Synowiec
Przed wyjazdem polecam przeczytać parę relacji osób, które odwiedziły dany kraj, pytać na forach o podróżach a w razie wątpliwości przejrzeć przewodniki.
Moim zdaniem najlepiej gdy liczba uczestników wyprawy nie przekracza 4 osób. W grupie taniej można wynająć pokój w hotelu, transport itd. A poza tym łatwiej jest wtedy nawiązać kontakt z miejscowymi. Nie szalejcie z bagażem. Im plecak lżejszy, tym lepiej.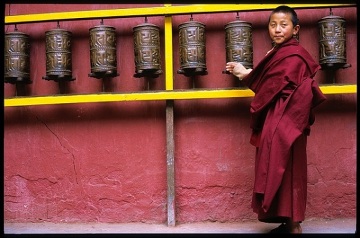 Młody mnich po wyjściu ze świątyni modli się kręcąc tradycyjnymi młynkami... Zawsze zgodnie z ruchem wskazówek zegara, INDIE
fot. Krzysztof Synowiec
Relacji z jakiego miejsca możemy spodziewać się w najbliższym czasie ?
Czas pokaże... Na pewno będzie to Azja.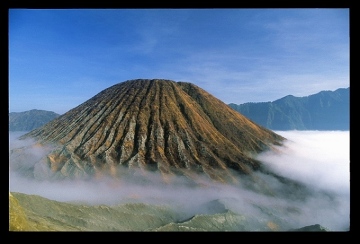 Wulkan Gunung Batok 2440 m n.p.m, INDONEZJA
fot. Krzysztof Synowiec