Terakotowa Armia w Xi'an

Miasto Terakotowej Armii żyje swoim starożytnym odkryciem, lecz nie tylko. Pełna życia dzielnica muzułmańska, piękne Wieże Dzwonów i Bębnów, a także imponujące mury miejskie z czasów dynastii Ming to kolejne z powodów, by odwiedzić to 5 milionowe miasto.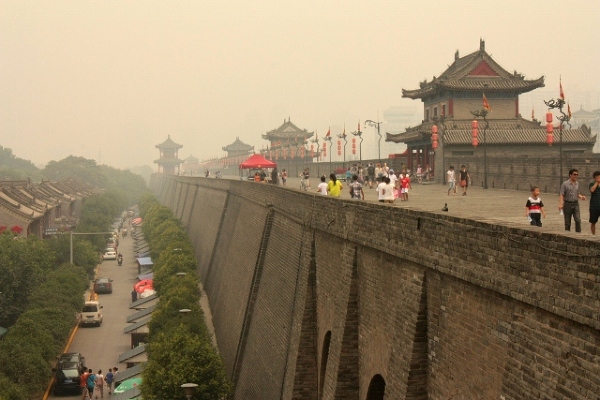 Potężne mury miejskie w Xi'an, fot. M. Wierzbicki-Dobowicz


Historia miasta sięga ponad 3 tysięcy lat wstecz. Xi'an w prowincji Shaanxi służyło za stolicę 13 dynastii, a także grobowiec pierwszego cesarza Chin – potężny Qin Shi pochowany został w 210 roku przed Chrystusem w ogromnym grobowcu, wypełnionym przez ponad 7 tysięcy figur Terakotowej Armii – a jeszcze nie wszystkie komory zostały odkryte!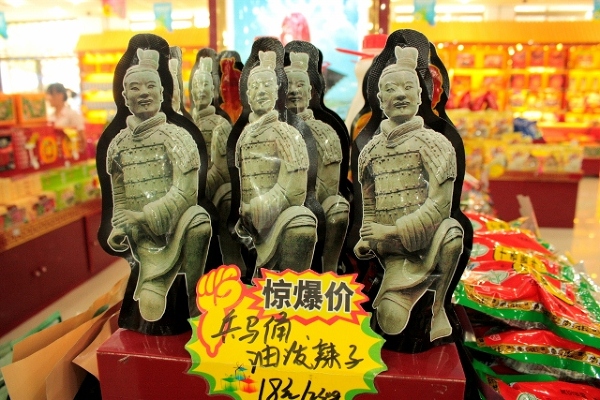 Nawet opakowania soczków mają kształt terakotowych żołnierzy, fot. M. Wierzbicki-Dobowicz


Terakotowa Armia to twór jedyny w swoim rodzaju. Każdy żołnierz posiada indywidualne cechy i jest wielce prawdopodobne, że rzeźby wzorowane były na prawdziwych wojakach z armii pierwszego cesarza Qin (czyt. Cin), od którego imienia Chiny wzięły swoją dzisiejszą nazwę. Pierwotnie żołnierze byli pomalowani, warto o tym pamiętać, gdy spoglądamy w grafitowe twarze z przeszłości.