"Afryka jest dla wszystkich, którzy chodzą spięci i zastanawiają się, jak tu żyć. Bo jakby Europejczyk miał wsiąść na barkę i dowiedzieć się nagle, że będzie płynął trzy tygodnie zamiast jednego, to by wyskoczył." - opowiada Zbyszek Gałęza, podróżnik, uczestnik sudańskiego etapu sztafety rowerowej przez Afrykę upamiętniającej dokonania Kazimierza Nowaka, który w latach trzydziestych przemierzył ją samotnie.
Rozanna Bogacz: Zjeździłeś kraje islamskie wokół Morza Śródziemnego: Sudan, Liban, Syrię, Jordanię, Turcję. To specyficzny, niespokojny obszar. Celowo obrany kierunek?

Zbyszek Gałęza: Na podróż po Bliskim Wschodzie zdecydowaliśmy się w związku z odmową wizy do Iranu w planowanej wyprawie do Indii. Każdy kraj różni się od drugiego, również państwa islamskie, wystarczy przekroczyć granicę i już całkiem inna mentalność. W Turcji tego islamu tak bardzo nie czuć. Bardziej w Sudanie, ze względu na obowiązujący szariat. W Syrii poza religią widoczne były kwestie polityczne zamordyzmu prezydenta Assada. W Jordanii zamordyzm jest mniejszy, poza tym król Husajn jest bardziej lubiany w swoim kraju niż Assad w Syrii. Z kolei w Libanie mają inne problemy, na ulicach stoi wojsko ze względu na konflikty wewnętrzne. W rozmowach kwestie te rzadko wychodziły, bo ludzie czują się zastraszeni i unikają mówienia o polityce. Z reguły, gdziekolwiek się pojawialiśmy, witano nas przyjaźnie, z uśmiechem i zaproszeniem na herbatę.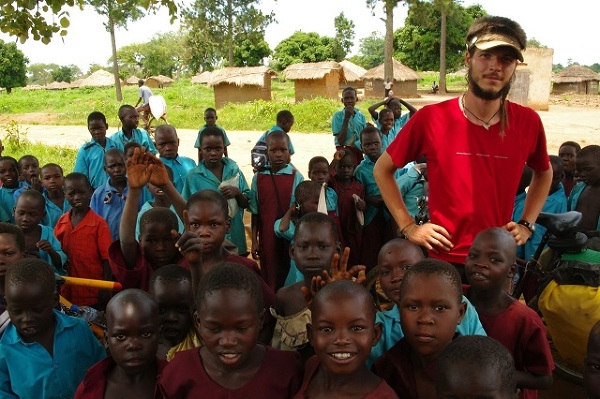 Zbyszek Gałęza z dzieciakami z północnej Ugandy. Fot. Jakub Pająk


R.B.: Przyjaźniej niż w Europie?

Z.G.: Zdecydowanie. Właściwie za granicą Węgry-Serbia już widzę różnicę. W krajach, do których wyjeżdżam czuję się bezpieczniej. Bywałem w różnych miejscach, w których z reguły nie poleca się przebywać i nigdy nie miałem w związku z tym przykrości. Poważnych przykrości, bo oczywiście jakieś zatrzymania czy próby aresztowań się zdarzały, ale to raczej na zasadzie nieporozumień, nie otwartej wrogości.

R.B.: Aresztowań?

Z.G.: W Azerbejdżanie pojechaliśmy zobaczyć złomowisko czołgów. Czytaliśmy, że za paczkę papierosów można porobić zdjęcia wraków. Akurat się nie spodobaliśmy i zwinęli nas do wojskowej ciężarówki. My mówiliśmy o złomowisku czołgów, a oni się upierali, że to baza nowoczesnych technologii militarnych. Była niedziela i ambasada nie odpowiadała na ich zaczepki, więc zaprosili kogoś z ministerstwa turystyki, sportu i z lokalnego wywiadu, takie spore karki w wołdze przyjechały. Trzymali nas od południa do piątej rano, ale wszystko spokojnie, wiadomo było, że nieporozumienie. Rozstaliśmy się w miłej atmosferze. Ale potem wojskowi na punktach kontrolnych wiedzieli, kim jesteśmy, nieprzyjemnie, więc szybko wyjechaliśmy.

Z kolei sytuacja w Ugandzie była humorystyczna. Mieliśmy trochę czasu i pojechaliśmy nad jezioro Alberta, bo słyszeliśmy, że w Kigorobii są gorące źródła i kopalnie soli. Podchodzi tam do nas człowiek i mówi, że bardzo mu przykro, ale jesteśmy aresztowani. Zaprowadził nas pod wielkie drzewo, gdzie siedzi gość i zajada słodkie ziemniaki. Mówi, że jest szefem wioski i że nas aresztowano po to, żebyśmy wpisali się do księgi pamiątkowej, bo konkuruje z szefem wioski obok, kto będzie miał więcej wpisów od zagranicznych turystów. Wpisaliśmy się, opowiedzieliśmy o Nowaku, dostaliśmy jeszcze ziemniaczki na drogę. Wiedzieliśmy, że jak pójdziemy do wioski obok, zostaniemy aresztowani po raz drugi, więc zrezygnowaliśmy z wędrowania wzdłuż jeziora.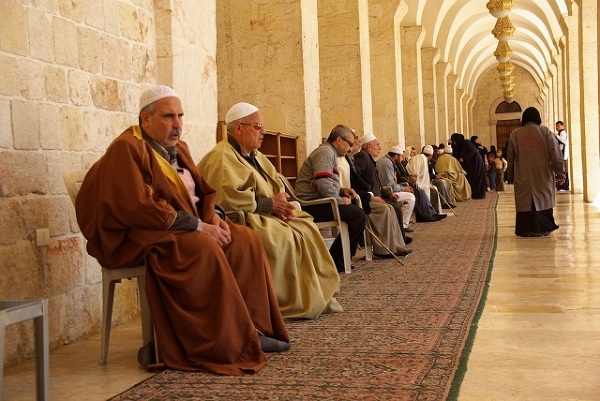 Damaszek, Syria. Fot. Zbigniew Gałęza


R.B.: Postać Nowaka to twoja osobista fascynacja, czy na sztafetę pojechałeś dla przygody?

Z.G.: Czytając książkę o Nowaku myślałem: "Co on zrobił!". Przecież dzisiaj pojechać na rowerze z góry na dół wzdłuż Afryki i z powrotem – ciężka sprawa. A on to zrobił osiemdziesiąt lat temu, kiedy biali podróżowali po Afryce z setką tragarzy. Pojechał sam, to było niesamowite. Podobała mi się nowakowa misja, chęć odwiedzenia tych samych miejsc, zrobienie czegoś ku Jego pamięci.
R.B.: Rozmawialiście w trakcie wyprawy z mieszkańcami Sudanu?

Z.G.: Kiedy wsiedliśmy na barkę w Sudanie Południowym, kapitan powiedział, że jak pływa 12 lat, nigdy nie widział białego na rzece. Na początku byliśmy traktowani egzotycznie, dzieciaki wołały na nas "haładzia!", a później, kiedy zaczęło się pojawiać suahili, "muzungu!". Płynęliśmy przez obszar kilkunastu dużych grup etnicznych, które odróżniały skaryfikacje - zaznaczają przynależność plemienną tworząc na ciele blizny w różnym kształcie. My chcieliśmy się dowiedzieć możliwie najwięcej o Sudanie, oni o Europie. Opowiadaliśmy, że budynki są wysokie, drogi asfaltowe, prąd zawsze dostępny. U nich sieci energetycznej nie ma nawet w miastach, czasem jakiś agregat. Za to komórkę ma każdy. Jadą z nią do miasta targowego, gdzie jakiś człowiek ciągnie trochę prądu na kablu i ma dwadzieścia przedłużaczy. Zostawia się u niego rano telefon, płaci jakieś grosze i wraca z działającym. Rozładowaną baterię wrzuca się do ogniska, ona się podpieka i jeszcze chwilę można posłuchać radia. Potrafią wszystko wyeksploatować do granic możliwości i sobie radzą.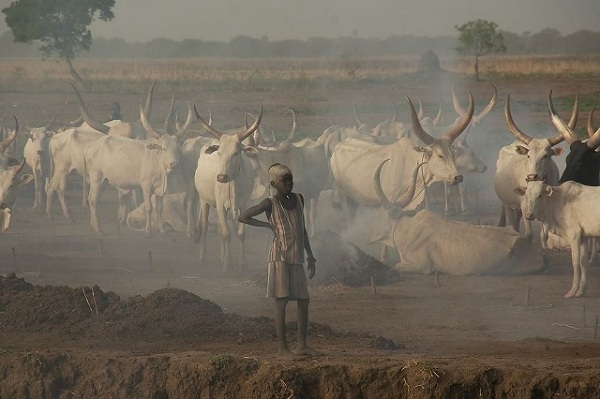 Sudan Południowy. Fot. Zbigniew Gałęza


R.B.: Spotkania w podróży coś w tobie zmieniają?

Z.G.: Oczywiście, gdybym wracał taką samą osobą, to bym chyba nie jeździł. Tu nie chodzi tylko o kilka dodatkowych wspomnień.

R.B.: Czego Europejczyk może się nauczyć w Sudanie?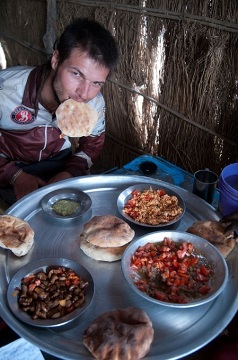 Zbyszek Gałęza w Sudanie Północnym
fot. Jakub Pająk
Z.G.: Przede wszystkim wyluzować. Afryka jest dla wszystkich, którzy chodzą spięci i zastanawiają się, jak tu żyć. Bo jakby Europejczyk miał wsiąść na barkę i dowiedzieć się nagle, że będzie płynął trzy tygodnie zamiast jednego, to by wyskoczył. Trzeba się nauczyć spokoju, wyciszenia. Radości z tego co mamy. Europejska mentalność gromadzenia dóbr jest taka, że trzeba mieć co pięć lat nowy samochód i najlepiej zmieniać telefon raz na trzy miesiące. A są kraje, gdzie ludzie mają jeden samochód przez całe życie i to już dla nich satysfakcja.

R.B.: Pamiętasz szczególnie jakieś spotkanie?

Z.G.: Podczas podróży stopem od Morza Martwego wzdłuż doliny Jordanu, zatrzymał się starszy człowiek w garniturze i zaprosił nas na herbatę. Dojechaliśmy do plantacji pomarańczy, weszliśmy na taras z pięknym widokiem na dolinę Jordanu. Opowiedział nam, że to jego wioska i plantacja założona przez jego dziadka po ucieczce z Jafy, kiedy Izrael zaczął pierwszą wojnę w latach czterdziestych. Zaprosił, nas na noc, choć sam pojechał spać w Ammanie, tu przyjeżdżał tylko oglądać Palestynę po drugiej stronie Jordanu. Poradził, żebyśmy o świcie wyszli na werandę dla pięknego zapachu pomarańczy. Oczywiście nie było mowy, żebyśmy mu zapłacili. Rano czekało na nas świeże śniadanie i jeszcze załatwiono nam busa, choć planowo nie miał jechać.
To jedno z wielu spotkań, człowiek zatrzymany na stopa, po prostu chce pomóc. Dla takich chwil warto podróżować. Nierzadko zdarzały się sytuacje, że ludzie biedniejsi od nas chcieli nas gościć przez kilka dni. Nie przyjmowali zapłaty nawet za jedzenie, więc dawaliśmy pocztówki z Polski jako podziękowanie. Ale dobro, które się od nich uzyskało, promienieje i potem człowiek w zdecydowanie lepszym humorze podróżuje dalej, by za kilka dni znów kogoś spotkać i tak mija cały wyjazd.


Widok na dolinę Jordanu. Fot. Zbigniew Gałęza


R.B.: Jaki kraj najbardziej cię zaskoczył?

Z.B.: Pozytywnie zaskoczyła mnie Uganda, góry, zieleń, banany, ananasy, ładne krajobrazy. Bo Sudan północny to pustynia. Później zaczynały się bagna sudu, papirusy, krokodyle, ale w górach, w Ugandzie było najładniej. Afryka dozowała wrażenia.

fot. Zbigniew Gałęza
I Islandia, półtora miesiąca po powrocie z Afryki. Taki przeskok jak z mono do stereo. Nagle z kraju, który może nie jest w kompletnej rozsypce, ale jednak mało ogarnięty, z dżungli tropikalnej Ugandy, przeskok do kraju, w którym nie ma drzew, ale są lodowce i cały czas wieje. W Islandii wszystko jest na tip-top poukładane. Krajobrazowo to chyba najdziwniejsze miejsce, w którym byłem. Pola lawowe, lodowce i te wszystkie formy wulkaniczne są niebywałe, zapierają dech w piersiach. Monotonnie, ale jest w tej monotonności coś pięknego. Jest cicho, wiatr szumi.

R.B.: Czyli gdybyś miał zamieszkać poza Polską, wybrałbyś Islandię?

Z.G.: Trochę zimno. Latem tak, latem jest pięknie, cały czas jasno. Ale myślę, że mógłbym osiąść gdzieś na Bałkanach lub na Zakaukaziu. Albo w Ugandzie.

R.B.: W Ugandzie? Naprawdę?

Z.G.: Nie wiem, czy bym wytrzymał bez cywilizacji, możliwe, że to by mi właśnie odpowiadało. Prowadzić proste życie, to właśnie w takiej Ugandzie byłoby przyjemnie. Albo na Bałkanach, w południowo-wschodniej części. Tam już ten czas nie leci tak szybko.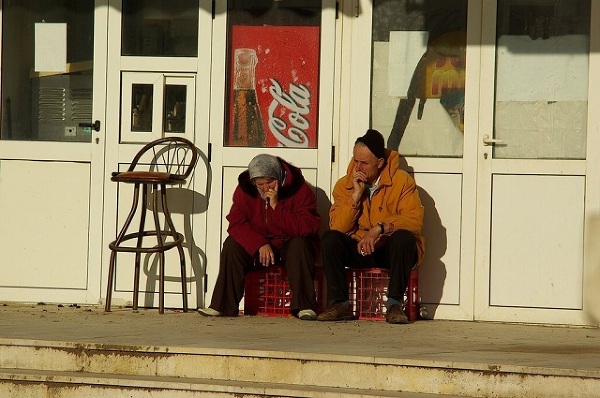 Ulcinj, Czarnogóra. Fot. Zbigniew Gałęza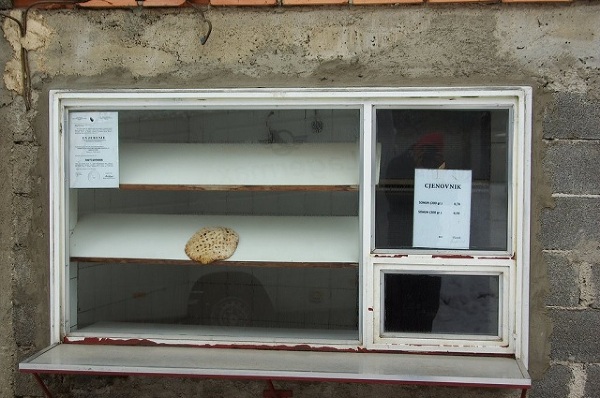 Bośnia. Fot. Zbigniew Gałęza


R.B.: A podróżnicze plany? Gdzie cię jeszcze ciągnie?

Z.G.: Chciałbym wrócić na Islandię i do Ugandy. Od kilku lat ciągnie mnie nad jezioro Aralskie, żeby pojechać zanim kompletnie wyparuje. Tam jest dużo ciekawych, opuszczonych miejsc, wraki statków na pustyni. I Azja Środkowa, powłóczyć się po tych wszystkich Kirgistanach, Turkmenistanach i Tadżykistanach.

R.B.: Dziękuję za rozmowę.