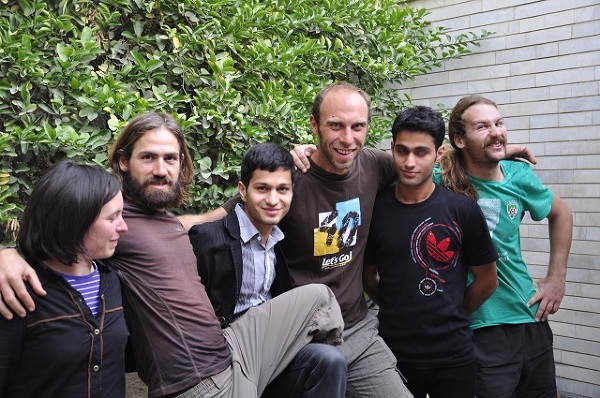 Od prawej: rowerzyści Julie i Pierre, Ahmed nasz gospodarz w Bandar Abbas, autor Piotrek Szymankiewicz, Amin - brat gospodarza, autostopowicz Laszlo. Fot. Piotr Szymankiewicz
Piotr Szymankiewicz: Czemu Iran?
Pierre: Bo był po drodze!
Julie: No bez przesady! Tu też chcieliśmy przyjechać! Nasz wyjazd jest trochę dłuższy i po drodze mamy do zobaczenia parę krajów. Tak naprawdę czekamy na każdy z nich.
Pierre: Tylko niektóre kraje są mniej a niektóre bardziej kręcące. Iran od początku to była taka trochę zagadka. Niby wcześniej coś poczytaliśmy, coś wiedzieliśmy , ale dopóki tu nie trafiliśmy to niczego nie mogliśmy być pewni. Jasne, że nie wierzymy temu co mówią w telewizji o Iranie ale mimo wszystko gdzieś jakaś niepewność była.
Laszlo: A ja przyjechałem tu celowo. Jeżdżę po Azji środkowej i zachodniej i na trasie Iran był jedną z pereł. Nie zawiódł.
P.S.: A miałeś oczekiwania?
Laszlo: Dotychczasowe podróżowanie nauczyło mnie, żeby nie mieć oczekiwań. Wówczas wszystko znacznie lepiej się odbiera. Jesteś wszystkiego ciekawy, do wszystkiego podchodzisz z otwartą głową, nie masz żadnych uprzedzeń. Jesteś wtedy trochę jak dziecko i wszystkiego uczysz się od nowa. W Iranie to strasznie pomaga, bo tu wszystko jest trochę inne.
P.S.: Jak dotarliście do Iranu?
Laszlo: Ja zwiedzałem Azję środkową. Z Turkmenistanu przez Morze Kaspijskie dostałem się do Azerbejdżanu i później już autobusem do Iranu. \
Pierre: A my na rowerach. Parę miesięcy temu wyjechaliśmy z Tuluzy i przez Europę i Turcję dotarliśmy do Iranu.
P.S.: Skąd pomysł na te rowery?
Julie: A skąd pomysł w ogóle na przyjazd do Iranu? Dla większości ludzi już sam Iran jest porąbanym pomysłem, więc ten rower tylko się wpasowuje w całą wyprawę.
Pierre: We Francji roweru używamy codziennie. Jeździliśmy nim na zajęcia, do znajomych, do klubów. To taki podstawowy środek komunikacji. I pomyśleliśmy sobie, że czemu nie skorzystać z niego w podróży. Taniej i ciekawiej. Trochę dłużej, ale to tylko plus.
P.S.: No to skąd w ogóle pomysł na podróż?
Julie: Stwierdziliśmy, że jeśli chcemy poznać świat to teraz. Nie mieliśmy żadnych zobowiązań, ale w sumie takie życie prowadziliśmy już od dawna. Kredyty i rzeczy tylko przywiązują człowieka do miejsca, a my nie chcieliśmy tego. Jeśli pomyślimy "Iran" jesteśmy w stanie spakować się w kilka dni i po prostu przyjechać. Nie trzeba sprzedawać mieszkania, wynajmować komuś, nie ma potrzeby zrobienia czegokolwiek z telewizorem bo go nie mamy. Jedyne co mieliśmy to rowery i ubrania i wszystko to zabraliśmy ze sobą. Tak naprawdę jedziemy z całym naszym dotychczasowym życiem.
Pierre: Dokładnie. Można powiedzieć, że jesteśmy trochę takimi nomadami. Przemieszczamy się wszędzie ze wszystkim co mamy. Jemy to co jest dostępne po drodze, albo to czym poczęstują nas ludzie. Dla naszych rodzin to niezrozumiałe, że tak żyjemy, że nie mamy domu, stałej pracy ale nam takie życie zdecydowanie bardziej odpowiada.
Laszlo: Cóż, ja nie podróżuję aż tak jak Pierre i Julie. Przemieszczam się autobusem albo pociągiem i tylko czasami decyduję się na autostop, ale w sumie styl życia podobny. Nigdy nie potrafiłem zostać w jakimś miejscu na dłużej. Mieszkałem już w co najmniej kilku krajach i nadal mi czegoś brakowało. Postanowiłem wyjechać i pobyć w drodze.
P.S.: Podróżując czy stopem czy rowerem z pewnością przydarzyło się wam coś niezwykłego.
Pierre: Każdego dnia coś się dzieje.
Julie: Jadać przez Turcję czy przez Europę byliśmy przyzwyczajeni do nocowania w namiocie. Tu w Iranie jeszcze ani razu nam się to nie udało. I to nie dlatego, że to niemożliwe, bo to jest jak najbardziej legalne ale po prostu ludzie nam nie pozwalają. Gdy tylko ktoś z miejscowych, bądź przejeżdżających obok zobaczy, że rozbijamy namiot od razu zabierają nas do siebie do domów, karmią i traktują jak królewską parę.
Laszlo: Ja miałem trochę mniej przyjemne doświadczenie w Iranie, ale z perspektywy czasu to było nawet zabawne. Byłem w Buszer, na południowym-zachodzie Iranu i próbowałem wypytać w porcie o możliwość przedostania się z Iranu do Indii na statku. Nie wiem czy zrobiłem coś nielegalnego, czy po prostu za bardzo rzucałem się w oczy ale zostałem zgarnięty przez policję. Nie potrafiono się ze mną porozumieć, więc spędziłem tam kilka godzin zanim ściągnięto tłumacza. Oczywiście zaraz później mnie wypuścili ale przez chwilę trochę się obawiałem. Choć jak na to teraz patrzę to nie było tak strasznie bo od policjantów dostałem obiad i co chwila pytano mnie o to czy chcę herbatę. W zasadzie to chyba stanowiłem tam dla nich atrakcję :)
P.S.: Wy tu o Iranie ale przecież byliście nie tylko tu. Co do tej pory was najbardziej urzekło?
Pierre: Indie, ale to podczas wcześniejszej podróży. Teraz to najbardziej Iran. Tu jest niesamowita atmosfera. Taka tajemniczość a jednocześnie względem obcokrajowców taka zupełna otwartość. Przy nas nikt się nie boi krytykować rządu. Każdy mówi to co chce.
Julie: Dla mnie też Iran, choć trzeba przyznać, że trochę strój doskwiera. Gdyby nie ta chusta byłoby znacznie lepiej.
Laszlo: Dla mnie chyba Uzbekistan. Muzułmański z sowieckimi wpływami. Takie trochę dwa światy. Ale Iran także jest fascynujący. Tak miłych ludzi jeszcze chyba nigdzie nie doświadczyłem.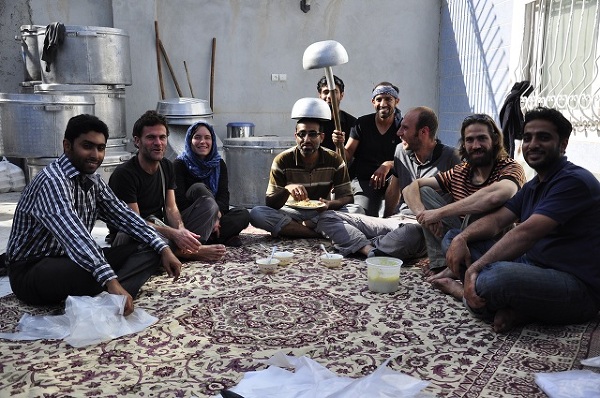 W gościnie u rodziny Irańskiej z okazji święta Aszura


P.S.: A jakie dalsze plany?
Laszlo: No ja nadal będę próbował dostać się na statek do Indii. Może jakiś mnie zabierze. A jak nie to w sumie pewnie coś wymyślę. W końcu cała moja podróż jest spontaniczna.
Pierre: My jedziemy do Omanu i Zjednoczonych Emiratów Arabskich, a później także Indie. Jak? Jeszcze nie wiemy. Chcemy unikać samolotów, ale może... Kto to wie?
Julie: Ja bym chciała statkiem. Ponoć z Muskatu są jakieś.
P.S.: A jaki jest ostateczny cel podróży?
Pierre: Nie ma! Jak gdzieś nam się spodoba to zostaniemy chwilę. W zasadzie o każdym kolejnym kraju decydujemy na bieżąco. To jest właśnie przyjemność płynąca z samotnego podróżowania. Nie musisz się o nic martwić, nie musisz mieć planu, nie musisz gonić czasu. Wszystko toczy się powoli i wszystko ma swój czas.
Laszlo: No... ja też nie mam. W sumie kiedyś pewnie wrócę na Węgry, ale kiedy to będzie? Nie mam pojęcia. Tak naprawdę podróżowanie stało się celem samym w sobie i to jest w tym najpiękniejsze. Na świecie jest tyle rzeczy do zobaczenia i tylu ludzi do poznania, że nie chodzi o to by dotrzeć w jedno miejsce ale o to by zobaczyć jak najwięcej. I taki jest mój cel. Doświadczyć jak najwięcej.