Nie mają stałego adresu? Przemieszczają się z miejsca na miejsce? Po świecie jeżdżą? Z Azji wrócili i już o Ameryce Południowej myślą? Bezdomni? Z wyboru?! Asia i Kuba w ubiegłym roku podróżowali po Azji Południowo-Wschodniej, teraz można ich spotkać w Boliwii. Co dalej?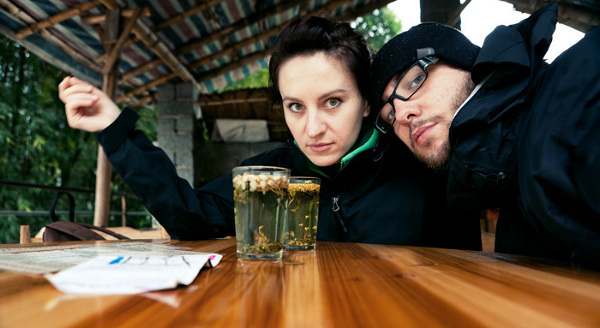 Asia i Kuba. Fot. Kuba Los//bezdomu.wordpress.com

– "Rzuciliśmy pracę, wypowiedzieliśmy mieszkanie, rozdaliśmy niepotrzebne przedmioty i 1 września 2010 opuściliśmy Stany, cały dobytek mieszcząc w niewielkiej ciężarówce". Od tego momentu staliście się "bezdomni", tzn. ciągle w drodze, przemieszczając się po Azji. Długo dojrzewa się do takiej decyzji?
Kuba: Pomysł zrodził się jakieś 1,5 roku przed wyruszeniem. Nie była to jakaś bardzo trudna decyzja. Miło jest rzucić pracę, zostawić wszystko za sobą i ruszyć na długie wakacje.
Asia: Rzeczywiście może i dużo czasu upłynęło od decyzji do jej realizacji, ale sama decyzja była dość spontaniczna. Nie mieliśmy żadnych zobowiązań finansowych typu kredyty, ani też nasze prace nie były pracami naszych marzeń, więc tym łatwiej było nam to wszystko zostawić za sobą.
– Podróżowaliście wcześniej? Mieliście już na koncie dłuższe wypady?
Kuba: Wcześniej razem podróżowaliśmy tylko po USA. Nasz najdłuższy wspólny wypad to trochę ponad dwa tygodnie samochodem po pustkowiach zachodnich Stanów. Utah, Nevada, Arizona i Colorado to przepiękne miejsca. Dłuższych eskapad razem nie doświadczyliśmy.
Asia: Ja jeszcze w liceum i na studiach jeździłam na wakacje albo do Stanów, albo do Anglii czy Włoch. Ale te dwumiesięczne wypady do krajów "cywilizowanych" miały niewiele wspólnego z podróżowaniem po krajach, gdzie kontrast między moim a lokalnym stylem życia aż tak rzuca się w oczy.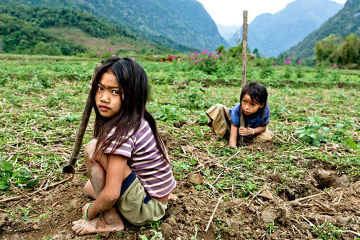 fot. Kuba Los/bezdomu.wordpress.com
– Kim są "bezdomni"? Co robią, jeśli nie podróżują?
Kuba: W Polsce pracowałem jako grafik komputerowy, w Stanach poszło to bardziej w stronę druku, a w międzyczasie powoli zacząłem rozwijać swój biznes fotograficzny. Poza pracą bawię się również w produkcję muzyczną. A po podróży? Jeszcze zobaczymy.
Asia: Ja z wykształcenia jestem lingwistką, ale ani tłumaczenie, ani nauczanie nie są moją pasją. W Stanach zarabiałam na podróż, pracując jako barmanka. Po powrocie zamierzam zająć się czymś zupełnie dla mnie nowym, planuję całkowite przekwalifikowanie się.
– Chiny, Wietnam, Tajlandia, Kambodża, Laos, Birma, Indie – tak przebiegała Wasza trasa. Czym kierowaliście się, wybierając te kraje? Zainteresowania, przypadek czy kompromis między wizjami Was dwojga?

Kuba: Azja zawsze nas fascynowała, a ta południowo-wschodnia to dobre miejsce na rozpoczęcie samodzielnych podróży. Jest tanio, raczej bezpiecznie i w większości miejsc można się porozumieć po angielsku. W Chinach było trochę trudniej i na początku byliśmy ciut zagubieni. Pierwotnie nie planowaliśmy pobytu w Indiach, ale ciężko nam było sobie odmówić.
– Pytanie techniczne: jak długo gromadziliście fundusze na wyjazd? Czy mieliście sztywny budżet dzienny? Z jakimi wydatkami musi liczyć się osoba, która wyrusza w kilkumiesięczną podróż do Azji?
Kuba: Ciężko powiedzieć jak długo. Na początku mieliśmy jakieś małe oszczędności, ale ostatnie półtora roku rzeczywiście oszczędzaliśmy. Żyliśmy skromniej, więcej gotowaliśmy, odmawialiśmy sobie wielu wyjść i wystrzegaliśmy się kupowania nowych przedmiotów. Zaczęliśmy przeliczać ich ceny na całe dni w Azji i to nam bardzo pomagało. Sztywnego budżetu nie mieliśmy, bo nie było też ani sztywnego planu, ani limitu czasowego. Nie kupiliśmy biletów powrotnych, więc mogliśmy improwizować. Nie upieraliśmy się, że gdzieś musimy dojechać w określonym czasie. W zależności od kraju i naszego samopoczucia nasz budżet wahał się od 30 do 60 $ dziennie na dwie osoby. Podróżować po Azji można jednak dużo taniej. O tym, że można dużo drożej, nie muszę wspominać?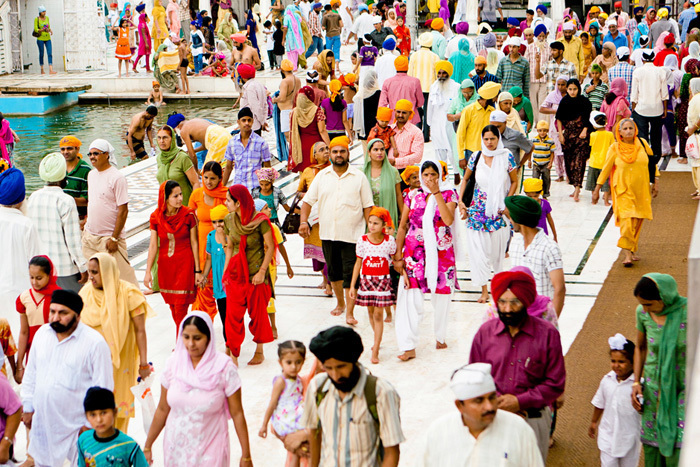 Sikhijska Złota Świątynia w Amritsarze. Fot. Kuba Los/bezdomu.wordpress.com
– Pierwszym odwiedzonym przez Was krajem były Chiny. Jak zareagowaliście na, co tu kryć, zupełnie odmienną od naszej rzeczywistość?
Kuba: Chiny były dość dużym szokiem. Czekało tam na nas, zupełnie jeszcze zielonych backpackerów, dużo przeszkód kulturowych. Zwłaszcza językowych. Tam uczyliśmy się podróżowania od podstaw. Nawet zamawianie jedzenia było nie lada wyzwaniem. Raczej nie chodziliśmy do turystycznych restauracji, a w tanich garkuchniach mieli tylko chińskie menu na ścianie. Bez obrazków i nikt oczywiście nie mówił po angielsku. A w Chinach nawet liczby na palcach pokazuje się inaczej niż na Zachodzie.
Asia: To prawda, czasem było ciężko, ale uświadomiliśmy to sobie dopiero, jak dotarliśmy do Wietnamu, gdzie podróżować można dosłownie z zamkniętymi oczami. Ale też bez przesady. Chiny są niesamowite i nie ma co się ich bać (z perspektywy podróżnika, oczywiście).

– Czy w trakcie podróży pojawiały się momenty, że mieliście już dość klimatu, ludzi, kuchni, zwyczajów etc.? Krótko mówiąc: czy można mieć dosyć podróżowania?
Kuba: Takich momentów było kilka – przynajmniej dla mnie. Na szczęście prostym lekiem było opuszczenie danego miejsca i szukanie nowej inspiracji w następnym.
Asia: Myślę, że to kwestia bardzo indywidualna. Spotykaliśmy ludzi, którzy podróżują latami, większość z nich bardzo tanio i w byle jakich warunkach. Wydawali się bardzo szczęśliwi. W ogóle nie chcieli wracać do domu. Choć kuchnia azjatycka jest niesamowita, ja tęskniłam za polskimi śledziami. Czasem widząc kolejną identyczną świątynię buddyjską czy hinduską, myślałam o tym, jakie piękne mamy kościoły w Europie. W Chinach nie mogłam znieść na przykład tego, że wszyscy plują, gdzie popadnie i na potęgę palą w pociągach. W Indiach – że u nich standardem jest wpychanie się do kolejki. I wyrzucanie całych reklamówek śmieci przez okna pociągów. Ale to są momenty. Nawiasem mówiąc, podróżuje się między innymi po to się, żeby ich doświadczać. Wystarczy uświadomić sobie, że to ich świat, a nie mój. U nich tak się po prostu na co dzień żyje. Inaczej i tyle. Ważne, żeby takie momenty irytacji nie przysłoniły nam naszych celów. Żeby nie zapomnieć, po co tu właściwie przyjechaliśmy. Bo chyba nie po to, żeby krytykować i porównywać nasze światy.
– Bycie w drodze, w podróży to też przebywanie ze sobą non stop. Jak sobie radziliście?
Kuba: Raz lepiej, raz gorzej, ale test chyba zdaliśmy. Ciągle jesteśmy razem i dalej podróżujemy...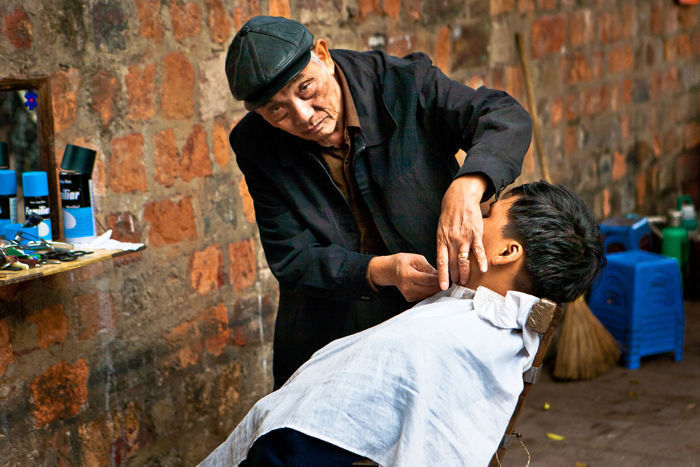 Scenki uliczne z Hanoi. Fot. Kuba Los/bezdomu.wordpress.com
Co jest dla Was najważniejsze w podróżowaniu?
Kuba: Chyba zmiana perspektywy i poznawanie nowych kultur. Cały świat wydaje się podobny, przynajmniej w dążeniach ludzi, ale różnice kulturowe na szczęście ciągle istnieją. No i żebym nie zapomniał: nieustanne poszukiwanie tematów do fotografii.
Asia: Tak, zdecydowanie zmiana perspektywy. To uczy pokory. Czasem różnice są powalające, ale to mnie cieszy. Nawet te najbardziej denerwujące elementy pozwalają nabrać dystansu do siebie i swojej kultury.
– Z wpisów na Waszym blogu oraz ze zdjęć wynika, że nie unikaliście kontaktów z miejscowymi. Czy można wyjść na chwilę z roli turysty i spróbować zbliżyć się do ludzi z danego kraju?
Kuba: Można. W różnym stopniu, ale można. Nie jest to wcale trudne. To, że nie jedzie się ze zorganizowaną wycieczką z biura turystycznego to pierwszy krok w dobrą stronę. Poza tym dobrze jest w każdym kraju wziąć chociaż jednego porządnego przewodnika i spędzić z nim trochę czasu. Tacy ludzie najlepiej pokażą miejscowe życie. W Azji udało się nam to prawie we wszystkich krajach. W południowej Ameryce ułatwieniem będzie możliwość porozumiewania się niemal z każdym po hiszpańsku.
Asia: Moim zdaniem jest to trudne. Na przykład w Azji Południowo-Wschodniej jest naprawdę dużo turystów i bardzo wielu z nich marzy o tym samym, co my, czyli o zejściu z utartego szlaku, o zobaczeniu miejsc, których inni nie widzieli. Problemem jest to, że i miejsca ważne historycznie, i te, które słyną ze swojego naturalnego piękna są już dawno "obsadzone". Wyrosła wokół nich cała infrastruktura turystyczna i często nie ma jak tego ominąć. To jednak też zależy od tego, jaki cel nam przyświeca w naszym podróżowaniu. Zwiedzanie zabytków, muzeów? Delektowanie się pięknem natury? Doświadczanie jakichś nowych ekstremalnych wrażeń? Samo przemieszczanie się? Czy może poznanie kraju poprzez zostanie w jednym miejscu na dłużej (czasem kosztem zwiedzania)? Każdy powinien odpowiedzieć sobie na te pytania jeszcze przed podróżą.
– Wybieram się w podróż do Azji. Jakie miejsca moglibyście szczególnie polecić? Co zrobiło na Was największe wrażenie?
Kuba: Ciężko się wyróżnia jeden kraj, bo to po prostu niesprawiedliwe. Każdy z odwiedzonych przez nas krajów był bardzo ciekawy. Ale skoro już pytasz, to takim najintensywniejszym i najbardziej kolorowym na pewno są Indie, ale podobało mi się też bardzo w Birmie i w Kambodży.
Asia: Chiny dla ogólnej egzotyki i wyzwań komunikacyjno-kulturowych. Wietnam dla standardu hoteli, dla widoku tłumów w kościołach katolickich, dla mrówczej pracowitości i przedsiębiorczości Wietnamczyków. Kambodża dla świeżości jej wstrząsającej historii i dla nieustającego uśmiechu Kambodżan. Laos dla jego cudownego pejzażu, niespiesznego tempa i zupełnej niefrasobliwości Laotańczyków. Tajlandia dla magicznych krajobrazów, dla niezwykle pomocnych i często bezinteresownych (poza stolicą) ludzi i dla Bangkoku, miasta o tysiącu twarzy, które na długo pozostaje w pamięci. Birma dla niewyobrażalnej dla nas życzliwości, uprzejmości i ogólnej kultury osobistej jej ludzi. Dla ich oczytania, świadomości historycznej i kulturowej mimo wieloletniej izolacji kraju. No i Indie. Wiadomo, dla różnorodności, dla kolorów, dla kontrastów, dla doświadczania tego, co niewyobrażalne.

– "Przed Azją perspektywa siedzenia w pociągu przez 9 godzin była co najmniej dołująca, ale teraz każda podróż poniżej 20 godzin nie wzbudza u nas większych emocji". Co jeszcze zmieniło się w Was po podróży?
Kuba: Zmieniły się nasze potrzeby. Nauczyliśmy się trochę bardziej doceniać to, co mamy i nie gonić ciągle za przedmiotami. To na pewno cenne. Poza tym ciekawość świata. Im więcej podróży i lektur o nowych dla nas krajach, tym głębiej chce się sięgać.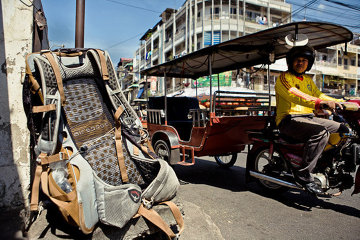 Phnom Penh, Kambodża. Co dalej? Pewnie odkurzanie plecaków i dalej w trasę. Tym razem Ameryka Południowa
fot. Kuba Los/bezdomu.wordpress.com
– Plecaki spakowane, bilety do Limy wykupione, "bezdomności" ciąg dalszy. Na jak długo tym razem wyruszacie?
Kuba: W Azji zostaliśmy osiem miesięcy zamiast czterech, a potem jakoś tak wyszło, że w Polsce spędziliśmy kolejne trzy. To wszystko solidnie skurczyło nasz budżet, ale mamy nadzieję, że pieniędzy wystarczy nam na 4-5 miesięcy.
– Czy "bezdomność" może stać się sposobem na życie? Macie w planach dalsze wojaże?
Kuba: Pewnie, że może. Jak już Asia wcześniej wspomniała, spotkaliśmy po drodze ludzi, którzy podróżują od kilku lat i wcale nie planują przestać. To niekoniecznie nasze marzenie, bo tęsknimy już powoli za swoim miejscem, za jakąś bazą. Podróżować planujemy całe życie, może niekoniecznie tak dużo naraz.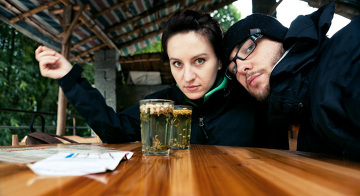 fot. Kuba Los/bezdomu.wordpress.com
Joanna Plazuk i Kuba Los – dwa lata temu rzucili prace, wypowiedzieli mieszkanie, rozdali niepotrzebne przedmioty i opuścili Stany. Na kilka miesięcy wyjechali do Azji, odwiedzili: Indie, Chiny, Laos, Wietnam, Kambodżę, Tajlandię, Birmę. Tymczasowo stali się ludźmi bez stałego adresu, co kontynuują także teraz – kilka miesięcy temu wyruszyli do Ameryki Południowej. Ostatnio widziano ich w Boliwii…
Swoje wrażenia z wojaży opisują na blogu: www.bezdomu.wordpress.com.