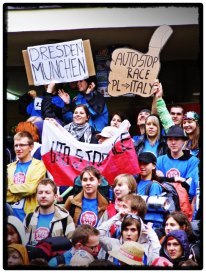 Ekipa Autostop Race, zwarta i gotowa
fot. Barciej Makowski
1 maja 2010... (Diana) Jak zwykle spóźniona wbiegam pod "budynek Z" Uniwersytetu Ekonomicznego. Dzień wcześniej przyjechaliśmy z Bartem z Łodzi do rodzinnego Wrocławia. Pakowałam się niemal całą noc, by zminimalizować do granic możliwości ciężar mego bagażu. Przez zamglone oczy dochodzą do mnie teraz wiadomości o dziwacznym tłumie oblegającym plac uniwerku... przez nie mniej zamglone uszy wciskają się do mojej głowy wrzaski, kwiki, śmiechy, nawoływania... Widzę coraz wyraźniej setki plecaków z przytwierdzonymi do nich "ZGORZELcami", "DRESDENami" czy u większych idealistów – "ITALiami".
Bartek przyjmuje mnie rozbawionym uśmiechem – widać ochłonął już, wniknął w grupę… ale ja nie będę udawać… chowam się pod drzewem i zza rozsuniętych palców bezpiecznie obserwuję znarkotyzowaną młodzież... Tuż przed moimi oczami przemyka człowiek w stroju supermana z obcisłej, mieniącej się lycry… goni go mężczyzna z mikrofonem, obok cowboy, dalej ludzie w białych garniturach, kolorowych pelerynach, wymyślnych kapeluszach… patrzę krytycznie na swoją z kolei osobę... i czuję się tak po prostu NUDNA... no nic, i tak wygramy! Teraz szybka toaleta i opracowanie "strategii przepakowawczej" (gdyż załadowana przez Bartkową mamę torba tzw. jedzeniowa nie wytrzymuje tony słodyczy, kotletów mielonych, smażonych kurczaków, pół miliona konserw i zupek z Radomia)… Po chwili jednak dajemy się ponieść ogólnemu entuzjastycznemu okrzykowi AUTO STOP RACE – RUSZAMY!
Na Bielanach przy Auchan pełno ubranych w niebieskie t-shirty, żądnych przygód "smurfów" (tak będą nazwani w niniejszej relacji inni uczestnicy wyścigu, by totalnie odhumanizować i sprowadzić ich jedynie do przeszkód w drodze do zwycięstwa;>). Jak możliwe jest złapanie okazji w takim tłumie??? Co ma spowodować, by kierowca wybrał właśnie nas? Jak w prostym przekazie przedstawić mu naszą fascynującą osobowość? Z powodu wyraźnego braku lepszych pomysłów wystawiamy kciuk... pierwszy nadjeżdżający samochód zatrzymuje się… jak i dlaczego? Naprawdę nie znajdujemy czasu na przemyślenie tej kwestii, spieszymy się przecież do Rimini!!!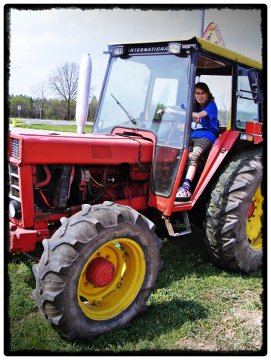 Poznajemy trudy pracy lokalnych rolników – bezcenne doświadczenie
fot. Barciej Makowski
Na zjeździe na Olszynę dość brutalnie zostajemy odstawieni na autostradę. Tu po raz pierwszy przekonujemy się o skuteczności polskich służb porządkowych. Proszę wierzyć, nie musimy długo czekać na serdeczny uśmiech i prośbę o okazanie dowodów tożsamości. Inni "piechurzy" przed nami przez wrodzoną nieśmiałość chyba i niechęć do zawierania nowych znajomości na tym odcinku trasy wykonują błyskawiczny prawoskręt na pobliską polankę… czujna policja nie daje jednak zwieźć się pozorom tej nagłej chęci obcowania z naturą i oznajmia ciepłym głosem, iż bilet wstępu wynosi po 50 zł i że mile widziane byłoby, gdybyśmy tym samym zechcieli wesprzeć budżet krajowy.
Kolega Paweł (de facto Paweł Bartnik, w rzeczy samej biorący udział w konkursie hardcorowych podróży; czy pamiętasz to Pawle? :D), tym samym ciepłym głosem rzecze, iż chętnie wsparłby tak wzniosłą inicjatywę, aczkolwiek chwilowo w portfelu nie za wiele monet... ale skoro szanowni panowie pofatygowali się, to mogliby nas podwieźć przy okazji kawałeczek. Nasi milusińscy ochoczo przystają na tę propozycję (żałując z pewnością, że nie padła z ich własnych ust) i tak gaworząc, wymieniając uprzejmości dojeżdżamy do Bolesławca.
Z Bolesławca zabiera nas miła parka, nieustannie zabraniająca dotykania czegokolwiek w obawie przed dewastacją, która to wysadza nas… w Bolesławcu (!!!). W ten sposób pojawiamy się na podrzędnej drodze prowadzącej raczej do Litwy ojczyzny naszej niźli braci German. Diabeł chyba sam pomieszał szyki, zamydlił oczy. W tym to miejscu felernym rozpoczyna się trwająca wiele godzin wycieczka piesza po wioskach i wioseczkach. Proszę wierzyć, tempo z jakim poruszaliśmy się sprzyjało więcej tworzeniu monografii mijanych osiedli ludzkich, niż opracowywaniu strategii mającej zagwarantować nam zwycięstwo. Za porażkę swą uznajemy zamianę napisu "Dresden" na "Żarską Wieś".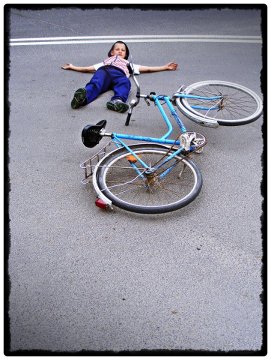 Miejscowa dziatwa nie zważając na "nowych", szybko zaczęła czuć się nader swobodnie
fot. Barciej Makowski
W tych to miejscach wykonujemy jednakże wiele pożytecznych czynności… zajmujemy się pozytywistyczną pracą u podstaw wśród dziatek z Zebrzydowa nauczając, że słowo "ch*j" określające według nich kierowców, którzy nie zatrzymali się pomimo naszego usilnego wymachiwania można zamienić na "bezduszny", "niemiłosierny", czy "tchórzliwy". Później poznajemy tajniki polskiej gospodarki rolnej, zaznajamiamy się z budową maszyn i dolą chłopa pracującego. Niwelujemy także drastycznie liczbę śmiertelności na polskich drogach przestrzegając naszych przyjaciół drwali, iż niebezpiecznym stać się może jazda z umysłem kompletnie zamroczonym alkoholem.
Znój ten wynagrodzony zostaje wielką porcją gyrosu, jakim witają nas rodzice na ziemi zgorzeleckiej. Nie gardzimy także kawą z ciasteczkiem, zakraszanymi uprzejmą wymianą odmiennych zdań co do zasadności dalszej podróży. Asertywnie odrzucamy wszelkie malowane przed naszymi oczyma obrazy dotyczące uroków posiadania prysznica z gorącą wodą przez cały okres trwania majówki i stanowczym tonem oświadczamy chęć opuszczenia Polski jeszcze dziś.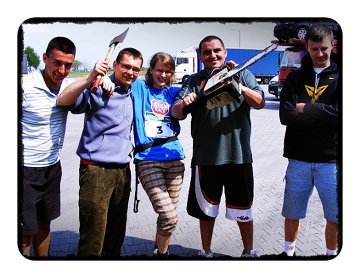 fot. Barciej Makowski
O godzinie 18 stajemy więc na drodze wylotowej z miasta. Demotywatorem największym okazuje się być ojciec stojący za krzakiem (na wypadek tylko gdyby nie udało nam się o tak późnej porze złapać stopa i chcielibyśmy spędzić noc w ciepłym, miękkim łóżku raczej niż pod przeciekającym, jednowarstwowym namiotem- burza idzie). Jesteśmy w strefie liminalnej – sercem ciążymy ku bezkresom autostrad... ojciec jest jak pępowina, której nie możemy odciąć…
(Barciej) Nasza desperacja, związana z godziną 18.00 na zegarku, pozwala nam jedynie liczyć samochody, które o tej godzinie mijają nas z częstotliwością 1 na 3 minuty. Pozbawione sensu nadzieje na czołowe miejsce w wyścigu, stopniowo zanikają. Co jakiś czas pojawiają się myśli budujące – pozytywne, ściskające za gardło, a może przede wszystkim, odciskające swe piętno na naszych sumieniach. Co jakiś czas, nie często jednak... I wciąż ta myśl, stale w nas godząca- nasi najbliżsi znajomi właśnie dojeżdżają do Monachium. 500 km przed nami!!! (słownie: PIĘĆSET!!!).
W końcu jest!!! – zatrzymuje się samochód z uprzejmymi Niemcami w sile wieku. Musieli trafić akurat na któryś z uśmiechów na naszych twarzach, które wtedy nie były najczęstsze. Odwożą nas do samego Drezna.
W międzyczasie poznajemy niesamowite, pełne egzotycznych uniesień, historie jednego z nich, prosto z Południowej Afryki, Kanady czy Peru. W naszej podróży zaś wyraźny zwrot akcji, w końcu jedziemy jednym samochodem więcej niż 100 km! Toż to wyczyn, jakich mało w naszej podróży. Pojawiamy się na stacji, blisko miasta. Wraz ze zbliżającym się niemiłosiernie atakiem zmroku, podejmujemy decyzję zmiany stacji, odległej o kilkaset metrów od pierwszej. Alternatywne myśli o powrocie do Polski, do ciepłego łóżka i maminego smacznego obiadu, w międzyczasie gdzieś tracą swą płaszczyznę uzasadnienia. Zbyt daleko by wracać. Z drugiej strony – zbyt daleko do celu – tym się jednak, w ferworze walki aż nadto nie przejmujemy. Kawałek dalej podwozi nas sympatyczna para: on – Niemiec z "a little bit" engliszem, ona – Czeszka – i bez tego ostatniego. Sympatyczne relacje rekompensują jednak bariery w porozumieniu. Na ichszych wskaźnikach notują się dodatkowe kilometry, które nadrabiane są dla nas i przez nas. To miłe niezmiernie.
Gdy nastaje wreszcie ciemność nad taflą ulic i chodników, wkoło ilość ludzi ogranicza się do minimum, a jedyne osoby, które spotykamy to nasi wschodni pobratymcy, znajdujący się w tym właśnie miejscu nie wiadomo skąd i nie wiadomo po co i pytający "Polaki? Jaki wasz problem?" – szybko uświadamiamy sobie, że faktycznie problem ino mamy. Po zmianie butów na te cieplejsze, dryfuję od auta do auta, z uśmiechem nr 3, czasem 4. Nagle słyszę zawołanie Diany. Złapała. Szybki bieg przez parking jak ów długi i oto jesteśmy w samochodzie. Mężczyzna może mieć z sześćdziesiąt lat. W angielskim nie aktywny w żadnym stopniu. Szybki kurs migowego. Dojeżdżamy do jego domu w Chemnitz, przerwa na siusiu, odwozi nas chwilę później kilkadziesiąt kilometrów do najlepszej, jego zdaniem, stacji benzynowej w okolicy. "Można się umyć, coś zjeść" – mówi z przesadną specjalnie dla nas banalną niemiecką wymową, jakby prosto z elementarza. Rozumiemy, nie kryjąc zadowolenia.
Stacja okazuje się zgoła nie być naszym rajem. Nie dość, że od autostrady nie najmniej oddalona, to jeszcze stanowi świątynię dla niemieckojęzycznej młodzieży, która właśnie zapragnęła przyjechać w sześć, osiem osób w pięciu samochodach. Godzina 1:00 w nocy. Podjeżdżają, parkują równoległe z taką precyzją, jakby ćwiczyli to codziennie od lat kilku, kupują hamburgery i z piskiem opon odjeżdżają... na inną stację? Może to niemiecki clubbing? Ach, wcześniej rozświetlają nas swoimi reflektorami rażącymi jak światło zapalone przez współlokatora w środku nocy kiedy śpisz. Nie ukrywając rozśmieszenia na nasz widok, zagadują – kiedy jednak w odpowiedzi, słyszą język angielski, zmieszani odjeżdżają, nie potrafiąc przez kilka minut stworzyć w ramach pracy zespołowej najprostszej konstrukcji gramatycznej w języku innym niż niemiecki. Uzyskujemy pozwolenie na rozbicie namiotu na terenie parkingu, wcześniej widzimy tajemniczy namiot postawiony pomiędzy ciężarówkami... na betonie. To na pewno ktoś z naszych, komu nijak zapewne nie było pytanie o zgodę na zamieszkanie w tym areale. Zapada noc, a my zapadamy w sen.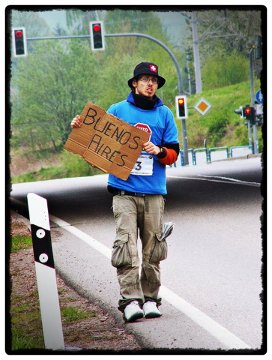 Dziwne, ale nikt nie wybierał się do "boskiego Buenos"
fot. Diana Szawłowska
(Barciej) Dochodzimy do wjazdowej drogi na A12. Dwie godziny czekania na cokolwiek, co nam pisane. W końcu obieramy na trzy chwile kierunek na Buenos Aires, nie działa – wszyscy lokalnie. Wreszcie mamy – jedziemy do Hof. Pusty samochód, duży… wygoda, relaks wręcz. Na miejscu toaleta za 1 euro. Przetrzymamy! To przecież 4 złote! Podchodzimy do młodego mężczyzny:
– Excuse me, do you speak english? – pytamy.
– Nein: Deutsch, Polnisch, Russich…?
– Polnisch? Dzień dobry!!! – jesteśmy przeszczęśliwi, słysząc taką odpowiedź.
Obładowany wiejskimi jajami, sprzętem i osprzętem różnej maści, w towarzystwie swej ukochanej mamy, którą niejednokrotnie chce nam sprzedać lub oddać, postanawia nam pomóc. Jedynym warunkiem, który mamy spełnić to zabawianie towarzystwa wyszukanymi żartami. Dojeżdżamy do Norymbergi. Za nami 600 km niemalże.
Nie dużo czasu mija a znajdujemy młodą parę wracającą ze ślubu przyjaciela, kierującą się prosto do Monachium. Przez całą drogę poznajemy mężczyznę, Ona bowiem nic nie mówi, na koniec jedynie się miło uśmiechając. Z Monachium odbiera nas kobieta sukcesu, która jak się okazało, poczyniła to tylko dlatego, że my byliśmy razem (nie ufa bowiem mężczyznom). Zawozi nas na stację przed Rosenheim. Szuka chwilę z nami kolejnej, docelowo włoskiej okazji, z zamiarem przekazania zaszczytnych rekomendacji naszych osób przyszłemu kierowcy. Nie znajdujemy jednak nic, musi odjechać, wymieniamy się adresami mailowymi.
Naszym oczom ukazuje się jednak utęskniony obrazek. Oto pod parasolem stoją nasi!!!;) Pierwszy raz od doby niemalże spotykamy kogoś w niebieskich koszulkach! I to cztery osoby! Dołączamy do wyścigu! Nie jesteśmy już ostatni! Co najwyżej – egzekwo ostatni. Wymieniamy szybko doświadczenia; okazuje się, że od kilku już dobrych godzin nasi koledzy czekają na szansę ruszenia dalej. Zmęczeni i wyczerpani, nie dziwmy się. My, obficie uskrzydleni poprawą naszej sytuacji, rozpoczynamy poszukiwania perspektywy dalszej podróży, najpierw wśród panów TIR- owców (wcześniej, z założenia, nie chcieliśmy się przemieszczać tym środkiem transportu, teraz umawiamy się wstępnie na podróż o 3 nad ranem w kierunku Verony – toż to za 10 godzin!), później wśród gości okolicznego wujka Donalda.
Diana znajduje sposobność do przemierzenia granicy niemiecko-austriackiej. Ryzykowne rozwiązanie – tutaj jesteśmy na bardzo obleganej stacji; pan profesor jednej z niemieckich uczelni zaś wywieźć nas może tylko kilkanaście/kilkadziesiąt kilometrów. Podejmujemy ryzyko. To nasz szesnasty transport podczas całego wyścigu. Kierowca zostawia nas kilka kilometrów za granicą (Kufstein), gdzie spotykamy, przemęczoną do granic wytrzymałości parę, która oznajmia nam byśmy stąd uciekali, że "jest najgorzej i w ogóle". Czekają tu od samego rana. Będzie blisko pół doby. Przegryzamy ostatni suchy prowiant z Polski, zastanawiając się co dalej. Pół godziny później nasi nowi koledzy odjeżdżają. Hura! Należy im się ta nagroda!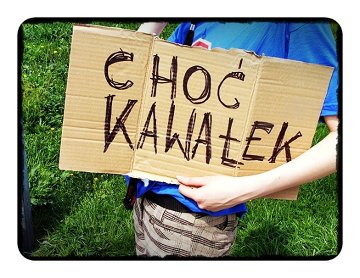 Wszystkie chwyty dozwolone
fot. Barciej Makowski
Stąd do mety jest około 600 kilometrów. Niewielka stacja w otoczeniu przewysokich górskich ścian, robi się chłodniej. W kilka minut po pożegnaniu naszych ludzi, zabieramy się do roboty. Diana postanawia stanąć na zatoczce z tabliczką na Innsbruck, może się uda. Ja mam zająć się dyplomacją w kontaktach bezpośrednich. Z daleka widzę człowieka, który na mój widok uśmiecha się w obfitości nie do opisania słowami (najmilsza reakcja całej podróży). Wita mnie jak brata. Po przedstawieniu się, zadaję kierowcy po angielsku pytanie, dokąd zmierza. Do moich uszu dochodzi dźwięczne, kontekstowo wywyższone pod niebiosa: "To Rimini".
Praca mojego serca traci na tempie dochodząc do zatrzymania niemalże. To z moich ust miało paść wcześniej czy później to słowo, nie z jego. Zaskakuje mnie ta sytuacja niemiłosiernie. Po chwili zostaję jednak sprowadzony na ziemie... Ma tylko jedno wolne miejsce w swoim dostawczym samochodzie. Nic z tym nie może zrobić. Nie powinien ryzykować, bo to auto szefa itp., itd. Rozmowa przebiega w trybie iście przyjacielskim. Po wylaniu hektolitrów łez na jego koszulę, żegnamy się, ja idę płakać dalej, tym razem w ramię Diany. Ubolewam, bo toż to okazja jak z najśmielszej listy życzeń na chwilę tamtejszą. Wchodząc na drogę samopogodzenia się z sytuacją, nagle słyszymy nawoływanie. To On! Ten sam! Zaprasza nas do wspólnej podróży. Oznajmia nam, że w życiu każdego człowieka nadchodzą momenty, kiedy trzeba zaryzykować, a ten jest chyba jego dniem. Zapewnia nam podróż do samego Rimini. Powtórzmy – 600 km! Nasza tendencja okazuje się iście wzrostowa.
POLSKA: 9 samochodów; 20 poznanych osób
NIEMCY: 7 samochodów; 11 osób
AUSTRIA/WŁOCHY: 1 samochód; 1osoba.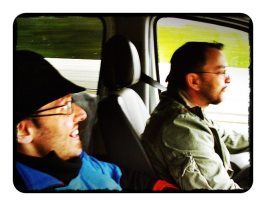 fot. Barciej Makowski
Przemierzamy zatem całą Austrię i całą docelową włoską trasę z jednym mężczyzną, który – śmiało można powiedzieć – spadł nam z nieba. Poznajemy życie wspaniałego człowieka. Z samochodu oprowadza nas na całej odległości po okolicy. Wspomina o różnych, wykwintnych ciekawostkach. O północy (00:00) mamy być na miejscu. Wspaniała rozmowa w trakcie podróży. Po minięciu Bolonii udaje nam się przysnąć na kilka chwil. Przebudzenie następuje przed Rimini. Wolfgang (bo tak ma na imię nasz wybawca) oczywiście deklaruje chęć podwiezienia nas pod samą bramę Campingu Paradiso. Toż to złoty człowiek...
(Diana) 2 maja, godzina 23.50: Wolfgang jest bezdyskusyjnie przekonany, że będziemy pierwsi. Przecież jedzie najszybciej na autostradzie! W dodatku nikt z pewnością nie pokonałby tego labiryntu ciemnych leśnych dróżek prowadzących do campingu Paradiso! Wysiadam z samochodu i doprawdy nie pojmuję, co robi przed nami ten tłum wiwatujących ludzi!!! Tak, z pewnością jesteśmy pierwsi na mecie a masa przed nami składa się z zagranicznych turystów – myślimy. Pytam "ile osób dojechało"? "Około 250"… A jednak nie byliśmy pierwsi…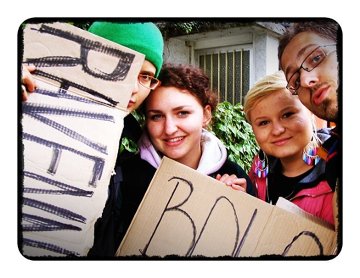 Już się oswoiliśmy z myślą, że nie jesteśmy pierwsi na mecie – serdecznie witamy się z pozostałymi autostopowiczami.
fot. Barciej Makowski
Tak obce wobec doświadczeń minionych dni wydaje nam się środowisko pijanych, rozkrzyczanych studentów i wizja noclegu za 7,50 €, że w pierwszej chwili jesteśmy bliscy gonitwy za odjeżdżającym Wolfgangiem i błaganiu, by nas nie opuszczał, zabrał ze sobą gdziekolwiek jedzie. Ale nie tak łatwo nas złamać, stawiamy czoła sytuacji i BAWIMY SIĘ ŚWIETNIE.
Piękne są chwile spędzane na pijanym campingu, odpoczynek na nie mniej pijanej plaży… ale wewnętrzny nomadyzm nie pozwala nam długo cieszyć się bieżącą wodą. 4 maja ruszamy w stronę San Marino, Ravenny i docelowej Bolonii (skąd udało nam się wykupić lot do Polski za jedyne 6 €!). W trasie spotykamy po raz kolejny Wolfganga, który zaprasza na włoski obiad składający się z pasty w trzech smakach; obowiązkowego po posiłku "lemoncello/lemoncino"; kawy espresso i olbrzymich lodów. Wracając mamy okazję przekonać się jeszcze: jak trudno złapać "okazję" we Włoszech; jak wygodne i szybkie są tamtejsze pociągi; jak trudno jest uzyskać informację o połączeniach w kasie głównej (w której porozumienie w języku innym niż włoski graniczy z cudem).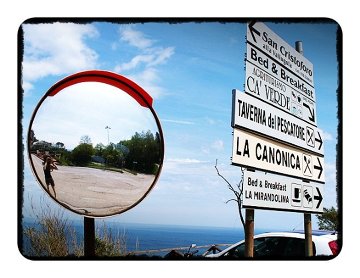 Włoski kemping wraz ze wszystkimi jego dobrodziejstwami, z ciepłym prysznicem na czele
fot. Barciej Makowski
Doświadczamy tego jak zimno jest na plaży w nocy; że u Włochów terminy takie jak 5 km czy 20 min oznaczają wszystko z wyjątkiem tego, co oznaczają dla nas. Upewniamy się, że wystarczy wjechać do większego miasta – takiego jak Bolonia na przykład, by poczuć się jak w domu i że każda osoba z plecakiem, czy to w lesie czy w centrum miasta, czy na lotnisku nawet, to znajomy pod kurtką skrywający tajemniczy napis: AUTOSTOP RACE WROCŁAW – RIMINI 2010.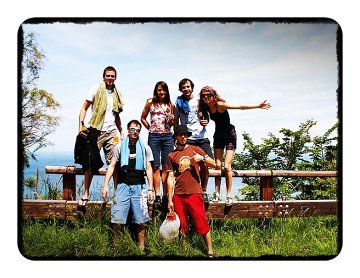 Na kempingu – bawimy się świetnie, ale myślami jesteśmy już w trasie. Autostop uzależnia.
fot. Barciej Makowski