Zaczęło się od wyjazdu do Taizé, małej francuskiej wioski, gdzie mieszka wspólnota braci, do której zjeżdżają się ludzie z całego świata. To był mój pierwszy wyjazd za granicę, pojechałam autobusem. Tam w pokoju byłam z kilkoma szalonymi Polkami z okolic Wrocławia. Opowiadały mi o podróżach autostopowych i po kilku dniach postanowiłam nie wracać autobusem do Polski, tylko wyjechać jeszcze z nimi. Szalona decyzja, którą opłacało się podjąć – okazała się jedną z lepszych w moim życiu.

Powycinałyśmy kartki w kształt przeróżnych pojazdów i napisałyśmy w nich ogłoszenie w różnych językach z prośbą o podwiezienie. Planowałyśmy jechać do La Salette, do znajomej dziewczyn, która była wolontariuszką w tym sanktuarium. Zgłosiło się trzech chłopaków. Jechali do… La Salette. Jeden z nich miał tam być wolontariuszem. Dwie dziewczyny Luiza i Gosia pojechały z nimi, a ja z trzecią z nich, Emilią, wybrałam się na stopa w poniedziałek rano.

Ostatnią noc w Taizé spałyśmy na podłodze w jakimś baraku, bo namiot zabrały Luiza i Gosia. Już to pachniała przygodą. Rano pożegnanie z Taizé w romańskim kościółku i stoimy już na drodze. Chciałam mieć zdjęcie jak łapię okazję, ale nie zdążyłyśmy nawet wyjąć aparatu, bo samochód się zatrzymał.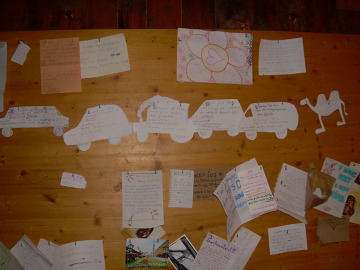 Dobra reklama nie jest zła
fot. Sylwia Korczak
Trzy lata temu spisałam tę historię. O pierwszym samochodzie napisałam: "Siedząc z tyłu cieszyłam się wiatrem czochrającym mi włosy. Wiedziałam, że wpakowałam się w niezłe bagno i byłam z tego cholernie zadowolona". Tego dnia jechałam pierwszy raz tirem, wzięła nas też staruszka rajdowiec starym mercedesem, słuchająca francuskiej wersji Radio Maryja. Najlepsza była chyba jednak pół-Polka która śpiewała z nami takie hity jak "Szła dzieweczka do laseczka". Takie stopy dobrze nastrajają, szczególnie przed długim staniem na drodze. Utknęłyśmy dość daleko w Alpach, było już późno i ciemno. Emila chciała spać na przystanku autobusowym. A wokół las, góry, mrok, zimno, ubrałyśmy wszystkie rzeczy z plecaków.

– Ty chyba nie zamierzasz tu spać? A jak ktoś przyjdzie? Albo coś? – zapytałam niepewnie. To była moja pierwsza noc w podróży i od razu na przystanku. Teraz wiem, że taka sytuacja była całkiem komfortowa, ale skąd mogłam to wtedy wiedzieć? Wcześniej udało nam się porozumieć z Gosią i Luizą i powiedzieć mniej więcej gdzie jesteśmy. Jeden z chłopaków, który dowiózł dziewczyny do La Salette znalazł nas i dowiózł o trzeciej w nocy do sanktuarium zagubionego pośród alpejskich wzgórz. Odetchnęłam z ulgą. Nigdy nie zapomnę widoku kłębiących się w dole chmur. Krążyłyśmy po hotelu w którym mieszkała Ula, znajoma dziewczyn, ale każde piętro wyglądało inaczej, miałyśmy wrażenie, że korytarze zmieniają swój układ za każdym razem, że ten budynek żyje własnym życiem.

Po godzinie się poddałyśmy. Na korytarzu spać nie mogłyśmy, a na dworze było chyba z minus tysiąc stopni i silny wiatr. Postanowiłyśmy, że pójdziemy spać do… toalety dla inwalidów. Niestrzeżone toalety znajdowały się na zewnątrz budynku, było w nich ciepło i czysto. Luksus! Nasze plecaki następnego dnia zostawiliśmy w namiocie, który rozbiliśmy zaraz pod murami hotelu, gdzie wydawało się, że będzie niewidoczny. Kiedy weszłyśmy na pobliską górkę okazało się, że pomarańczowy punkcik doskonale widać z każdej niemal strony. A obok niego biały punkcik, osioł. Nie wiadomo skąd się tam wziął, więc nazwałyśmy go objawionym osiołkiem. W końcu to miejsce objawień. Drugą noc spędziliśmy w jednoosobowym pokoju Uli, polskiej wolontariuszki. Trzy osoby spały na kawałku podłogi, dwie na łóżku i jedna pod łóżkiem.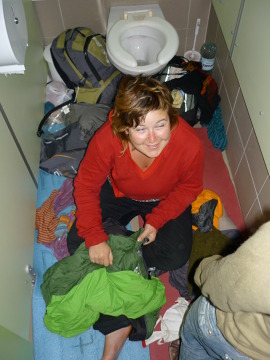 fot. Emila
Następnego dnia popatrzyliśmy na mapę. Luiza, siostra Emilii oglądała jakiś program o Aix-en-Provence i pamiętała, że to ładna miejscowość, i że żył tam Van Gogh. No to co? Jedziemy? Jeden z trójki chłopaków zdecydował się jechać z nami. Ja jechałam w trójce z Emilą i Luizą, a Gosia z Tomkiem w drugiej "grupce". Najzabawniejsze było ciągle mijanie się. Jednego razu kiedy kierowca wysadził nas na drodze w kierunku Aix nagle z krzaków po drugiej stronie ulicy wychodzą… Gosia i Tomek.

Jedziemy do Aix, ale na stopa wziął nas dość szybko pewien miły student z Marsylii, Maxime i zaproponował nocleg w Marsylii. Luiza mówiła po francusku, zapytała czy jest możliwe, żeby przenocował też dwójkę naszych znajomych. Na wszystko słyszałyśmy tylko jedną odpowiedź: [i]Ҫa va![/i] czyli najprościej mówiąc: [i]o.k.![/i] Miałam w głowie czarny scenariusz, w końcu obcy koleś zaprasza nas na nocleg. Pojechaliśmy najpierw do dzielnicy, o której Maxime powiedział, że nie jest to dobre miejsce, ale musi coś tu załatwić. Zostawił nas na chwilę w samochodzie. No jasne, pomyślałam, teraz pewnie nas sprzeda. Ale przyszedł i pojechaliśmy dalej. Jego mieszkanie znajdowało się zaraz przy głównym porcie Marsylii. Gosia i Tomek też dojechali. Umyliśmy się i poszliśmy na małe zwiedzanie. Wokół nas przebiegały co chwilę jakieś arabskie dzieci, miałam wrażenie, że wkładają ręce do moich pustych kieszeni. Nic nie mogli mi ukraść, ale czułam się dziwnie osaczona. Jak wchodziliśmy do mieszkania okazało się szybko dlaczego musieliśmy zatrzymać się w tej strasznej dzielnicy. Ze skarpetek Francuz wyjął haszysz, po czym sprawnie zrobił sobie z niego skręta. Właściwie palił nieustannie, głównie siedząc na szerokim parapecie. My też tam sobie siedziałyśmy chwilę i patrzyłyśmy na biegające pod oknem szczury.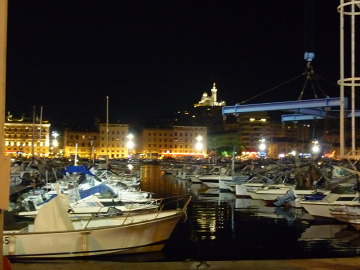 fot. Sylwia Korczak
A mieszkanie, a właściwie kawalerka, była mała, w łazience nie było prądu, ciepłą wodę pod prysznicem odkręcało się obcążkami, a wodę w toalecie spuszczało wiadrem, bo spłuczka była [i]kaputt[/i], jak to określał dumny gospodarz ze skrętem w ręce. Cztery osoby spały na łóżku, dwie obok, więcej miejsca nie było. Musieliśmy spać w poprzek, bo wzdłuż łóżka byśmy się nie zmieścili, ale Maxime zapewniał, że wypróbował taki układ wiele razy, generalnie [i]ça va! [/i]W nocy czułam, że Gosia leżąca obok Francuza coraz bardziej przesuwa się w naszą stronę, tak, że nad ranem połowę łóżka zajmował Maxime, a połowę my, w trójkę.

Rano kombinowaliśmy jak wydostać się z miasta w piątkę. Wpadliśmy na pomysł dość szalony, ale Maxime paląc haszysz, wzruszył ramionami i powiedział: [i]ça va![/i] Emila wsiadła do bagażnika, przysypaliśmy ją plecakami i w ten sposób dojechaliśmy do Aix-en-Provence.

Pierwsze kroki skierowaliśmy do informacji turystycznej, mapki miasta zawsze dają za darmo. W biurze okazało się, że owszem, mieszkał tu malarz, ale nie Van Gogh, tylko Cezanne. Kiedy się o tym dowiedzieliśmy, to przyszło nam zauważyć, że w kostkach brukowych chodnika wyłożony był wszędzie znaczek imieniem Cezanne, a obok znajdował się wielki Hotel Cezanne. Aix nas oczarowało, nieduże miasto, piękna starówka, słoneczna pogoda, inaczej niż w Marsylii nie spotkaliśmy mnóstwa uchodźców, choćby dlatego, że to dość drogie miasteczko.

Następnie przyszło nam do głowy wybrzeże, w końcu to tak blisko. My w trójkę dość szybko dojechałyśmy do Fréjus, bardzo blisko słynnego Saint Tropez.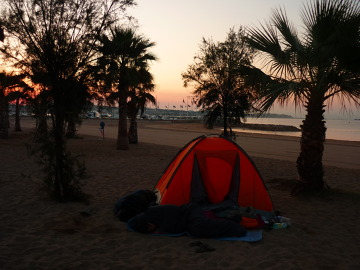 Poranek na Lazurowym Wybrzeżu
fot. Emila
Spotkaliśmy się z drugą grupką i zjedliśmy wspólnie kolację pod palmami, oglądając zachód słońca. Jakiś starszy Hiszpan spytał nas czy zamierzamy tu spać. Pokiwaliśmy głową nieco niepewni i pytamy czy to możliwe. – Wszystko jest możliwe, dobrej nocy! – powiedział miłym głosem. Dlatego tym żwawiej rozłożyliśmy namiot na środku plaży. Wtedy po raz pierwszy spałam w namiocie. Pierwsza noc na dziko w toalecie, druga u ćpającego studenta w Marsylii, a trzecia w namiocie pod palmami, nieźle.

Rano ludzie schodzący się na plażę odnosili się do nas bardzo uprzejmie. Spędziliśmy więc tam kilka godzin. Jako że nie przepadam za przepełnionymi plażami, a wokół naszego namiotu zrobiło się gęsto od ludzi, to postanowiliśmy zebrać się i wyruszyć w stronę Polski.

Ktoś wcześniej powiedział nam, że wybicie się z Lazurowego Wybrzeża jest niemal niemożliwe, że lepiej od razu wjechać autobusem. Ej, przecież wszystko jest możliwe! My w trójkę złapałyśmy stopa w pięć minut i dojechałyśmy nim aż pod Strasburg. Zanim tam dojechałyśmy, zrobiłyśmy po drodze mały piknik na jednej ze stacji. Młody kierowca z jeszcze młodszym bratem częstowali nas melonem, my ich bagietką z marketu. W pewnym momencie padło pytanie, do którego pewnie większość podróżujących już przywykła.

– To przecież niebezpieczne, nie boicie się tak jeździć?
– Dotychczas spotkałyśmy samych sympatycznych kierowców.
– Na świecie istnieją też niesympatyczni ludzie.
– Ale niesympatyczni się nie zatrzymują.

Nasz kierowca poczuł się sympatyczny, zasłużenie zresztą, i nie chcąc tracić w naszych oczach, zanim ruszyliśmy ze stacji obrócił się do nas i spytał:
– Czy to będzie niesympatyczne jak zapalę sobie haszysz?

Dojechaliśmy na stację blisko granicy niemieckiej około czwartej w nocy, spałyśmy na stacji benzynowej, rano obudził nas deszcz, który bezczelnie siąpił przez ścianki namiotu. Spakowałyśmy się i przeniosłyśmy nasz obóz na stację benzynową. Tam elegancko kupiłyśmy sobie kawę z automatu, jedną na trzy osoby. Dopóki padało, nasz obóz trwał, ku widocznemu niezadowoleniu pracowników stacji, na jedynej ławeczce przy toaletach. Nie powiedzieli nam nic, ale wyrazili swoje niezadowolenie w inny sposób. Jak przestało padać siedziałyśmy na wyjeździe ze stacji i łapałyśmy z kartką "Deutschland", aby Niemcy wzięli nas za swoje rodaczki i się zlitowali, niestety wszystko na nic.

I tak, w pewnym momencie wolnym krokiem zbliża się do nas policjant. Właściwie to podchodził tak wolno, że zdążyłybyśmy spakować manatki i odejść, też spokojnym krokiem. No dobra, ze stacji i tak nie uciekniemy, autostop we Francji jest przecież dozwolony, pocieszamy się, czekając. Uprzejmy policjant poprosił dokumenty i odszedł spacerkiem. Siedziałyśmy pół godziny, trochę zestresowane, nie mogąc łapać. W końcu pojawił się znów młody policjant, oddał dowody i chciał iść. Zatrzymałyśmy go.

– Ça va?
– Ça va, dostaliśmy zgłoszenie – machnął ręką w stronę stacji – że dziwni ludzie się tu kręcą, podejrzewaliśmy nielegalnych uchodźców, ale wasze dokumenty są o.k. Autostopowicze?
– Tak.
– Bon voyage.

I tyle. Postanowiłyśmy nie kłuć w oczy naszą obecnością i przejść do autostopu bardziej ofensywnego, czyli pytania kierowców. Znalazłyśmy dwóch kolegów z jednej firmy, Polaków. Emila zgodziła się jechać sama u jednego, a ja z Luizą jechałyśmy z drugim, młodym Ślązakiem. Miałyśmy okazję posłuchać typowej śląskiej gwary przeplatanej specyficznym słownictwem tirowców.

Porozumiewałyśmy się przez CB radio, a nawet podawałyśmy sobie przez okno aparat, bo nasi kierowcy specjalnie dla nas ku uciesze osobówek wyprzedzali się i zrównywali swoje tiry na dwóch pasach obok siebie, i tak co jakiś czas.

Wieczorem, już głębiej w Niemczech, rozpętała się ostra burza. Zawsze jak jadę przez Niemcy pada. Zawsze. Dojechałyśmy na stację o północy. Nasz kierowca zrobił nam kolację, herbatkę i poszedł na noc do kolegi, a my w trójkę spałyśmy na dwóch łóżkach w kabinie. Na odchodne nasz Ślązak powiedział, że nie możemy odjechać bez niego. Ponoć Rosjanie robili imprezę na stacji, ale żadna z nas tego nie słyszała. Obudziłyśmy się wspaniale wyspane i wypoczęte. Niedługo później przyszedł gospodarz tira i zrobił nam śniadanie. Nie mogłyśmy łapać, bo najzwyczajniej w świecie niewiele co jeździło po drodze. Stacja była oddalona od autostrady, tylko tiry tam zjeżdżały na dłuższy postój. Mało tego – była niedziela, więc żaden tir nie mógł wyjechać. Nasi kierowcy znaleźli kolegę, który ruszał o północy do Poznania. A tymczasem spędziłyśmy leniwy dzionek na trawce na stacji, zjadłyśmy obiad z tirowcami, a paczką żelków i herbatami, które dostałyśmy od kierowców, uczciłyśmy urodziny Emilii.

Szef naszego kierowcy zmienił mu trasę, ale szybko znalazł się inny. Z obrzeży Poznania złapałyśmy stopa do centrum, a tam już czekała na nas nasza druga "grupka", śpiąc na ławce w parku pod operą.

No i jak można po takiej hardcorowej podróży nie pokochać autostopu?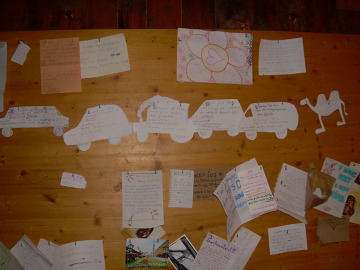 Dobra reklama nie jest zła
fot. Sylwia Korczak