Paulina Kulikowska: Jak to się zaczęło?
Anna Pikol: Odnoszę wrażenie, że dryg do podróżowania wynosi się z domu. W moim przypadku podróżował tata i przy okazji zabierał mnie i moje siostry ze sobą. Byłyśmy na euro-tripie, w Chinach, Stanach Zjednoczonych… Od kiedy pamiętam, zawsze gdzieś jeździłyśmy. Najbardziej zapadła mi w pamięć podróż do Chin, gdzie ludzie robili sobie zdjęcia z bardzo egzotycznym tam widokiem - trzema małymi blondynkami (śmiech).
Jak wyglądały te podróże?
Rodzice zawsze uczyli nas "życia" i przez to nigdy nie zatrzymywaliśmy się w hotelach. Spaliśmy w hostelach, na campingach i u wszystkich tych, którzy chcieli nas ugościć w swoim domu. Przez to miałyśmy niepowtarzalną okazję poznać daną kulturę "od kuchni" i niesamowitych ludzi, z którymi kontakt utrzymujemy do dziś. Myślę, że bardzo to wpłynęło na nasze życie, moje siostry studiowały sinologię i kulturę wschodu.
A Ty? Czy ma to związek z podróżami?
Ukończyłam Naturoterapię i Klasyczną Medycynę Chińską na Uniwersytecie w Portland. Pozornie nie ma to żadnego związku z podróżami, lecz w rzeczywistości otworzyło mi to wiele drzwi. W ramach studiów podróżowałam do rdzennych plemion Ameryki Południowej, by nauczyć się alternatywnych metod pracy z ciałem, psychiką i duchem. Poza tym, byłam też na Syberii, w Indiach i Ugandzie. Szukam wspólnego mianownika we wszystkich miejscach, w których jestem.

Dagmara Czarnecka i Anna Pikol na plaży w Indiach. Ubrania Projektu Dagmary Czarneckiej.
fot. www.dagmaraczarnecka.pl
Udało Ci się go znaleźć?
Jestem coraz bliżej (śmiech). Myślę, że ta droga nigdy się nie kończy.
Podróżowałaś sama?
Większość wypraw faktycznie odbyłam sama. Rodzice byli przerażeni wizją pierwszej samodzielnej podróży do Ameryki Południowej, jednak z czasem nauczyli się to akceptować. Mimo, że tego nie wyrażają, nadal bardzo się o mnie martwią. Muszę przyznać, że się im nie dziwię – mam bardzo szalone pomysły – wyjazd do Irkucka był jednym z nich. Spontanicznie, bez języka i pojęcia dokąd zmierzam; po prostu kupiłam bilet, mapę, spakowałam plecak i już mnie nie było. Najbardziej przerażają ich historie, które czytają na temat kobiet wykorzystywanych przez służbę ochrony – policję czy celników. Wielokrotnie byłam w sytuacjach potencjalnie bez wyjścia, ale zawsze jakimś cudem udawało mi się wybrnąć z tarapatów (śmiech). Wierzę, że siła wyższa nade mną czuwa.
Nie bałaś się wyjeżdżać sama? Masz bardzo jasną karnację i włosy, to musi zwracać uwagę!
Nie chcę z siebie robić nieustraszonego pogromcy nieznanych lądów i krain (śmiech), bardzo się bałam, czasami doskwierała mi przejmująca samotność, ale kieruję się mottem, że "odwaga siedzi na krześle zbudowanym ze strachu". Trzeba mieć odwagę pokonywać swoje ograniczenia i słabości, dopiero po przeskoczeniu pewnych etapów w sobie samych, stajemy się naprawdę wolni.
Czy teraz także zdarza Ci się wyjeżdżać bez przygotowania?
Teraz pracuję nad swoją impulsywnością i do każdej podróży przygotowuję się najlepiej jak potrafię – na zbieranie informacji o danym miejscu poświęcam ok 2-3 miesięcy, w tym czasie uczę się także podstaw języka. W trakcie podróży wypracowałam sobie bardzo body-language, język ponad podziałami (śmiech), lecz czasami to nie wystarczy. Przed wyjazdem sprawdzam, jaki jest klimat, kultura, ceny, gdzie można się zatrzymać – przynajmniej na początku. Bardzo często na granicy celnej jest wymagane podanie adresu pobytu, i mimo, że zawsze można liczyć na swój urok osobisty, teraz już wolę polegać na sobie samej. Spontanicznie zdarza mi się podróżować po Europie, ostatnio wyjechałam z moim chłopakiem do Norwegii z zamiarem pracy sezonowej, niestety na miejscu okazało się, że pracy jednak nie ma, więc bez pieniędzy koczowaliśmy na dziko w namiocie (śmiech).
Wygląda na to, że warunki nie są przeszkodą.
Tak naprawdę, wszystko zależy od nas samych. Kiedyś Martyna Wojciechowska powiedziała bardzo piękne słowa, że często sami nie wiemy, gdzie leżą nasze granice. W podróży udaje nam się je dostrzec, a zaraz po tym pojawia się wybór, czy je przekroczyć czy nie.
Czym kierujesz się wybierając cel swojej podróży?
Różnie. Czasami odnoszę wrażenie, że to nie ja je wybieram, a to one wybierają mnie (śmiech). Tak jak w przypadku Peruwiańskiego Plemienia Shipibo, na długo przed wizytą w tym miejscu miałam sen, że tam jestem. Dopiero w Peru usłyszałam, że według legend, ich ziemie "wzywają" teraz ludzi, którzy mają pomóc planecie we wzroście świadomości. Nie wiem czy przypisywałabym sobie taką rolę, niemniej na miejscu spotkałam kilka osób z Polski, między innymi Dagmarę Czarnecką, która jest projektantką mody i w swojej twórczości wykorzystuje wzory rdzennych kultur. Wierzę w to, że transformacja dotyka wszystkich dziedzin życia – zaczynamy uzdrawiać swoje wewnętrzne dziecko dzięki wyrażaniu siebie np. poprzez ubiór.
Opowiedz proszę o smaczkach z niektórych podróży i jakie miejsca polecasz innym?
Uważam, że nie ma miejsc mniej lub bardziej wartych odwiedzenia, wszędzie można znaleźć coś interesującego, trzeba tylko chcieć. Kocham Indie, mimo wszechobecnego brudu i ścisku. Ludzie tam mają niesamowity spadek kulturowy, który kultywują mimo zalewu Zachodu. Spędziłam tam 2 tygodnie na ayurwedycznym "retreacie", gdzie masażami i ziołami wyleczono mi skutki urazu kręgosłupa. Zostałam też parę razy oszukana przez taksówkarzy, ale to skutek mojej nieuwagi (śmiech). W Puszczy Amazońskiej, podobnie z resztą jak Beata Pawlikowska, byłam u miejscowych Szamanów. Nie wszyscy chętnie dzielą się z kobietami wiedzą o uzdrawianiu, jednak udało mi się dotrzeć w najbardziej niesamowite rejony, przez pół roku "dietowałam" ucząc się działania roślin uzdrawiających.
Czym jest dietowanie?
Dietowanie to czas spędzony w samotności w dżungli, bez dostępu do "normalnego" jedzenia, gdy jedyne, czym się odżywiałam, to rośliny rosnące na miejscu. Przygotowywałam się do tego drugie pół roku, ucząc się, które rośliny są jadalne. Powrót na łono cywilizacji był lekkim wstrząsem.
A propos diety, jakich najbardziej niezwykłych potraw próbowałaś?
Jestem fanką pierogów we wszelkiej postaci, dlatego może nie są niezwykłe, ale uwielbiam empanady z Ameryki Południowej i Samosy w Indiach. Poza tym świnka morska w Ekwadorze, w Chinach oczy ryby i stare jaja, a na Syberii mięso renifera. Polecam restaurację "Bezgraniczna" w Warszawie, moje najnowsze odkrycie – serwują tam pyszne dania z całego świata, nie trzeba ruszać się z Polski, żeby podróżować kulinarnie (śmiech).
W jaki sposób porozumiewasz się z lokalnymi ludźmi?
Mówię płynnie po angielsku, francusku i hiszpańsku i tak, jak już wspominałam – body language i uśmiech to podstawa. Staram się przygotować do podróży przez nauczenie się podstaw języka kraju, do którego zmierzam, ale ze zrozumiałych względów nie zawsze jest to możliwe. Ciężko w Polsce o kurs języka Kamtsa (śmiech).
Co Ci dają podróże?
Długo o tym nie myślałam, ale teraz dochodzę do wniosku, że warto zadać sobie pytanie, po co my właściwie podróżujemy? Czy uciekamy przed czymś? Jeśli tak, to przed czym? Odpowiedź może zaskoczyć (śmiech). Mnie podróże dają uczucie nieograniczonej wolności i budują wiarę we własne siły. Nie ma miejsca na użalanie się nad sobą, gdy doceniasz, jak wiele dostałeś od losu, rodząc się akurat w tej, a nie innej części kuli ziemskiej. Dają perspektywę, zmieniają światopogląd i naprawdę łączą ludzi ze sobą. Polecam wszystkim narzeczonym wspólną podróż – to "ultimate challenge" wspólnego życia (śmiech). Poza tym bardzo rozwijają kreatywność – u Plemienia Yayoo nauczyłam się wyplatać torby, z resztą coraz więcej artystów w swojej twórczości wraca do źródeł i jest to piękne.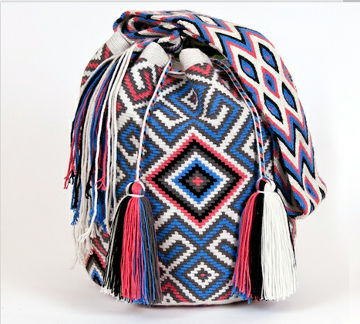 Inspiracje z podróży: wyplatana torba Plemienia Yayoo, projekt Dagmary Czarneckiej
fot. Piotr Machałek, www.dagmaraczarnecka.pl
Słuchając Ciebie odnoszę wrażenie, że całe życie spędziłaś w podróży, nie brakuje Ci stabilności?
Dom mam w sobie (śmiech). A tak na poważnie, to zabawne, że akurat teraz zadajesz to pytanie. Nie więcej niż tydzień temu zdałam sobie sprawę, że od dłuższego czasu chodzi za mną wizja zbudowania solidnej podstawy, miejsca, do którego będę wracała jak na skrzydłach. Zobaczę, co przyniesie los.
Dokąd teraz?
Za horyzont (śmiech).