Wzrok
Niewielkie miasto na południu Jawy. Do wschodu słońca ciągle mnóstwo czasu – idę na lokalny targ. Jest pełno ludzi, tych sprzedających i kupujących. Wszyscy już pracują. Niektórzy sprzedawcy, żeby zająć odpowiednio dogodne miejsca, spędzają całe noce, pilnując swojego kawałka placu. Śpią wśród stert skrzynek z warzywami, koszów ryb, świeżo sfermentowanej soi.

Czwarta rano – jest gwarnie i kolorowo. Przysiadam się na chwilę do kobiety usadowionej wśród słodyczy: wszystkie bardzo indonezyjskie – chrupiące i smażone w głębokim tłuszczu. Są onde-onde: kuleczki słodkiego ciasta wypełnione miazgą z orzeszków ziemnych i otoczone ziarnami sezamu, tęczowe galaretki zrobione z ryżowego kleiku i gorengasy – panierowane i smażone kawałki bananów (pisang goreng), chleba (roti goreng) czy słodkich ziemniaków (kasawa goreng). Te ostatnie znane jako zabójcy talii i doskonali towarzysze całodziennych wypraw na dzikie szlaki. Indonezyjczycy nie traktują jednak tego rodzaju pozycji jak posiłku, a jedynie jako przekąski między kolejnymi daniami. Funkcjonuje nawet powiedzenie, że "dopóki nie zjesz ryżu (nasi), to właściwie wcale nie jadłeś".

Zostawiając słodycze w spokoju, kręcę się po placu. Oczy kuszone są coraz to nowymi obrazkami. Nieco na uboczu rozkłada swój stolik rzeźnik, błyskając wielkim nożem i sprawnie dzieląc mięso. Zatrzymuję się w pół kroku – na blacie leży, ogromny, zakrwawiony mózg. – To nie dla ciebie – uprzedza mnie sprzedawca – dla mężczyzn. Dowiaduję się, że koźlęcy mózg przysmaża się na patelni, następnie gotuje w kotle i znowu smaży. Danie znane w Indonezji jako otak kambing, przyrządzane wedle określonej receptury, jest postrzegane jako zastrzyk siły i seksualnej witalności, cieszy się sporym powodzeniem i dobrze smakuje.

Wierzę na słowo i przemieszczam w kierunku sektora z owocami – istnej fuzji kształtów i kolorów. Biorę do ręki różową bulwę o kształcie trochę szyszki, a trochę zwiniętego tulipana. Buah naga, czyli smoczy owoc, pod jaskrawą skórą kryje biały miąższ w czarne kropki, a smakuje jak kiwi. Jest tak bajkowy, że trzymając go w dłoni, niemal oczekuję pojawienia się różowego elfa albo wróżki. Zamiast tego – jak spod ziemi wyrasta sprzedawca obwieszony gałązkami pieczonych orzeszków ziemnych (kacang tanah), jeszcze gorących i przyrumienionych. Biorę więc garść...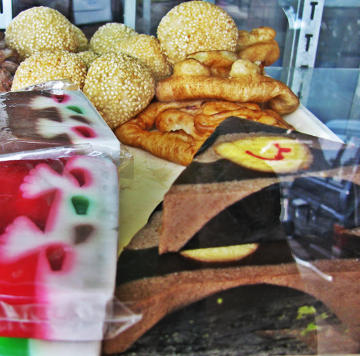 fot. Aleksandra Czyż
Słuch
Wyglądam za okno i po raz kolejny stwierdzam, że tak właśnie wygląda królestwo konformistów. W Indonezji nigdy nie musisz szukać jedzenia, to jedzenie znajduje ciebie. Do mistrzostwa rozwinęła się tutaj instytucja trójnogich restauracji (kaki tiga), czyli wędrownych sprzedawców gorących posiłków. Idą ci staruszkowie niespiesznie, pchając swoje wózki z dymiącymi pokrywami. Menu trzeba się nauczyć: drewniana kołatka obwieszcza soto ayam – dosłownie "zupę z kurczaka", w praktyce gotowaną na bulionie, pożywną mieszaninę wszystkiego: od ryżu, poprzez makaron, jajka, aż po świeże warzywa, z symbolicznym akcentem kurczaka w postaci posypki.

Z kolei rytmiczne uderzenia metalowej łyżki o pokrywę to zapowiedź bakso czyli zupy z kulkami "mięsa". Jak to w Indonezji, "mięso" i tu jest tak naprawdę mieszanką mięsa wołowego, kurczaka czy ryby z mąką z tapioki i przyprawami, a smakiem przypomina trochę polskie pulpety. Całości dopełniają: bulion, kawałki smażonego tofu (sera produkowanego ze sfermentowanej soi) oraz chiński makaron, uwaga: najczęściej w niebieskim kolorze, zgodnie z zasadą, że jak coś jest kolorowe, to lepiej się prezentuje.

Sprzedawcy bakso są jak nieustraszeni stróże kulinarnego porządku, docierają wszędzie. Jeżeli na oddalonej plaży, w środku pola czy drodze na wulkan zamajaczy kształt wędrownej budki z jedzeniem, będzie to pewnie bakso, które za każdym razem smakuje prawie tak samo. I dobrze, bo nawet w najbardziej egzotycznej rzeczywistości warto jest mieć jakieś stałe punkty...

Misz Masz – wersja studencka
fot. Aleksandra Czyż
Węch


Magrib, czyli zachód słońca zwiastuje Indonezyjczykom dwie rzeczy: tym, którzy wierzą w Allaha przypomina o wieczornej modlitwie, wszystkim – że zbliża się czas kolacji. To moja ulubiona pora, kiedy dzień niepostrzeżenie miesza się z nocą (tutaj zmrok zapada wcześnie, bo już około siódmej, przez cały rok), a ludzie wychodzą z domów – do ludzi. Idę wzdłuż głównej ulicy. Powietrze pachnie przysmażanym na oleju czosnkiem, chili, korzennym sosem. Równie dobrze mogłabym przewiązać oczy szarfą i zaufać aromatom.

Uliczne jedzenie jest proste i pyszne. Nabite na małe patyczki kawałki mięsa są grillowane w ciemnej sojowej marynacie i podawane jako sate, z dodatkiem ucieranego z orzechów ziemnych sosu, chili i drobno posiekanej szalotki. W ogromnym woku duszą się warzywa, przetykane makaronem i świeżymi ziołami, podlewane przygotowanym płynem. "Z czego zrobiłeś ten sos?" – pytam chłopaka skupionego na krojeniu pomidorów. Jest chyba młodszy ode mnie, w koszulce z Iron Maiden.

Sos pachnie limonką, papryczkami, imbirem i jeszcze CZYMŚ, czego nie jestem w stanie odgadnąć. "Na pewno będzie ci smakować! Przyjdź jutro" – odpowiada z uśmiechem, podając mi sporą porcję cap cay, opakowaną w szary papier. Na prawdziwie głodnych czeka zaś nasi goreng: smażony ryż z dodatkami. Można w nim znaleźć posiekane liście sawi (rośliny trochę podobnej do szpinaku), kawałki mięsa i sadzone jajko. I choć najsilniejszy aromat tworzą tutaj czosnek + chili, ilu kucharzy, tyle receptur. W efekcie, w zależności od regionu czy wyspy serwuje się różne odsłony nasi goreng.

Zamykając, warto wspomnieć jeszcze jednego bohatera. Durian – prawdziwy król śmierdziuchów i narodowa duma Indonezyjczyków. Jest to dużych rozmiarów owoc, o jasnozielonej twardej skórze pokrytej niewielkimi kolcami i półpłynnym, kleistym wnętrzu. Podobno duriana albo się kocha, albo nienawidzi.

Potwierdzam, bo wspomnienia kolejnych starć z żółtym budyniowo – włóknistym miąższem, roztaczającym silne zapachy trochę jak połączenie gotowanej cebuli z szatnią w siłowni, napełniają mnie głęboką traumą. Natomiast częstowana durianem, próbuję go dość dzielnie ku uciesze znajomych, starając się odpędzić uparcie dźwięczące w głowie hasło – "jesteś tym, co jesz"...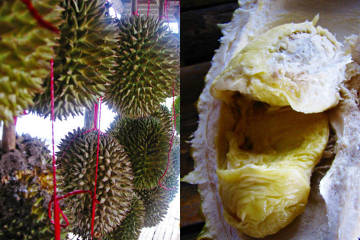 fot. Aleksandra Czyż


Dotyk

Najpierw oddzielam niewielką porcję z kleistego stosu, delikatnie ugniatam, przyciskając do powierzchni talerza, wreszcie manewrując palcami tworzę okrągły kształt, moczę w sosie... i zjadam. O ile wcześniej ryż nie wyląduje na stole albo moich kolanach. Bo jedzenie przy użyciu rąk to sztuka, której trzeba się nauczyć. "Ale śmiesznie jesz!" – słyszę miliony razy, mimo osobistego wrażenia, że przecież idzie mi coraz lepiej i prawie już nic nie gubię po drodze. W tradycyjnych ulicznych knajpkach zwykle nie podaje się sztućców, wyjątek stanowi łyżka do zupy i do nakładania sambalu (pikantnego sosu chili). Jedzenie jest serwowane na talerzach lub w niewielkich wiklinowych koszyczkach.

Mój ulubiony sposób wykorzystuje jako naczynia liście bananowca, same delikatnie pachnące słodko-żywicznie. Wraz z potrawą otrzymuje się niewielką miseczkę, napełnioną zimną wodą z dodatkiem soku z cytryny. Dzięki temu oczyszcza się trochę dłonie przed posiłkiem, choć obcokrajowcy czasem tę wodę wypijają, wywołując powszechną radość. Jest coś fascynującego w poznawaniu jedzenia dotykiem, w oswajaniu kształtu i sprawdzaniu tekstury, kiedy zmysł poznawczy pozostaje w stanie permanentnego pobudzenia.

Czasem bywa nieco strasznie, np. gdy jedząc rujak cingur – warzywną, pikantną sałatkę, trafiam na kwadratowe żelki, które smakują jak zimne nóżki, a okazują się zrobione z uprzednio gotowanego krowiego pyska. Albo zaskakująco – gdy przez cały wieczór beztrosko podgryzam chrupiące pałeczki, przypominające panierowane paluszki, o lekko słonawym smaku, a następnego ranka czytam, że usus goreng to po prostu oczyszczone wołowe jelita, smażone w głębokim oleju.

I ja z każdym takim odkryciem czuję się swobodniej, bo ten świat dotykany traci gdzieś po drodze kolejne warstwy obcości...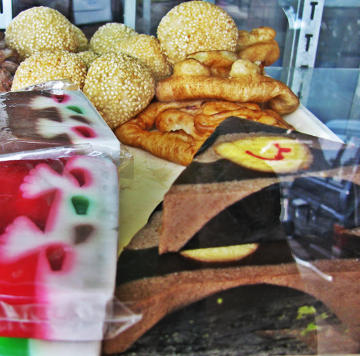 fot. Aleksandra Czyż
Smak
Indonezja smakuje za każdym razem inaczej. Przegryzioną na próbę papryczką chili, która pali w język i napełnia oczy prawdziwymi łzami. Ziarenkami kawy wysypanymi z woreczka, a potem mielonymi z cukrem i kawałkami imbiru. Dojrzałym mango, tak słodkim i bezwstydnie oblepiającym policzki gęstym syropem, że oblizywanie się przychodzi nieświadomie. I jeszcze: durianem, świeżymi krewetkami i kokosowym sokiem. Smakuje wszystkim, na co mamy ochotę albo co dopiero odkrywamy – zachłannie i do końca.

Dla mnie istota smaku Indonezji leży w ulicznej kulturze jedzenia, pełnej małych knajpek, skwierczących woków, kolorowych mat rozkładanych wprost na chodniku i oliwnych lampek, które po zmroku odczarowują oblicze nawet najbrzydszej ulicy. Wchodzę do tej rzeczywistości przypadkowych rozmów, rubasznych żartów, gitarowej muzyki i jakoś wcale mi nie jest samotnie. Ulica żyje, pulsuje esencją autentycznej ludzkiej wspólnoty i jest otwarta dla każdego, kto tylko ma odwagę ją poznać.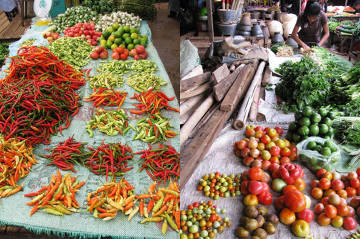 fot. Aleksandra Czyż