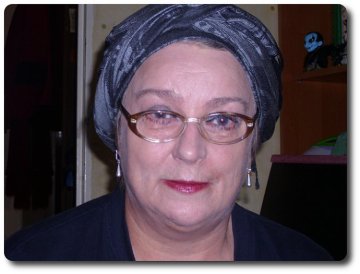 fot. Archiwum prywatne
Urodziłam się i wychowałam w małym mieście. Ukończyłam Technikum Ekonomiczne – rachunki mam we krwi. "Za mężem" przyjechałam do stolicy. Od dziecka marzyłam aby w moim życiu coś się zmieniło. W małym mieście ciągle się jest na świeczniku, a to dość męczące. Muzykę mam chyba we krwi. Już jako dorosła kobieta i matka poprzez książkę i serial "Korzenie"odkryłam swoją fascynację Afryką. Kiedy było mi ciężko, wracałam do tej lektury i to napawało mnie optymizmem – wszak ludziom było znacznie gorzej. O podróżach mogłam tylko pomarzyć, wówczas nie było mnie na nie stać. Dopiero przejście na emeryturę i dodatkowe 1/2 etatu pozwoliło mi zrealizować swoje wcześniejsze marzenia.

Starałam się odłożyć każdą złotówkę, aby chociaż przez tydzień powdychać afrykańskie powietrze, posłuchać szumu palm, popatrzeć na dojrzewające daktyle, posłuchać afrykańskiej muzyki (z naciskiem na głos bębnów). W Tunezji byłam 7 razy i tylko z braku pieniędzy teraz nie latam do tego kraju.

Zainteresowanie Tunezją przeniosłam się na mój blog: http://turystykaemerytki.blog.onet.pl, gdzie staram się przybliżać turystom wszystkie tunezyjskie tematy od opisów hoteli, wyżywienia, okolic do zwyczajów i obyczajów włącznie. Od 2005 roku jestem pod nieprzerwanym urokiem TUNEZJI.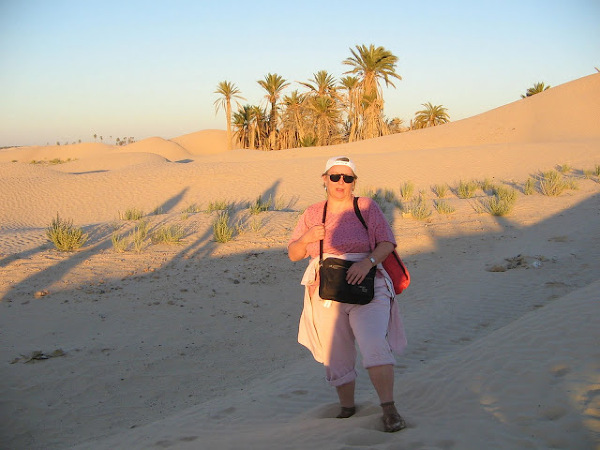 Na Saharze. Fot. Archiwum prywatne
O saharyjskim piasku i nocy tam spędzonej myślę bez przerwy.