Andrzej Pasławski – krakowianin, zakochany w Bałkanach podróżnik, instruktor i pasjonat fotografii. W latach 80-tych współpracował jako fotoreporter w redakcjach dwóch gazet krakowskich. Obecnie kieruje Agencją Kulturalno-Artystyczną PROXIMA, a na pokazach i slajdowiskach dzieli się swoimi barwnymi wrażeniami i przebogatym doświadczeniem.
Tomasz Pakuła: Od lat przemierza Pan Bałkany, w samej Albanii był już Pan ponad dwudziestokrotnie. Skąd tak wielkie umiłowanie do tego regionu?
fot. Andrzej Pasławski
Andrzej Pasławski: Bałkany zobaczyłem po raz pierwszy, jako uczeń szkoły podstawowej, zawieźli mnie tam rodzice, którzy mieli żyłkę poznawczą i realizowali ją na miarę ówczesnych możliwości, a dodatkowo pasją ojca była fotografia. A ja to wchłonąłem, rodzice potrafili zachęcić mnie do patrzenia, zwiedzania, dodatkowo miałem jakiś dar szybkiej nauki języków, jestem z tego rocznika, kiedy już w podstawówce uczono języka rosyjskiego. I strasznie mi zaimponowało, że będąc smarkaczem mogę porozumieć się w Bułgarii. Po latach okazało się, że znajomość tego języka pozwala łatwiej przyswoić sobie serbski i w ogóle dogadać się na Bałkanach, czytać cyrylicę.
Dodatkowo jestem osobnikiem ciepłolubnym, bałaganiarzem, leniwcem, lubiącym luz i odrobinę beztroski, a to wszystko mogę znaleźć na Bałkanach. Kocham tamtejszy styl życia, muzykę - wspaniałą, skoczną, śpiewną, krajobrazy, sąsiedztwo gór i ciepłego morza. A z czasem przyszła chęć poznania tego "bałkańskiego tygla", historii, problemów, a na ogarnięcie tego pewnie życia nie starczy. Stąd tak częste tam powroty.
fot. z archiwum Andrzeja Pasławskiego
TP: Albania, to kraj owiany niedobrą sławą, ale chyba słabo znany i niedoceniany. Spoczywa na nim odium negatywnych stereotypów. Jaka jest naprawdę Albania?
AP: No, to nie tylko Albania! Zanim tam wjechaliśmy, objechaliśmy Chorwację (tę jeszcze bez turystów), Czarnogórę, inne post-jugosłowiańskie państwa i z tymi krajami łączą nas wspaniałe wspomnienia. I przyszła pora na Albanię i Kosowo – tak na przekór właśnie tym opiniom. Choć znajomi twierdzili, że córki mi porwą, żonę zgwałcą, auto ukradną, a ja zaliczę piach, bo przecież tam rządzi mafia, każdy ma broń i "nie zawaha się jej użyć". Kraj bunkrów i mercedesów, to kultowe hasło, którym określa się Albanię. A we mnie wtedy krew się burzy! Te opinie kreują głównie ci, którzy albo tam nie byli, albo nie potrafią otworzyć się na inną kulturę.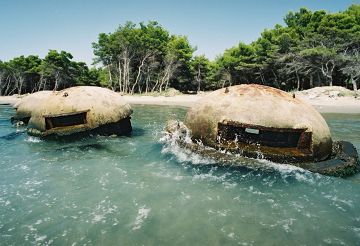 fot. Andrzej Pasławski
Tak więc postanowiliśmy pojechać… O, jakże byliśmy żółtodziobami! Mieliśmy wtedy auto osobowe, choć mocno przeze mnie przerobione na wyprawy i realia górskie, to jednak w konfrontacji z albańskimi górami i bezdrożami szybko klęknęło. Ale to, co zobaczyliśmy, dokonało zwrotu w naszych umysłach i przyszłości wypraw. Piękno gór, dzikość, pustka, rzuciły nas niemalże na kolana. Popatrzyliśmy sobie z żoną w oczy i wniosek był natychmiastowy – trzeba nam terenówki! Zaczęła się inna filozofia życia. Osobówka sprzedana, nabyte auto terenowe. Dotarliśmy w dzikie góry, wreszcie mogliśmy zapuścić się w bezdroża, których w Albanii bez liku. Kraj zatrzymał nas na 2 miesiące. Niezapomniane! Jazdy nad przepaściami, walka w terenie, czasem siekiera i łopata, by móc pojechać dalej, ludzie w górach wspaniali, kierujący się w swym życiu odwiecznymi prawami, którzy są obecnie naszymi przyjaciółmi, którzy pokazali nam miejsca dziewicze, nieodkryte, którzy traktują nas obecnie, jak członków rodziny. W tych rejonach cofamy się do 19-go wieku, tam żyje się bez zegarka, góry puste, bez turystów, bez map, bez żadnego zaplecza turystycznego. Tu czas się zatrzymał.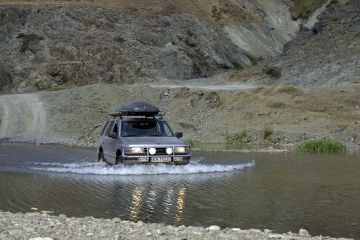 fot. Andrzej Pasławski
Ale Albania się zmienia i to w dynamicznym tempie. Ciemiężona przez dekady panowaniem Envera Hodży, zamknięta dla świata w obie strony, budzi się do życia. Według mnie to "wschodząca gwiazda turystyki". Mówię to z pewną nostalgią, bo chyba się zapłaczę, gdy Albania stanie się kolejną Chorwacją, kiedy pieniądz zwycięży i zamiast wyciągniętego serca na dłoni pojawi się sama dłoń… po pieniądze.
TP: Można powiedzieć, że Albania, to egzotyka i orient w środku Europy. To chyba znakomicie się w pisuje w Pana podróżnicze motto: "jak najbliżej – jak najdalej"?
AP: Śmiało można tak powiedzieć. Jedyny kraj islamski w Europie, co też jest kamyczkiem do negatywnych ocen. A to nie żadni ekstremiści islamscy! Wręcz to kraj, w którym nie ważne jest wyznanie, są mieszane małżeństwa, wspólnie obchodzą swoje święta, żyją z tym bezproblemowo. Orient i egzotyka nadaje koloryt. Wspomniana przeze mnie muzyka – właśnie orientalna, to nie muzyka bałkańska, jaką znamy choćby z filmów Kusturicy czy twórczości Bijelo Dugme lub Bregovića. Jej bliżej do orientu właśnie. Spróbujcie znaleźć w Europie piękniejsze i bardziej strojne suknie, niż w Albanii.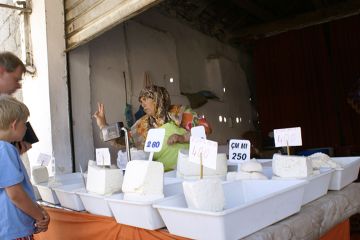 fot. Andrzej Pasławski
Nie trzeba jechać gdzieś daleko, tu poczujemy powiew i atmosferę orientu i to w pokojowej, nie ortodoksyjnej formie. Jak najbliżej – jak najdalej – to kwintesencja naszych wypraw – świat w pigułce. Po sziszę i orientalne stroje do Stambułu? Nie – są już w Albanii. Po emocje nad przepaściami, gdzie kapliczki i wraki znaczą ostatnią drogę kierowcy, lecieć do Tybetu? Nie, możemy poczuć taki dreszcz i wylać trochę potu w górach Albanii. Chcemy zobaczyć militarne klimaty, być "przetrzepani" na check-pointach, dotknąć czołgu, uścisnąć dłoń żołnierzowi w pełnym, bojowym rynsztunku, z bronią gotową do strzału? – a to proszę bardzo – też blisko – Kosovo. Czy trzeba więcej, choć to tylko przykłady?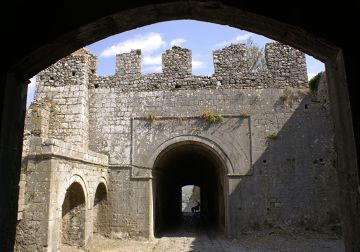 Szkodra - Święte Wzgórze.
fot. Andrzej Pasławski
TP: Przemierzył Pan już dziesiątki tysięcy kilometrów terenówką i na piechotę. Miał pan okazję prowadzić wiele grup z dala od szlaków utartych przez przewodniki turystyczne. Która z wypraw zapadła Panu w pamięci?
AP: Tak, od kilku lat prowadzę grupy terenowe do Albanii i Kosowa. Każda wyprawa jest inna, bo inni ludzie ze mną jadą. Inni mentalnie, z innym bagażem doświadczenia i wyobrażeń o wyprawie i tym, co ujrzą. Czasem mają wrażenie, że trochę za mało walki w terenie, czasem wręcz odwrotnie. No cóż, paradoksalnie najwięcej emocji jest, gdy jedziemy sami, z rodziną. Wtedy przecieramy szlaki, wyznaczamy trasy, wjeżdżamy w nieznane. To my się narażamy, tracimy czasem opony, uszkadzamy auto, odwalamy drzewo, jedziemy dnem rzeki, sprawdzając, czy dalej się da i gdzie się da. A mam na pokładzie 3 kobiety, choć one są twarde i dają radę, wręcz one często wnoszą spokój, który ja zaczynam tracić.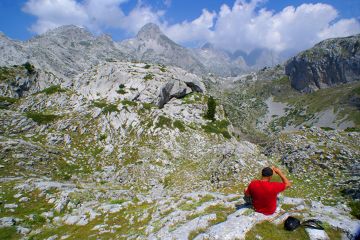 fot. Andrzej Pasławski
Pewnego razu wjechaliśmy już w góry północno-albańskie, dzicz się zaczęła, same skały, wąskie półki nad przepaściami, cudne widoki, raj. Kolega przez CB radio prosi o postój na tzw. "sikundkę" i zdjęcia, stajemy i w tej chwili jego auto również staje, ale w płomieniach. Ogień pod maską! Wszyscy wyskakują, bez słowa każdy łapie za gaśnicę i ratujemy, jedna gaśnica wyczerpana, druga, trzecia (jak by co, to standardowe gaśniczki, które mamy w samochodach pozwolą jedynie na zgaszenie niemalże papierosa), akcja zakończona, auto uratowane! Ale pod maską niezła demolka, wszystkie główne kable popalone. Nici z dalszej jazdy. Szybka kawa, trochę nerwowych papierosów też. I co dalej? Ano trzeba kolegę zaholować na dół (jesteśmy grupą i pomagamy sobie w każdej sytuacji – taka jest moja filozofia). Ponad 30 lat jeździłem samochodami, różne rzeczy mi się przytrafiały, ale czegoś takiego nie przeżyłem. To była kolejna lekcja. Pogranicznicy, jak nas zobaczyli, skąd jedziemy, stwierdzili, że jesteśmy "krejzi" i mamy chyba jakiegoś patrona, że nie zginęliśmy, odstąpili od jakichkolwiek procedur granicznych i puścili dalej.
fot. Andrzej Pasławski
TP: Podróże dają niezwykłą okazję do poznawania innych kultur. Co Pana bardziej pociąga wschód, czy zachód? Co czerpie Pan od innych ludzi spotykanych na szlaku?
AP: Właśnie, ja zawsze mówię to samo. Ale ja twierdzę, że podróże kształcą, ale… wykształconych. Bo jeżeli nie przygotujemy się do wyjazdu , nie mamy świadomości , gdzie jedziemy, to spapramy sobie długo oczekiwany urlop, a później pojawiają się na forach bzdurne opinie o danych krajach. Jeżeli Gangesem płyną niedopalone zwłoki rytualnego pochówku, a obok kąpią się ludzie, czerpiąc siłę z mocy Gangesu, to budzi to obrzydzenie. A wszystko zalega w naszym umyśle – albo to przyjmiemy i choćby nie będziemy krytykować, albo nie jedźmy tam, jeżeli nasza percepcja nie pozwoli tego objąć. A podróże to poznanie innych ludzi, kultur, języka, to nauka tolerancji dla odmienności, pokory, często zrozumienia samego siebie. Niestety dla wielu takie konfrontacje to okazja do narzekań i kreowania fałszywych opinii, czasem wręcz obrażania danej nacji. A mnie osobiście zdecydowanie bardziej pociąga wschód i południe, niż zachód. Zachód może poczekać. Tam niewiele się zmieni, a na wschodzie i owszem i trzeba go zwiedzać, nim Zachód tam dotrze.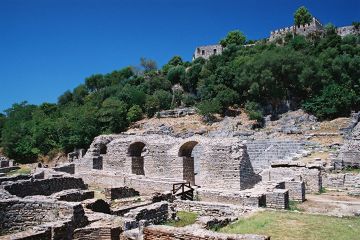 fot. Andrzej Pasławski
Z bracią podróżniczą spotykamy się bardzo często, nie tylko na szlaku, ponieważ bierzemy z żoną udział w festiwalach podróżniczych, w slajdowiskach klubów podróżniczych. To okazja do spotkań i wymiany wrażeń, doświadczeń, posłuchania o wyczynach innych podróżników.
TP: Oprócz podróży poświęcił się Pan fotografii. Jak Pana wrażliwość jako fotografa wpływa pasję podróżowania?
AP: Bardzo wpływa. Fotografię, jak mówiłem, zaszczepił mi ojciec i był moim pierwszym nauczycielem. Aparat fotograficzny zaczął towarzyszyć mi w szkole, na spacerach po pięknym Krakowie i oczywiście na wycieczkach, później wyprawach. Na studiach poznałem moją przyszłą żonę, która podzielała te same zainteresowania, była przewodnikiem beskidzkim, fotografowała, cudowny zbieg okoliczności. I zaczęliśmy błąkać się wspólnie, po Polsce, z namiotem, butlą gazową, która, dyndając się, siniaczyła mi kolana, a paski aparatów obcierały nam szyje. Wybieramy miejsca, zabytki, piękno przyrody w danych krajach, pory dnia, trasy, które są dostosowane do najatrakcyjniejszych widoków. Fotografuję również nowoczesną architekturę wszędzie, gdzie ją znajdę, ale często w jej szklanych szybach przegląda się historia. To piękne zwykle spotkania. Niemniej jednak, zarówno nasze prywatne, jak i organizowane wyprawy są podporządkowane miejscom atrakcyjnym fotograficznie, a przecież to nie obiektyw, a wpierw nasze oko i dusza ujrzy piękno, czy to przyrody, czy wielkiego miasta.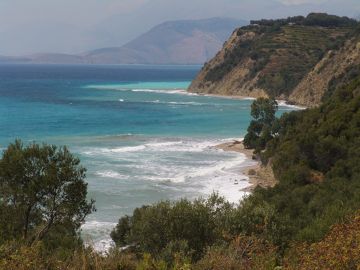 fot. Andrzej Pasławski
TP: Kiedy i dokąd planuje Pan następną podróż?
AP: Ha, Ha, dobre pytanie. Zostaliśmy trochę zaszufladkowani jako "ci od Bałkanów", ale to nie tak. Nasze córki również połknęły bakcyla, od małego towarzyszyły nam w naszych wojażach. No i starsza poszła w podróżniczy nurt – studiuje geografię w Londynie, a dodatkowo "sprezentowała" nam zięcia Hindusa. I o ile najbliższe będą znów wyjazdy do Albanii i Kosowa, o tyle chcielibyśmy w przyszłym roku zrealizować rodzinną wyprawę do Indii. A może i połączoną z pomocą temu krajowi. Są tam wielkie problemy, trochę próbujemy pomagać, na miarę możliwości, dzieciom w wioskach albańskich, choć to kropla w morzu potrzeb, to może uda się również takie zamierzenie.
TP: Proszę powiedzieć jeszcze czującym niedosyt czytelnikom, gdzie można Pana spotkać, porozmawiać i usłyszeć więcej barwnych bałkańskich historii.
AP: Zapraszam na naszą stronę: http://www.fotolandia4x4.com – tam są zdjęcia, krótkie filmiki, relacje z naszych brykań po Bałkanach. A spotkać mnie można na slajdowiskach w Domach Kultury, na imprezach promujących kulturę bałkańską, na festiwalach podróżniczych. Daję o tym informacje na stronie oraz na portalach podróżniczych. Trochę jeżdżę po kraju i spotykam się z wdzięczną zawsze Widownią. Zawsze po moim bajczeniu jestem do dyspozycji i chętnie porozmawiam nawet prywatnie.
TP: Dziękuję serdecznie za rozmowę!
AP: Ja również dziękuję i pozdrawiam Czytelników.
Z Andrzejem Pasławskim rozmawiał Tomasz Pakuła