Ja – pilotka wycieczek – nie mogłabym nie porozmawiać z innym pilotem i z nieco innej perspektywy przedstawić podróżowanie. Z Karoliną znamy się od 5 lat i jest to jedna z najlepszych pilotek, jakie spotkałam do tej pory, dlatego wybór osoby do wywiadu był bardzo prosty.
Karolina Imianowska – zawodowo związana z turystyką od ponad 5 lat. Pracowała w jednym z trójmiejskich biur podróży w dziale organizacji imprez turystycznych, później przy organizacji eventów firmowych. Od 2007 roku regularnie jeździ jako pilot wycieczek. Prywatnie fanatyczka nart i wszelkiej aktywności ruchowej.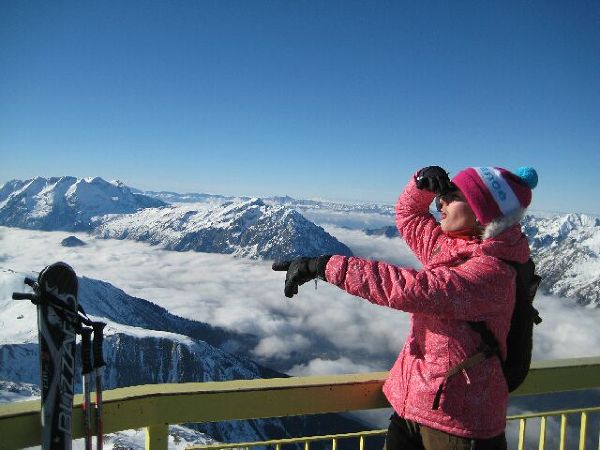 Widok na ulubione Alpy. Fot. archiwum prywatne K.I.
Joanna Chylińska: Witaj Karola. Jaką masz ładną opaleniznę. Skąd wróciłaś?
Karolina Imianowska: Cześć Asiu. Opaliłam się na francuskich stokach. Właśnie wróciłam z nart.

J.CH.:Gdzie tym razem szusowałaś?

K.I.: Tym razem w Risoul.

J.CH.: Byłaś tam prywatnie czy zawodowo?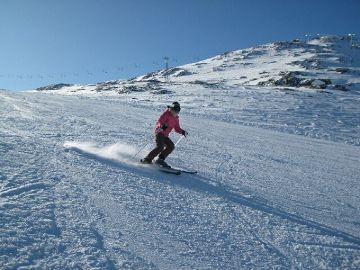 fot. Archiwum prywatne K.I.
K.I.: Z jednej strony to była praca, bo pilotowałam grupę studentów, ale tego rodzaju wyjazd można również potraktować w kategoriach prywatnych, bo naprawdę dużo pojeździłam, dużo się pobawiłam.
J.CH.: To świetnie! Ale zacznijmy od samego początku. Kiedy i w jaki sposób po raz pierwszy zaczęłaś podróżować?
K.I.: Jako dziecko i nastolatka trenowałam lekkoatletykę. W tym czasie dużo podróżowałam po Polsce: obozy, zawody, zgromadzenia. Nie była to typowa turystyka, jaką "uprawiam" obecnie, ale bakcyl do wyjazdów pozostał.
J.CH.: W takim razie jak to się stało, że zawodowo związałaś się z tą branżą?

K.I.: Studia, które sobie wybrałam ukierunkowały moje poszukiwania pracy po ich zakończeniu. No i padło na turystykę.
K.I.: Skończyłam gdańską AWFiS. Jestem magistrem turystyki w specjalności kinezygerontoprofilaktyka (śmiech).
J.CH.: A co spowodowało, że zrobiłaś kurs pilota?
K.I.: No cóż, poniekąd to trochę kwestia przypadku. I koleżanki ;-)
J.CH.: Koleżanki? Jak to?
K.I.: Ja nosiłam się z tym zamiarem od pewnego czasu, ale nie mogłam się zdecydować. Bo z jednej strony chciałam spróbować czegoś nowego, a z drugiej bałam się, że nie podołam. Moja koleżanka trochę "wjechała" mi na ambicję, no i przekonała. I tak oto zostałam pilotem wycieczek.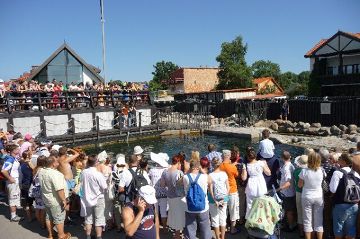 Gdzieś w tłumie z grupą w helskim fokarium
fot. Archiwum prywatne K.I.
J.CH.: A pamiętasz swoją pierwszą wycieczkę?

K.I.: Oczywiście! Trudno byłoby zapomnieć (śmiech). Jechałam ze szkołą podstawową na Hel. Wycieczka wydawała się prosta i nieskomplikowana. Jednak, kiedy podjechałam autokarem na miejsce zbiórki, pod szkołę, padło pytanie od nauczycielki, jak zamierzam zmieścić 90 osób do jednego autokaru (45-osobowego – przyp. red.). Zrobiłam wielkie oczy. Po krótkiej rozmowie z Panią okazało się, że umowa, którą posiadam, i która została przesłana do biura, dotyczy jednego autokaru na 45 dzieci. Pani natomiast w swojej umowie przekreśliła liczbę 45 i poprawiła na 90, ale zapomniała o tej "niewielkiej" zmianie poinformować biuro i dlatego został wysłany tylko jeden autokar.

J.CH.: I co stało się z tą "nadliczbową czterdziestką piątką"?

K.I.: Biuro zachowało się super, bo postarało się o dodatkowy autokar. Co prawda trwało to 1,5 godziny, bo w sezonie (sezon wycieczek szkolnych to maj-czerwiec – przyp. red.) znalezienie wolnego autokaru w dniu wyjazdu graniczy z cudem, ale udało się.

J.CH.: A czy drugi pilot też się znalazł?

K.I.: No właśnie, jakby to powiedzieć? Znalazł się, a jakże – w mojej osobie ;-) Robiłam co jakiś czas przystanki i przesiadałam się z autokaru do autokaru, żeby wszystkie dzieci wyniosły coś z tej wycieczki. A mówią, że człowiek nie da rady się rozdwoić. Oj da, da! (śmiech)
J.CH.: To niezły chrzest bojowy! Dobrze, że wszystko zakończyło się sukcesem i zadowoleniem uczestników. Widzę, że nadal bardzo przeżywasz ten pierwszy wyjazd z grupą. A czy masz jeszcze jakieś wspomnienia, które tak głęboko zapadły Ci w pamięć?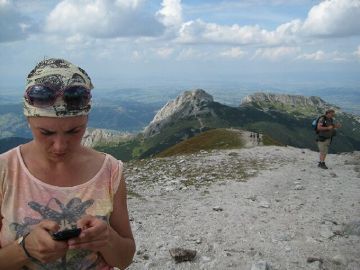 Nawet na szczycie jest coś do załatwienia dla grupy, Kasprowy Wierch
fot. Archiwum prywatne K.I.
K.I.: W pamięć zapadają najbardziej sytuacje awaryjne, w których musisz się spiąć i praktycznie w jednej sekundzie podjąć decyzję. To bardzo trudne, tym bardziej, że masz pod opieką ok. 40 osób. I może dlatego, że są to sytuacje nietypowe, to bardzo głęboko pozostają w pamięci. Wydaje mi się, że będę je pamiętać do końca życia i jeszcze bardzo długo rozpatrywać, czy na pewno słusznie postąpiłam i wybrałam najlepsze możliwe rozwiązanie.

J.CH.: Przytoczysz jakieś przykłady?

K.I.: Ojej, było ich naprawdę sporo. Na przykład chłopiec złamał rękę w czasie szkoły przetrwania. Na innej wycieczce uczestnik pośliznął się pod prysznicem i wylądował w szpitalu – na dłużej niż trwała wycieczka. Jeszcze innym razem miałam w grupie osobnika, który notorycznie się spóźniał i przez to opóźniał całą grupę. Co jeszcze? O, na jednej z wycieczek z młodzieżą, okazało się przy zakwaterowaniu w hostelu, że nie ma dla mnie osobnego pokoju i musiałam spać z kierowcami. Albo jak przewodnik w Wiedniu stwierdziła, że skończył się jej czas, a połowa programu jeszcze nie zrealizowana… Jest tego tyle, że mogłybyśmy poświęcić temu osobny wywiad (śmiech).
J.CH.: No właśnie widzę. Będziesz miała co opowiadać wnukom.
K.I.: Oj tak – jak tylko będę je miała i zechcą słuchać. Przygód było wiele i pewnie jeszcze dużo się wydarzy. Ale wiesz co, tak szczerze, to najbardziej z dotychczasowych wyjazdów wspominam jednak zawarte znajomości, czasem nawet przyjaźnie. Poznałam wielu fantastycznych ludzi – miejscowych przewodników, właścicieli restauracji, dyrektorów hoteli, a także nietuzinkowych uczestników. Z niektórymi do tej pory utrzymuję kontakt, nie tylko służbowy.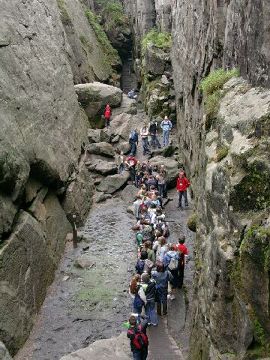 Wyprawa z grupą dzieci – Szczeliniec Wielki
fot. Archiwum prywatne K.I.
J.CH.: A jeśli chodzi o ludzi... Jeździsz z wieloma grupami: dziećmi, młodzieżą, studentami, dorosłymi. Powiedz, z kim pracuje się łatwiej?

K.I.: Hmm, to trudne pytanie. Jak jeździłam z dziećmi, to sądziłam, że wycieczki z dorosłymi są łatwiejsze i mniej problematyczne. Teraz już wiem, że z dziećmi pracuje się dużo przyjemniej, bo bardziej się słuchają i są bardziej wdzięczne. Potrafią się cieszyć z najmniejszych rzeczy i okazują swoje zadowolenie spontanicznie. Natomiast dorośli, mimo iż są bardziej samodzielni, a na wycieczkach panuje większa swoboda, to są bardziej roszczeniowi i często trudno im dogodzić.

Tak szczerze, to każda wycieczka jest jedyna w swoim rodzaju: inne miejsce, inny czas, i przede wszystkim inni ludzie, dlatego nie mam mniej lub bardziej ulubionej grupy wiekowej. Zawsze wsiadając do autokaru zakładam, że właśnie ta obecna grupa będzie najlepsza, no a czas weryfikuje to.

J.CH.: Wiesz Karola nurtuje mnie jedno pytanie. Znam Cię prywatnie i na co dzień jesteś osobą raczej spokojną, trochę zamkniętą w sobie. Wyjaśnij mi proszę, jak to się dzieje, że w autokarze dajesz radę z 40/50 osobami?

K.I.: To prawda. Z natury jestem nieco innym człowiekiem, spokojnym i nieco skrytym, trochę niezdecydowanym. Ale mam tę świadomość, że gdybym tak samo zachowywała się w autokarze podczas wycieczki, to nie zapanowałabym nad grupą. Dlatego zmieniam się praktycznie o 180 stopni. Ale jak to się dzieje, to nie potrafię tego wyjaśnić.
J.CH.: A czy nie uważasz, że pilot to trochę aktor?
K.I.: Oczywiście, jak najbardziej. Aktor i nie tylko aktor, bo także opiekun, organizator, dobry mówca, psycholog, czasem powiernik (uśmiech). Pilot musi potrafić przystosować się do każdych warunków i czasem robić dobrą minę do złej gry. I uprzedzę Twoje pytanie, że to nie jest oszukiwanie. To dbanie o zadowolenie uczestników, bo oni jadą na wycieczkę, żeby odpocząć i pilot powinien swoją postawą i zachowaniem stworzyć im ku temu jak najlepsze warunki.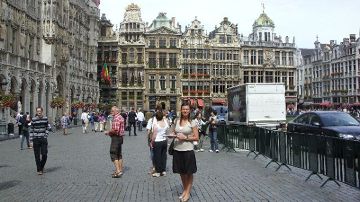 Chwila dla siebie w Brukseli
fot. Archiwum prywatne K.I.
J.CH.: Czyli na wycieczce nie odpoczywasz. A ludzie, jak słyszą, że pracujesz jako pilot, mówią: "WOW! Ale masz fajnie! Nie dość, że zobaczysz dużo fajnych miejsc, to jeszcze dostajesz za to pieniądze." Często trochę zazdroszczą… Co im wtedy odpowiadasz?

K.I.: Potwierdzam to, oczywiście, bo jako pilot mogę zobaczyć miejsca, o których czytałam, słyszałam, marzyłam i nie muszę wydawać na to swoich oszczędności, a wręcz przeciwnie, jeszcze mi za to płacą! To jest naprawdę fantastyczna sprawa, że robi się to, co się lubi i na dodatek zarabia na tym. No a to, że praca trudna, no cóż... praca z ludźmi była, jest i zawsze będzie trudna, ale ja nie narzekam.
J.CH.: No właśnie, wspomniałaś o swoich wymarzonych miejscach. To powiedz, gdzie lubisz jeździć?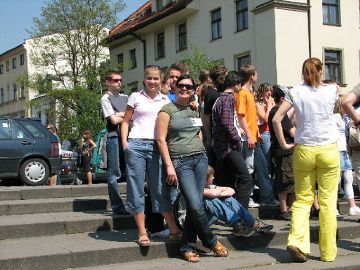 Z grupą, gdzieś w Krakowie
fot. Archiwum prywatne K.I.
K.I.: W Polsce mam kilka ulubionych kierunków m.in. Warszawa, Karpacz, Kraków. Europa też jest pociągająca, a szczególnie przypadły mi do gustu Berlin i Praga. A jeśli na narty, to tylko w Alpy.

J.CH.: A gdzie Cię "nie ciągnie"?

K.I.: Zupełnie "nie ciągnie" mnie na Podlasie, jeśli chodzi o Polskę, oraz Skandynawię, jeśli chodzi o Europę.

J.CH.: Twoje osobiste, największe marzenie podróżnicze to…?

K.I.: Objechać Stany Zjednoczone.

J.CH.: Przewidujesz, kiedy może się spełnić?

K.I.: Planuję, w lipcu 2013 roku, z dużym naciskiem na wizytę w Nowym Yorku 4 lipca – w dniu moich urodzin (uśmiech).

J.CH.: Życzę Ci zatem, by to marzenie się spełniło i żebyś przeżyła swoją przygodę życia. Oczywiście w dalszej pracy pilota, życzę Ci samych NAJLEPSZYCH grup. Dziękuję bardzo za wywiad, a następnym razem porozmawiamy o sytuacjach awaryjnych bardziej szczegółowo.

K.I.: Oczywiście. Ja również dziękuję bardzo i do zobaczenia.
Jeśli ktoś, po przeczytaniu powyższego wywiadu, czuje niedosyt informacji związanych z pracą pilota lub też informacji dotyczących głównej bohaterki wywiadu, to uważam, że jego odczucia są jak najbardziej prawidłowe. Praca pilota jest niezwykle pasjonująca i jednocześnie wielowątkowa, dlatego opowiedzieć o niej w jednej rozmowie nie sposób. Czekajcie zatem na ciąg dalszy.