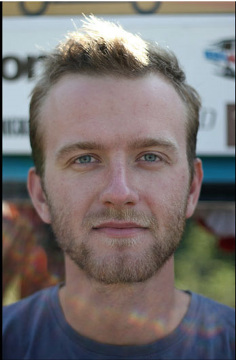 fot. Ekipa Busem Przez Świa
Karol pochodzi ze Świdnicy, jest zapalonym fanem zdrowego trybu życia; jeździ konno, lata na paralotni, podróżuje autostopem, chodzi po górach. Z jego inicjatywy w 2009 roku, powstał projekt podróżniczy "Busem Przez Świat". W pełni korzysta z życia i uparcie dąży do realizacji stawianych sobie celów.
Studiował na Politechnice Wrocławskiej, gdzie uzyskał tytuł Inżyniera Automatyki i Robotyki. Ten dwudziestoczteroletni podróżnik na co dzień pracuje w firmie reklamowej jako grafik, którą stworzył wraz z kolegą ze studiów.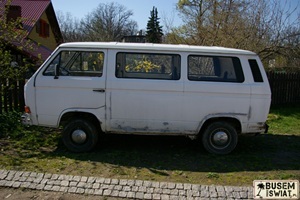 Bus z 1984 roku przed renowacją.
fot. Ekipa Busem Przez Świat
Pomysł na organizację pierwszej wyprawy pojawił się w grudniu 2009 roku. Kupując starego busa za 2000 złotych, pracując dorywczo i jednocześnie odkładając na wyprawę, wraz z przyjaciółmi, wspólnymi siłami odrestaurowali busa i przerobili go na kolorowego campera, który jest charakterystycznym znakiem rozpoznawczym całej ekipy i ich wypraw.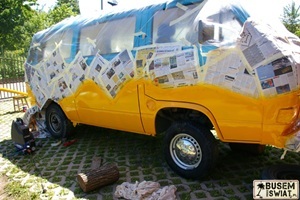 Bus w trakcie renowacji, chwilę przed pierwszą wyprawą "Eurotrip - Busem Przez Europę 2010".
fot. Ekipa Busem Przez Świat
Karol wraz z załogą wesołego busa do dziś odwiedził już 28 państw.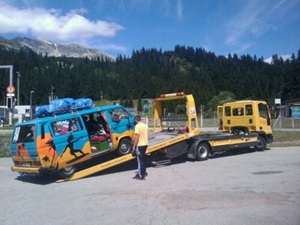 Awaria skrzyni biegów podczas pobytu w Szwajcarii w ramach projektu "Eurotrip - Busem Przez Europę 2010".
fot. Ekipa Busem Przez Świat
Podczas pierwszej wyprawy "Busem przez Europę 2010" ekipa przejechała przez dwanaście państw; Czechy-Austria-Liechtenstain-Szwajcaria-Włochy-Monaco-Francja-Hiszpania-Gibraltar-Portugalia-Francja-Niemcy. Cała podróż trwała 27 dni, podczas których ekipa BPŚ przejechała dystans 8307 kilometrów. W trakcie Eurotripu nie obyło się bez przeszkód. Zepsuta skrzynia biegów w Szwajcarii, kradzież bagaży w Barcelonie (piątek 13-stego), oraz aresztowanie przez policję w Gibraltarze. Jednakże pobyt w Alei Gwiazd w Cannes, czynny udział w corridzie, a przede wszystkim dzikie noclegi na plaży zrekompensowały wszystkie trudne momenty podczas tej podróży.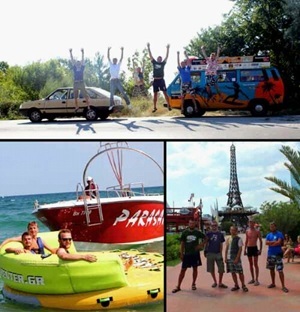 fot. Ekipa Busem Przez Świat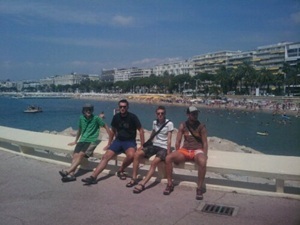 Ekipa BPŚ w trakcie Eurotripu.
fot. Ekipa Busem Przez Świat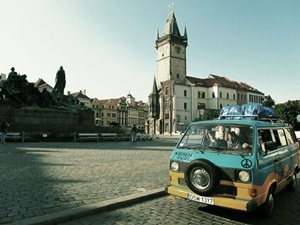 Supertramp podczas kolejnej wyprawy "Lenovo East Trip 2011".
fot. Ekipa Busem Przez Świat
Podczas kolejnej wyprawy, "Lenovo East Trip 2011", ekipa odwiedziła 16 państw: Ukraina-Mołdawia-Rumunia-Bułgaria-Turcja-Grecja-Albania-Macedonia-Kosowo-Serbia-Czarnogóra-Bośnia i Hercegowina-Chorwacja-Słowenia-Węgry-Słowacja. W sześć tygodni Karol wraz z przyjaciółmi przejechali dystans 10 tysięcy kilometrów, podczas których poznali wspaniałych ludzi, a ci nieraz przyczynili się do tego, aby wyprawa mogła być kontynuowana.
Spalony akumulator i pomocny Sasza na Ukrainie, odwiedziny Drakuli w Rumuni, usterki w delcie Dunaju, kradzież dokumentów w Grecji, pole minowe w Chorwacji, dziesiątki dzikich plaż i wiele innych przygód towarzyszyło ekipie podczas tej wyprawy. Jedno jest pewne – te przyjemne i nieprzyjemne przygody pozostaną na zawsze wspaniałym wspomnieniem.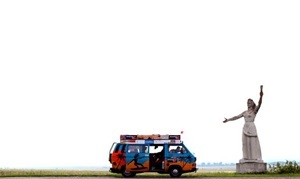 fot. Ekipa Busem Przez Świat
Karol z ekipą zorganizowali również podróż objeżdżając Polskę w wyprawie "Inteleko.pl Przez Polskę 2011".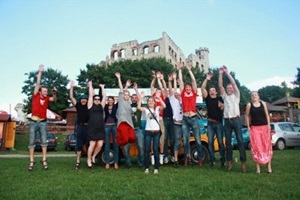 Członkowie BPŚ wraz z fanami podczas polskiego tripu.
fot. Ekipa Busem Przez Świat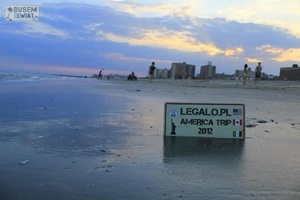 Logo aktualnej wyprawy "Legalo.pl America Trip 2012".
fot. Ekipa Busem Przez Świat
Obecnie młody świdniczanin wraz z bratem i trójką przyjaciół przebywają w Ameryce Północnej w ramach wyprawy "Legalo.pl America Trip 2012", gdzie zamierzają odwiedzić 3 państwa; Stany Zjednoczone, Kanadę i Meksyk. Aktualna wyprawa była prawdopodobnie najtrudniejszą w samej organizacji, która trwała dokładnie rok od zakończenia ostatniego tripu. Do dnia dzisiejszego Karol z przyjaciółmi odwiedzili już Chicago, New Jersey oraz Nowy Jork, w którym spędzili tydzień, ponieważ odprawa busa przeciągała się z dnia na dzień.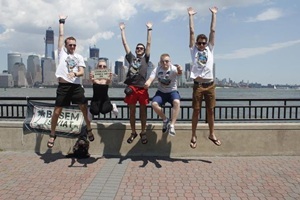 Karol wraz z przyjaciółmi w USA.Od lewej: Karol Lewandowski, Aleksandra Ślusarczyk (Alex), Wojtek Lewandowski, Kuba Zyskowski, Wojtek Kocoń (Paziu).
fot. Ekipa Busem Przez Świat
Po rozpoczęciu jazdy bus odmówił posłuszeństwa i ekipa aktualnie robi wszystko, by móc wyruszyć dalej. W ciągu kilku tych dni, fani Busem Przez Świat mogli na bieżąco śledzić losy piątki Polaków, którzy nieustannie aktualizują wpisy na swojej facebookowej stronie oraz blogu.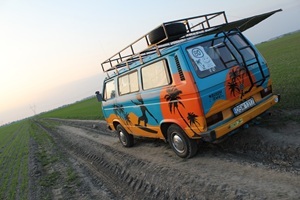 Bus otrzymał imię SUPERTRAMP na cześć głównego bohatera filmu "Into The Wild".
fot. Ekipa Busem Przez Świat
Projekt Karola Lewandowskiego okazał się strzałem w dziesiątkę, gdyż w ślady "Busem Przez Świat" wyruszyły już inne ekipy. Mogły one uzyskać pomoc w organizacji swoich podróży od samego pomysłodawcy projektu BPŚ. Projekt ten z każdą wyprawą zdobywa nowych fanów, którzy bacznie śledzą wyczyny ekipy.
Karol po zakończeniu pierwszej wyprawy postanowił wydać książkę, która- jak sam mówi – jest świadectwem ich podróży. Fragment książki motywuje do jej nabycia, a przeczytanie całej, do spełnienia marzeń, gdzie wzorem właśnie jest Karol Lewandowski;
"Mówili nam, że to niemożliwe. Nikt busem kupionym za grosze nie przejedzie ze Śląska na Gibraltar. A już na pewno nie pięciu facetów bez doświadczenia. Mieliśmy zapał zamiast pieniędzy, łąkę zamiast łóżka i wiecznie psującą się skrzynię biegów. A jednak nam się udało.

W szalonej podróży kolorowym samochodem spotkaliśmy paru złych ludzi, za to mnóstwo dobrych. Uciekaliśmy przed bykiem i niedźwiedziem, trafiliśmy do powieści Stephena Kinga i balowaliśmy z pastorem.

Widzieliśmy najpiękniejsze miejsca w Szwajcarii, Włoszech, Francji i wielu innych krajach, poznaliśmy każdy rów przy drodze i spoglądaliśmy na Afrykę z samego krańca Europy. Potem nas aresztowano. Ta książka jest świadectwem naszej podróży. Opowiada o tym, że każde marzenie może się spełnić."
Fragment książki "Busem Przez Świat: Wyprawa Pierwsza"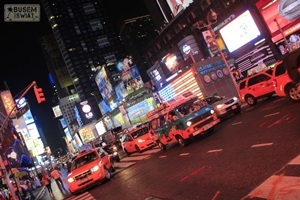 Nocny przejazd Supertramp po Times Square w ramach projektu "Legalo.pl America Trip 2012".
fot. Ekipa Busem Przez Świat
Oprócz nowych postów na stronie, zdjęć, filmów i książki, Karol w czasie pobytu w Polsce przed i po wyprawach organizuje spotkania, na których opowiada o swoich podróżach i przygodach. Jest to doskonały moment na zadawanie nurtujących nas pytań, rozmowę, zrobienie pamiątkowych zdjęć, a także poznanie z bliska legendarnej już ekipy busa.
Każdy z nas może przyczynić się do realizacji wypraw, wspomagając ekipę BPŚ, a w zamian dostając pocztówkę lub inne wspaniałe pamiątki z odwiedzanych przez nich miejsc. Szczegółów można szukać na blogu projektu www.busemprzezswiat.pl
Karol Lewandowski niewątpliwie należy do barwnych postaci podróżniczego świata. Jest młody, wykształcony i uparty. Pokazał, że każdy człowiek może zrealizować swoje marzenia, a dzięki wsparciu bliskich i przyjaciół osiągnąć szczyt. Mimo coraz większego rozgłosu na temat jego projektu, jest on nadal skromnym chłopakiem, który spełnia swoje marzenia. Karol oraz jego współtowarzysze podróży mogą być naszymi idolami, a także motywacją do tego, że warto robić wszystko, aby dążyć do spełnienia marzeń – i nie tylko tych podróżniczych.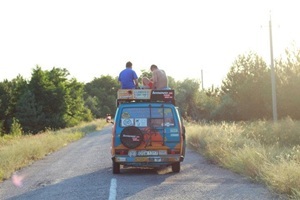 "Projekt Busem Przez Świat"
fot. Ekipa Busem Przez Świat
Wykorzystane zdjęcia pochodzę z biblioteki projektu "Busem Przez Świat"