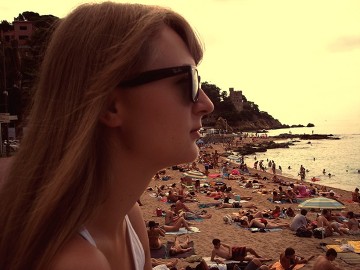 Costa Brava, Katalonia, Hiszpania
fot. Katarzyna Koput
Życie nie powinno być podróżą do grobu z intencją, aby dostać się tam bezpiecznie w atrakcyjnej i dobrze zakonserwowanej postaci, ale przygodą, w której miejsca, ludzie, smaki, dźwięki i widoki sprawiają, że na końcu tej wyprawy, widząc w dali małe światełko w ciemnym tunelu krzyknie się "Woo hoo ale to była jazda!". To jest moja filozofia życiowa w wielkim uproszczeniu, którą sumiennie stosuje podczas licznych podróży po naszej planecie.
O Afryce piszę nie bez powodu. Jeśli by spojrzeć na mapę świata, to zobaczy się, że ten kontynent jest w kształcie ludzkiego serca. Nie jest to dla mnie przypadek, ponieważ widzę w niej dużą cząstkę siebie. Jest to najmniej doceniony skrawek ziemi ze względu na swoją niedostępność, ale przez to jeszcze bardziej tajemniczy i pociągający.
Afryka to nie tylko Czarny Ląd, ale przede wszystkim najciekawsze pod względem kulturowym miejsce na Ziemi, które zawdzięcza tę cechę kontrastom, jakie można tam spotkać na każdym kroku.
Afryka uzależnia, uważajcie !