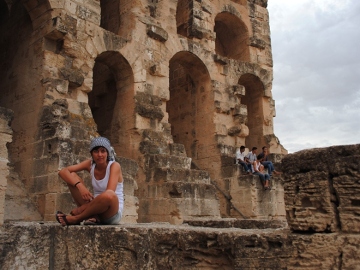 Kasia Stolarek. Colloseum w Tunezji
fot. Aneta Pająk
Stały się wtedy o wiele ciekawsze niż te autobusowe. Później pierwszy raz zabrała mnie za granicę…i tak już zostało. To właśnie Mamie zawdzięczam, że podróżowanie stało się moją największą pasją.

Mając 14 lat pierwszy raz złapałam 'stopa', teraz nie wyobrażam sobie innej formy podróży. Dzięki autostopowym wojażom odkryłam piękno własnego kraju, nauczyłam się chwalić to, co znajduje się najbliżej mnie. Autostop stał się nie tylko formą wakacyjnych wyjazdów, lecz także całorocznym środkiem transportu, a przede wszystkim tematem, pod którym kryje się mnóstwo niezwykłych historii i cudownych wspomnień.

Czas między podróżami spędzam studiując kulturoznawstwo i jak na razie całkiem nieźle mi to wychodzi. Często jednak wydaje mi się, że teoria mało ma wspólnego z praktyką. O wiele bardziej wolę poznawać obce kultury przebywając wśród nich, niż słuchać o nich na wykładach. Dlatego jeżdżę. Obecnie nieco częściej pociągiem, ale gdy tylko wróci lato spakuję plecak i wyruszę w kolejną podróż autostopem.

Odkąd dotarłam do Amsterdamu wiem, że moje marzenia nie mają wyznaczonej odległości, nie kończą się po 2 czy 5 tysiącach kilometrów. Chce zwiedzać świat, choć mam na nim swoje miejsce – mój Śląsk, do którego wracam i wracać będę.

Przede mną udział w Autostop Race – wyścigu do Rzymu, a później marzenia o Alasce, do której kiedyś na pewno się wybiorę. Mam dużo czasu, bo jak napisał kiedyś Hans Christian Andersen: "Kto podróżuje, dwa razy żyje".