"Himalaizm to na pewno droga życiowa. A jeśli sport, to taki, w którym nie ma klaszczących kibiców emocjonujących się każdym dniem naszych wypraw. To nie zmaganie się z rywalem, ale z naturą, i to w samotności. Wygrywa ten, kto zrozumie, że nie jest wszechmocny" Kinga Baranowska.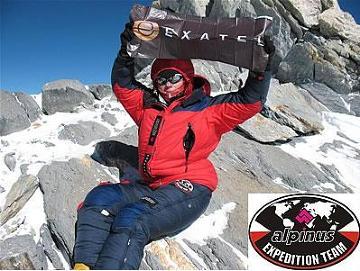 fot. Wikimedia Commons (CC BY)


Kinga Baranowska – polska himalaistka, zdobywczyni siedmiu ośmiotysięczników. Urodziła się 17 listopada 1975 w Wejherowie, a pochodzi z Łebna, dużej wsi na Kaszubach. W rodzinnej wsi ukończyła szkołę podstawową, następnie szkołę średnią w Wejherowie i studia geograficzne na Uniwersytecie Gdańskim. Z zawodu jest geografem i ekonomistką.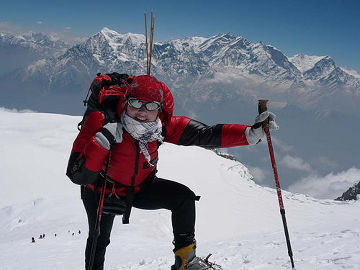 fot. flickr.com
Postanowiłem przybliżyć jej postać, gdyż zawsze marzyłem, by choć raz w życiu wziąć udział w wyprawie na jeden z ośmiotysięczników. Głosy moich znajomych i rodziny starały się uświadomić mi jakie to niebezpieczne. A co na to nasza bohaterka? – ośmiotysięcznikach czuję się bezpieczniej niż na krajowej siódemce. W górach wysokich nie ma samobójców – mówi Kinga Baranowska.

Wspinanie poza granicami Polski zaczęła od Alp m.in. Matterhornu. Następnie w 2002 roku wspinała się na Mount Kenia (Batian 5199 m n.p.m.), a także stanęła na wierzchołku Chan Tengri (6995 m n.p.m.) w górach Tien Shan. Pierwsza wyprawa w Himalaje w 2003 roku zakończyła się sukcesem dzięki zdobyciu Cho Oyu (8201 m n.p.m.) – została tym samym 9 Polką w historii, której udało się wejść na wierzchołek ośmiotysięczny.

Uprawia himalaizm, który w kobiecym wykonaniu nie jest sprawą łatwą. Wiąże się z długimi wyjazdami i cierpliwością. Często to przyroda dyktuje warunki i nie pozwala pomimo znakomitego przygotowania na zdobycie szczytu.

Baranowska pomimo urodzenia nad morzem, jak sama mówi, wręcz boi się wody. Pierwszy raz przełamała się biorąc udział w raftingu w Nepalu.

Jej pasją od zawsze są więc góry. Zaczynała jako turystka, potem zrobiła kurs przewodnika studenckiego po Tatrach, później zapisała się do Klubu Wysokogórskiego i na kolejne kursy wspinaczkowe. Uważa, że wszystko należy robić po kolei i że to pomaga zdobyć szacunek wśród męskiej części środowiska himalaistów. Ludzie ci cenią fachowość i dobre przygotowanie, a nie jednorazowe wyczyny choćby nie wiadomo jak spektakularne. Zapytana o swój autorytet w wśród himalaistów wymienia Wojtka Kurtykę, Piotra Pustelnika i Wandę Rutkiewicz.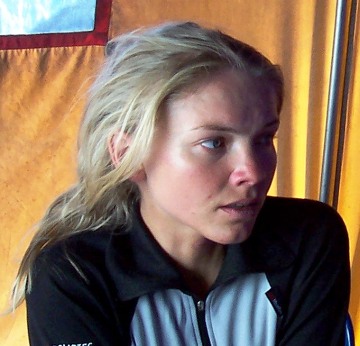 Kinga Baranowska w bazie pod Broad Peak po zdobyciu szczytu w lipcu 2006
fot. Wikimedia Commons (CC BY)
Baranowska od kilku lat realizuje swoje plany związane ze zdobyciem Korony Himalajów. Do tej pory Korony nie zdobyła żadna Polka. Niestety 20 maja 2011 podczas ostatniej z jej wypraw na ośmiotysięcznik Makalu była zmuszona przerwać akcję zdobycia szczytu. Jej partner wspinaczkowy Fabrizio Zangrilli dostał poważnej infekcji ucha. Jego stan nie pozwolił na kontynuowanie akcji górskiej. Kinga zdecydowała się wrócić z nim do bazy. Jest to kolejny dowód na to, że w Himalajach wszystko się dzieje zero-jedynkowo. W tym przypadku nie było miejsca na brawurę. Zdrowie i bezpieczeństwo stanęły na pierwszym planie.
Często himalaiści uważani są za egoistów. Zdaniem naszej bohaterki to, że nie ma męża czy dzieci pozwala jej skoncentrować się na tym, co robi. Ale uważa też, że jeśli dwoje ludzi się dogaduje, to można połączyć pasję z życiem rodzinnym. Zapytana o to, czy dopiero po zdobyciu Korony Himalajów uzna, że osiągnęła cel, odpowiada, iż uznaje metodę małych kroczków i skupia się tylko na najbliższej wyprawie.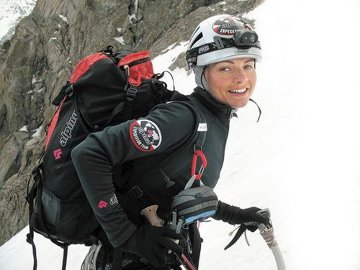 fot. Alpinus Expedition Team
Zgodnie z danymi z Kalendarza Wypraw i Wyjazdów Sportowych Komisji Wspinaczki Wysokogórskiej PZA 2012 Baranowska w nadchodzącym roku rozważa plany kilku wypraw. W okresie marzec-maj zdobycie Makalu (8481 m n.p.m.) drogą klasyczną, czerwiec-lipiec wyprawę na Gasherbrum I i Gasherbrum II w rejonie Karakorum, wrzesień-październik zdobycie Shisha Pangma (8027 m n.p.m.) ścianą południową.
Środowisko himalaistów to w pewnym sensie elitarna grupa. Wśród nich jest Polka, kobieta z pasją. Tam gdzie wielu mężczyznom zabrakłoby odwagi, ona pokonuje ludzkie słabości. Podczas jednej z wypraw odkuwała namiot z lodu, co niemal przypłaciła poważnymi odmrożeniami. Odwaga, ale nie brawura. Osobiście imponuje mi taka wiara w swoje możliwości. Bo żaden, nawet najlepszy team nie wejdzie za nikogo na szczyt.