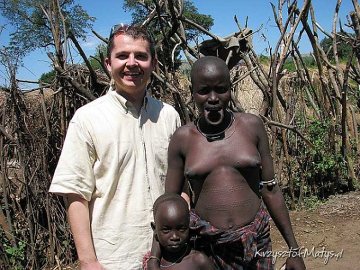 Krzysztof Matys z etiopską rodziną
fot. www.krzysztofmatys.pl
Adrianna Filimoniuk: Wrócił Pan niedawno z podróży. Jaki ląd podbijał Pan tym razem - dobrze znany, czy może zupełnie nowy?
Krzysztof Matys: Ten rok upływa mi pod znakiem Gruzji. To kierunek odkryty na nowo. Po dwudziestu latach przerwy wrócił do łask polskich turystów. Nagle zrobił się bardzo popularny. I dobrze! Gruzja naprawdę na to zasługuje.
A.F.: Czy faktycznie każda podróż kształci?
K.M.: Nie, raczej nie. To zależy od okoliczności, a przede wszystkim od samego turysty. Proszę popatrzeć na tę całą masową turystykę czarterową, opartą o hotele all inclusive w Egipcie, Tunezji czy Turcji. Czy takie doświadczenia wnoszą coś wartościowego? Oczywiście mogą. Jeśli ktoś w ogóle wyjdzie poza hotel, jeśli pojedzie na wycieczki, jeśli poszuka typowego, regionalnego jedzenia gdzieś w bocznej uliczce. Jeśli…
A.F.: A więc jest możliwość, by tak typowy wakacyjny wyjazd zamienić w pełną doznań podróż życia, ominąć utarte szlaki i oklepane schematy...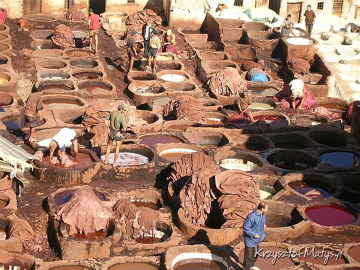 Oko (Krzysztofa Matysa) na Maroko
fot. www.krzysztofmatys.pl
K.M.: Są różne biura podróży, różne oferty i zupełnie różne oczekiwania. Moi klienci to doświadczeni, wyśmienici turyści. Są ciekawi świata. Cieszę się kiedy mogę z nimi podróżować. Jeździmy w niewielkich, maksymalnie szesnastoosobowych grupach, w towarzystwie pilota-przewodnika, który doskonale zna kraj i cały czas o nim opowiada. Staramy się wychodzić poza utarte schematy. Po tylu latach doświadczeń wiem dobrze, że większe wrażenie zrobi przejażdżka rikszami po wąskich uliczkach starego indyjskiego miasta, niż kolejny zabytek, zresztą bardzo podobny do poprzedniego.

A.F.: Organizuje Pan dokładnie zaplanowane, wyjątkowe wyprawy w kameralnym gronie- to brzmi jak sposób na bycie turystą i odkrywcą w jednym. Czyżby odnalazł Pan złoty środek?
K.M.: Zaproponowałem formułę "autorskiego biura podróży", czyli czegoś więcej niż zwykłe biuro. Personalnie biorę odpowiedzialność za to, że wycieczka będzie udana. Duży nacisk kładziemy na autentyczne dotknięcie innej kultury. Wiedziałem, że na taką ofertę jest zapotrzebowanie, ale nie sądziłem, że aż tak duże. Cieszy mnie to, ponieważ pokazuje, że Polacy chcą czegoś więcej niż leżenie nad basenem z piwem w dłoni lub szybkie zaliczanie kolejnych muzeów czy miejsc z listy UNESCO.
A.F.: Dlaczego właśnie Gruzja stała się głównym kierunkiem organizowanych przez Pana wypraw?
K.M.: Rzeczywiście ograniczyłem swoje wyjazdy w inne rejony świata właśnie po to by mieć więcej czasu na Gruzję. Dlaczego? To wyśmienity kraj. Bardzo atrakcyjny, bezpieczny i łatwo dostępny. Ma rewelacyjne zabytki, fantastyczne góry, pyszne jedzenie i najlepsze na świecie wino. A do tego cudowne nastawienie, emanujące spokojem i brakiem pośpiechu. Co nie jest też bez znaczenia, Polacy są tam bardzo lubiani. Zadecydował też rynek. Byłem jedną z pierwszych w kraju osób, która zajęła się tym kierunkiem. Chwilę później Gruzja stała się bardzo popularna więc masowo zaczęły napływać zlecenia. Trafiłem w atrakcyjną niszę.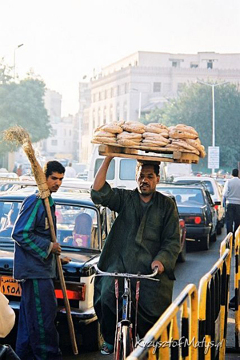 Egipt, Kair, Sprzedawca chleba
fot. www.krzysztofmatys.pl

A.F.: Jedną z Pana częstych destynacji jest również Egipt. Spędził Pan tam kilka lat, otrzymał stypendium naukowe na Uniwersytecie Kairskim i odbył wiele wycieczek po Nilu. Ja po podróży do tego kraju do tej pory mam w pamięci obraz rozmytych, pastelowych brzegów rzeki o zachodzie słońca. Zachwyciła i zadziwiła mnie też zupełnie odmienna niż nasza mentalność Egipcjan. A co sprawiło, że Pan tak uwielbia ten kraj?
K.M.: Długo nie mogłem wyzwolić się z "egipskiej niewoli". Byłem tak zafascynowany Egiptem, że każdy inny kierunek wydawał mi się mniej ciekawy. Dlaczego? Cały czas próbuję odpowiedzieć sobie na to pytanie. Myślę, że zadecydował pełen życia charakter tego miejsca. Już tłumaczę, co mam na myśli. Europejskie zabytki, chociażby starówki miast są odremontowane, wypucowane i… całkowicie sztuczne. A w Egipcie? Wystarczy wejść w uliczki Starego Kairu by zobaczyć średniowieczne budynki, w których mieszkają ludzie, sprzedaje się żywe kury czy pasie osły. Życie, a nie zabytkowa fasada! W Luksorze, jeśli odejdziemy kilkaset metrów od utartego szlaku, to zobaczymy dzielnice, które swoim kolorytem wprawiają w totalne osłupienie.
A.F.: W jednym ze swych licznych artykułów pisał Pan o "slum tours", a więc zwiedzaniu dzielnic biedy w Indiach. Niegdyś w takie rejony zapuszczali się głównie dziennikarze i podróżnicy. Dziś robią to całe zorganizowane wycieczki. W artykule możemy przeczytać: "Mimo wszystko, otwartym oczywiście pozostaje pytanie, czy jest to dobra lekcja wrażliwości czy raczej próżne zaliczanie kolejnej 'atrakcji turystycznej'." A gdyby jednak miał Pan zamknąć pytanie swą subiektywną opinią?..
K.M.: Generalnie nie jest to dobre miejsce dla wycieczek. Na pewno nie dla tych standardowych, masowych. Nieprzygotowany na takie przeżycia turysta może źle zareagować; widziałem ataki paniki i histerii. Niesmaczne jest robienie zdjęć. Na pewno nie można wprowadzić tam grupy bez uzgodnienia z miejscowymi. To zjawisko, o którym pisałem dotyczy ustalonych dla turystów tras. Jest to jakiś kompromis. Do zaakceptowania wyłącznie po spełnieniu kilku warunków. Jednym z nich musi być opłata wniesiona na rzecz mieszkańców slumsów.
A.F.: Kim jest prawdziwy podróżnik z krwi i kości (a może raczej: z wiatru i przygód)? Jakie cechy powinien w sobie pielęgnować, jakie umiejętności rozwijać?
K.M.: Otwartość na świat. Na innych ludzi, na odmienne kultury, światopoglądy i religie. Tylko to jest ważne! Reszta to rzeczy techniczne.
A.F.: Czy bycie Podróżnikiem jest równoznaczne z koczowniczym trybem życia? Można pogodzić życiową stabilizację z podróżami?
K.M.: Oczywiście można. A nawet jest to wskazane. Bez ustabilizowanego życia osobistego trudno o harmonię w tym co się robi. Bez bliskich, do których się wraca nawet z najdalszych podróży, trudno zachować dystans. Wyjazdy mogą wciągnąć tak, że zamienią się w włóczęgostwo bez sensu i celu. Przez długie lata byłem związany z zawodem rezydenta i pilota. Znam mnóstwo osób z tego środowiska. Wiem jak niebezpieczna jest sytuacja kiedy nie ma się po co i do kogo wracać.
A.F.: Jako podróżniczka zawsze wierzę, że podróż mego życia jest jeszcze przede mną, nieważne jak wartościowe i niesamowite wyjazdy miałabym na swoim koncie. A jak jest z Panem? Wciąż Pan poszukuje, czy też może już odkrył Pan "Właśnie To Miejsce"?
K.M.: Myślałem nad tym żeby kupić dom w Gruzji. Gdybym miał mniej obowiązków w Polsce zapewne bym to uczynił. Gdzieś na wsi, z małą winnicą. Ale już mi chyba przeszło. Tak to już jest z Podróżnikami…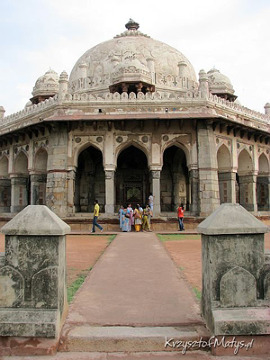 Indie, Delhi, Mauzoleum Humajuna
fot. www.krzysztofmatys.pl

A.F.: Pana marzenie jako Podróżnika?
K.M.: Marzenie? Niech w krajach, w których dziś jest źle, w końcu zapanuje spokój. Żeby ludzie mogli bezpiecznie żyć, a my, żebyśmy mieli szansę tam jeździć. Mam tu na myśli chociażby moją ulubioną Syrię, wspaniały Iran czy magiczny Afganistan.
A.F.: A jaka jest Pana wymarzona destynacja?
K.M.: Nigdy chyba nie myślałem w ten sposób. Nie opierałem się na szczególnej chęci odwiedzenia tego czy innego miejsca. Raczej wybieram to, co w tym momencie uznam za godne uwagi, inspirujące i perspektywiczne. A kiedy to się stanie, to siadam do studiów. Podróż zaczynam od lektury. Gromadzę materiały i czytam. Może jeden kraj przyciągał mnie szczególnie - Indie. Ale tam już byłem, znam je dokładnie. O czym myślę teraz? O dwóch kierunkach, o Mołdawii i Wyspach Sołowieckich.
A.F.: A Polska? Czy jest krajem wartym odkrywania? Ostatecznie przecież swój punkt zaczepienia ma Pan właśnie tutaj, na Podlasiu...
K.M.: Polska nie ma profesjonalnej promocji turystycznej. Odpowiedzialne za to ministerstwo jest sztucznie przyszyte do resortu sportu. Efekt jest taki, że kraj nasz nie wykorzystuje nawet części potencjału. Wiele można by się tu nauczyć od sąsiedniej Litwy czy bardzo skutecznie reklamującej się ostatnio Gruzji. Szczególnie dużo do zrobienia ma moje Podlasie. Śliczne, gościnne, wspaniałe miejsce. Egzotyczne i nieznane. Przywożę tu moich znajomych z Polski i z dalekiego świata. Wszyscy są zachwyceni. Ale na większą skalę turystów jeszcze nie widać. Szkoda…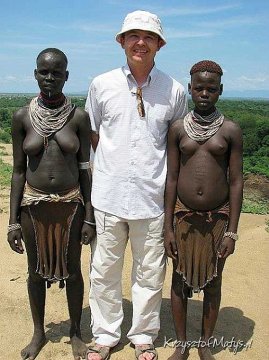 fot. www.krzysztofmatys.pl