Również serwowane w Europie posiłki, dumnie zwane "chińszczyzną", nie zasługują nawet na tę i tak mocno chybioną nazwę, gdyż z oryginalnymi chińskimi daniami mają wspólnego mniej więcej tyle, co schabowy z kotletem sojowym. Istnieje tylko jeden sposób, aby prawdziwie rozsmakować się w specjałach skośnookich mistrzów kuchni – trzeba jechać do Chin. Tamtejsze warzywa, przyprawy, mięso, czy choćby rzecz tak prozaiczna jak lokalna woda, nadają przyrządzanym tam potrawom smaku niespotykanego pod żadną inną szerokością geograficzną. Tak też i ja postanowiłem wraz z moimi przyjaciółmi – Łukaszem i Asią, wyruszyć w podróż na Daleki Wschód, z nadzieją, że pozwoli mi ona choć w małej cząstce odkryć, czym tak naprawdę jest chińska kuchnia.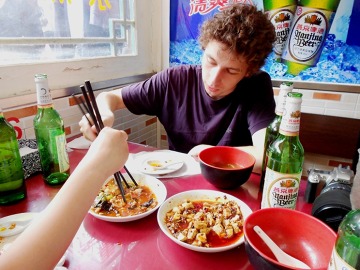 Gdybym miał jednym słowem opisać kulinarne dokonania mieszkańców Państwa Środka to byłoby to bez wątpienia słowo niespodzianka. Zamawiając posiłek, nigdy nie miałem bowiem pewności, co za kilka chwil zawita na moim stole. Oczywiście po części winić za to muszę swoją nieznajomość języka chińskiego, jednak w większej mierze jest to chyba jednak zasługa lokalnych kucharzy, którzy danie tak proste jak kurczak z warzywami potrafią przygotować na sto różnych sposobów. I choć menu pełne "krzaczastych" symboli nie ułatwia składania zamówień, zaradny smakosz zawsze może sobie poradzić wskazując na obrazek (wiele kart dań było w nie wyposażonych) lub danie konsumowane właśnie przez Chińczyka przy stoliku obok. Jednak i te metody nie gwarantują sukcesu, a ilustracje dań bywają zwodnicze.

Pamiętam sytuację gdy w jednym z pekińskich "karaluchów" (pieszczotliwa nazwa małej, najczęściej prowadzonej rodzinnie restauracyjki, ukrytej gdzieś w odmętach hutonga) próbowaliśmy zamówić trzy porcje makaronu, oraz dwa dania składające się z mięsa i warzyw, wskazując ich ilustracje. Jednak gdy kelnerka pojawiła się z gotowymi potrawami, okazało się, że na naszym stole lądują 3 zupy i dwa dania z tofu (ser sojowy, w surowej formie z trudnością przechodzący przez gardło). Nie mniej zdziwieni byliśmy także, gdy dowiedzieliśmy się, że pakowane hermetycznie mięso na patyku, maczane w ostrym sosie, okazało się być również wegetariańskim tofu, a moje ulubione chińskie "kabanosy" to nic innego jak zrolowana i przyprawiona kurza skóra. Ogólnie powiedzieć można, że każdy kęs stanowił dla nas podróż w nieznane.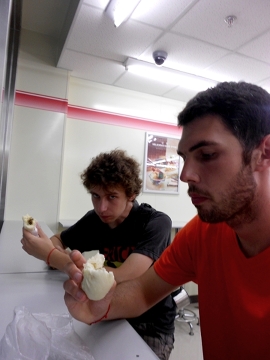 Bez wątpienia najważniejszym posiłkiem dnia jest śniadanie, a Chińczycy doskonale zdają sobie z tego sprawę. W większości przypadków spożywają je oni na ciepło (ogólnie większość potraw i płynów przyjmuje się w Chinach na ciepło, co związane jest z zasadami tamtejszej medycyny). Najpopularniejszym daniem są [i]baozi[/i], czyli kluski gotowane na parze, nadziewane przeróżnymi rodzajami farszu, od kapusty poczynając, poprzez grzyby i mięso, na grochu kończąc. Sprzedawane są one z dymiących "wież", w których są na bieżąco podgrzewane.

Nie mniej popularnym, choć konsumowanym raczej w domowym zaciszu, daniem jest kaszka ryżowa z domieszką czegokolwiek (z bakaliami – na słodko, z warzywami – na zdrowo, z mięsem – na bogato).

Jeżeli chodzi o pieczywo, to w sklepach odnaleźć można małe bułeczki podobne w smaku do naszych bułek maślanych lub chałki (najlepiej smakują podczas wspinaczki górskiej zagryzane Snickersami – jedynymi "zachodnimi" batonami ogólnodostępnymi w Chinach). Na ulicy natomiast odnaleźć można lepione i smażone (nie pieczone!) na naszych oczach bułeczki z sezamem, które gdy je się je na ciepło są słodkie, natomiast gdy ostygną stają się słone (i okropne, zdecydowanie nie polecamy jako prowiant na 14- godzinną podróż pociągiem). Dla osób niewyobrażających sobie śniadania bez solidnej porcji mięsa polecić mogę chińskie chlebki pita, wypełniane, wedle uznania, drobno krojonym mięsem, szynką, jajkiem sadzonym oraz siekanymi papryczkami chili. Nie mogą także zapomnieć o naszym ulubionym daniu, czyli "chińskiej pizzy". Nazywaliśmy tak cienkie placki o smaku chili lub grzybowym, kupowane na wagę, a następnie krojone w kostkę i pakowane do woreczka, z którego można było je wyjadać przy pomocy patyków.

Warto też dodać, że żaden z wymienionych powyżej smakołyków nie kosztował nigdy więcej niż 10 juanów (ok. 5 zł), a zaserwowaną porcją szło się naprawdę najeść.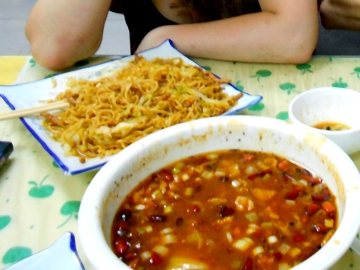 Chiński obiad to posiłek dość wczesny, jedzony mniej więcej o 14 (więc bardziej nazwał bym ten posiłek z angielska lunchem). Tu królują nudle. Serwowane na setki różnych sposobów i przygotowywane z co najmniej kliku rodzajów makaronu (ryżowy, tradycyjny i ten znany u nas właśnie jako nudle). Może on być podany na zimno z kiełkami, lub na ciepło w zupie. Zasmażany z jajkiem i/lub z warzywami (najlepszy tego typu specjał jedliśmy w Szanghaju nieopodal stacji Xiaonanmen, przygotowany został on na obwoźnej garkuchni, my zaś jedliśmy go przy turystycznym stoliku, siedząc na dziecięcych krzesełkach). Opcji jest naprawdę sporo. Ogólnie, powiedzieć mogę, że jeżeli coś naprawdę zaskoczyło mnie w Chinach to właśnie fakt, że nie stereotypowy ryż, ale właśnie makaron jest głównym składnikiem diety Chińczyka (w każdym razie tego mieszkającego w mieście).

Pisząc o nudlach, nie mogę pominąć chińskich zup instant, których jedzenie urosło tu do rangi niemalże sportu narodowego. Sprzedawane są one w wielkich kubłach, w których zalewa je się wodą (500 ml) i dodaje składników z torebeczek, wśród których nierzadko znajduje się nawet mięso. Wybór tych zup jest ogromy, a najczęściej konsumuje się je w pociągu, gdzie już niejednego przyprawiły o solidne poparzenia.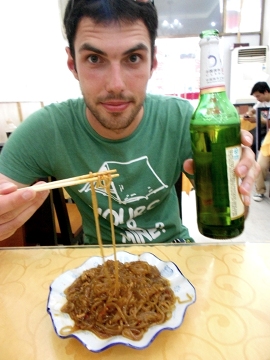 Głównym posiłkiem Chińczyka jest jednak kolacja. Często konsumowana w towarzystwie całej rodziny, w jednej z lokalnych restauracji. W takich przypadkach głowa rodziny zamawia niezliczoną ilość dań, które jedzone są przez wszystkich biesiadników bezpośrednio ze wspólnego talerza.

Wyjątek stanowi tu jedynie ryż, serwowany do osobnej miseczki dla każdego (Chińczycy oszukują nieco przy jego jedzeniu, gdyż jest on bardzo sklejony i nabranie nawet bardzo dużej porcji przy pomocy pałeczek nie sprawia żadnego problemu). Jak zauważyliśmy podczas wizyt w restauracjach wiele z zamówionego jedzenia marnuje się (kilka razy nawet skorzystaliśmy z takich resztek – ot, lightowa odmiana dumbster divingu). Jest to zabieg czyniony nieco na pokaz, mający świadczyć o zamożności rodziny. Nam jednak wydało się to śmieszne, że w restauracjach mieszczących się w centrum zapyziałego, rozlatującego się hutonga, rodzina chce udowodnić swój wysoki status społeczny. Co ciekawe, podczas spożywania posiłków w domu stosuje się zupełnie odwrotną zasadę tzn. nikt nie odejdzie od stołu, dopóki całe jedzenie z niego nie zniknie (zanim poznaliśmy ten zwyczaj, dziwiło nas, dlaczego posiłki jedzone z naszym hostami trwają tak długo, okazało się, że my nie chcieliśmy, polskim zwyczajem, zjeść ostatniego kawałka, a gospodarz czekał, aż to zrobimy).

Jeżeli chodzi o nasze kolacje to po przygodzie z niechcianym tofu nasze menu ograniczało się do sprawdzonego dania kurczak/wołowina z warzywami + miska ryżu lub nudle (nie znaczy to jednak, że nie odnajdywaliśmy w różnych wersjach tych dań ciekawostek pokroju orzeszków, owoców goji itp. ).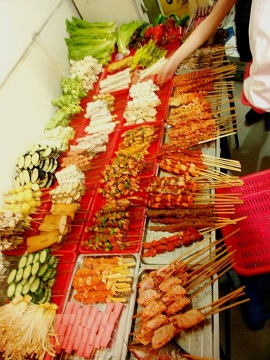 Na pewne szaleństwo pozwoliliśmy sobie w Syczuanie – prowincji słynącej z ostrej jak brzytwa kuchni, gdzie w daniach znajdziemy więcej papryki chili niż wody (Syczuańczycy wierzą, że pikantna dieta pomoże im pozbyć się z organizmu nadmiaru wilgoci, która w parnym klimacie tej prowincji jest wszędobylska). Mogliśmy tam bowiem liczyć na pomoc naszej gospodyni Fan.

I tak pierwszego dnia zabrała nas do arcyciekawej restauracyjki, gdzie sami mogliśmy ułożyć swoje danie z zatkniętych na patyki składników. System ten był tak dopracowany, że liczba patyków wbita w daną porcję, dajmy na to grzybków, informowała o cenie.

Tutaj pierwszy raz w życiu spróbowałem ośmiornicy i przyznać muszę, że okazała się ona dla mnie pozytywnym zaskoczeniem. Kolejny raz z Fan poszliśmy do restauracji w dniu naszego wyjazdu. Naszym celem był słynny [i]hot pot[/i], czyli kociołek pełen piekielnie ostrej zawartości, gotujący się na palenisku, na środku stołu. Nasz egzemplarz był jednak wyjątkowy nie tylko ze względu na smak, lecz także na zawartość. Po pierwszych dwóch w miarę normalnych składnikach (fasola, tofu) wyłowiłem z niego… kurzą stopę. W tym samym momencie Asia wyciągnęła z bulgoczące kadzi łeb, a Łukasz szyję. Zwyczajnie nas zamurowało, a Fan miała niezły ubaw komentując nasze zdezorientowane miny. Nie chcąc urazić gospodyni oczywiście spróbowaliśmy podrobów, które przypadły nam w udziale, ale nikt z nas mile tego smaku nie wspomina (mnie w pamięci szczególnie utkwił dźwięk zgryzanych kurzych pazurów). Co do pikanterii potrawy to przyznam szczerze, że po kilku kęsach nie czułem jej już wcale, gdyż moje kubki smakowe były zupełnie wypalone. Szczerze mówiąc myślałem, że będzie gorzej. Wszak Fan, rodzona Syczuanka, ostrość potrawy określiła na 9/10 (choć pita po posiłku Cola smakowała jak słodka woda, więc mój zmysł smaku przyjął tego dnia solidnego "kopa").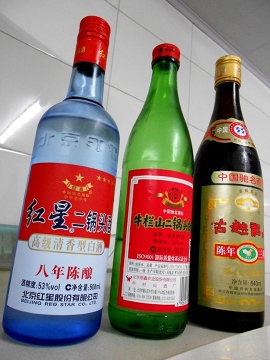 Będąc w Chinach nie mogliśmy oczywiście nie spróbować tamtejszych alkoholi. Szczególne miejsce w naszych wspomnieniach na zawsze przysługiwać będzie chińskiemu piwu. I to wcale nie dlatego, że dzięki niemu znaliśmy ceny w każdej restauracji ("przepraszam ile kosztuje piwo", to w zasadzie jedyny zwrot jaki znam po chińsku; jeżeli mniej niż 5 juanów restauracja była ok), ani nawet dlatego, że zdarzały się dni, kiedy piliśmy go więcej niż wody. Po prostu było ono śmiesznie tanie. Butelka 0,66 l potrafiła kosztować 1,8 yuana (90 gr). Niestety w parze z taniością szła również niska moc napoju. Najmocniejsze piwo jakie udało się nam odszukać miało 4%. Tak czy inaczej na dźwięk słów takich jak Yanjing, Tsingtao, Snow, Harbin, czy Hans serce już zawsze będzie mi mocniej bić.

Niestety tak żarliwymi uczuciami nie darzę innych chińskich napojów wysokoprocentowych. Tamtejsza wódka w smaku przypomina bowiem zmywacz do paznokci (nie pytajcie skąd znam ten smak) i jest po prostu zbyt tania (0,5 l kosztowało nas 4,5 zł). Co ciekawe, spróbowaliśmy też nieco droższego wyrobu (0,5 l za 12 zł), który okazał się jeszcze gorszy, a mój europejski organizm momentalnie go odrzucił. Co do chińskich win, to mieliśmy szczere intencje by ich skosztować i zakupiliśmy nawet jedną butelkę, która jednak, jak się później okazało zawierała 12-procentowy sos sojowy.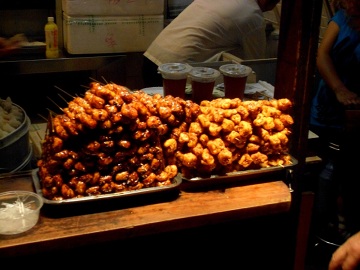 Na deser pozostawiłem sobie najciekawszy chyba temat – przekąski. Gdyby ktoś chciał choć jednym zdaniem opisać każdą chińską przekąskę, dzieło zawierające ten spis urosłoby, co najmniej do rozmiarów encyklopedycznych. Choć zdanie "jemy wszystko co ma 4 nogi i nie jest stołem" tyczy się głównie mieszkańców Kantonu, to w kwestii przekąsek każdy Chińczyk podpisać mógłby się pod nim obiema rękoma. Ja, choć Chińczykiem nie jestem, również skosztowałem wiele bardzo dziwacznych przekąsek. głównie za sprawą naszego pekińskiego hosta Feitinga, który co wieczór zalewał nas falą przysmaków. I tak przyszło skosztować mi włochatej wołowiny, suszonych wodorostów o smaku barbecue, słodkiego mięsa (parówki z kukurydzą w środku), jaj gotowanych w solance (tego smaku akurat nie chcę pamiętać), słodkiej karmy dla ludzi (kawałki mięsa w zalewie, konsystencją przypominające jedzenie dla kotów) i syczuańskiego suszonego mięsa (do dziś bolą mnie po nim zęby).

Szczególne miejsce w panteonie przekąsek zajmują dania na patyku. Pomysłowość Chińczyków w tym zakresie praktycznie nie zna granic. W takiej formie skonsumować możemy wszelkie owoce, mięsa, warzywa, tofu, jaja, słodycze, pająki, ryby, kraby, grzyby i w zasadzie wszystko, co przyjdzie wam do głowy. Z cała pewnością przechadzając się po chińskiej ulicy znajdziecie wszystko, co tylko jest jadalne nadziane na patyk i odpowiednio przyprawione/usmażone/ugotowane/uduszone/upieczone/uwędzone/peklowane (niepotrzebne skreślić). Jak za pewne zauważyliście w spisie mało jest typowych słodyczy, takich jak czekolady czy batony. Rzeczywiście produkty te są w Chinach mało popularne i dość drogie. Słodycz Chińczycy czerpią raczej z owoców.
Na koniec, zdecydowałem się umieścić zdanie od którego w zasadzie powinienem zacząć, jednak wolałem tego nie robić by nie wprowadzać niepotrzebnego zamieszania. Coś takiego jak kuchnia chińska po prostu nie istnieje. Mówić o niej, to tak jakby mówić o kuchni europejskiej. Tradycje kulinarne w Pekinie, Szanghaju, Syczuanie czy Kantonie mają oczywiście pewne cechy wspólne, ale summa summarum to tak jakby porównywać z sobą kuchnię włoską i angielską.

I z tą konstatacją pozostawiam cię drogi czytelniku. A co do pytania, które słyszałem po powrocie już chyba z milion razy – nie, nie jadłem psa ani kota. Po pierwsze nie było mnie stać, a po drugie od 2011 r. ich jedzenie jest w Chinach jest oficjalnie zabronione.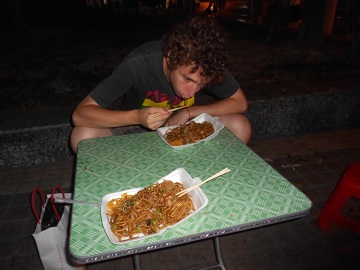 fot. Stan