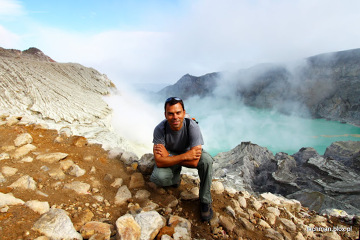 fot. Maciej Laskowski
Wojciech Filipczak: Proszę opowiedzieć czytelnikom w kilku zdaniach parę słów o sobie.

Maciej Laskowski: Urodziłem się prawie 40 lat temu, wykształciłem się wszechstronnie, pracuję jako tłumacz języka angielskiego, ale amatorsko zajmowałem się różnymi rzeczami: byłem m. in. gitarzystą i wokalistą zespołów punkrockowych i heavymetalowych oraz kierowcą rajdowym.
W.F.: Skąd wzięła się pasja zwiedzania dalekich zakątków ziemi ?

M.L.: To nie jest pasja, to dla mnie coś zupełnie naturalnego. Od dzieciństwa dużo czasu spędzałem w drodze, najpierw jeżdżąc pociągami po Polsce, potem autostopem i samochodem po Europie, a potem coraz dalej. Być może jakiś wpływ na moją ciekawość świata miał fakt, że do 18 roku życia żyłem w komunistycznej Polsce i raczej nie mogłem wyjeżdżać. Więc teraz, kiedy pojechać można praktycznie wszędzie, chętnie korzystam z tych możliwości. Uważam, że podróże kształcą i poszerzają horyzonty, jeśli tylko ktoś chce je sobie poszerzyć.

W.F.: Jakie kraje Pan odwiedza? Dlaczego akurat te, a nie inne ?
M.L.: Często decyduje o tym przypadek, na przykład aktualne promocje lotnicze. Są kraje, które zawsze chciałem odwiedzić, na przykład Peru, ale one nie zawsze okazują się tymi najciekawszymi czy najbardziej ulubionymi. Mam kilka ulubionych krajów, takich jak Kolumbia czy Filipiny, które odwiedziłem mimo tego, że wcześniej wcale nie wydawały mi się ciekawe. Poza tym staram się unikać jeżdżenia 2 razy pod rząd w ten sam rejon świata. Więc po Azji przychodzi czas na Amerykę Łacińską albo Afrykę.

W.F.: Jak często Pan podróżuje i z kim? Czy ma Pan wsparcie ze strony rodziny?

M.L.: Zwykle wyjeżdżam 2 razy do roku na kilka tygodni. Czasem uda się wcisnąć jeszcze jakiś krótki dodatkowy wyjazd. Prawie zawsze jeżdżę sam, chociaż czasem zdarzają się wyjątki w postaci bliskich mi osób, które mogą do mnie dołączyć na część wyjazdu. Ale zawsze też poznaję różnych ludzi po drodze, i czasem podróżuję razem z nimi.

Rodzina już dawno zaakceptowała moje wyjazdy, nie ma z tym żadnego problemu, i cieszy się, że po moim powrocie może obejrzeć trochę fajnych zdjęć i posłuchać ciekawych opowieści.

W.F.: Czy w trakcie podróżowania często zdarzają się Panu sytuacje nieprzewidywalne (np. kradzież, napad itp.)? Co było dla Pana największym zaskoczeniem?

M.L.: Wszystko jest nieprzewidywalne, ale niekoniecznie musi to być kradzież czy napad. W ciągu ostatnich 10 lat spędziłem prawie 2 lata w podróży, i ani razu nie zostałem okradziony ani napadnięty. Może nie wyglądam na osobę, którą warto okraść? Natomiast nieprzewidywalne sytuacje są raczej przyjemne – choćby nieoczekiwana pomoc czy życzliwość ze strony napotkanych ludzi. Największym zaskoczeniem było przypadkowe spotkanie znajomych Anglików na ulicy w jednym z miast w malezyjskiej części Borneo. Poznaliśmy się pół roku wcześniej w górach Kolumbii, potem kontakt się urwał, i wpadliśmy na siebie w centrum miasta Kota Kinabalu. Oczywiście wszyscy byliśmy zaskoczeni, ale z przyjemnością spędziliśmy ze sobą kilka godzin przy piwie.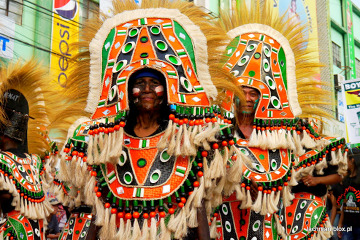 fot. Maciej Laskowski
W.F.: Jak opisałby Pan typowego Filipińczyka?

M.L.: Obawiam się, że "typowy Filipińczyk" nie istnieje, podobnie jak nie istnieje "typowy Polak". Filipińczycy to bardzo różnorodny naród, tak jak różnorodny jest ten kraj. Ale zdecydowana większość Filipińczyków to uśmiechnięci i życzliwi ludzie, z którymi bardzo łatwo nawiązuje się kontakt, nawet jeśli jest to kontakt dość powierzchowny.
W.F.: Czy wierzy Pan w to, że są jeszcze dzikie, nieodkryte przez ludzi tereny?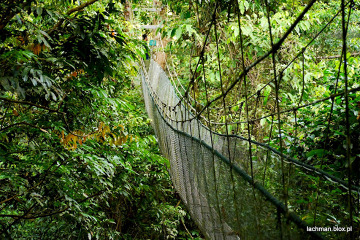 Przeprawa przez dżunglę na Borneo
fot. Maciej Laskowski
M.L.: Nieodkryte – raczej nie. Ale na pewno są tereny nie do końca zbadane. I może nawet lepiej, żeby takimi pozostały...

W.F.: Czy łatwo Pan nawiązuje "wspólny język" z mieszkańcami danego kraju ? Czy ma Pan swoje sposoby, jak wzbudzić w nich zaufanie?

M.L.: To zależy od mieszkańców i od kraju... Są miejsca, gdzie ludzie są bardziej przyjaźni i ciekawi kontaktów z przyjezdnymi niż gdzie indziej. Najlepsze doświadczenia pod tym względem mam właśnie z Filipin i Kolumbii, ale też z Kuby, Indonezji i Birmy. Myślę że najlepszym sposobem jest uśmiech i życzliwość wobec lokalnych mieszkańców. Nie mam żadnych szczególnych historii, bo takie rzeczy jak spontaniczne zaproszenie na obiad zdarzały mi się dość często. Mogę tylko powiedzieć, że w niektórych krajach, np. w Indonezji czy w Indiach, ludzie sami proszą o fotografię czy o możliwość sfotografowania się z turystą. W Indonezji proszono nas o potrzymanie dzieci na rękach, żeby tym dzieciom zrobić zdjęcia z nami, turystami.

W.F.: Jaki jest Pana ulubiony środek transportu w podróży?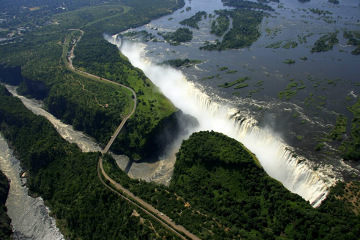 Widok z lotu ptaka na Wodospady Wiktorii – Zimbabwe
fot. Maciej Laskowski
M.L.: Ulubiony jest oczywiście samolot ze względu na wygodę i oszczędność czasu. Ale jeżdżę wszystkim, czym na miejscu się da. Nie są mi obce wielogodzinne podróże niewygodnymi autobusami czy zapakowanymi do granic możliwości minibusami albo prymitywnymi łodziami. Są miejsca gdzie transport publiczny po prostu nie istnieje, i trzeba próbować znaleźć cokolwiek innego – autostop, ciężarówki, itp.
W.F.: Czy dzikie zwierzęta przerażają Pana?
M.L.: Nie przerażają mnie. Zresztą groźne, dzikie zwierzęta można spotkać prawie wyłącznie w parkach narodowych, a i to nie jest gwarantowane. Pod wodą jest chyba trochę łatwiej, chociaż to też zależy od szczęścia i pory roku. Największe zwierzę, jakie spotkałem, to rekin wielorybi, który osiąga długość ponad 10 metrów. Na szczęście zamiast mięsa żywi się planktonem, więc nie jest groźny dla ludzi.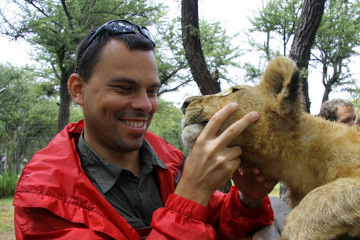 fot. Maciej Laskowski


W.F.: Jakie są Pana najbliższe podróżnicze plany?

M.L.: Ponieważ ostatnio byłem w Azji, teraz czas na półkulę zachodnią. Najprawdopodobniej będzie to Boliwia, północne Chile i południowe Peru.

W.F.: Chciałbym serdecznie podziękować Panu Maciejowi za udzielony wywiad i życzę kolejnych niezapomnianych przeżyć w dalszych podróżach.


* Publikacja oraz zdjęcia opracowane i umieszczone za zgodą bohatera wywiadu.