– Nie ma rzeczy niemożliwych? – zapytała Justyna swojego tatę.
– Nie, kochanie! Bariery są w twojej głowie i tylko od ciebie zależy, co z nimi zrobisz.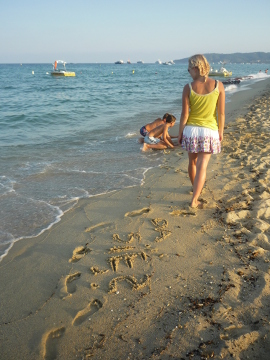 18 euro...
Planowanie zaczęło się 3 dni przed wyjazdem, długie zarwane noce spędzone na poszukiwaniu egzotycznych plaż z aksamitnym piaskiem stały się naszym hobby. Początkowym celem miała być Chorwacja lub krótki wypad do Triestu. Pewnej nocy, a w zasadzie pewnego poranka, bo była już godzina 3:00 do głowy wpadł nam niezwykle szalony pomysł.
– Jedziemy do Hiszpanii! – zakomunikowałam.
– Okej! – zgodziła się Justynka.
I tym sposobem trzy dni później znajdowałyśmy się w tirze jadącym do Wiednia. W kieszeni miałyśmy po 18 euro.
Balony ratują naszą podróż...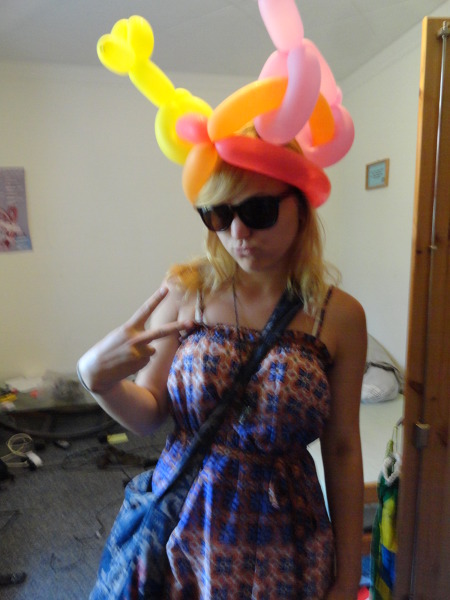 Wiedeń – cudowna stolica Austrii, pełna wdzięku i spokoju. Tam nikt nie pędzi po ulicy, ludzie przemieszczają się jakby centymetr nad ziemią. To miasto ma w sobie duszę artysty.
Dotarłyśmy do Wiednia około godziny dziesiątej. Czym prędzej udałyśmy się do parku, aby przebrać się w stroje, pomalować twarze i udać się na jedną z głównych ulic w celu zarobienia grosza na wymarzoną Hiszpanię. Już podczas ćwiczeń do naszego kapelusza trafiło pięć euro, co nas na jakiś czas zmotywowało. Potem znalazłyśmy się pod muzeum, tworząc śmieszną pantomimę, która w naszych ubogich strojach, pozbawiona muzyki wyglądała co najmniej żenująco. Nadeszło pierwsze załamanie! Nasza podróż stanęła pod znakiem zapytania. Nie mogłyśmy sobie pozwolić na porażkę. Sercem i ciałem byłyśmy już na plaży w Hiszpanii. Przecież nie ma rzeczy niemożliwych, a marzenia zwłaszcza te najbardziej szalone trzeba spełniać i ubarwiać nimi życie.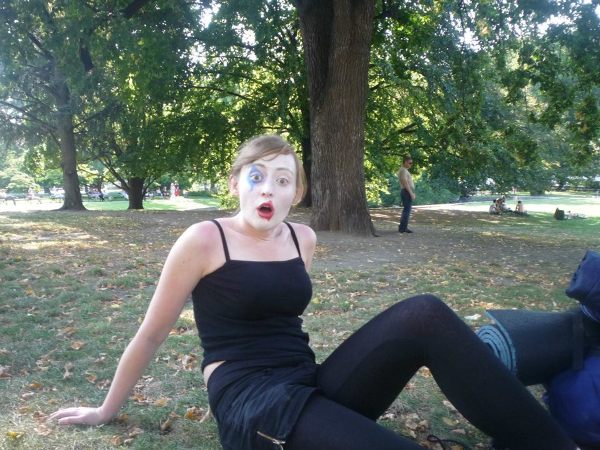 Trochę smutne, troszkę zmęczone udałyśmy się do naszego Couchsurfera na nocleg, postanawiając, że jutro będziemy sprzedawać zwierzątka zrobione z balonów.
Wieczór spędziłyśmy w miłym towarzystwie popijając piwo na środku placu pełnego kanap z Ikei, młodych, wesołych ludzi, oraz Philo i Christophera – naszego gospodarza.
Kolejny dzień spędziłyśmy zwiedzając Wiedeń i sprzedając kolorowe zwierzątka. Udało nam się zarobić trzydzieści euro i z nadzieję ruszyłyśmy w dalszą drogę.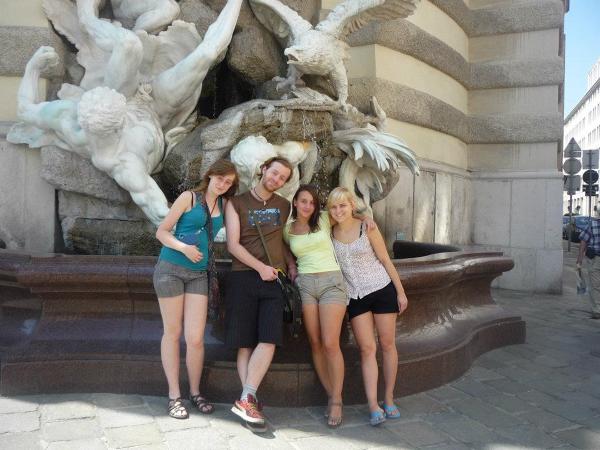 Marco i jego bezinteresowność...
Autostop z Justynką okazał się łatwiejszy niż myślałam, bez problemu przesiadałyśmy się z auta do auta, aż na jednym z austriackich parkingów trafiłyśmy na Anioła Stróża – sponsora wyprawy. Człowiek o imieniu Marco odmienił losy podróży za jeden uśmiech. Droga w srebrnym camperze mijała w bardzo miłej atmosferze, długie rozmowy o zainteresowaniach, pracy i szkole ubarwiały szybko upływający czas. Kierowca zaskoczył nas swoją propozycją nie do odrzucenia, która zmieniła losy naszej wyprawy.
Sympatyczny Marco zaproponował nam wyprawę do Florencji i Pizy, obdarował nas noclegiem w swoim samochodzie, a sam wynajął dla siebie pokój w hotelu. Jakby tego jeszcze było mało, dał nam całkowicie bezinteresownie siedemdziesiąt euro na dalszą pełną niespodzianek wyprawę. Byłyśmy w szoku, nie wiedziałyśmy co powiedzieć, co zrobić i jak się zachować. Nasze marzenia z dnia na dzień stawały się coraz bardziej realne. Postanowiłyśmy, że skorzystamy z propozycji Marca i udamy się z nim do Florencji, pięknego i bardzo gorącego włoskiego miasta. Cudowne budowle, wąskie uliczki, pizza, lody, most, na którym mieszkają ludzie i jednocześnie odbywa się wielkie targowisko – to tylko niektóre z uroków miasteczka. Kilka godzin zwiedzania i z powrotem byłyśmy w naszym wesołym camperze podążając w kierunku Pizy na spotkanie z wytęsknioną plażą i krzywą wieżą.
W stronę słońca...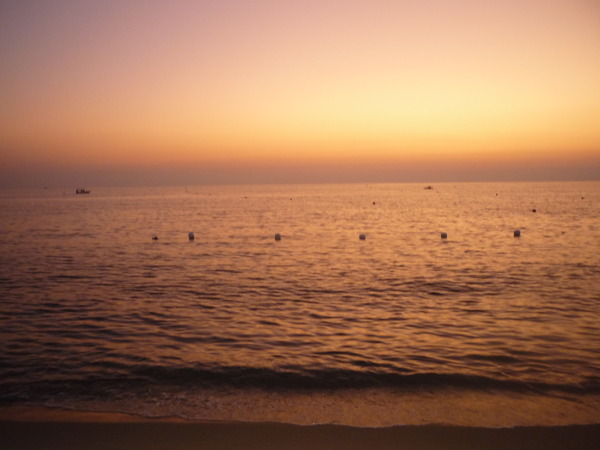 Zachód słońca, w kierunku którego płynęliśmy z sekundy na sekundę stawał się coraz piękniejszy, beztroski czas w morzu i pokonywanie odcinków od boi do boi wypełnił nasze umysły i ciało. Razem z Justyną dostałyśmy totalnej głupawki i ledwo co udawało nam się dopłynąć do celu, prawie utopiłyśmy się ze śmiechu. To chyba efekt uboczny zanurzenia się we włoskim morzu. Nawet Marco stwierdził, że jest to piękny moment, aby umrzeć. Po tej wypowiedzi trochę się wystraszyłyśmy, ale szybko odgoniłyśmy ponure myśli i wszyscy udaliśmy się na grillowaną rybę, oraz spacer po mieście.
Krzywa wieża jest na prawdę krzywa, a oglądana z prywatnego, hotelowego tarasu w środku miasta wygląda bajecznie.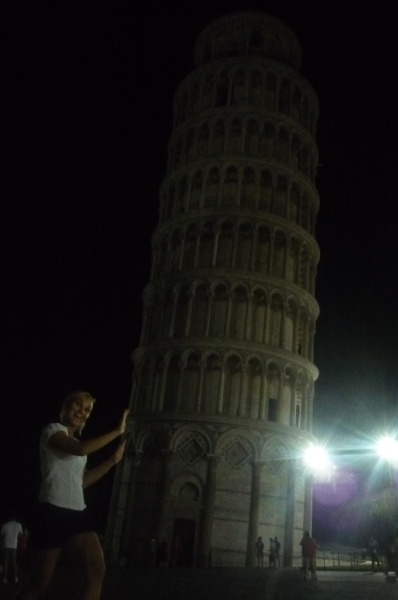 Długie rozmowy przy kolorowych, zimnych napojach ukazały nam całkowity obraz naszego gospodarza. Był to dobry, bezinteresowny człowiek, który zawsze miał to, czego chciał, nie brakowało mu pieniędzy, ładnego domu, żył w tak zwanym złotym więzieniu. Spotykając dwie beztroskie autostopowiczki zaczął odkopywać swoje głęboko ukryte pragnienia.
Lazurowe wybrzeże proponuje nocleg na łódce...
Następnego dnia znajdowałyśmy się na stacji benzynowej, zajadając chleb z pasztetem i machając kciukiem w kierunku Francji.
Lazurowe wybrzeże przyniosło nam nocleg na łódce, nocą wyprawę do St Tropez, podczas której spotkałyśmy striptizera, który z kolei proponował nam swoje usługi zupełnie za darmo. Z przerażeniem uciekłyśmy z auta.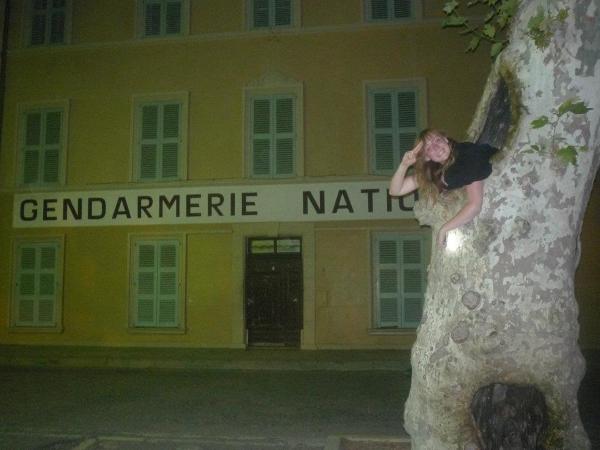 Nocne plażowanie, kąpiele w lazurowym morzu – to wszystko ubarwiało nam wakacje. Niestety nie miałyśmy za wiele czasu, trzeba było ruszać dalej.
Kierunek Hiszpania...
Dość szybko znalazłyśmy się w polskich tirach podążających wprost do utęsknionej i gorącej Hiszpanii. Na nocleg zostawałyśmy w autach popijając zimną sangrie.
W końcu dotarłyśmy do celu i przed nami wyłoniła się śliczna plaża z aksamitnym piaskiem i cudownymi falami. Nie mogłyśmy się powstrzymać przed wskoczeniem do wody. Plaża wyglądała jak z obrazka, zabawa z falami przynosiła więcej radości niż prezent podarowany małemu dziecku.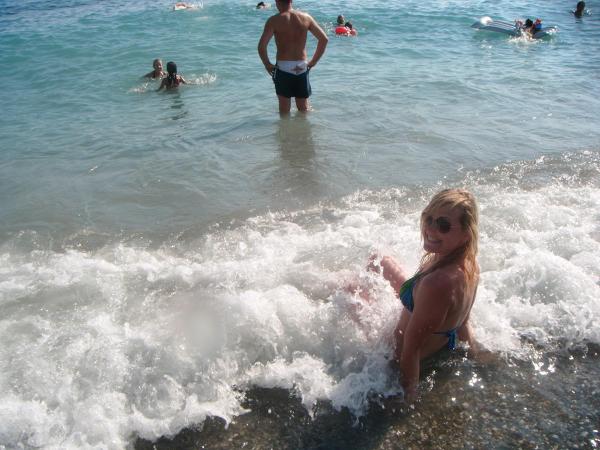 Dzień spędziłyśmy na beztroskim obijaniu się wraz z naszą nową towarzyszką, Hiszpanką o imieniu Arancha, która wieczorem zawiozła nas do naszego docelowego miasta Sitges, gdzie przez Couchsurfing miałyśmy załatwiony nocleg.
Cel został osiągnięty...
Zadowolone rozłożyłyśmy się pod palmami i zadzwoniłyśmy do nowego gospodarza. Niestety miał wyłączony telefon. Kolejne próby nic nie dawały, robiło się już ciemno, a z noclegu nici. Kiedy rozmawiałyśmy z tutejszymi artystami budującymi rzeźby z piasku, nagle pojawił się Murzyn proponując nam darmowy nocleg u jego kolegi w pobliskim hostelu. Nie mając nic do stracenia poszłyśmy za nim wlekąc wielkie i ciężkie plecaki.
Abdul...
Abdul przywitał nas bardzo serdecznie oferując wino, sziszę i najcudowniejszy na świecie kuskus. Nowym gospodarzem stał się Marokańczyk, mieszkający w Hiszpanii, który bez problemu pozwolił nam zostać na noc. Ponadto zaoferował darmowy nocleg na kolejne dni.
Zawsze rano Abdul witał nas chrupiącymi tostami i świeżym pomarańczowym skokiem, wieczorami gotował pyszne marokańskie przysmaki. Jeszcze nigdy nie jadłam tak świetnie przyrządzonych potraw. Muszę stwierdzić, że marokańskie jedzenie z Hiszpanii było lepsze niż to z prawdziwego Maroka. Lokalne knajpki nastawione na turystów to nie to samo, co domowe, prawdziwe jedzenie.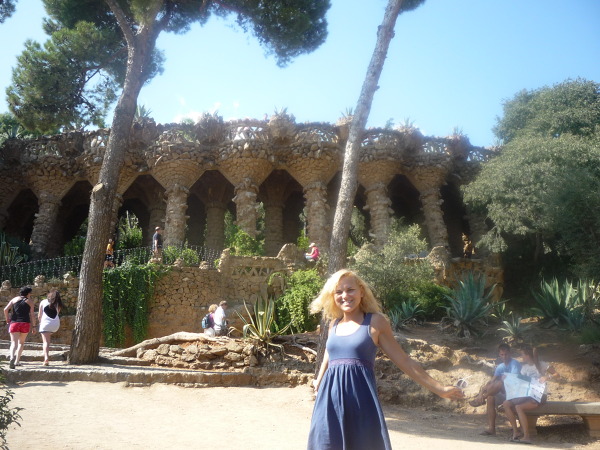 Drugi dzień hiszpańskiej przygody spędziłyśmy zwiedzając Barcelonę, oszukując tutejsze metro i popijając sangrie w pobliskiej knajpie. Sagrada Familia, ogrody Gaudiego czy pokaz tańczących fontann są godne polecenia.
Wycieczka po La Rambli również robi wrażenie. Krótko mówiąc, jeśli marzy się wam Barcelona, przestańcie o niej czytać, stańcie na drodze, kciuk do góry i w drogę.
Hiszpańska beztroska...
Kolejnego dnia wylegiwałyśmy się pod parasolem na plaży, zajadając bagietkę maczaną w serku, popijając zimnym soczkiem od Abdula. To były cudowne, beztroskie chwile. Wieczorne rozmowy, pląsanie w morzu i mnóstwo bezinteresownych ludzi spotkanych po drodze.
Komu w drogę, temu ciężki plecak...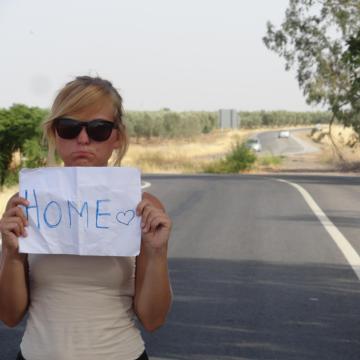 W końcu nadszedł czas powrotu do domu. Postanowiłyśmy, że już nigdzie nie będziemy się zatrzymywać i "na strzała" wróciłyśmy do Polski. Wylądowałyśmy w Gliwicach. U nas było już dosyć zimno, a my o dwunastej w nocy w krótkich spodenkach znalazłyśmy się na gliwickiej stacji benzynowej. Na szczęście i w tym miejscu nie ominęła nas dobroć ludzi. Nasza kochana Zosieńka zwaliła swojego brata Jaśka z łóżka i poprosiła, aby po nas przyjechał. Ostatnią noc spędziłyśmy w ciepłym wygodnym łóżku państwa Kozioł.
Nie ma rzeczy niemożliwych...
Byłam zaskoczona tą podróżą. Po raz kolejny udowodniłam sobie, że nie ma rzeczy niemożliwych, a marzenia się spełniają, jeśli tylko mocno tego pragniemy.
Wyruszałyśmy mając 18 euro w kieszeni. Wracając, miałyśmy dwa razy tyle. Dzięki hojności ludzi dotarłyśmy do celu, przeżywając po drodze mnóstwo fascynujących przygód. Przez dwa tygodnie ani razu nie rozłożyłyśmy namiotu, za każdym razem nocleg sam się znajdował.
Z pełną świadomością stwierdzam, że niemożliwe nie istnieje.