Równie zdziwaczały kolega daje się namówić na autostopową podróż i już kilka godzin później stoimy przy drodze z naszą pierwszą tabliczką.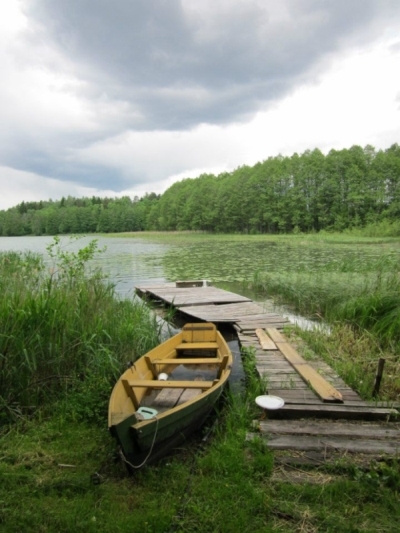 'Boże Łąki' pod Wilnem.

Ale Litwa to tylko rozgrzewka. Życzliwi i gościnni ludzie, piękne widoki, masa niespodzianek i emocje towarzyszące łapaniu stopa na autostradzie stają się dla mnie narkotykiem. Po powrocie do domu już szukam kolejnego celu podróży i namawiam następną osobę, żeby spróbowała, co to znaczy zostać włóczęgą.

Im trudniej, tym ciekawiej!

Nie bawię się w szukanie noclegów przez CouchSurfing, nie zabieram mapy, nie biorę pieniędzy. Jak dobrze przygotowałam się do podróży? Świetnie. Plecak ma urwane ramiączka, są związane sznurkiem. A wszystkie ciuchy przed chwilą wyszły z pralki i mogę wykręcić z nich wodę.




Druga podróż jest chyba jedną z najdziwniejszych. No, chyba że to nic takiego leżeć skulonym w kłębek i spać na poboczu autostrady, podczas gdy twój kolega łapie na stopa austriacką policję. Żyjemy z tego, co dostaniemy od ludzi. Czasem śpimy w krzakach, czasem nie śpimy w ogóle. Dowiadujemy się też, że serbskich celników najlepiej przekupić paczką papierosów lub tabliczką czekolady.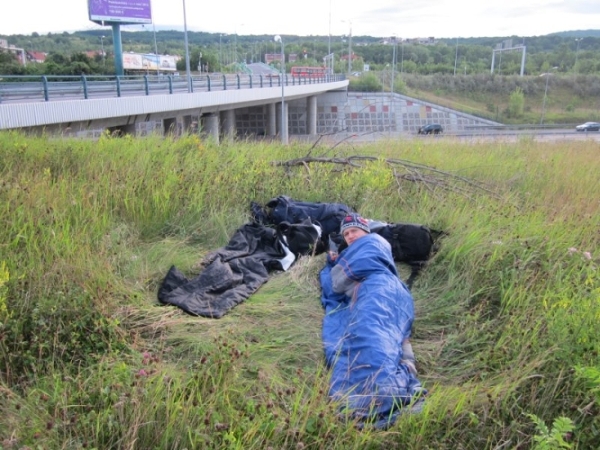 Pierwszy nocleg – za nami autostrada, obok autostrada, z boku droga ekspresowa.

W Serbii psuje się samochód, którym mieliśmy dojechać do Kosowa. Odbieramy to za zły znak i zmieniamy cel podróży. Musimy się trochę cofnąć... Kiedy drugi raz lądujemy pod Wiedniem, adoptuje nas węgierski kierowca tira, z którym podróżujemy ponad dwa dni – aż do Rzymu. Każe do nas mówić "tata", nie znamy wspólnego języka, jemy wspólnie wszystkie posiłki, śpimy w jego kabinie i pomagamy mu przy załadunku kilkunastu ton papieru do drukarek.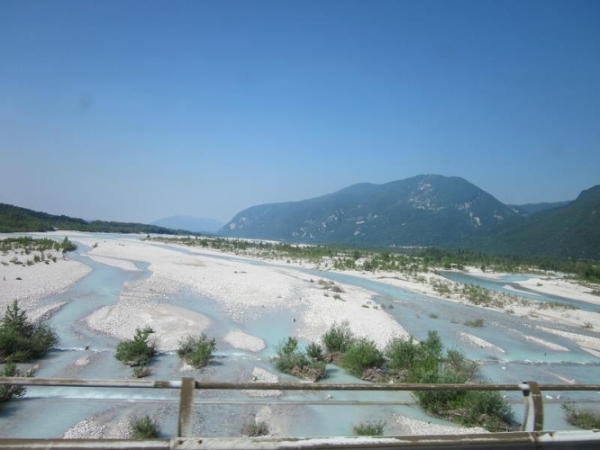 Droga prowadziła przez Alpy.

Ostatecznie po długiej tułaczce zamiast do Grecji docieramy do Foggi – stolicy pomidorów na samym południu Włoch, gdzie zupełnie przypadkiem spotykamy Polaków. Mieszkamy u nich tydzień, a w ramach rekompensaty za ciężką podróż otrzymujemy hektolitry wina, które pije się tam z 5-litrowych baniaków.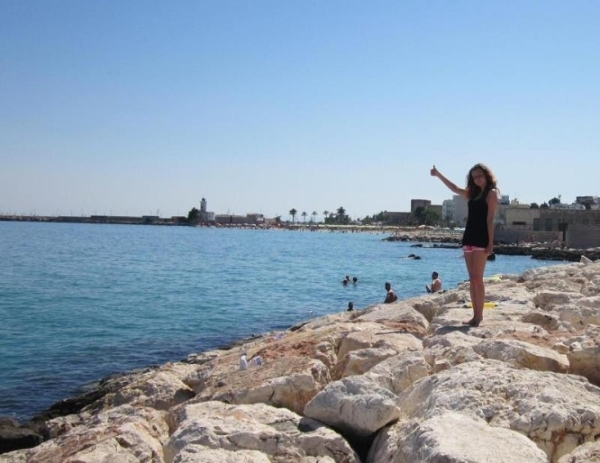 Plażowanie w Manfredonii połączone z polowaniem na kraby.

W drodze powrotnej udaje nam się zakumplować z włoskim gliniarzem i zostajemy zaproszeni na tydzień do domu. Trzeba jednak wracać, więc trzymając się wschodniego wybrzeża jedziemy na północ drogą SS16, która przez cały kraj leci wzdłuż morza.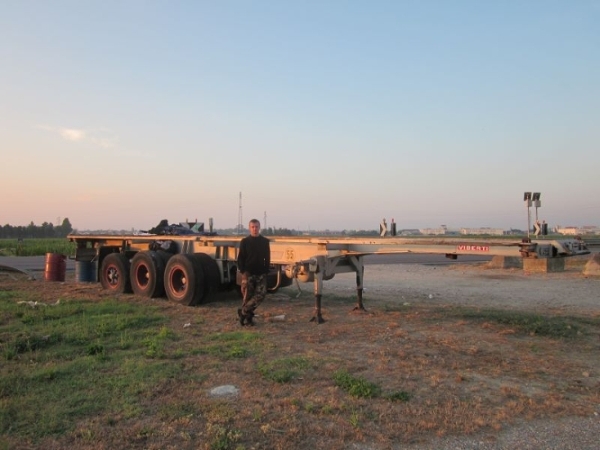 Kolejne z serii "dziwne noclegi" – tym razem nie śpimy w trawie, bo czają się tam węże. Nadal południe Włoch.

Czuję jednak niedosyt. Po powrocie, jak zwykle, już szykuję się do kolejnej podróży.

"Nie mamy pieniędzy" w 15 językach

Okej, z tym brakiem pieniędzy to bez przesady. Na następną wyprawę zabieram aż 5 euro, choć – jak się później okaże – za sam prom przez Dunaj będę musiała zapłacić 6. Grecję zdobywam podczas trzeciej wyprawy, znowu z innym towarzyszem podróży. Nauczona z Włoch, że jednak nie każdy rozumie wyrażenie "no money", zapisuję tę informację w 15 językach. Podczas podróży użyję chyba każdej wersji, łącznie z albańską. Mam też kilka zdań z rumuńskiego i węgierskiego. Szykuję się na lingwistyczną ucztę.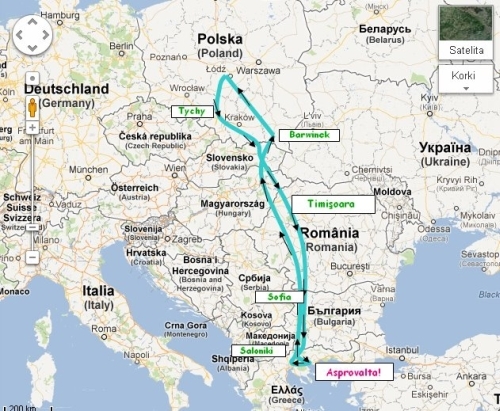 Już pierwszego dnia dojeżdżamy do Rumunii, której niepotrzebnie tak bardzo się bałam. Wraz ze spotkaniem wyjątkowo sympatycznych ludzi w mojej głowie umierają wszystkie stereotypy związane z tym krajem. Darmowa podróż autobusami za zgodą kierowców, podwózka rozsypującymi się busami i złapany na stopa rower są najlepszym dowodem na to, że nawet mając tyle co nic, można się tym z kimś podzielić.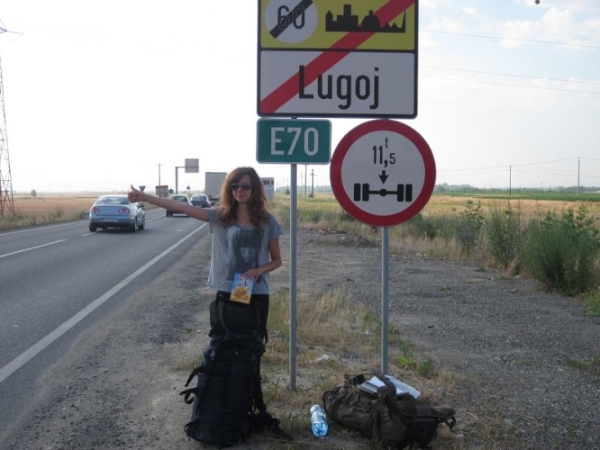 Autostopowanie w Rumunii i ciasteczka zbożowe otrzymane w ramach śniadania.

To, że policja zabiera na stopa i wcale nie wysadza na komisariacie, wiedzą wszyscy. Ale mało kto spotyka na swej drodze gliniarza, który proponuje, że złapie stopa za ciebie i zatrzymuje wszystkie auta pod pretekstem kontroli tylko po to, żeby spytać, czy jadą nad morze. Od greckiego funkcjonariusza dostajemy najlepsze na świecie migdały i przez godzinę stoimy z nim przy drodze – jak się później okazało, pan skończył już dawno pracę.

Pobyt w Asprovalcie to szum morza, piaszczysta plaża, dźwięk otwieranych puszek piwa i gitary, noclegi pod gwieździstym niebem, kąpiele w gorącym morzu, prysznice i łazienki na wyciągnięcie ręki, a także widoki wschodzącego i zachodzącego słońca. Żyć nie umierać!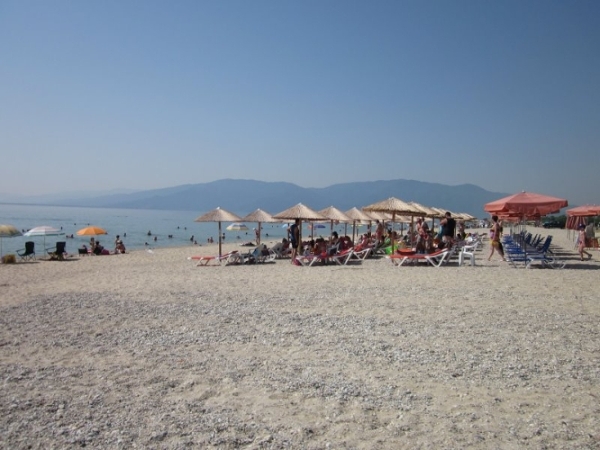 Nigdy stąd nie wrócimy!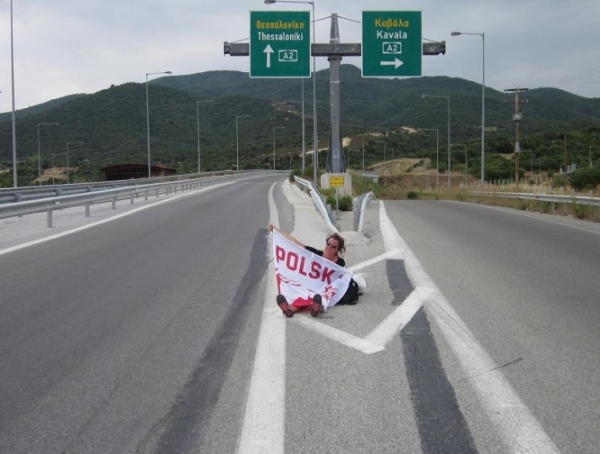 Cieszę się, bo myślę, że łapiemy w dobrą stronę.

Pierwszy dzień powrotu wywołuje kryzys. Wieczorem łapiemy pod Salonikami Gruzina, który zatrzymał się tylko dlatego, że zobaczył polską flagę. Zabiera nas do domu, który oprócz hotelowych warunków szokuje kaplicą na podwórku i basenem. Prawdziwa grecka kuchnia, rosyjska wódka i whisky podczas kolacji sprawiają, że czuję się naprawdę egzotycznie. Następnego dnia dostajemy zacną wałówkę na podróż: piwa, konserwy, chleb. Oraz ogromnego, 5-kilogramowego arbuza, który dojedzie ze mną do domu.

Życzliwym kierowcom mamy w zwyczaju dawać tzw. pocztówki podziękowania. Wręczamy je Albańczykowi, który jest tak zachwycony, że po 15 minutach wraca z kartkami ze swojego kraju. Do dzisiaj utrzymujemy kontakt, jak zresztą z większością kierowców. Korespondujemy, oczywiście, w języku albańskim.

Przy granicy grecko-bułgarskiej udaje nam się wyżebrać u polskiego kierowcy tira, żeby zabrał nas ze sobą. Zgadza się niechętnie, bo za trzy osoby w kabinie grozi mandat (wymienialny na 5 euro łapówki). W efekcie dojedziemy razem aż do Polski.

W Rumunii Łukasz, nasz kierowca, pozwala poprowadzić mi tira. Siedzenie za kierownicą 22-tonowego pojazdu z szesnastoma biegami, załadowanego aluminium wartym pół miliona euro, dopisuję do listy "o czym opowiem wnukom".

Radość mojej mamy, kiedy wracam (jednak żywa) do domu jest nie do opisania. Gorsza reakcja następuje gdy oznajmiam, że zaraz jadę do Francji.

Z racji tego, że tym razem zabieram ze sobą namiot chciałabym napisać, że byłam trochę lepiej przygotowana. Nic z tego – wyjeżdżam z zapaleniem spojówek i wcale nie przeszkadza mi to, że muszę chodzić w okularach przeciwsłonecznych nawet w nocy.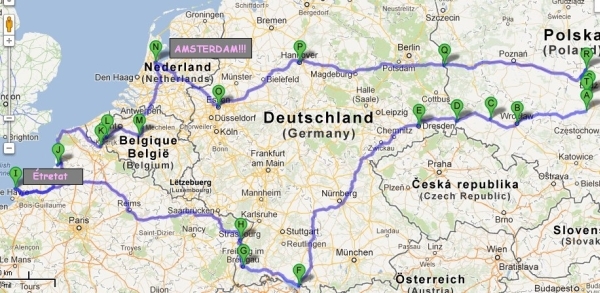 Od Algierczyka, który przewozi nas przez połowę Niemiec, otrzymujemy 20 euro "na kolację". Nocujemy w parku przy samym Jeziorze Bodeńskim.

Do Étretat – małej miejscowości na północy Francji – dojeżdżamy bardzo szybko, bo autostop na zachodzie to bułka z masłem. Rozbijamy namiot w najbardziej szalonym miejscu, jakie mogłabym sobie wyobrazić – na szczycie ogromnego klifu. W nocy oglądamy spadające gwiazdy i delektujemy się niemieckim tanim piwem i słodyczami. Rano budzą nas tłumy japońskich turystów.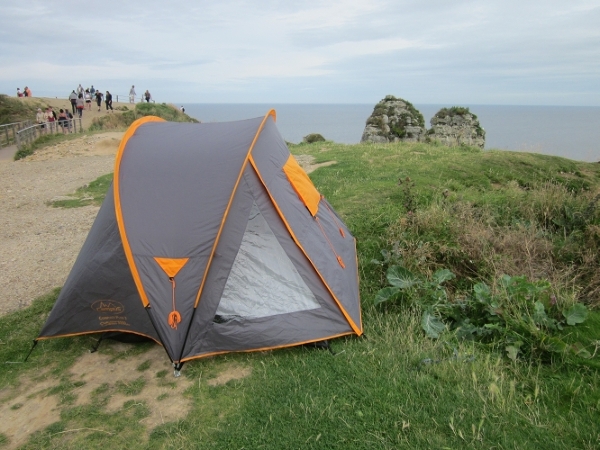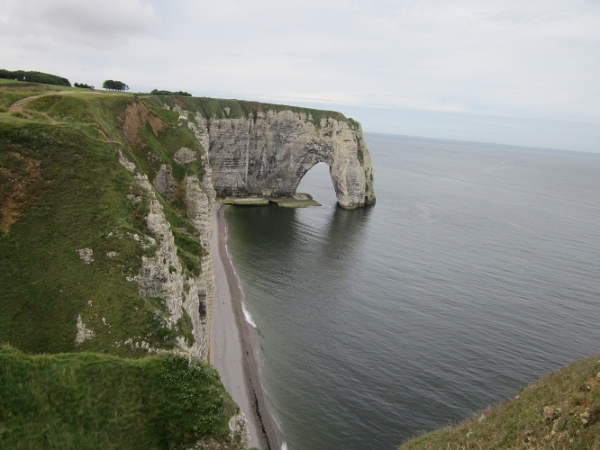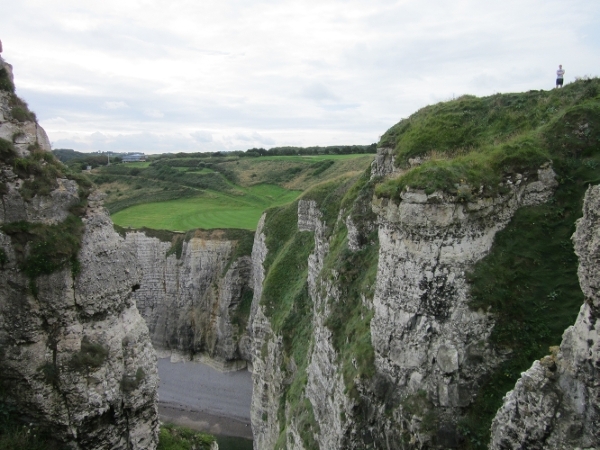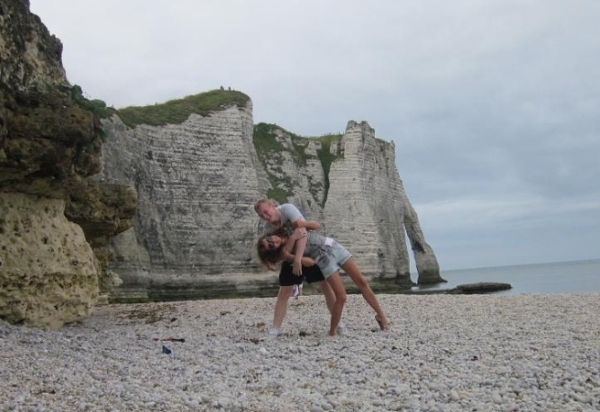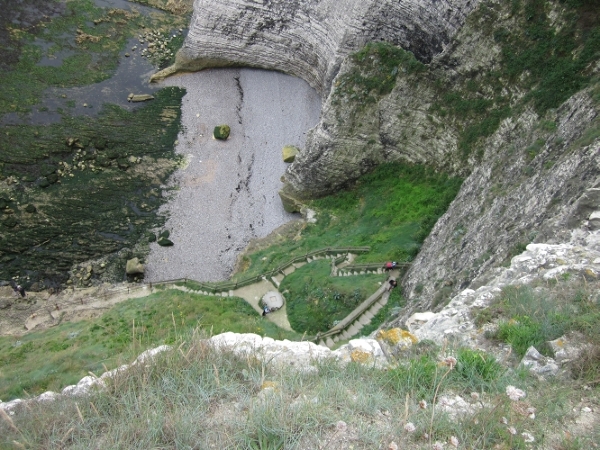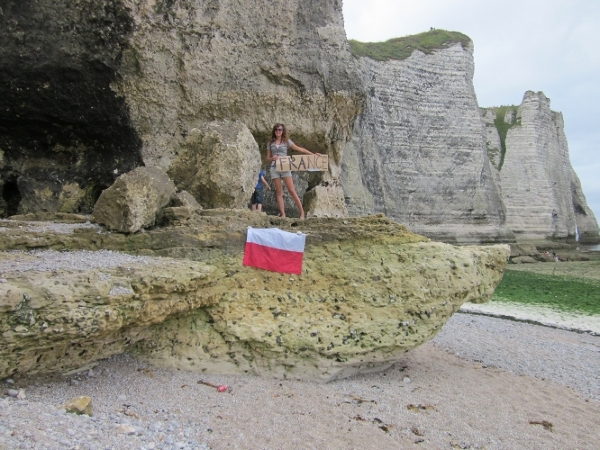 W drodze powrotnej decydujemy się zahaczyć o Amsterdam. Zawozi nas tam mieszkaniec Jordanii, do którego lecimy w przyszłe wakacje.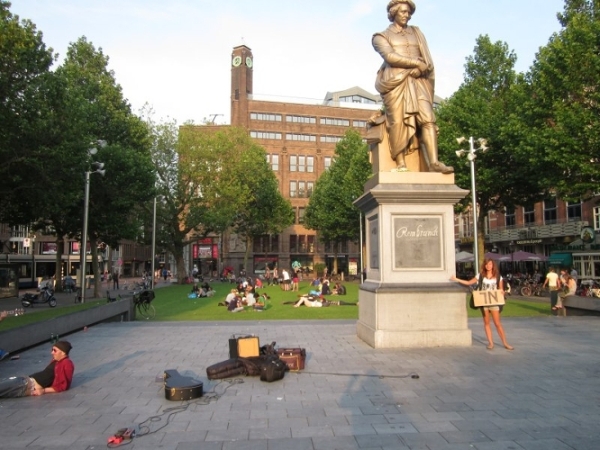 Rembrandtplein. Niewątpliwie Amsterdam ma swój specyficzny zapach. Faktycznie, wszędzie są rowery! Ludzie chodzą szczęśliwi, a po 21. na każdym skrzyżowaniu ktoś proponuje ci kokainę.

Po szalonej nocy w stolicy kraju wolności, jedziemy (bardzo zmęczeni...) do Polski. Nie wiem, jakim cudem udaje nam się wrócić, mając w portfelu o 5 euro więcej niż przed wyjazdem. Naprawdę żyliśmy jak bogacze.

Pod koniec wakacji uznaję, że dobrze by było przekroczyć 20 tysięcy kilometrów, które mam już na swoim koncie. Na forum autostopowym dołączam do grupy osób, które jadą do Czarnogóry. Nikt nikogo nie zna, ale całe szczęście mój towarzysz podróży okazuje się nie być mordercą.

Znów na Bałkany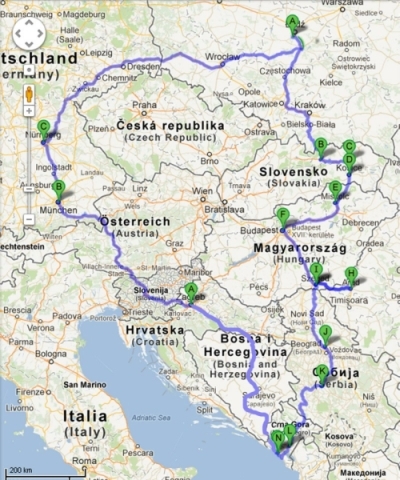 Serca Węgrów podbijam recytując: "Madziar, Lendziel kejt jo borat, edziut horcol, isso borat", czyli po prostu "Polak, Węgier, dwa bratanki – i do szabli, i do szklanki". Po drodze dostajemy propozycję podwózki do Turcji, Słowenii i Włoch. Mimo wszystko uparcie jedziemy w kierunku Serbii. Może nie tak uparcie, bo po 4 godzinach stania pod Szegedem wsiadamy do pierwszego lepszego auta i jedziemy... do Rumunii.

Przed Aradem dochodzimy do wniosku, że pomysł jest głupi i musimy wrócić w to samo miejsce, z którego wystartowaliśmy wczoraj. Nigdy w życiu nie zapomnę podróży z tureckim kierowcą tira, który z wąskiej drogi utworzył pięciopasmówkę. Wszystkie ciężarówki zjeżdżały nam na pobocze, kiedy jechaliśmy na czołowe, bo pan uznał, że nie chce mu się stać w kilkukilometrowej kolejce do kontroli granicznej...

Szaloną podróż przerywa wychodzący na jezdnię policjant. Kierowca decyduje się iść spać, a my kontynuujemy tułaczkę. Spacerując z plecakami stajemy się lokalną atrakcją turystyczną, więc policjant każe nam rozbić namiot "tu w trawie". Kilka metrów dalej stoi całkiem niezłe, czarne audi. A przed nim, na rozłożonej na betonie folii, śpi cygańska rodzina poprzykrywana szmatami i kocami. Pierwszy raz podczas podróży czuję się jak bogacz.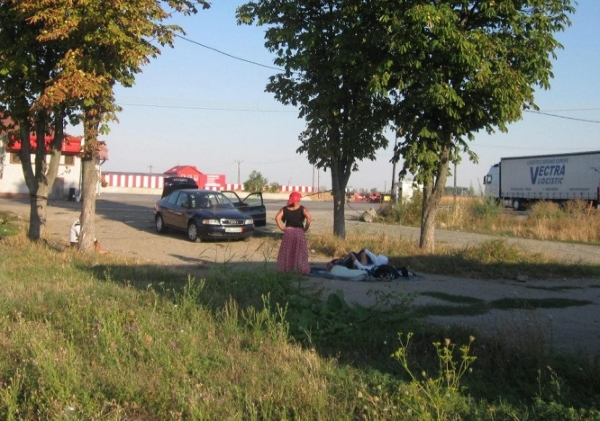 Zamiast dostać mandat za łapanie na autostradzie, otrzymujemy gratulację od serbskiej policji, że jesteśmy szaleni i odważni. Natomiast kierowca, który wywiezie nas na południe od stolicy pyta, czy oglądaliśmy film "Autostopowicz" (horror, w którym wszyscy wszystkich zabijają). To dobrze, że nie ma do nas uprzedzeń.

Inny kierowca, tym razem Serb jadący tirem, na każdą wzmiankę o policji śmieje się i mówi "nie problem. 2 euro". Kolejny raz dostajemy jedzenie, a ja słyszę mocny komplement: "Ona dobre zna serbsky" (pan mówił po swojemu, ja po polsku).

Południe Serbii jest naprawdę dzikie. Przede wszystkim drogi, które są serpentynami oplatającymi potężne, skaliste góry. Podróż do Podgoricy urozmaicona jest widokami aut, które zostały pokonane przez niebezpieczne zakręty.

Wieczorem dojeżdżamy do stolicy, która przypomina zwykłe miasteczko. W sekundę niebo robi się purpurowe, co jakiś czas przeszywa je błyskawica, a na głowy spadają nam hektolitry deszczu. Jedyne co przychodzi mi do głowy, to zrobienie krótkiej, acz wymownej tabliczki: HELP.

Na nasz apel odpowiada Czarnogórzec, który kiedyś przejechał świat na motocyklu. Wozi nas od stacji do stacji i znajduje bilet powrotny do Belgradu – za 22 euro. Kiedy słyszy, że to dla nas za drogo, jest naprawdę zszokowany. Ostatecznie nocujemy na dworcu – na szczęście nie jesteśmy tam jedynymi bezdomnymi.

Następnego dnia udaje nam się dotrzeć do Budvy i Sveti Stefan – chyba najpiękniejszego miejsca, w którym byłam. Integrujemy się z grupą 10 autostopowiczów i pływamy w środku nocy w Adriatyku. Cel osiągnięty!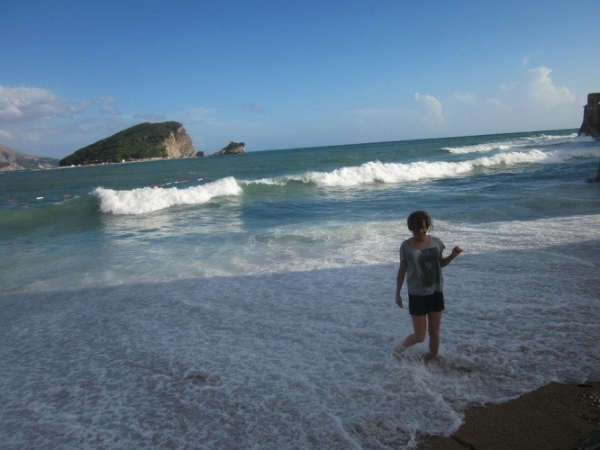 Budva.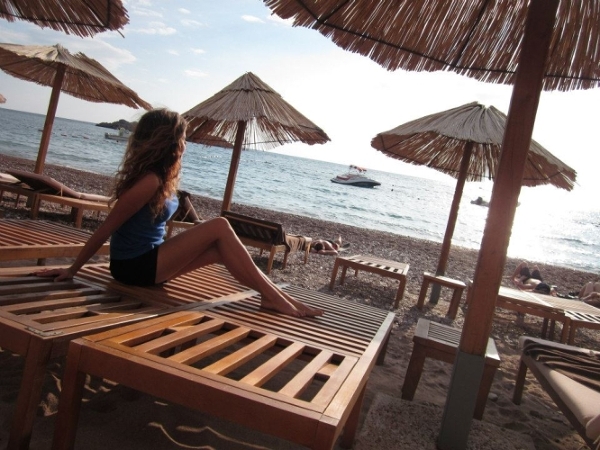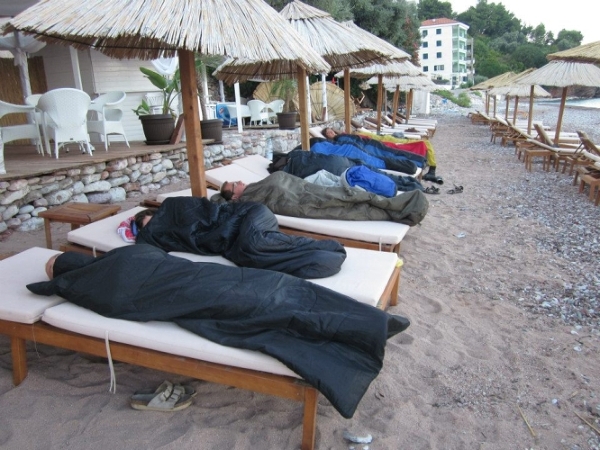 Poranek po integracji.

Po kilku dniach odpoczynku nad Adriatykiem czas na powrót. Ustalamy, że pojedziemy przez Serbię – i jak na złość łapiemy stopa do Bośni. Wsiadamy!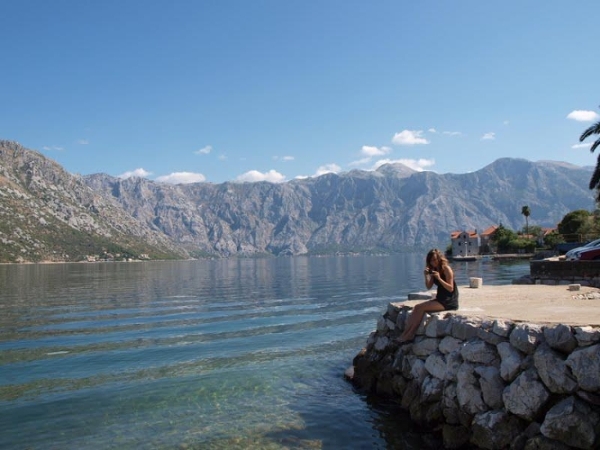 Włoska rodzina, z którą podróżujemy uwielbia zwiedzanie i zdjęcia, dlatego spędzamy razem cały dzień, zatrzymując się co 10 km.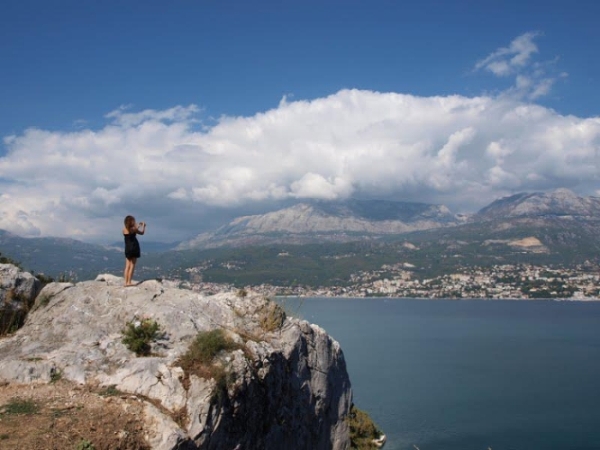 Gdzieś w Chorwacji. Postój na spóźnione śniadanie.

Setny raz udaje mi się wykręcić od mandatu za łapanie na autostradzie. Docieramy do Polski drogą bardzo okrężną, dumni ze swoich wyczynów i wakacji praktycznie za darmo.


Szalone przejażdżki były nie tylko przyjemne, ale też uczące. Stałam się bardziej cierpliwa i wyrozumiała, mniej nieśmiała, a po powrotach zawsze doceniałam swój nieduży pokój z ciepłym łóżkiem. Nauczyłam się doceniać małe rzeczy i pomagać innym, nawet, gdy o nic nie proszą. Do dziś z radością używam zwrotów w wielu językach, za naukę niektórych z nich wzięłam się na poważnie. Podróżując z ludźmi z całego świata: Algierii, Tunezji, Jordanii czy nawet Wietnamu i Tajlandii, mogłam choć odrobinę poznać inne kultury.

A na wspomnienie zupek chińskich z suchymi bułkami nawet przypalony obiad mojej mamy smakuje rewelacyjnie.


Żadne biuro podróży nie zapewnia tylu atrakcji. Bilans jest całkiem niezły: w sumie 23 tysiące kilometrów, 43 dni w podróży, 19 państw, masa zdjęć, filmów, wspomnień, nowych znajomości. Ogromny uśmiech na wspomnienie każdej chwili.

I tak, litewski Bałtyk jest potwornie zimny.



www.podrozezajedenusmiech.blox.pl