Pod koniec maja zostałam magistrem filologii germańskiej. I właśnie słowo z języka niemieckiego idealnie opisuje to, co pewnego dnia spadło na mnie jak grom z jasnego nieba.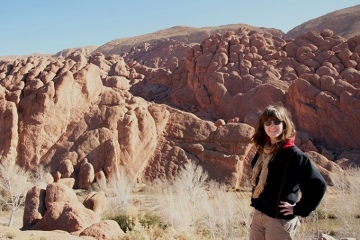 Gdzieś na marokańskiej ziemi.
fot. z archiwum Martyny Świątek
Fernweh. Tęsknota za dalekim światem. Od kilku lat na różne sposoby próbuję poznawać świat znajdujący się poza granicami naszego kraju. Obecnie (trochę z braku środków finansowych, trochę jeszcze z braku odwagi) specjalizuję się przede wszystkim w tak zwanych city breakach po Europie (określenie to znalazłam całkiem niedawno w jednym z podróżniczych magazynów). Czasem siedzę przed komputerem cały tydzień, aby odnaleźć korzystne cenowo połączenia lotnicze lub autobusowe, czasem śpię na lotnisku, czasem z powodu nieposiadania biletu uciekam po całym pociągu przed ukraińskim kontrolerem, czasem przejeżdżam autem prawie tysiąc kilometrów w cztery dni. Jednak to ciągle mało. I ciągle mam nadzieję, że najlepsze jeszcze przede mną.
Komentarze (0)
Brak komentarzy, bądź pierwszy!