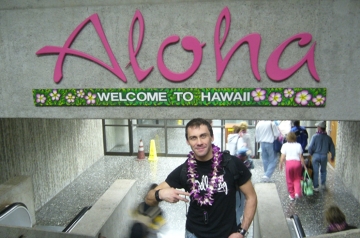 fot. TommyBachata
Kiedy pierwszy raz zobaczyłem w telewizji kitesurferów wykonujących z deską i latawcem ewolucje na wodzie, zakochałem się w tym sporcie. Od tej chwili kitesurfing stał się moim marzeniem, nowym celem do osiągnięcia. Po paru latach, w Egipcie, zacząłem swoją przygodę z kitesurfingiem. Od tamtej pory zmieniły się moje podróżnicze priorytety. Każdą kolejną podróż wyznaczają: mój brat Wiatr i moja siostra Fala. Pozbyłem się wszystkiego, porzucając tym samym konsumpcyjny styl życia. Z plecakiem, deską i latawcem rozpocząłem podróżowanie – zawsze z biletem tylko w jedną stronę. Odwiedzam Australię i Tajlandię, ale spełnieniem moich marzeń stają są Hawaje, a dokładnie Maui – kolebka kitesurfingu. To na Maui poczułem, co znaczy prawdziwy surferski lifestyle. Moje życie zmieniło kierunek.
Ląduję na Maui, wieczorem zabieram bagaż i… co dalej? Pytam o jakiś hostel. Są dwa – jeden w mieście Kahului, drugi w miasteczku Paia, lecz o tej porze i z moim bagażem jestem zmuszony wziąć taxi. Dobijam na postój, ładujemy manele do auta, a taksówkarz pyta: "Dokąd jedziemy?". Proponuję, żeby on wybrał, na co się uśmiechnął, spojrzał na mnie i odpowiedział, że zna odpowiednie dla mnie miejsce. Hmmm… zabrzmiało dziwnie i tajemniczo. Wkrótce znalazłem się w Rainbow Hostel w Paia, gdzie zaczyna się moja kitesurferska przygoda. Hostel mieści się w starym drewnianym domu i jest bardzo klimatyczny. Kilka kolorowych dywanów na podłodze salonu, mnóstwo dekoracji w indyjskim stylu i egzotyczny zapach kadzideł, który pozwala odprężyć całe ciało. Padam na miękką, głęboką sofę. Odpręża się też mój umysł – ego też postanowiło odpocząć.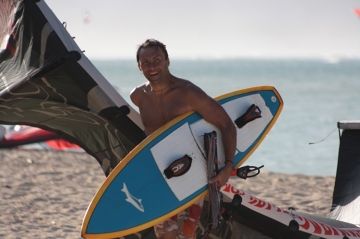 Po udanej sesji-Kite Beach Maui
fot. TommyBachata
Wstaje nowy dzień. Kuchnia hostelu to miejsce gdzie poznaje wszystkich gości. Są uśmiechnięci, mili i uprzejmi, zupełnie inni od tych, których spotykałem podczas moich wędrówek przez świat. Luz, relaks, spokój przywodzą na myśl hipisowski styl życia. Kilka osób na pytanie skąd pochodzą, odpowiada – "z Wszechświata". Bardzo mi się to spodobało, więc dołączyłem do grupy o osobliwym pochodzeniu. Od tej pory ja również jestem "z Wszechświata".
Pora poznać najbliższą okolicę, znaleźć "kite beach" i ulokować się blisko niej. Wskakuję na mojego longboarda i zjeżdżam do miasteczka. Paia to w dużej mierze niskie drewniane domki, zabudowa przypominająca wczesny amerykański Dziki Zachód. Od domów amerykańskich pionierów różni się jednak pastelowymi, wesołymi kolorami, które cieszą zmęczone miejską cywilizacją oczy. Paia to "najsurferskie" miasteczko jakie znam! Cudowne! Po ulicach kręci się sporo turystów, z łatwością można ich odróżnić od lokalesów, których teraz brak, bo zapewne surfują o tej porze.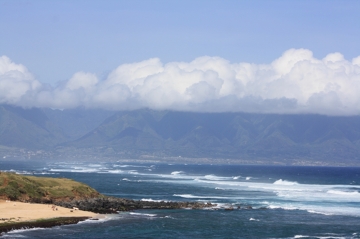 fot. TommyBachata
Ruszam dalej. Autobusem, z przystanku, który nie ma rozkładu jazdy, jadę do Kahului. Nie wiem, w którym kierunku jechać, nie wiem, gdzie dokładnie wysiąść. Świetne uczucie – nie mieć pojęcia, co się wydarzy. Cóż, wysiadam na ostatnim przystanku… Dokąd teraz? Widzę ogromny statek górujący nad zabudowaniami i podążam w tamtą stronę. Dochodzi południe, słońce już mocno pali, ale zrywa się wiatr od oceanu, a im mocniej wieje, tym większa ogarnia mnie ekscytacja i radość. Chwila, w której chce mi się śpiewać, ba! Chcę mi się wyć ze szczęścia! Przyspieszam kroku, idę ulicą wzdłuż jakichś magazynów, punktów skupu puszek i dostrzegam sklep widsurfingowy "Maui Sail". Wchodzę i pytam o plażę. Sprzedawca uśmiecha się i pozdrawia lokalnym "Aloha!", wskazując jednocześnie kierunek.
Żegnam się szybko ze sprzedawcą windsurferem i w nogi! Nie ubiegłem jednak daleko, słońce zbyt mocno grzeje. Z bijącym jak oszalałe sercem, przyspieszonym krokiem, niczym odkrywca wypatruję wymarzonego lądu. Jest!!! Często "pierwszy raz" na długo albo czasem i na zawsze pozostaje w pamięci. Nie inaczej jest teraz – pierwsze wejście, wielki uśmiech, radość i fascynacja nowym miejscem. Naprawdę czuję się jak odkrywca nieznanego lądu.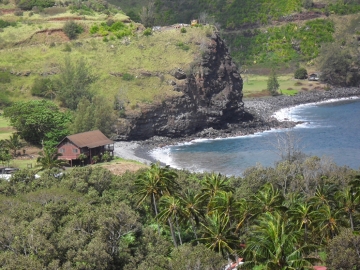 Domek marzenie-zachodnia czesc Maui
fot. TommyBachata
Wiedziałem, że jest to jedno z najlepszych miejsc do kitesurfingu na świecie, ale nie wiedziałem, jak do niego trafić. Ale udało się, zrobiłem to sam, "na czuja" i mam z tego niesamowitą satysfakcję. Na końcu plaży, zwanej tutaj Kanaha Beach jest pole kempingowe, pole kempingowe praktycznie na samej plaży! Czuję, że będę tutaj szczęśliwy!
Pora wracać do hostelu po manele i sprzęt, nawet na chwilę nie opuszcza mnie obsesyjna myśl: "Ja chcę na wodę!!!". Zanim jednak przeniosę się na plażę, muszę zorganizować sobie transport, gdyż na wyspie na piechotę wszędzie jest dość daleko, a kemping na Kanaha Beach jest zamknięty w poniedziałki i wtorki zatem bez auta ani rusz. Potrzebuję samochodu! Właśnie wypowiedziałem życzenie, które spełnia się już następnego dnia rano. Pracownik hostelu ma na sprzedaż samochód. W lokalnym slangu to "Maui-cruiser". Toyota Sentra z 1988 roku – brzmi nieźle, umawiamy się i po śniadaniu robimy jazdę próbną. Nie wiem jak to opisać, ale ten pojazd w naszych europejskich warunkach już dawno znalazłby się na złomowisku. Tutaj cieszy oczy – po prostu "fun car" i ciągle nadaje się do użytku.
Jazda próbna wypada dobrze. Przejechaliśmy około dwóch kilometrów pod górę, żeby samochód włączył drugi bieg (ma automatyczną skrzynię biegów), co się udało, a więc możemy wracać. Z powrotem jest z górki, więc nie zauważam, że brakuje mu kilku biegów. Zjeżdża w dół jak malowany :-) Nikt przy zdrowych zmysłach nie kupiłby tego samochodu, więc fakt, że ja go nabyłem, nie świadczy najlepiej o moich. Dobijamy targu i za jedyne 350 dolców mam auto a raczej "Gruchotka" – bo tak pieszczotliwie go ochrzciłem. Spakowany do Gruchotka, żegnam Rainbow Hostel. Jadę na plażę z moich marzeń i snów, na "kite beach". Jestem niesamowicie szczęśliwy, uśmiechnięty, chociaż wiem, że w każdej chwili Gruchotek może się rozkraczyć, więc podtrzymuję go na duchu, mówiąc, że od teraz będziemy najlepszymi przyjaciółmi, że będę dbał o niego, bo jesteśmy na siebie skazani… Gruchotek zareagował w sposób typowy dla pojazdu z takim bagażem doświadczeń – zaczął szarpać i przerywać. Uznałem więc, że był zadowolony.
Dobijam na kemping, jest późne popołudnie, z kajtowania dzisiaj już nici, wiatr słaby, a prognoza na jutro też nie za dobra, no cóż będę się przygotowywał mentalnie. Lokalni homeless'i z kempingu,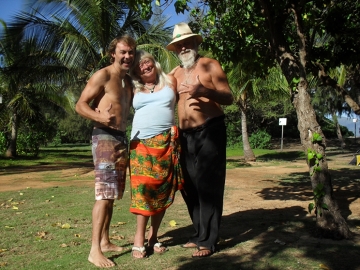 bezdomni z "Hiltona"-Kanacha Beach Maui
fot. TommyBachata
ustawiają samochody wzdłuż drogi, pomimo zakazu pozostawiania samochodu na całą noc, nie znając miejsca gdzie się mogę kimnąć, doklejam się do homeless'ów. Pora spać. Gruchotek nagrzany sloncem nie pozwala zasnac, wiercę się i przewracam z boku na bok… Nie, nie dam rady, biorę śpiwór i naginam na plażę. A tam pusto, cisza, spokój, delikatna bryza od oceanu, ciemność, jedynie księżyc oświetla wybrzeże… najbliższa cywilizacja i światła to Kahului. Kładę się na piasku, zamykam oczy, umysł buzuje, ego podsuwa co chwilę bardziej dzikie, koszmarne sytuacje jakie mnie właśnie tu i teraz mogą spotkać. Reaguję na najmniejszy szmer. Mówi się, że strach ma wielkie oczy, hehehe, teraz dla mnie strach ma wielkie uszy. Walczyłem tak z moją wyobraźnią kilka godzin aż zasnąłem ze zmęczenia.
O świcie budzę się jako zupełnie inny człowiek. Niczego nie słyszę, nic nie atakuje mojego umysłu, żadnych szmerów głowie. Jak nigdy w życiu poczułem błogi spokój. Tego wewnętrznego spełnienia, nirwany, nie da się opisać. Moje ego odeszło.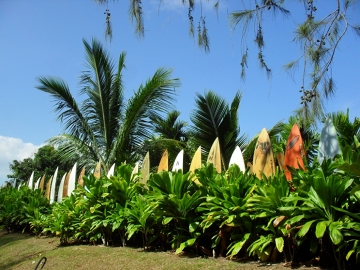 Sanktuarium surfboardow-Maui
fot. TommyBachata
Mieszkam na plaży, na kite beach, latam, "kajtuje", "rajduje" najlepsze fale na świecie. Jestem w wyjątkowym miejscu, to moje Hawaje, podszyte spirytyzmem, może nawet zaczarowane? Kiedy zamykają kemping na dwie noce, dołączam do bezdomnych przyjaciół, unikając tym samym mandatów. Za namiot staram się nie płacić, udaje mi się to praktycznie przez całe dwa miesiące. To tutaj porzucam moja deskę twin-tip na rzecz ukochanego surfboard'a i stawiam pierwsze kroki na falach. I właśnie na jednej z tych wielkich fal omal nie straciłem życia.
A było to tak. Pewnego razu pomykam na moim surfboardzie i latawku, przechodząc przez łamiące się fale, ufff, ale wielkie i mocne – masakra! Jest ciężko, a tu jeszcze jakby było mało tego wszystkiego, wyrasta przede mną ogromna fala!!! Wpływam na nią, przyspieszam, bo wiem, że muszę ją przepłynąć, zanim się złamie. Łatwo się domyślić, co się stanie, jeśli tego nie zrobię. Ufff... Udało się tym razem. Spływam, dosłownie spadam z czubka fali, zajmuje to jednak dobrą chwilę. Do cholery, ile ona miała metrów?! Ja, moja deska i "latawek" bijemy dalej i dalej…, i dalej. Ooo, niedobrze! Co to?!! O nie! Buduje się fala wysokości wieżowca!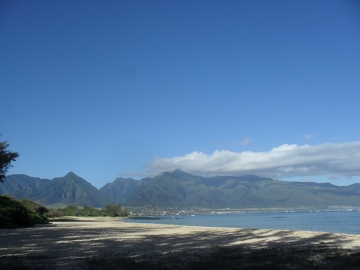 fot. TommyBachata
Czy zdążę uciec, zanim "wieżowiec" zwali się na mnie? Hmmm… wątpliwe!!! Trzeba uciekać! "Latawek" już gotowy do zwrotu, ale niech to. Za późno! Potężne cielsko fali przewala się po mnie... Popełniłem naprawdę duży błąd. Nie przewidziałem takiego obrotu sprawy i pozwoliłem, żeby bestia mnie tak zaskoczyła! Czuje jakby z wielkim hukiem walił mi się na głowę cały świat. Co wtedy czuję?! Nic nie czuję! Wiem tylko, że teraz wszystko zależy od Boga, szczęścia, losu, mojego anioła stróża…
Woda jest wszędzie, otwieram oczy, dookoła biało, zaczyna mi brakować powietrza... dostaję się do bębna wirówki… fala chce mnie złamać w pół... odruchowo zwijam się w pozycję embrionalną, ale na nic to się zdaje. Siła jaka mnie rozrywa jest ogromna, nie panuję nad niczym! Myślę żeby się jakoś stąd wydostać, walczyć, zaczerpnąć choć odrobinę powietrza... Nagle mocne szarpnięcie linek od kajta, które oplotły moje ciało, czuje jak pęka skóra na mojej piersi… na szczęście w samą porę urywa się zaczep baru i zostaję tylko na leash'u. Potężna siła ciągnie mnie w tył, czuję jak łamie mnie wpół… Aaaaa… jednak coś puszcza, nie wiem co się dzieje, widzę siebie…widzę jak w środku fali walczę o życie, tak jak bym stał z boku, jak bym oglądał to w telewizji...to sen? Nie, to nie sen bo boli mnie całe ciało…coś się uspokaja. Muszę się teraz wydostać na powierzchnię wody… płynę, ale nie wiem gdzie, nie mam pojęcia gdzie jest powierzchnia wody, brakuje powietrza... walczę… jestem na powierzchni… łapię powietrze... Oooo nieee!!!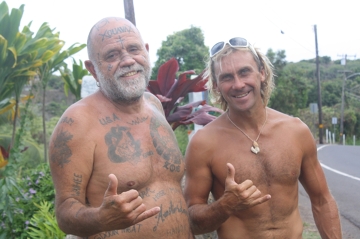 fot. TommyBachata
Jestem między falami, a teraz spada na mnie kolejny wielkolud. Przewidując to, co ma nastąpić za chwilę, nabieram w płuca trochę powietrza, jest odrobinę lepiej, ale bęben wirówki pracuje dalej, ja jestem w jego środku i przybieram pozy niemożliwe do ogarnięcia, czując jednocześnie jakby mnie łamano. W końcu poddaję się, nie walczę i w tym momencie robi się spokojnie! Płynę dalej na powierzchnię wody, co nie przynosi zbytnio efektu, bo w białej wodzie pianie 80 procent to powietrze. Ale udaje się – wypłynąłem! Żyję!!!

Uśmiecham się, choć jestem lekko ogłuszony, tym bardziej, że fale ciągle kotłują się wokół mnie. I jeszcze ten huk spadających ton wody, wody, która buzuje jak oranżada w proszku wsypana do szklanki z płynem. Trzeba się stąd jak najszybciej i jak najdalej wydostać. Szybko oceniam sytuację. Nie widzę deski, przede mną leży na wodzie, cały poturbowany tak jak ja, mój "latawek". Jesteśmy sami – ja i on, wołam do niego jak do najlepszego przyjaciela i chociaż nadchodzą duże fale i trzeba czym prędzej uciekać, nie mogę go zostawić tutaj! Na tyle, na ile to możliwe zwijam "latawka" i już razem płyniemy do brzegu co chwilę zalewani przez fale. Jest ciężko, ale muszę dać radę! Jasne, że dam radę!!! A gdzie pomoc?! Chyba nikt mnie nie widzi między tymi wysokimi falami, powoli płynę, dotykam stopami rafy, chwilę odpoczywam, znowu nadciągają fale, kładę się na latawcu i powoli dryfuję do brzegu. Jestem cały! Żyję!
Zaczynam dostrzegać brzeg – jest dobrze, uśmiecham się i dziękuję Bogu. Wydaję mi się, że przed chwilą byłem w jakiejś innej czasoprzestrzeni. Czy nie przeszedłem przypadkiem na drugą stronę? Hmmm… niesamowite przeżycie! Zjawia się ratownik na skuterze wodnym z platformą z tyłu, na którą wpełzam i tym sposobem dostaję się do brzegu. W końcu jestem na plaży! W chwilach kiedy brat Wiatr odpoczywał, wskakuję do mojego Gruchotka i z surfbordem na dachu objeżdżam całą wyspę dookoła.
Maui jest przepiękna. Pod względem turystycznym – to wielka uczta dla koneserów przyrody. Mnóstwo tutaj bezludnych, urokliwych krajobrazowo miejsc. Na tej małej wyspie jest kilkanaście stref klimatycznych. Jadąc samochodem w ciągu godziny z gorącej plaży można dotrzeć na szczyt krateru wulkanu, gdzie temperatura spada poniżej zera stopni, jadąc dalej można odpocząć w cieniu tropikalnej dżungli, podziwiając egzotyczne kwiaty, kolorowe eukaliptusy i drzewa lub zażyć orzeźwiającej kąpieli w stroju Adama i Ewy pod ukrytym w dżungli wodospadem. Na wyspie znaleźć można również pustynie porośnięte kaktusami oraz czarne pola skamieniałej lawy wdzierające się do oceanu, zaś na pięknych plażach przy dźwiękach ukulele przenieść się w świat bajki. Kiedy ma się dość ludzi, wystarczy wczesnym rankiem wskoczyć do oceanu i popływać w towarzystwie przyjaznych delfinów, a w miesiącach zimowych delektować się widokiem radosnych wielorybów. To raj! Nawet najwybredniejsi znajdą na tej wyspie coś dla siebie. Jestem zakochany w Muai – marzeniu, które się spełniło.