Odwiedził czterdzieści osiem państw, przejechał tysiące kilometrów. Studiuje archeologię i socjologię. Podróżuje od dziecka. Niedawno postanowił połączyć swoją pasję z pracą i został licencjonowanym pilotem wycieczek. Motorem próbował okrążyć Morze Czarne, lecz zatrzymały go krowy. O filozofii podróży, korzyściach płynących z bycia Europejczykiem, a także sytuacjach ekstremalnych z Aleksandrem Leydo rozmawiał Łukasz Śledziecki.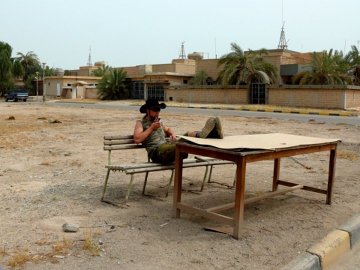 Aleksander Leydo w podróży
fot. Archiwum prywatne Olka Leydo
Łukasz Śledziecki: Andrzej Stasiuk w swojej książce "Jadąc do Babadag" pisze, że wszystko zaczęło się od pewnej czarno-białej fotografii. Przedstawia ona niewidomego skrzypka. Stasiuk szuka trójwymiarowych i barwnych wersji tego zdjęcia. Fotografia i chęć ujrzenia jej realizacji w rzeczywistości pcha go w kolejne podróże. A jak to zaczęło się u Ciebie? Skąd Twoja pasja?
Olek Leydo: Ciężko powiedzieć. Zacząłem jeździć stopem już z mamą, gdy byłem mały. Z rodzicami jeździliśmy na wakacje. Myślę, że to miało duży wpływ na moją podświadomość. Wiele podroży w różne miejsca, w tym za granicę. Choć były to zupełnie inne kierunki niż te, które obecnie obieram. Włochy, Chorwacja, południe Europy. Oraz Polska.

Ł.Ś. – A sam kiedy zacząłeś wyjeżdżać?
O.L. – W liceum jeździliśmy sporo ze znajomymi, również stopem. Głównie po Polsce. Wszystko zaczęło się po pierwszym roku studiów. W majówkę wybrałem się do Pragi, potem na Bałkany, a następnie padł pomysł, żeby pojechać w dwie pary do Iranu autostopem. Na miesiąc. Pojechaliśmy i się zaczęło. To była pierwsza taka duża podroż. Istne zderzenie z różnymi kulturami, otwartością ludzi; bardzo przyjemne zaskoczenie, gdy ludzie zapraszali nas do siebie. To było szczególne doświadczenie, coś wyjątkowego.
Ł.Ś. – Polacy są przekonani o własnej gościnności. Czy podróżując po Azji stykasz się z porównywalną gościnnością? Czy można to w ogóle zestawiać?
O.L. – Ciężko mi to odnieść do polskiej gościnności. Gdy wyjeżdżasz na Wschód, jesteś kimś obcym, osobą z zagranicy. I to powoduje, że lokalna ludność jest dużo bardziej nam przychylna. Nie traktują oni tak samo białego człowieka z Polski i swoich. W niektórych krajach podróżowałem autostopem i jeździło mi się rewelacyjnie z tego tytułu, że byłem obcokrajowcem z plecakiem. Jednocześnie uważam, że tambylcowi byłoby o wiele trudniej, o ile w ogóle udałoby mu się złapać. Ciężko mi też mówić o polskiej gościnności, bo mam na to inne spojrzenie, inną perspektywę. W różnych sytuacjach znajdowałem się w Azji, w różnych w Polsce. Chyba że chodzi o moją gościnność. Wielokrotnie zdarzało mi się zapraszać do siebie turystów. Przenocować kogoś, pomagać innym. Z tego, co słyszałem od moich znajomych zza granicy, to w Polsce jest naprawdę dobrze pod tym względem. Są zapraszani, ludzie im pomagają.
Ł.Ś. - Dlaczego akurat Azja? Skąd ten pomysł na cel podróży?
O.L. – Pewien rodzaj dzikości, inności. Europa Zachodnia jest za bardzo poukładana, uporządkowana. To mnie trochę odrzuca. Przystrzyżone trawniki przy lasach w Niemczech, odkurzanie trawników. Ordnung i wszędobylska biurokracja, bilety. Nie ciągnie mnie do tego. Przede wszystkim to mam wrażenie, że na wschodzie ludzie są jeszcze bliżej ze sobą. Społeczeństwa zachodnie są zatomizowane i bardzie zindywidualizowane. Na wschodzie jest taki sympatyczny kolektywizm. Ja to odbieram pewnie inaczej, bo jestem tam kimś z zewnątrz i inaczej mnie tam odbierają, ale to jest strasznie sympatyczne. Jestem traktowany dość szczególnie, gościnnie. Choć i tak, przy każdej mojej podroży przekonuję się, że ludzie tam żyją bliżej ze sobą, niż w Europie.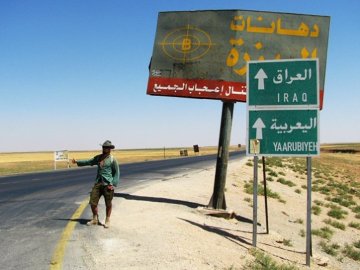 fot. Archiwum prywatne Olka Leydo

Ł.Ś. – I na czym jeszcze ta różnica polega?
O.L. – Ciekawe jest to, że żadnych problemów nie miałem tam z jazdą autostopem. Nie wiem, czy to kwestia braku strachu czy właśnie tej otwartości, potrzeby bliskości, zamienienia z kimś paru słów. Tam rzadko ktoś podróżuje sam. Samochody muszą być pełne. W Europie dbamy o swoją prywatność, zawłaszczamy przestrzeń. Jeździłem stopem we Włoszech, w Bułgarii, paru innych krajach Europy. Nie można tego porównać do podroży po Azji. To jest coś absurdalnego, czego w Europie nie rozumiem. To jest prosty gest, pomoc dla kogoś, kto chce gdzieś dojechać. Na Zachodzie mam wrażenie, że dystans między ludźmi jest większy.
Ł.Ś. – Dlaczego podróżujesz stopem? Czy chodzi tylko o kwestie finansowe?
O.L. – Nie tylko. Bardzo ważne jest poznawanie ludzi. Niedawno przesiadłem się na motocykl i bałem się, że ucierpi na tym kontakt z miejscowymi. Okazało się to błędnym myśleniem, bo jeżdżąc po wschodzie na motocyklu stałem się atrakcją. Ludzie się zainteresowali. Poza tym jako silne społeczne zwierzę i tak łapałem kontakt z lokalną społecznością – na przykład w knajpach, gdzie jadłem.
Podstawową zaletą jeżdżenia stopem jest to, że poznaje się różnych ludzi. Za granicą spotykam lokalsów. W Polsce, jeżdżąc stopem, miałem okazję porozmawiać z osobami, które uprawiają zawody czy pochodzą z grup społecznych, z którymi na co dzień nie miałbym okazji się zetknąć. Jest to wzbogacające, ciekawe doświadczenie.
Ł.Ś.- Wspominałeś o motocyklu. Czy tym środkiem lokomocji dotarłeś do Azji?
O.L. – Odbyłem dwie podróże motocyklem. Pierwszą w zeszłym roku – w weekend majowy wybrałem się na Białoruś. A druga to wyprawa dookoła Morza Czarnego. Polska, Słowacja, Węgry, Rumunia, Bułgaria, Turcja, Gruzja i Armenia. Celem były te dwa ostatnie kraje; najwięcej czasu spędziłem w Gruzji. Gdy rozpoczynałem swą przygodę w Armenii, miałem bardzo przykry wypadek. W nocy przez autostradę kobieta przeganiała krowy na drugą stronę. Niestety krów nie dostrzegłem w odpowiednim momencie i wjechałem w nie. Skończyło to się tragicznie dla obu stron. Krowa, w którą uderzyłem, była brzemienna. Zginęła na miejscu, a inna z krów, również w ciąży, poroniła, widząc ten wypadek. I tak się skończyła moja podróż. Mam jednak nadzieję, że uda mi się zebrać fundusze, wrócić po motocykl, naprawić go i dokończyć wyprawę.
Ł.Ś. – Powiedziałeś, że dla obu stron skończyło się tragicznie? Doznałeś poważnych obrażeń?
O.L. – Tak, miałem pęknięty drugi krąg szyjny. Byłem blisko wyprawy na drugą stronę, choć specjalnie tego nie odczułem. Moja towarzyszka podróży miała zaś złamany obojczyk. Chciałem kontynuować podróż, ale potem, na szczęście, zmieniłem zdanie. Sprawy osobiste spowodowały, że i tak musiałem wracać do Polski.
Ł.Ś. – A co się stało z motorem, gdzie on teraz jest?
O.L. – Z tego, co wiem jest w garażu w Erywaniu u nowo poznanego tam znajomego, który ma taki sam motocykl. W ogóle taki model występuje w Armenii raptem w trzech egzemplarzach. Myślę, że dlatego od razu się polubiliśmy. Bardzo dobry człowiek, na miejscu pomógł nam ze wszystkim po wypadku.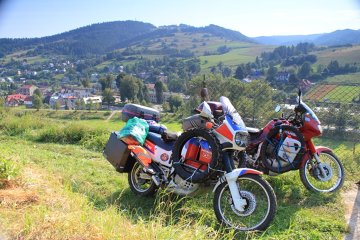 Motocykle budzą w Azji duże zainteresowanie.
fot. Archiwum prywatne Olka Leydo

Ł.Ś.- A czy poza wypadkiem zdarzyło Ci się w podróży coś nieprzyjemnego, niebezpiecznego?
O.L- Chyba jednak ta kraksa. Brutalne przerwanie – było świetnie i w jednej chwili wszystko się urwało. Do tego doszły konsekwencje fizyczne i finansowe. Może nie niebezpieczna, ale ciekawa przygoda spotkała mnie i mojego kolegę na południu Libanu. Jeździliśmy autostopem i jednego dnia zostaliśmy zatrzymani siedmiokrotnie. Trzy razy przez Hezbollah, trzy razy przez policję, a raz przez służby specjalne. Za każdym razem sprawdzano, czy nie jesteśmy szpiegami. Pierwsze dwa zatrzymania były niezwykle stresujące. Panowie w cywilu, nie mówiący po angielsku ani w żadnym ze znanych nam języków wywieźli nas na jakieś podwórko. Dzięki temu na kolejne zatrzymania byliśmy przygotowani. Mówiliśmy kim jesteśmy, dokąd jedziemy, w jakim celu. Szczerze się przy tym i radośnie uśmiechaliśmy. Przyśpieszało to wszystkie formalne i nieformalne procedury weryfikacyjne.
Ł.Ś. – A skąd bierzesz pieniądze na podróże? Często to główna bariera, która decyduje, że zostajemy w domu.
O.L. – Odpowiedź będzie mocno schematyczna. Oszczędzam przez cały rok. Kiedyś, nie wiem czy powinienem o tym mówić publicznie, przywieźliśmy z Iranu tytoń do sziszy i sprzedawaliśmy go. Drobne prace dorywcze. Czasem o pożyczkę prosiłem rodziców. Jednak można nauczyć się podróżować tanio, kwestia praktyki. Poza tym niektóre moje wyjazdy miały też cel naukowy. Dostawaliśmy wtedy dotacje. W Azji Centralnej zajmowaliśmy się następstwami procesów urbanizacyjnych. Zbieraliśmy też informacje, które pozwoliły poszerzać archiwum w Instytucie Archeologii Uniwersytetu Warszawskiego.
Ł.Ś. – A jak jest z bezpieczeństwem w Azji?

O.L. – Ja uważam, że jest bardzo bezpiecznie i trzeba mieć pecha, aby coś złego się wydarzyło. Myślę, że nie należy prowokować takich sytuacji i będzie dobrze.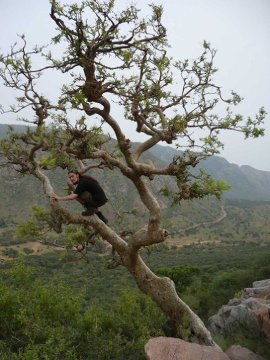 Jeśli sami nie będziemy prowokować niebezpiecznych sytuacji, nic złego nie powinno nam się przydarzyć.
fot. Archiwum prywatne Olka Leydo

Ł.Ś. – Jednak tyle słyszy się o różnicach kulturowych.
O.L. – Ludzie są ludźmi. Obawiałbym się może wizyty jedynie w niektórych krajach w Afryce, gdzie życie ludzkie potrafi być warte kilka dolarów. W Azji jest bezpiecznie. Ja zawsze podkreślam, że najbardziej niebezpiecznymi miejscami, w których byłem są Kielce, Radom i Łódź. A moja stopa stanęła w czterdziestu ośmiu krajach, wliczając San Marino, Watykan oraz tranzyt przez inne kraje.
Ł.Ś.- Jak porozumiewasz się z lokalną ludnością? Jakie znasz języki obce?
O.L.- Najpierw jeździłem na Bliski Wschód i tam rozmowa odbywała się głównie za pomocą rąk. Wtedy dowiedziałem się, jak wiele można przekazać samymi gestami. To jest niesamowite, że można opowiedzieć swoją historię, jaką się ma rodzinę, znajomych, co się w życiu robi, właśnie za pomocą rąk. A potem zacząłem jeździć bardziej na północny wschód, gdzie mogłem doszkolić język rosyjski i teraz płynnie się nim posługuję. Polecam jego naukę każdemu, bo można się dogadać w jednej trzeciej świata.
Różnica jakościowa między podróżowaniem ze znajomością i bez znajomości języka jest kolosalna. Jest to inne doświadczenie, gdy można porozmawiać z tubylcami, pożartować, wymienić poglądy o świecie, czy po prostu się dogadać. Znam też angielski i uczę się hiszpańskiego. Planuję wyprawę do Ameryki Południowej.
Ł.Ś. – Czyli plany na kolejne podróże są już gotowe?
O.L. – Chciałbym zobaczyć cały świat. Oczywiście jest to pewna metafora, ale chciałbym zrealizować tyle pomysłów, ile się da. Ameryka Południowa to najbliższe marzenia, ale wymagają większej sumy pieniędzy i czasu.
Ł.Ś. – Myślałeś kiedyś o tym, żeby odciąć się od tego, co masz tutaj w Polsce i wyjechać nie planując sobie daty powrotu? Zdać się zupełnie na los, przygodę?
O.L. – Nie wiem. Myślę, że może się to przydarzyć. To chyba będzie kwestia przypadku, tego jak się życie potoczy. Nie wykluczam tego. Na pewno będę jeszcze dużo jeździł. Nigdy w życiu nie wybiorę się na wycieczkę zorganizowaną, wołami musieliby mnie ciągnąć.
Ł.Ś. – A jak widzisz siebie za dwadzieścia lat? Dalej w podróży? Czy raczej już stabilizacja?
O.L. – Podróżował będę, dopóki będę miał siły. Wierzę, że będzie to zawsze. Podróżowanie nie wyklucza się z posiadaniem rodziny, można poświęcać na wyjazdy pewien czas. Nie trzeba od razu wyruszać na całe życie. Ale jak mówiłem – tego też nie wykluczam.
Ł.Ś. – Dla portalu Etraveler piszę o Słowenii. Czy byłeś kiedyś w tym kraju?
O.L. – Podczas podróży do Włoch spędziłem tam parę dni. Słowenia wydaje mi się mocno zachodnia. Byłem tam zbyt krótko, aby wygłaszać tutaj jakieś sądy. Nigdy nie podróżowałem po Słowenii. Dostrzegłem tam sporo wpływów austriackich oraz włoskich.
Ł.Ś. – Dziękuję serdecznie za rozmowę.