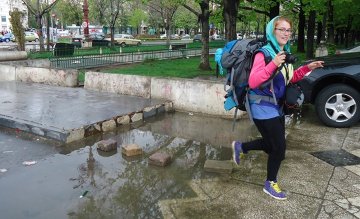 fot. Z archiwum Agi Mirkowskiej
Beata Buc: Na czym polega Twoja praca?
Agnieszka Mirkowska: Przede wszystkim pracuję w centrum, w którym spotykają się osoby niepełnosprawne. Część swojego czasu poświęcam pomagając chłopakowi z autyzmem, a także spotykam się z dziećmi w jednym z sofijskich przedszkoli. Praca sama z siebie nie jest trudna, polega przede wszystkim na wykazywaniu inicjatywy, pomaganiu w poruszaniu się, płaceniu rachunków członków grupy, chodzeniu na krótkie spacery do parku.
Czego nauczyłaś się dzięki wolontariatowi?
Miałam okazję odciąć pępowinę – pierwszy raz wyjechałam na tak długo. Przebywałam za granicą, nie znałam języka, żyłam wśród obcokrajowców. Od swoich podopiecznych nauczyłam się czerpać radość z życia. Osoby niepełnosprawne doceniają najmniejsze gesty, uśmiech. Jeśli traktuje się ich jak zdrowego człowieka, są wdzięczni i pełni energii. Kolejna ważna rzecz to: cierpliwość. W naszym centrum nie można się spieszyć. Bułgarzy mają swoje tempo, do którego trzeba się przyzwyczaić.

Czas wolny od pracy poświęcasz na podróżowanie. Jak wyglądała Twoja pierwsza podróż autostopem?
Razem ze znajomymi chciałam odwiedzić koleżanki w innym bułgarskim miasteczku. Postanowiliśmy urozmaicić wyprawę odrobiną konkurencji i urządziliśmy wyścigi. Mnie towarzyszył Francuz, który również wcześniej nie podróżował stopem. Chyba przynieśliśmy sobie szczęście, z całej grupy na miejscu byliśmy pierwsi! Przejechaliśmy 277 km bez stresu, dwoma autami i w 2 godziny. Pozostali śmiali się ze mnie, że zrobiłam tabliczkę autostopową tak dużą, że "UFO też mogłoby się zatrzymać". Ale ja cały czas myślę, że to dzięki niej dotarliśmy tak szybko.

Dlaczego akurat ten środek transportu?
Autostop uzależnia. Teraz, jeśli mam wydać 20 zł na transport, wolę dać sobie więcej czasu na dotarcie do celu, a pieniądze wydać na ciekawsze rzeczy.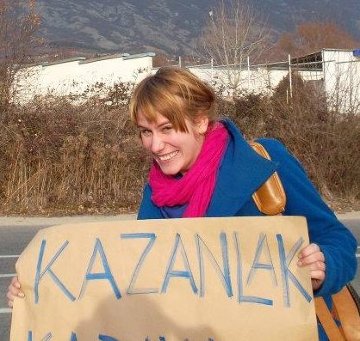 Słynne autostopowe tabliczki
fot. Z archiwum Agi Mirkowskiej
Gdyby nie autostop na pewno nie przejechałabym całej Transylwanii, nie pojechałabym do Macedonii, aby uczcić urodziny, czy do Istambułu, tylko po to, żeby zobaczyć koncert. To wszystko w ciągu kilku miesięcy, z maleńkimi wolontariackim kieszonkowym. Jazda na stopa zmienia perspektywę, otwiera oczy i pokazuje, że brak pieniędzy nie jest problemem.
Na pewno nie zawsze było różowo. Najtrudniejsza podróż?
Thessaloniki – Sofia. Jechałam razem z koleżanką. W stronę Grecji podróż zajęła nam niecałe 4 godziny. W stronę powrotną przymknęłyśmy oko na przygotowania. Wyjechałyśmy dopiero około 14:30. To była późna zima, słońce zachodziło znacznie wcześniej. Sam wyjazd z miasta zajął nam 2 godziny, bo oczywiście musiałyśmy spóźnić się na autobus, który miał nas wywieźć na obrzeża. Kiedy już się nam udało, w miejscu w którym miałyśmy "bez problemów złapać auto" znalazłyśmy tabliczkę mówiącą o zamknięciu drogi i braku obwodnicy. Dwie godziny poszły na marne, trzeba było wrócić do punktu wyjścia.
Kiedy dotarłyśmy do drugiej drogi zaczynało się robić ciemno, w pobliżu nie było żywej duszy, a my dalej byłyśmy daleko od granicy z Bułgarią. Na szczęście w końcu zatrzymał się tir jadący do Bułgarii. Niestety podwiózł nas jedynie do wymownie brzmiącego miasta "Dupnica". Był środek nocy, a my utknęłyśmy na jednej ze stacji benzynowych. Drugi dzień był bardziej udany, ale cała podróż zajęła nam 20 godzin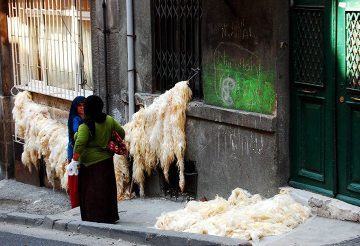 Widok z podróży do Istambułu
fot. Z archiwum Agi Mirkowskiej


Miejsce, które najbardziej Cię zafascynowało?
Podczas podróży po Transylwanii jechałam z nosem wklejonym w szybę. Przepiękne widoki, małe wioseczki, w których mimo biedy jest niesamowity klimat, a mieszkańcy dbają o całą okolicę jak o swój własny dom. A do tego ludzie, którzy nie wiedzieć czemu cały czas się do nas uśmiechali.