Małgorzata Stekiel: Kiedy zaczęła się Pani przygoda z podróżowaniem?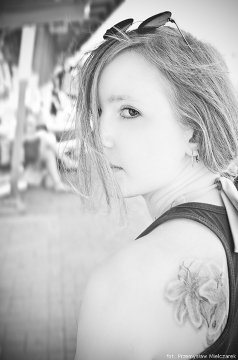 fot. Przemek Mielczarek
Jolanta Rudzka: Przede wszystkim będąc licealistką bardzo fascynowały mnie kanały telewizyjne takie jak Travel Channel i National Geographic. Widząc piękne zakątki świata w telewizji wyobrażałam sobie, że tam jestem i zaczęłam marzyć o podróżach. Wówczas sobie też wymyśliłam, że będę w przyszłości kierowcą tira, ale niestety nie udało mi się zrobić prawa jazdy i po maturze poszłam na studia etnologii, gdzie zdawałam sobie sprawę, że są związane z podróżami.
Dużo też myślałam o podróżowaniu autostopem, gdyż podróże wiążą się z dużymi kosztami, których bym raczej nigdy nie pokryła, tak też z inicjatywy kilku znajomych zaczęłam podróżować autostopem

M.S: Jeździ Pani autostopem, czy ma Pani porównanie do innych form podróży?

J.R: Tak, mam. Kiedy jedzie się autostopem trzeba mieć bezpośredni kontakt z kierowcą, jadąc na przykład pociągiem takiego kontaktu nie ma, często współpasażerowie w jednym przedziale nie zamienią ze sobą ani słowa. Kierowca nie dość że Cię podwiezie, potrafi nakarmić, zaprosić do siebie na nocleg oraz oczywiście można się wymienić kontaktami. Jadąc autostopem, w przeciwieństwie do latania samolotem widzisz stopniowo jak się zmieniają miejsca, ludzie... Poza tym autostop jest dużym wyzwaniem, trzeba radzić sobie z nie przewidzianymi sytuacjami, nastaniem ciemności, przełamywać bariery językowe. Na swojej drodze można spotkać naprawdę wspaniałych ludzi, ale trzeba też uważać, aby nie trafić na złego człowieka.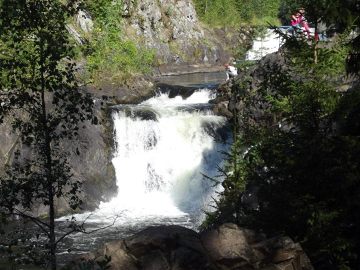 fot. J. Rudzka
M.S.: Wspomniała Pani o swoich studiach, czy są zarezerwowane dla osób z duszą podróżnika?

J.R.: Myślę, że we współczesnym świecie nawet na swoim podwórku można znaleźć coś "egzotycznego", co również może być dobrym materiałem badawczym, ale to nie to samo kiedy badacz jedzie w odległe miejsce i zderza się z całkowicie inną kulturą. Jadąc w zupełnie inne miejsce pojawia się wiele problemów, zaczynając od języka a kończąc na tym, jak właściwie zachować się w odmiennej społeczności.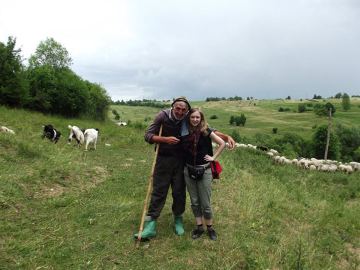 Spotkania z miejscowymi. Dzięki nim podróż nabiera mocy
fot. M. Stekiel
M.S.: Co Panią najbardziej zaskakuje po przejechaniu tych "nastu" kilometrów?
J.R.: Najbardziej to chyba zaskakują mnie ludzie których spotykam na swojej drodze. Są bardzo różni, ale zazwyczaj pozytywnie nastawieni i skorzy do pomocy. Po dotarciu do celu odwiedzam miejsca które chcę zobaczyć i napawam się ich pięknem, lubię również próbować tradycyjną kuchnię, odwiedzać święte miejsca, które raczej w naszym kraju są rzadziej spotykane na przykład cerkwie, meczety, ale najważniejszy dla mnie jest czas spędzony pośród rdzennej ludności, lub z osobą która mnie gości.
M.S.:Czy potrafiłaby Pani dzisiaj żyć bez podróży?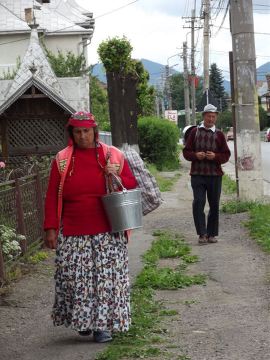 Rumuni z Bukowiny, Rumunia
fot. J. Rudzka
J.R.: Zdecydowanie nie, bardzo źle czuje się gdy przez dłuższy czas nigdzie nie wyjeżdżam, a z drugiej strony – gdy już pojadę w miesięczna podróż (bo moje najdłuższe tyle trwały) to w drodze powrotnej dopada mnie przygnębienie.

M.S.: Czy są miejsca do których nie chce Pani wracać?
J.R.: Nawet jak mi było gdzieś nie najlepiej to chciałabym tam jeszcze raz wrócić.

M.S.: A z jakimś miejscem wiążą się złe doświadczenia?
J.R.: Myślę, że to było kiedy jechaliśmy autostopem z Mołdawii na Ukrainę, była zima, noc. Kierowcy samochodów zamiast się zatrzymywać, próbowali nas dla żartów przejechać, a jak już ktoś chciał nas podwieźć, to za opłatą. W rezultacie złapaliśmy autokar jadący do Odessy, za który oczywiście trzeba było zapłacić, okazało się również, że oszukano nas na kilka hrywien.
M.S.: Jak Pani poradziła sobie w tej sytuacji?

J.R.: Pamiętam że było mi tak bardzo zimno w stopy, że wyciągnęłam z plecaka kolejną parę skarpet i próbowałam je wcisnąć na kilka poprzednich warstw skarpet. Później miałam problem z włożeniem stóp z powrotem do butów i ich zawiązaniem. Bałam się bardzo łapać stopa w tym miejscu, było tam mnóstwo miejscowych autostopowiczów, którzy pewnie byli przygotowani na zapłatę za podwózkę. Najstraszniejsze były pędzące samochody w naszą stronę, pamiętam też, że z jednego samochodu poleciała w naszą stronę butelka, która na pewno była celowo wyrzucona. Kiedy zatrzymał się autokar do Odessy poczułam, że jesteśmy uratowani, niestety musieliśmy za to zapłacić.
M.S.: Mimo wszystko kryzys się skończył. Sytuacja nie zniechęciła Pani do podróży?

J.R.: Szczerze mówiąc boję się znowu jechać w to miejsce, ale niestety nie udało mi się poznać Mołdawii i mam nadzieję, że kiedyś tam pojadę w lepszą porę roku, spotkam wspaniałych ludzi i będę się raczyła mołdawskim winem.

M.S.: Pomówmy teraz o najmilszych podróżach, tudzież okolicznościach. Czy zdarzyło się Pani być w takim miejscu że pierwszą myślą, która pojawiła się w Pani głowie było – "Tutaj chciałabym zamieszkać!"
J.R.: Zawsze jak się zastanawiam, w jakim innym miejscu na świecie mogłabym żyć, to albo są to kraje o wysokich standardach, albo takie, gdzie są wspaniali i gościnni ludzie, którzy zawsze są skorzy do rozmowy przy herbacie i suto zastawiają swoje stoły, gdy kogoś goszczą. Cenię sobie miejsca proste i piękne z natury, gdzie idąc drogą, bądź lasem zerwę garść dzikich malin i po prostu je zjem.

M.S.: Powrót do pierwotności... hm... czy byłby możliwy?
J.R.: Obawiam się że nie, ale kto wie. To już jest taki mechanizm, po prostu zostałam tak wychowana, że dobry zarobek powinien zapewnić mi dobre życie, ale kiedy znajduję się w miejscu gdzie mam wrażenie, że natura może mi dać wszystko czego potrzebuje bez pośpiechu, stresu i nerwów, to wierzę, że ten powrót do "pierwotności" jest możliwy.
M.S.: Czy wobec tego podróż nie jest ucieczką od rzeczywistości?
J.R.: Podróż jest ucieczką od codzienności, zdaje się być rzeczywistością bardziej realną niż tą, którą mam na co dzień.
M.S.: Czy dobrą receptą na Pani życie byłaby wiecznie trwająca podróż?.
J.R.: Możliwe że tak, oczywiście trzeba mieć miejsce, do którego zawsze można wrócić, wówczas podróż nie byłaby podróżą tylko tułaczką bez wyboru.
M.S.: Proszę mi powiedzieć, jak reagują ludzie gdy słyszą o Pani wyjazdach. Uważają Panią za szaleńca, romantyka czy bohatera?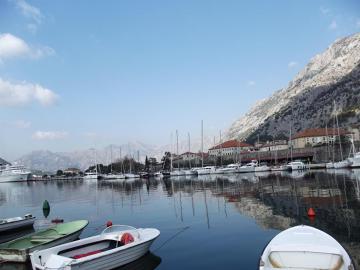 fot. J. Rudzka
J.R.: Najczęściej to chyba mnie mają za szaleńca, ale mam wrażenie że jednocześnie są pełni podziwu.
M.S.: Dziękuję za wyczerpujące odpowiedzi. Życzę, by każda następna podróż była nieocenionym źródłem wiedzy. Jak to mawiają Gagauzi: "nie ten dużo umie, kto długo żyje, ale ten, kto wiele podróżuje".
Z Jolantą Rudzką rozmawiała Małgorzata Stekiel