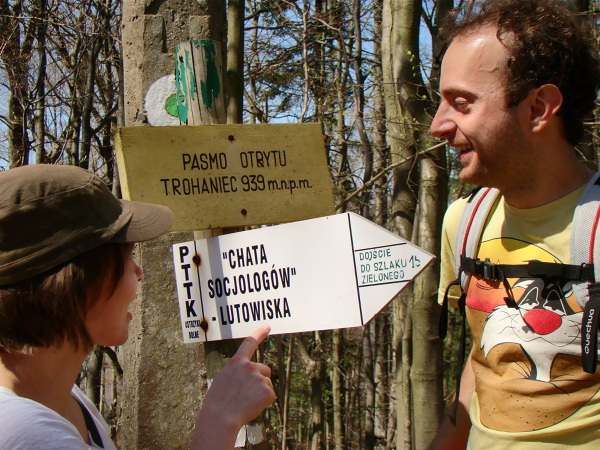 Sylwek na jednym z wypadów w Bieszczady ze sprawdzonymi towarzyszami podróży
W przypadku Sylwka zaczęło się dość późno. Jak sam mówi w dzieciństwie rodzice zabrali go tylko raz poza miejsce zamieszkania – na wakacje do cioci w Lublinie. Inne wyjazdy w tym okresie miały charakter jednodniowych wypadów nad pobliskie jezioro, których zresztą było niewiele. Tata nie chciał nawet za bardzo zabierać go na ryby nad Bug, bo Sylwek był dość ruchliwym dzieckiem i jego ciekawość świata często wiązała się z ładowaniem się w tarapaty. Trochę z tego zostało do dziś..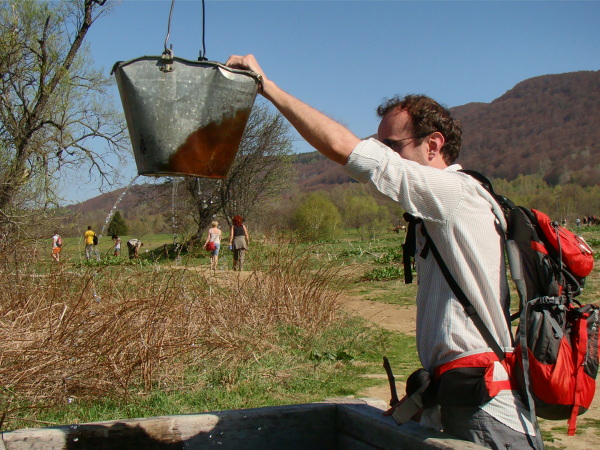 Sylwek wszystkiego musi dotknąć..


W sumie jeździć zaczął dopiero na studiach. Był Lwów po studencku i wyjazdy terenowe w ramach praktyk – studiował bowiem geografię. W pierwszy poważny wyjazd Sylwek wyruszył po czwartym roku studiów. Była to wymiana studentów w ramach której wylądował na lotnisku w Nowym Jorku, a stamtąd pojechał do Casco w stanie Maine. Przez 9 tygodni pracował na campie (obozie) dla dzieci z amerykańskich rodzin jako "Pan Złota Rączka".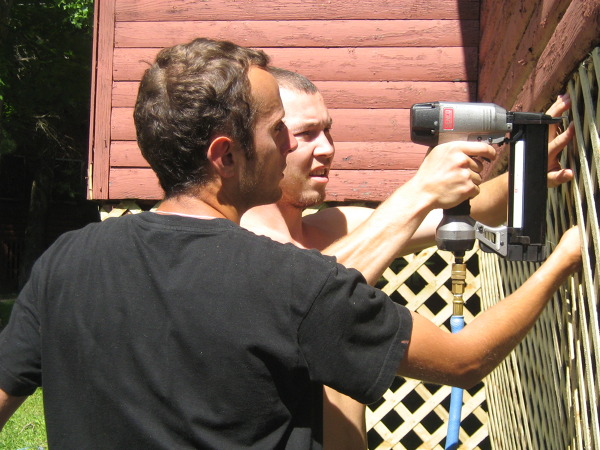 Chłopak od wszystkiego na wymianie studentów


Rok później zrobił dokładnie to samo, ale zmienił się charakter pracy. Trafił do kuchni. Obierał kilogramy ziemniaków, skrobał marchewkę, smażył tosty i piekł pizzę. Zresztą właśnie to ostatnie z czasem stało się jego specjalnością.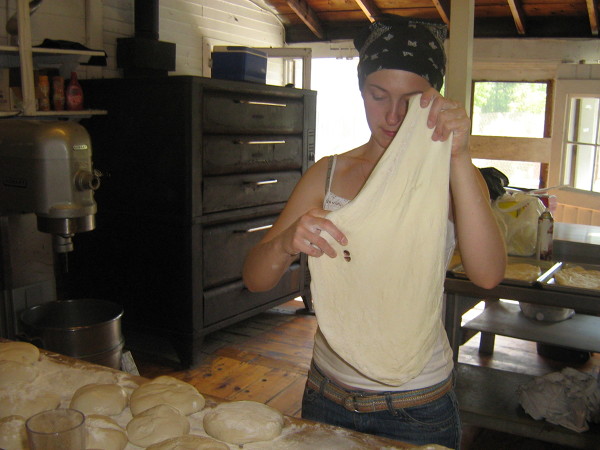 Przy 150 pizzy każda kolejna jest już formalnością


Za pierwszym razem po zakończeniu pracy na campie ruszył stopem w podróż do Chicago, gdzie miał zamiar znaleźć pracę, co niestety nie zakończyło się sukcesem i wylądował ostatecznie 3,5 tysiąca kilometrów dalej, nad Oceanem, gdzie pracował w małym pensjonacie. Nawiązał bardzo dobry kontakt ze współpracownikiem z campu - Kevinem, rodowitym Amerykaninem i dużo czasu spędził z nim, i jego partnerką Jill. Razem jeździli na weekendowe wypady za miasto, zwiedzali sąsiednie miejscowości, raczyli się kuchnią amerykańską, która zresztą wbrew powszechnej opinii, że jest niesmaczna przypadła Sylwkowi do gustu. Duży udział miał w tym Kevin, który jest ponoć fenomenalnym i wszechstronnym kucharzem. Przyjaźń Sylwka z Kevinem i Jill trwa do dziś mimo, że ostatnio widzieli się w 2007 roku...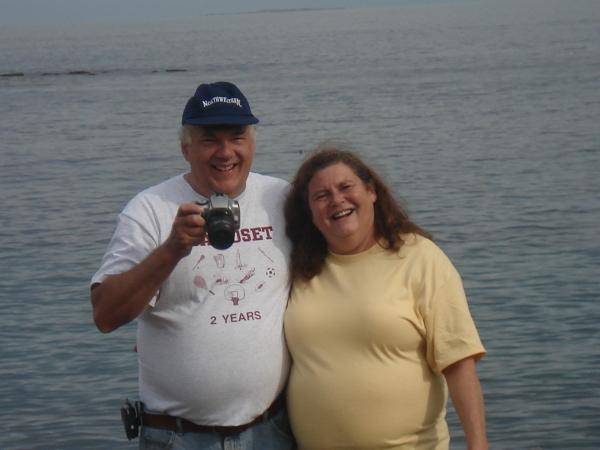 American Father and Mother czyli Kevin i Jill


W trakcie drugiego pobytu w Stanach, mimo ograniczonych możliwości zdecydował się z grupą znajomych z campu ruszyć w krótką podróż po Stanach. Nic spektakularnego, bo i pieniędzy na wydanie nie było za dużo, a w planach był też zakup laptopa i na to chciał zostawić trochę grosza. Celem wyprawy był wodospad Niagara. Korzystając z zawartych znajomości wynajął w korzystnej cenie fajny, sportowy samochód, pożyczył kilka map od Kevina i ruszył w drogę. Nad Niagarę dotarł w nocy. Do wodospadu doprowadził go szum spadającej wody. Widok był niezapomniany, bo Niagara nocą mieni się kolorami tęczy. Sylwek w trakcie krótkiego pobytu nad Niagarą przeżył przygodę związaną ze złym wyborem drogi dojazdowej. Wjechał na Rainbow Bridge, który stanowi przejście graniczne między USA, a Kanadą i w ten sposób wtargnął na terytorium Kanady bez uprawnienia (wtedy jeszcze od obywateli Polski wymagało się oddzielnej wizy). Spędził noc w biurze deportacyjnym, bo jego super mądra koleżanka z campu nie zabrała ze sobą wizy amerykańskiej i celnikom zajęło dużo czasu upewnienie się, że nie są przypadkiem nielegalnymi imigrantami. Wyjazd był udany, choć krótki.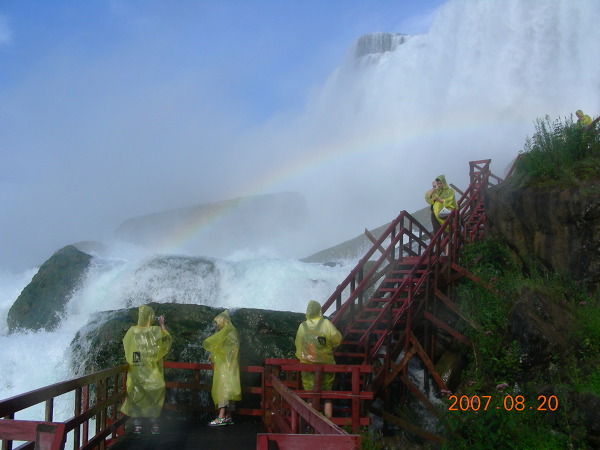 Jak sam Sylwek mówi, wyjazdy do Stanów dużo zmieniły w jego życiu. Od tej pory wyjazdy wakacyjne na stałe wpisały się w jego kalendarz i co jakiś czas planuje nowy.

Po zakończeniu studiów zaczął się jednak inny problem – konieczność ograniczenia wyjazdów do liczby dni wolnych od pracy. Sylwek nie jest menadżerem w korporacji, czy też bogatym biznesmenem więc na każdy wyjazd musi zarobić, ale zdarza się tak, że uda mu się jednego roku pojechać na trzy różne wyjazdy bo często mają one niskobudżetowy charakter. Jednego roku na przykład spędził Święta Wielkanocne w Barcelonie, długi weekend czerwcowy w Szwecji i dziesięciodniowe wakacje na Cyprze. Wszystko zawsze zaczyna się w ten sam sposób – od wyszukania taniego połączenia lotniczego, bez planu gdzie. W zeszłym roku były to Włochy, w minionym tygodniu wrócił z Krymu.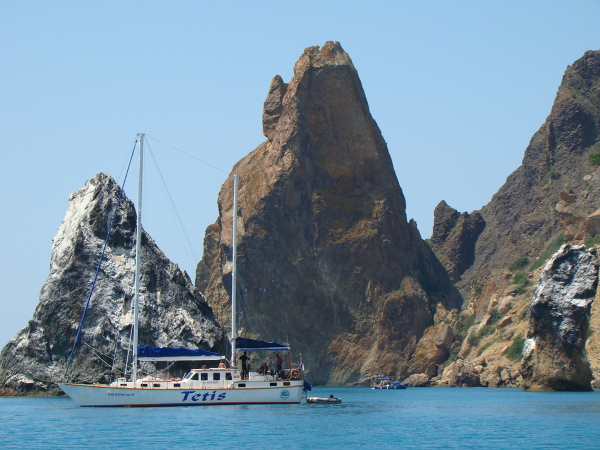 Wybrzeże Morza Czarnego - Krym, lipiec 2012 r.


Sylwek dużo jeździ po Polsce. Wiąże się to trochę z jego pracą, bo jednym z jego obowiązków jest zbieranie danych w terenie. Często bywa nad Morzem Bałtyckim i na Mazurach. W związku z organizowanymi przez firmę, w której jest zatrudniony szkoleniami zobaczył Londyn, Berlin, Amsterdam, Ateny. Był też w Czechach, bo w czeskiej filii potrzebowali wsparcia dla prowadzonego projektu.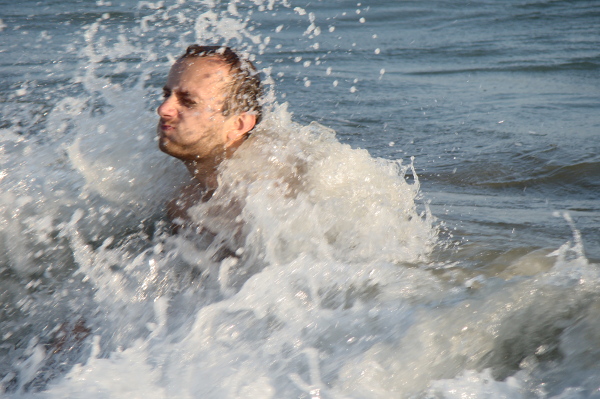 Pewnie niektórzy z was zadają sobie pytanie dlaczego na bohatera mojej opowieści wybrałam właśnie Sylwka... Jakiś czas temu pożyczyłam od koleżanki książkę o Hugo Baderze, bo w pierwszej chwili pomyślałam o tym, żeby to o nim pisać. I wtedy przyszła mi do głowy taka myśl, że takie osoby jak Hugo Bader, podróżujące całe życie, znające języki, realizujące swoje marzenia, są często imiennymi przedstawicielami dużej grupy osób nieznanych z imienia i nazwiska, którym udało się wydać swoje wspomnienia w postaci dziennika, ale zaczynali dokładnie tak jak inni. Też kiedyś ruszyli w swoją pierwszą podróż, też liczą każdy grosz, żeby dojechać w kolejne miejsce i też kombinują co by tu zrobić, żeby było jeszcze ciekawiej.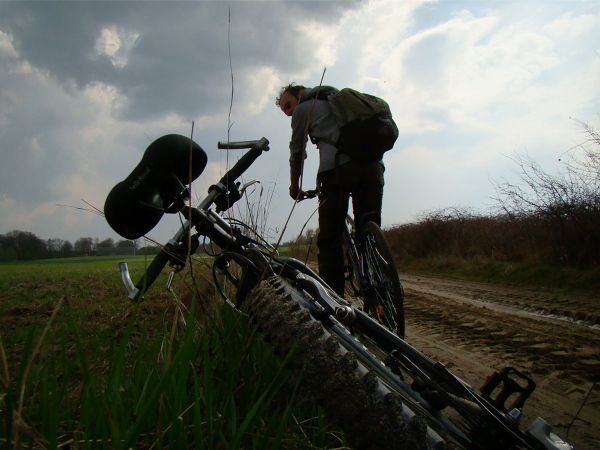 Sylwek czytał dużo książek Kapuścińskiego i Cejrowskiego. To chyba takie jego osobiste guru w sprawie podróży. Nie jeździ na razie w tak egzotyczne kraje jak oni, ale nauczył się patrzeć na świat ich oczyma – z większym zainteresowaniem obserwuje codzienne życie mieszkańców, niewidoczne z okien hotelu na wycieczce all inclusive. Do tej pory odwiedził tylko pojedyncze kraje leżące na dwóch kontynentach, ale przecież w życiu nie chodzi tylko o to, żeby odhaczać na mapie przejechane miasta. W sumie to Sylwek nie lubi za bardzo zwiedzania miast. Trochę ostatnio polubił chodzenie po górach, bo przez długi okres czasu myślał, że dobrze odpocząć można tylko nad morzem, ale jak się okazało nie może uleżeć za długo na plaży.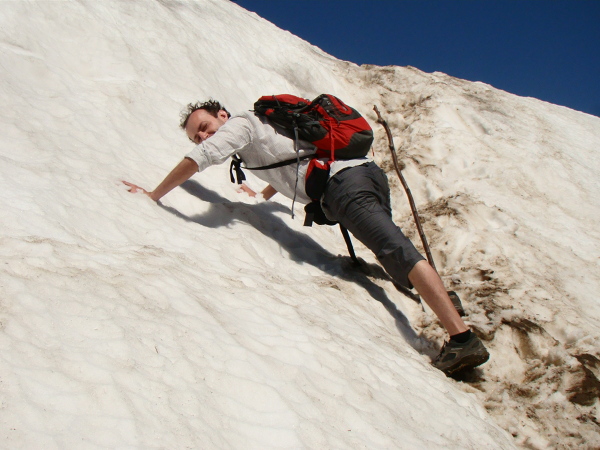 Sylwek dużo się nauczył jeżdżąc ze znajomymi w różne miejsca – czasem musi zrezygnować z wygody spania na dużym łóżku, bo jest z parą, która potrzebuje tego łóżka bardziej niż on i w innym przypadku będzie awantura. Czasem musi przełamać wstyd i zapytać w dawno nie ćwiczonym języku rosyjskim o drogę i wysłuchać wykładu o tym, jak prawidłowo wypowiada się nazwę miejscowości, o którą pyta, żeby potem i tak nie dostać odpowiedzi na pytanie, jakie zadał... a czasem musi dokonać niemożliwego i spakować się na dwutygodniowy wypad w 10 minut, bo pomylił godzinę odlotu i w ostatniej chwili się zorientował, że samolot odlatuje o 10.50, a nie o 14.00.

Co Sylwek pamięta najdłużej po powrocie z wyjazdu? Niby takie małe rzeczy, które czasem trwają ułamek sekundy, jak to, że pływał z delfinami na Morzu Czarnym, obtarł sobie kolano kiedy wychodził na skalisty brzeg, stłukł na czarno palca u nogi, kiedy chciał sprawdzić, czy woda jest wystarczająco ciepła na kąpiel, targował się o cenę taksówki, kiedy nie było już innego sposobu na wydostanie się z miejscowości, gdzie diabeł mówi dobranoc, żeby dojechać do miejsca, gdzie był nocleg. Ostatnio kupił sobie maskę z fajką do pływania, bo podczas jednego z wyjazdów zakochał się w snorkellingu. Podczas pobytu na Krymie maska przydała się nie tylko Sylwkowi.. Dzięki temu, że Sylwek nurkował w niej przy skałach, uratował życie narwanego małolata, któremu nie starczyło sił na powrót do brzegu.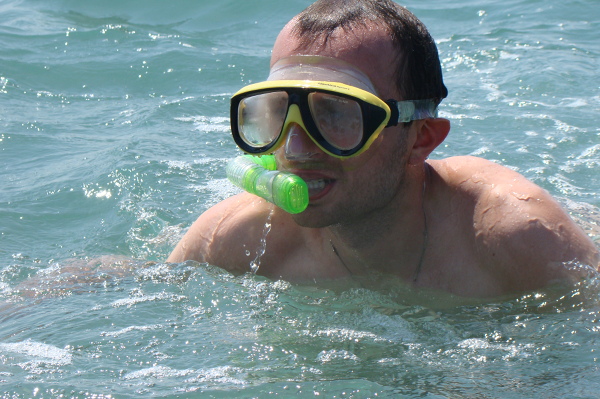 Sylwek ma specyficzne poczucie humoru. Pytany o to, w ilu krajach do tej pory był odpowiada bez chwili namysłu, że w 24, po chwili dodaje, że liczy też te, nad którymi przelatywał samolotem. Drążę temat dalej i jak się okazuje Sylwek naprawdę nie liczy miejsc, do których dotarł. Natomiast pamięta wiele śmiesznych rzeczy, które przydarzyły mu się w trakcie wyjazdów. Opowiada anegdoty jak nikt inny. Dużą wagę przykłada do małych przyjemności, jakich udało mu się doświadczyć, jak na przykład konsumpcja krewetek na odeskiej plaży.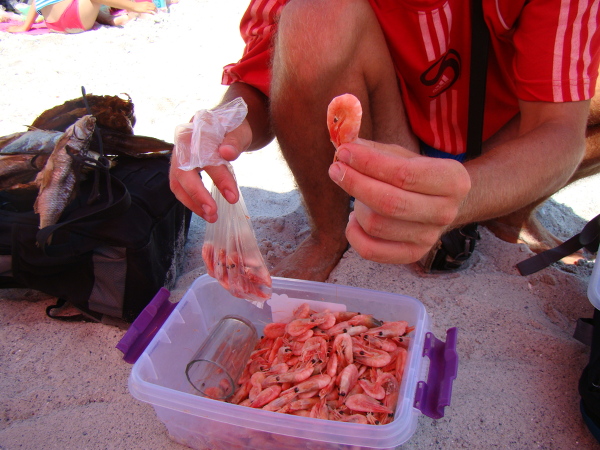 Zdecydowanie podróże zmieniły dużo w życiu Sylwka. Trudno mu powiedzieć, która najbardziej. Na pewno ta pierwsza do Stanów ma trochę inne znaczenie niż pozostałe. To temu wyjazdowi zawdzięcza umiejętność płynnego komunikowania się w języku angielskim.

Ten kto nie wierzy jeszcze, że podróże kształcą powinien poznać Sylwka i zapytać go, kim by był, gdyby nigdy nigdzie nie pojechał... Sylwek jest zwykłym chłopakiem, który tak jak wszyscy musi oddychać, jeść i przede wszystkim pracować. Mimo to ma czas żeby napić się kawy z przyjaciółmi, powłóczyć się w wolnym czasie po mieście, pojeździć na rowerze i zająć się wyszukaniem na internecie nowej okazji cenowej na lot w nieznane. Każdy wyjazd jest dla niego nową lekcją życia z ludźmi.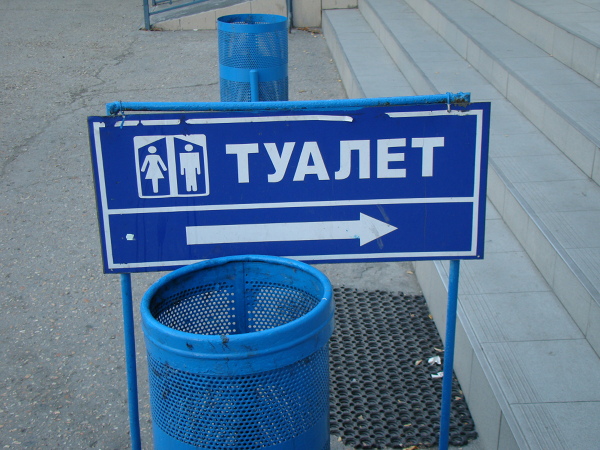 Wszystkie wykorzystane fotografie pochodzą z prywatnego albumu Sylwka i zostały opublikowane za jego zgodą.