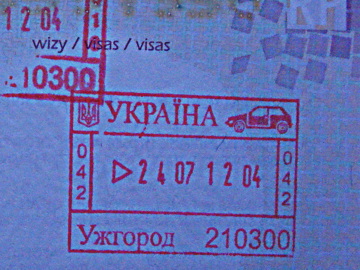 fot. Patrycja Psuj
Pomysł na wyjazd nie był dziewiczy, bo miała być to już druga edycja Laytowych Manevrów, wyprawy spontanicznej, bez ścisłego planu i ram przejazdów, tym razem w słonecznym lipcu (doświadczeni survivalowcy jednak pamiętali zbyt dobrze swoje zimowe dotkliwe doświadczenia i zaproponowali letni wyjazd), który jednak w swych planach nie obejmował: kurzu obecnego ABSOLUTNIE wszędzie (człowiek nawet nie wie jak bardzo jest nieszczelny i ile otwartych przestrzeni mieści się w jego organizmie), spalin, poparzeń i mini udarów na zmianę z lodowatymi górskimi rzekami, spaniem w rowach (!) i dzieleniem się chlebem ze stadami dzikich (?) krów. Po szoku, że nie trzeba się spieszyć, zbierać pieczątek, zaliczać waypoint'ów i w ogóle nie myśleć o rywalizacji na trasach dotychczasowych wyścigów, zaczęliśmy się zastanawiać, po co była człowiekowi ta adrenalina i doceniać dostojniejsze tempo wyprawy w górzyste Zakarpacie.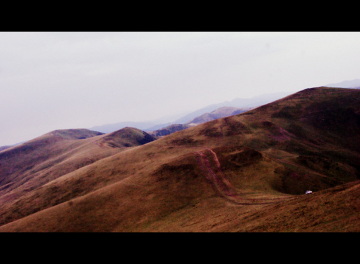 Wielka Zakarpacka Przygoda!
fot. Patrycja Psuj
Godzina zero przypadła na ciemną północ w przygranicznym Użhorodzie (Ужгород), największym mieście obwodu Zakarpackiego (multikulturowego historycznego Zakarpacia, jednego z 24 obwodów ukraińskich zajmującego ziemie historycznej Rusi Zakarpackiej, Marmaroszu oraz kawałka historycznej Czechosłowacji). Jednak zanim przekroczyliśmy granicę, swoje musieliśmy odstać w ogonku pod szyldem "UE". Uprzedzeni do uciążliwych kontroli staraliśmy się nie niecierpliwić, bo trzeba pamiętać, że Ukraina nie tylko geograficznie leży na wschodzie, ale także mentalnie. W dodatku na dalekim. Dlatego trzeba spodziewać się pytania: "dokąd i po co?" przy wjeździe na Ukrainę oraz kontroli bagażu przy wyjeździe. Przewieszona przez samochodowe drzwi, cicho pogwizdywałam "hej sokoły…" wprowadzając się we wschodniosłowiański nastrój i ze znudzeniem podpatrywałam dwa leżakujące spaniele. Nagle świat przesłonił mi wielki strażnik graniczny z jeszcze większym karabinem i wymachując rękami, doprowadził mnie do stanu przedzawałowego.
Zrozumiałam tylko, że gwizdanie na psy (jak się okazało wartujące!) może grozić w najlepszym wypadku rozstrzelaniem lub dożywotnimi pracami w kamieniołomach, moja skrajnie przerażona mina nie rozczuliła jego siczowskiego serca i dopiero po sprawdzeniu wszystkich bagaży, przeliczeniu śrubek, spisaniu numeru vin i mam nadzieję retorycznego pytania o posiadane ładunki wybuchowe, ruszyliśmy dalej. Na pewno byłoby szybciej w zamian za ponadetatowe hrywny, ale w imię walki z korupcją czekaliśmy z niewinnymi minami do końca "kontroli".
Ahoj przygodo!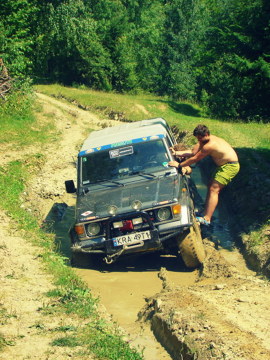 fot. Patrycja Psuj
Załogi naszych dwóch 23-letnich Land Cruiserów i nowego rodzinnego, jeszcze wymuskanego Pajero zrozumiały co to klasa extreme tuż po zjeździe z drogi, w której zawartość asfaltu i tak oscylowała w granicach 40%. Niewiarygodnym wydawało się poruszanie po Zakarpaciu innymi pojazdami niż UAZ, Kamaz lub Ural. Najlepiej na gąsienicach.
Pierwszy odcinek nocny poddaliśmy po 2 godzinach jazdy, padając ze zmęczenia po granicznych kolejkach, usnęliśmy koło drogi, pod ciepłymi kołami i gołym niebem, wydawałoby się skryci w krzakach. Obudzeni dość brutalnie przez ciekawskich grzybiarzy i najmłodszych członków załogi, ćwiczących podania piłką, gdzie nasze śpiwory wyznaczały granice polnego boiska…
Celem wyprawy były połoniny z zapierającymi dech widokami horyzontu wyznaczanego przez górskie szczyty, monstrualnie duże stada wełnistych owiec na trawiastych zboczach, doliny z krystalicznymi jeziorami i stada koni pasące się dziko na górskich przełęczach. Nie mogłam się już tego doczekać.
Mijaliśmy małe, samotne osady, cerkwie z połyskującymi w słońcu kopułami, samochody z innej epoki, wznosiliśmy za sobą tumany kurzu, w które wbiegały machając do nas gromady dzieci. Wieś, do której wjechaliśmy tylko trochę przypominała te nasze, w ogródkach rosły malwy, na sznurach wisiało pranie, sąsiedzi rozmawiali wisząc nad płotami. Za to pylistymi drogami rządzą wałęsające się krowy i kozy, a gdy zapada noc, pomijając niepowtarzalnie rozgwieżdżone niebo, robi się zupełnie ciemno. W sklepach nie ma kas, za to jest dobre zimne piwo i świeży ser, nie ma pośpiechu, są ludzie – dumni, spracowani Huculi, gościnnie witający przyjezdnych w swoich skromnych, drewnianych progach. Czas podróży przedłużał się niemożliwie przez targ, rozciągający się po obu stronach drogi i w którego środek wjechaliśmy. Kto chciałby w jednym miejscu kupić gumofilce, wersalkę, nagrobek, kurę, czołg i obrazek od popa trafiłby do raju.
Rozstaliśmy się z ekipą turystyczną i zaczęliśmy zdobywać stromizny, kilkukrotnie wyszarpywaliśmy się z kolein, ale szczęśliwie i o dziwo jeszcze w pełnym słońcu bufetowaliśmy na przełęczy. Paleni słońcem i omiatani krowimi ogonami zebraliśmy się niechętnie do kontynuowania podróży, przecież tylko 15 km dalej i spotykamy się z resztą naszej ekipy… w planach to my mieliśmy być pierwsi na miejscu obozowiska i zająć się ogniskowymi obrzędami zawierającymi elementy kiełbasy, piwa, wiejskiego chleba i jeszcze odrobiny piwa. No ale jak to bywa, plany lubią brać w łeb...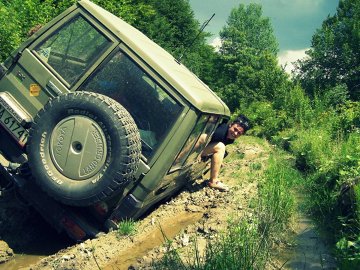 Jak nie drzwiami, to oknem!
fot. Patrycja Psuj
W Wielkiej Ukraińskiej Błotnej Dziurze, która została nią mianowana po 4 godzinach walki o odzyskanie samochodu, musieliśmy trochę spokornieć, nasza kobieca wspaniałomyślność dała wykazać się męskiej części ekipy i z wygodnych leżaków motywowałyśmy ich do dalszej walki. W końcu po wyswobodzeniu ruszyliśmy dalej, nie przewidując kolejnych komplikacji.
Rozpadało się, czemu nie poświęciliśmy większej uwagi, woda cudownie zamieniała się w błoto. Jednak nerwowego unoszenia kącików ust nie można było odebrać jako uśmiechów. Ale kiedy do błota doszedł grad wielkości pączków, mogących skutecznie obić głowę i wykluczyć z zabawy na dłuższą chwilę, oraz że pioruny próbujące ustrzelić kogokolwiek z nas to nie gra zręcznościowa, zaczęliśmy się modlić. Każdy na swój sposób, do różnych Bogów. Dobrze, że nie słyszały nas dzieci, pobożni katolicy i osoby z wrażliwą kulturą osobistą. Żarty się skończyły, zaczął hardkorowy survival, na bosaka, z liną w zębach, szeklami zaczepianymi o szlufki przemoczonych spodni, wśród okrzyków: "zaraz zginiemy, a jak nie, to na pewno zostaną blizny!"
Nawigacja jest dla cieniasów…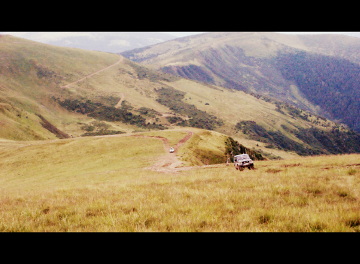 Wielka Zakarpacka Przygoda
fot. Patrycja Psuj
Żółty kolor szlaku, w naszym rozumieniu pokonywany przez matki z wózkami i trójnogie psy w Karpatach okazał się trasą wiodącą przez koryto rzeki, Toyoty jak na pierwszy górski crawling spisały się świetnie. Po orzeźwiającej (do dziś mam upośledzone czucie w odmrożonych dystalnych częściach ciała) kąpieli w wartkich nurtach, przedarliśmy się na miejsce biwaku. Oczywiście druga część ekipy, oczekując wieści o znalezieniu kilku polskich ciał, miała okazję zaprzyjaźnić się z miejscowym synem mistrza drwali z '67, który w Kanadzie wywalczył sobie szacunek Partii. Wynikiem tych znajomości było wino, którego krótkie leżakowanie w plastikowej butelce musieliśmy solidnie dosłodzić i przepić innymi trunkami.
Drugiego dnia wspólnie staliśmy oniemiali na połoninach, patrząc na świat z góry, nie wiedząc czy robić zdjęcia, czy rozbić namioty i pożegnać dotychczasowe życie i zostać na zawsze. Góry i niebo. Cisza, wiatr i zachwyt w pełnym słońcu. Rada dla podróżnych – chcecie komuś zaimponować? Oświadczyć się? Pogodzić z wrogiem? Albo zepchnąć w przepaść, tak by wyglądało to na wypadek? Jedźcie w Karpaty. Satysfakcja gwarantowana. Kolejne obozowisko rozbiliśmy przy brzegu górskiego morenowego Jeziora Niesamowitego (озеро Несамовите), które według legendy nie posiada dna, za to ma magiczną moc i jest popularnym miejscem biwakowym. Nad naszymi głowami, koło księżyca na przełęczy pasły się dzikie konie. Kraina czarów?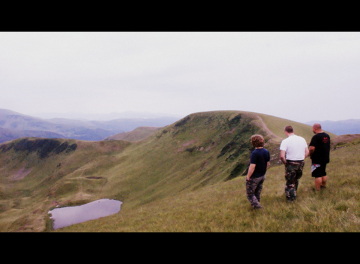 fot. Patrycja Psuj
Po odwiedzeniu Rachowa (Рахів), który leży u podnóża Świdowca i Czarnohory w dolinie Cisy – podobno najbardziej burzowego miasta na Ukrainie (43 burze w roku!) i zjedzeniu okolicznych specjałów, których pochodzenie niech na wieki pozostanie tajemnicą, uzupełniliśmy prowiant i z rykiem silników ruszyliśmy dalej na połoniny. Po opłaceniu wjazdu do Karpackiego Parku Narodowego (są dwa miejsca, w których trzeba uiszczać drobne opłaty, ale dostaje się pokwitowanie) strażnikom leśnym z życzeniami powodzenia na dalszą drogę dostaliśmy wielki kawał owczego sera.
Ponowna kąpiel w rzece, zimne piwo i kurs na Przełęcz Legionów. Po drodze przez przypadek i pomylenie tras przez ginący sygnał GPS trafiliśmy do kurortu przypominającego alpejską wioskę "all inclusive", uciekliśmy szybko od zepsutej cywilizacji i znów na poboczu rozpaliliśmy ognisko Przyjaźni Polsko-Ukraińskiej i zbrataliśmy się z rdzennym mieszkańcem Kolą i jego zepsutą Ładą, który zainspirował nas do śpiewania polskich szlagierów a na każdą propozycję wypicia z nami piwa, uśmiechając się odpowiadał: "wódki!". Nocną Eurowizję skończyliśmy, gdy zaczęło się przejaśniać.
Na następny dzień, po "odchorowaniu" wieczornej konsumpcji, zdobyliśmy Przełęcz Legionów, wracając, zgubiliśmy sygnał GPS po raz setny i jechaliśmy na azymut, przez kapryśną pogodę wylewaliśmy elementy fauny i flory z butów i spod maski, a także naprawiliśmy zepsuty rozrusznik dzielnej Toyoty metodą "na McGyvera", czyli z zipami dookoła świata (opaskami zaciskowymi, na temat których mogłabym napisać pracę doktorską), którym zrobisz wszystko – nawet zupę. Zatoczyliśmy gigantyczne koło wracając do miejsca naszego pierwszego noclegu i po upewnieniu się czy nie będziemy dzielić karimat z uroczymy misiami lub wilkami, zasnęliśmy ostatnim ukraińskim snem.
Powrót na granicę, przez ukraińskie wertepy wytrząsł zebrane błoto, małe zwierzątka i parę skarpetek, co więcej – usunął nawet wspomnienie cellulitu z miejsc, o których damom nie przystoi opowiadać w towarzystwie.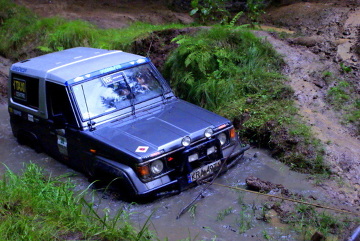 fot. Patrycja Psuj
Kolejka na przejściu granicznym przypominała te z lat 80. Oszacowaliśmy z innymi podróżnymi, że za 12 godzin powinnyśmy się przesunąć o kolejne 3 metry… Jednak udało się wcześniej. Na widok lekko przybrudzonych samochodów, strażnik ofuknął nas, że wywozimy im góry i czy musimy jeszcze wracać…
Oczywiście, że wrócimy. To będzie prawdziwa "terenowela", bo jesienne Laytowe Manevry planujemy na listopad!