Kamila Karbowniczek: Podróże po krajach wschodnich to zdecydowanie twoja dziedzina. Świetnie czujesz się przebywając na Ukrainie czy przemierzając nieznane szlaki dalszych zakątków mniej znanej Europy. Czy ma to jakiś związek z twoim pochodzeniem, pasjami rodziców? Czy podróże były w twoim życiu od zawsze?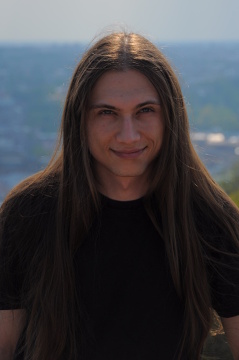 fot. Paweł Konter
Paweł Konter: Właściwie tak, odkąd pamiętam zawsze gdzieś pojawiały się marzenia o podróżach. Duże wrażenie zrobiły na mnie książki Alfreda Szklarskiego o przygodach Tomka Wilmowskiego. Potem "jeździłem" palcem po globusie i też chciałem wziąć udział w dalekich wyprawach. Zainteresowanie wschodem pojawiło się później. W pierwszą zagraniczną podróż pojechałem na Ukrainę, ale wtedy było to podyktowane głównie względami finansowymi. To były czasy studenckie, a na Ukrainie było tanio. To właśnie wtedy odkryłem piękno wschodu, które mnie całkowicie urzekło. Teraz wschód dla mnie to nie tylko podróże, ale również muzyka czy kino. Zawsze lubiłem ciężkie rockowe granie, dlatego od razu spodobały mi się takie zespoły jak Arija, Mawrin, Margenta czy Tin' Soncja. Podobnie było z filmami. Współczesne rosyjskie kino akcji pod względem efektów specjalnych niczym nie odbiega od kina światowego, a z drugiej strony jest dla mnie ciekawsze fabularnie. Wracając do podróży – wschód jest nie tylko tańszy, ale i ciekawszy.
Ukraina pełna jest kontrastów. Z jednej strony bieda i zacofanie, z drugiej strony bogaty, turystyczny Krym. A jak Ty postrzegasz ten kraj? Jak odnosisz się do krzywdzących stereotypów? Czy jest w nich choćby ziarenko prawdy, a może jest to fikcja stworzona przez osoby, które nie znają tamtejszych realiów i nigdy tam nie były?

Największe bogactwo widziałem w Kijowie. Jeździ tam sporo luksusowych samochodów, próżno takich szukać w Warszawie. Jak w wielu krajach rozwijających się, na Ukrainie jest niewielka grupka bogaczy. Z drugiej strony Ukraina szybko się rozwija. Najlepiej to widać w turystycznych regionach, takich jak Krym. Na szczęście jest tam tyle ciekawych miejsc, że minie trochę czasu, nim to wszystko zostanie skomercjalizowane na potrzeby masowej turystyki. Tym niemniej, jeśli ktoś planuje jechać na Krym, to radzę się pośpieszyć.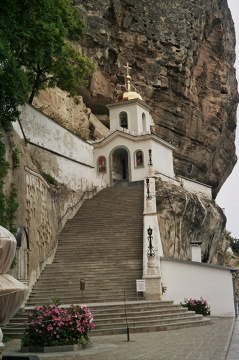 fot. Paweł Konter
Stereotypy? Tak, pamiętam jak koledzy ze studiów pytali się mnie, czy nie boję się zapuszczać na wschód. Oczywiście, nie ma się czego bać. Nigdy mnie tam nie spotkało nic złego. Jeśli ktoś ma pecha, to może trafić na grupki miejscowych chuliganów, ale przecież tak samo jest u nas, czy na zachodzie. Nie mam żadnych wątpliwości, że tego typu historie tworzą ludzie, którzy nigdy tam nie byli. Z drugiej strony, w niektórych historiach jest odrobina prawdy. Wielu ludziom wschód się kojarzy z wódką i rzeczywiście, mnie osobiście urzekły sklepy monopolowe z miejscem do degustacji napojów wysokoprocentowych. Wyobraź sobie połączenie knajpy w stylu "Przekąski Zakąski" ze sklepem spożywczym.
Nie tylko podróżujesz, ale również zajmujesz się fotografią. Co najczęściej lubisz fotografować i jaki ma to wpływ na przebieg twoich podróży?

Swoją przygodę z fotografią zaczynałem jako mały dzieciak, gdy dostałem od swojego ojca prosty aparat fotograficzny typu Smiena. Pamiętałem, że w komplecie był dość duży i nieporęczny radziecki światłomierz, bo Smiena nie mała w sobie żadnej automatyki. W dzisiejszych czasach trudno to sobie wyobrazić. Jednak większe zainteresowanie fotografią przyszło dużo później. Było to ściśle powiązane z podróżami. Jeżdżąc po różnych miejscach, będąc świadkiem ciekawych wydarzeń, chce się zachować migawki wspomnień. Zresztą chyba nie jest dla nikogo odkryciem, że podróżowanie jest ściśle powiązane z fotografią, ewentualnie z filmem. Pomyśl sobie o kilku znanych współczesnych podróżnikach, czy jest wśród nich ktoś, kto nie fotografuje? Z drugiej strony dzięki fotografii zacząłem odkrywać ciekawe zakamarki Warszawy. Każda wyprawa pociąga koszty i wymaga pewnej ilości wolnego czasu.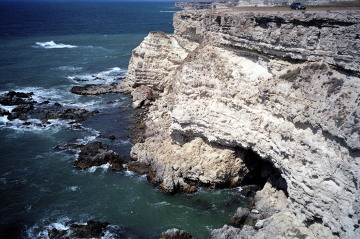 Klify na Tarchankut, Krym
fot. Paweł Konter
Jak więc doskonalić swój warsztat fotograficzny, gdy nie ma urlopu pod ręką? Warto wziąć aparat, wyjść z domu i zacząć się rozglądać. To ciekawe doświadczenie, bo nagle okazuje się, że kamienica, którą mijamy codziennie w drodze do pracy ma niesamowicie interesujące zdobienia, na które nigdy wcześniej nie zwracaliśmy uwagi.
A czy jest dla Ciebie jakieś szczególne miejsce na świecie, które chciałbyś zobaczyć?

Mam całą listę takich miejsc, w dodatku lista ta cały czas się wydłuża. Na pierwszym miejscu od dawna znajduje się Syberia. Ciekawa i nadal skrywająca wiele tajemnic. Z tego co obserwuję, to miejsce fascynuje wielu podróżników i coraz więcej wypraw rusza w tamte strony. Turystyczna komercja też już zdążyła dotrzeć na Syberię, choćby pod postacią stylizowanych szamańskich widowisk dla turystów. Na następnym miejscu jest Kazachstan, chciałbym obejrzeć z bliska wraki statków na wyschniętych obszarach jeziora Aralskiego. Myślę, że to będzie tak samo ciekawe doświadczenie jak spacer po ulicach Prypeci. Prawdopodobnie nawet ciekawsze, bo Czarnobyl mimo wszystko jest już skomercjalizowany. Kiedy chciałem z dachu jednego z budynków w Prypeci zrobić zdjęcie "opuszczonego miasta" okazało się to bardzo trudne, ponieważ wszędzie wokół kręcili się ludzie. Liczę na to, że przy wrakach takich tłumów nie będzie.
Czy mógłbyś opowiedzieć coś więcej o swoich niezwykłych podróżach. Może jest jakaś historia, która zapadła ci głęboko w pamięć..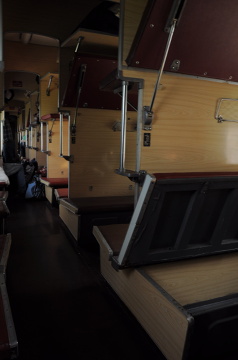 fot. Paweł Konter
Mnie najbardziej zaciekawiły tamtejsze realia. To co dla tamtejszych ludzi jest zwyczajną, szarą codziennością, dla podróżnika z Polski jest niezwykłym doświadczeniem.
Zacznijmy od ukraińskich pociągów, my podróżowaliśmy tzw. płackartami. Płackarty to najtańsze wagony sypialne, które charakteryzują się brakiem zamykanych przedziałów. Jechaliśmy na Krym i mieliśmy spędzić w pociągu cztery noce. Dwie noce w jedną stronę, kolejne dwie z powrotem. Pamiętam, że po pierwszej nocy wszyscy byli oszołomieni i z lekkim przerażeniem patrzyli na perspektywę dalszej podróży w takich warunkach. Z kolei po ostatniej nocy wszyscy żałowali, że to już koniec. Wschód uzależnia.
Jest jeszcze jedna ciekawa rzecz dotycząca ukraińskich pociągów. Na dłuższych trasach, pociąg ma wyznaczone dwudziestominutowe postoje. Na każdym takim postoju peron stacji zamienia się w bazar. Można kupić praktycznie wszystko: ciepły obiad, przekąski, owoce, napoje i oczywiście alkohol.
To, co również mi się podoba na wschodzie, to jest fakt, że jest tam więcej wolności. Wiem, że to się może wydawać dziwne, zwłaszcza osobom, które interesują się polityką. Media głównie zajmują się sprawą Tymoszenko, politycy i dziennikarze piszą o łamaniu praw obywatelskich, jednak to tylko polityka, a prawdziwe życie z polityką ma niewiele wspólnego.
Kiedyś w Eupatorii jechaliśmy taksówką w sześć osób, nie licząc kierowcy. To była duża Wołga, na tylnym siedzeniu obok siebie zmieściły się cztery osoby, piąta osoba leżała na kolanach, a szósta siedziała z przodu. Tutaj taką taksówkę zatrzymałby pierwszy patrol policji, tam to nie robi na nikim wrażenia. Gdy z przyzwyczajenia w taksówkach zapinam pasy, kierowcy żartują, że tu nie zachód i nie trzeba.
Na koniec chciałabym jeszcze zapytać o twoje dalsze plany podróżnicze. Czy masz już jakieś zaplanowane wyjazdy? Czy będą to kierunki wschodnie, a może tym razem coś innego?
Planuję jesienią pojechać na Kaukaz, odwiedzić Gruzję i Armenię. To bardzo ciekawy rejon, który w dodatku szybko się unowocześnia, a ja chciałbym jeszcze poczuć tam odrobinę dzikości. Ostatnio czytałem książkę o podróżach do Gruzji i niestety, tam już nie jest tak samo, jak kilka, kilkanaście lat wstecz. Zachodni świat powoli anektuje kolejne obszary i trzeba się śpieszyć.