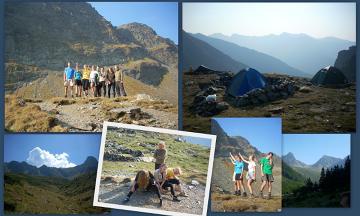 fot. Marek Owczarek i inni
Wreszcie nadeszła połowa sierpnia, kiedy to większość naszej studenckiej gromadki zakończyła swoje wakacyjne praktyki i mogliśmy wyruszyć na długo oczekiwaną transfogaraską włóczęgę.
Spotkaliśmy się w szóstkę o nieprzyzwoicie wczesnej godzinie na krakowskim Dworcu Głównym: ja, Kasia, Ania, Mateusz, Agata i Majkel oraz nasze 20-kilogramowe plecaczki (z niewiadomych przyczyn tylko Mateuszowy bagaż ważył 30 kg, do samego końca wyjazdu nie odkryliśmy, czemu tak jest). Brakowało dwóch dziewczyn, Natalii i Merry, z którymi mieliśmy się spotkać dopiero w Braszowie, w Rumunii – tuż przed wyjazdem okazało się, że Natalii paszport stracił swoją ważność, więc chcąc nie chcąc udały się tam autostopem omijając ukraińskich celników, tłumy ludzi z dziwnymi pakunkami na granicy, targowanie się o arbuzy z tubylcami, zakup prawie najtańszych, bo "tych z filtrami" papierosów.
Już w Przemyślu mieliśmy okazję sprawdzić naszą kreatywność i umiejętność radzenia sobie w kryzysowych momentach: przed parkingiem dla busów, jeżdżących na trasie centrum – Medyka kłębił się tłum zniecierpliwionych pasażerów i harcerzy, którzy akurat tego dnia również wpadli na pomysł przekraczania granicy, ale nie wymyślili, że ustawienie się w kolejkę ułatwiłoby wszystkim życie...
Przy trzecim busie opracowaliśmy dobrą taktykę (wszystkich sekretów nie mogę zdradzić!) i udało się! Byliśmy na granicy. Niestety w międzyczasie mi i Kasi oderwały się ramiączka od plecaka, każdemu po jednym. Sytuację udało się opanować za pomocą wszystkich awaryjnych linek, które zabraliśmy ze sobą. Uff! Dratwa w weekendowe popołudnie nie jest towarem łatwym do zdobycia.
Wreszcie po dotarciu do Lwowa, po 6 godzinach czekania na swój upragniony nocny pociąg do granicy z Rumunią, wsiedliśmy do niego. Przedziały sypialne 4-osobowe może nie były w jakimś wysokim standardzie, ale po całodniowej tułaczce ululały nas do snu w kilka minut. Nagle w środku nocy ktoś wpada do przedziału, zapala światło i coś bełkocze! Z jego wypowiedzi zrozumiałem tylko Czerniowce. Tak, to tu dojechaliśmy.
Po wypakowaniu się z pociągu około godziny 5 rano udaliśmy się na dworzec autobusowy celem odnalezienia jakiegoś transportu w dalsza drogę. Po stosunkowo niedługim czasie już siedzieliśmy w autobusie, o ile dobrze zrozumieliśmy lokalne babuszki – przejeżdżającego koło dworca autobusowego. Bilety mogliśmy nabyć w każdej walucie, począwszy od hrywien, poprzez dolary i euro, aż do rubli – pan kierowca przyjmował zapłatę w każdej formie, myślę ze za 2 worki kartofli też by nas woził. Jego sympatia mogła wiązać się z faktem, że okazaliśmy się łakomym kąskiem dla przygranicznych przemytników, z którymi sam pewnie robił interesy...
Zaraz po odjeździe, przed granicą, zaczęli upychać papierosy w naszych siedzeniach, a ponieważ na granicy celnicy tylko kazali nam wysiąść, zapytali się czy jesteśmy turystami, my potwierdziliśmy i bez kontroli puszczono nas w dalsza podróż, to panowie przemytnicy mieli miny nad wyraz wesołe, kiedy udało się nam odjechać ze strefy celnej. Co ciekawe, czekali tylko do momentu gdy autobus zwolnił (nie, nie zatrzymał się) na świetle i wtedy po prostu wyskoczyli sobie z niego. Następna przesiadka: kolejny pociąg, tym razem rumuński, z granicy do Braszowa 10 godzin jazdy. Jedyne bilety, na które było nas stać to bilety drugiej klasy.
Odczuwaliśmy lekki niepokój pamiętając, w jakim stanie była 1. klasa w nocnym pociągu na Ukrainie. Naprawdę mile zaskoczył nas fakt, że dostaliśmy ładny, nowiutki wagon z przedziałem 6-osobowym, niestety bez możliwości otwierania okna. Jednak nie martwiło nas to zbytnio, gdyż w przedziale mieliśmy zamiast tego klimatyzację. Po bardzo długiej i nudnej podróży, wpatrując się przez okno ciągle w ten sam krajobraz pól uprawnych rozciągających się po nizinnym terenie aż po horyzont, dotarliśmy do Braszowa, gdzie czekały już na nas Natalia i Merry. Po krótkim wieczornym spacerku po niezwykle urokliwych uliczkach Braszowa, który na szczęście tylko podświetlanym napisem na wzgórzu próbuje upodobnić się do Hollywood, udaliśmy się na upragniony spoczynek do naszych łóżek w hotelu, w godnej zapamiętania miękkiej pościeli.
Nazajutrz wszyscy obudzili się niezwykle podnieceni tym, że już dzisiaj będziemy mieli swój pierwszy nocleg w tej jakże niezwykłej krainie, jaką są Fogarasze. Szybka kąpiel, dokupienie niezbędnego prowiantu i w drogę! Najpierw busem, a później taksówkami udało nam się dostać do stóp pasma górskiego. Rozpoczęliśmy przygodę.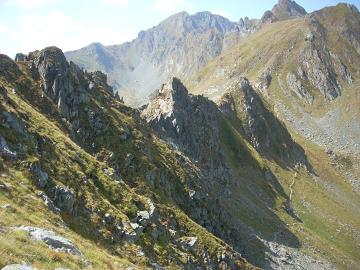 fot. Marek Owczarek i inni
Po 6 godzinach marszu po jeszcze wtedy wyżynnych terenach leśnych dotarliśmy do "schroniska". Było to inne miejsce niż sobie wyobrażaliśmy. Było to gospodarstwo, po którym pałętało się stadko osłów, wzbudzających w nas wielki zachwyt a następnie złość, ponieważ zjadły nam w nocy szynkę z namiotu. Przed budynkiem gospodarzy znajdowała się jak gdyby łąka z miejscami przygotowanymi pod namiot. Zasadniczo jedynym znakiem świadczącym o tym, że to schronisko był fakt, iż mogliśmy kupić tam piwo i umyć się w wodopoju dla zwierząt. Oczywiście pobyt w tym miejscu jest bezpłatny, woda jest brana z pociągniętej instalacji od jednego z górskich strumyków, których tam pełno.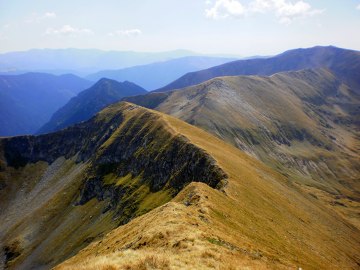 fot. Marek Owczarek i inni
Okazało się, że dojście na samą grań zajmuje około 1 dnia od ostatnich oznak cywilizacji, co wyjątkowo nas wymęczyło, jednak z każdym następnym dniem było coraz lepiej – plecaki stawały się coraz lżejsze, a woda do mycia w górskich jeziorach coraz "cieplejsza":)
Już pierwszej nocy na grani, kiedy to dotarliśmy do przełęczy przy której postawiono schron, czyli taki barak dla turystów, spotkaliśmy naszych rodaków, którzy zmordowanego, umęczonego, głodnego i spragnionego napoili rumuńskim bimbrem. Przynajmniej pić mi się już nie chciało. Nasz szlak prowadził wzdłuż najwyższej partii Fogaraszy, częściowo trawersem, ale też umożliwił nam zaliczenie kilku szczytów, takich jak chociażby Moldoveanu (2544 m n.p.m.), najwyższego szczyt Rumuni oraz Karpat południowych, Buteanu (2507 m n.p.m.), czy Galasescu (2470 m n.p.m.).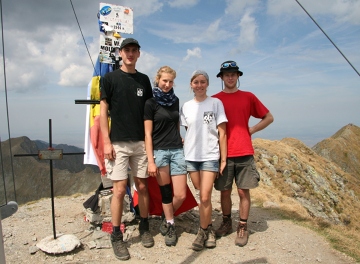 fot. Marek Owczarek i inni
Warto dodać, że cały pobyt w górach, czyli około tygodnia przebywaliśmy na wysokości nie mniejszej niż 2200 m n.p.m. Czasem, gdy wspinania było nam ciągle mało, a jeziorko przy którym planowaliśmy nocować pojawiało się już w zasięgu wzroku, odbijaliśmy z uczęszczanego traktu i sami, bez plecaków, zdobywaliśmy mijane przez innych szczyty. Gdy zapadał zmrok, siadaliśmy w "centrum osady", pomiędzy namiotami i dyskutowaliśmy o mniej lub bardziej ważnych rzeczach i popijając herbatę, czekaliśmy na pojawienie się na niebie Drogi Mlecznej. Poniekąd to dobrze, że szybko zaczynało się robić zimno, bo podziwiając tą nieskończoną ilość gwiazd nad nami na pewno nie trafialibyśmy do namiotów o przyzwoitej godzinie.
Jeden nocleg szczególnie zapadł mi w pamięć. To był jedyny raz, kiedy przy naszym miejscu biwakowym nie było wody – żeby się dostać do najbliższego jeziora i strumienia trzeba było pokonać 200 m przewyższenia (znajdowały się one jakieś 30 minut w dół w stosunku do położenia naszego obozowiska). Niestety, musieliśmy się na wieczór wybrać w tę drogę, gdyż brakowało nam wody nawet do gotowania, nie mówiąc już o jakimkolwiek myciu się. Zaaferowani zbieraniem rzeczy potrzebnych do kąpieli i butelek na wodę, zapomnieliśmy o nader istotnej rzeczy: latarce… Tylko Natalia i Agata wzięły czołówki, a całkowicie ciemno zrobiło się już mniej więcej po przejściu 1/3 drogi powrotnej! Potykając się ze zmęczenia i głodu o własne nogi, kępy trawy i kamienie, posuwaliśmy się krok po kroku po stromym zboczu.
Kierunek wyznaczyliśmy na oko, gdyż w połowie drogi zgubiliśmy ścieżkę, którą pół godziny wcześniej schodziliśmy. Co parę minut przystawaliśmy, bo dziewczynom wylatywały z rąk butelki z wodą i potrzebowały odpoczynku. W tej nieciekawej sytuacji przyszli nam z pomocą znajomi Polacy – na szczęście usłyszeli nasze głosy dochodzące z idealnie czarnej przestrzeni i poświecili nam z góry swoimi latarkami. Niewiele pamiętam z tego, co się działo, gdy szczęśliwie dotarliśmy do celu. Po zjedzeniu ciepłych zupek z proszku, wtedy odczuwanych jako przepyszne, zapewne od razu zasnęliśmy w objęciach Morfeusza.
Z kolei zabawna sytuacja miała miejsce rano, kiedy odkryliśmy, że w okolicy istnieje tylko jedno miejsce, które można potraktować jako publiczną toaletę. Od poprzedników dostałem tylko zagadkową wskazówkę "za krzyżem w prawo", postanowiłem więc sprawdzić o co chodzi, czemu każdy jak stamtąd wraca to szczerzy zęby w szerokim uśmiechu. Okazało się, że istotnie, w okolicy metalowego, małego krzyża znajduje się całkiem spora skałka, za którą można się schować. Co w tym szczególnego? To, że za skałką był może 1 metr kwadratowy "zaminowanego" miejsca, w którym "można było stanąć" i zaledwie krok dzielił człowieka od przepaści. Za to na panoramę nie można było narzekać. Wyjątkowe miejsce.
Po kilku dniach wędrówki dotarliśmy do jedynego chyba w tych górach centrum turystycznego.
fot. Marek Owczarek i inni
Jest to ośrodek leżący tuż przy tunelu trasy transfogaraskiej przechodzącej przez całe góry z północy na południe. Ponieważ skończył nam się przedwcześnie gaz w jednym palników postanowiliśmy zejść do tego ośrodka celem zakupu owej butli. Jednak w żadnym schronisku czy na okolicznym bazarku nie słyszano o takim wynalazku ułatwiającym życie turystom w górach. Nawet ratownicy Salvamontu nie potrafili określić, gdzie taki fant można kupić w promieniu 50 km. Zasmuceni tą wieścią wraz z Kasią, jako ekipa butlowa ruszyliśmy w drogę powrotną, niestety znowu pod górę, aby wrócić na grań. Jednak doczepił się do nas pewien pies, jeden z wielu, które szwendają się po tamtejszych górach i nikt nie wie, skąd one się tam biorą. Pies został ochrzczony przez Kasię imieniem Norris na cześć sławnego strażnika Teksasu. Tak wiec pies towarzyszył nam przez większość marszu tego dnia, aż dotarliśmy do miejsca, gdzie poruszanie się bez umiejętności chwytania czy to łańcucha czy skały było niemożliwe.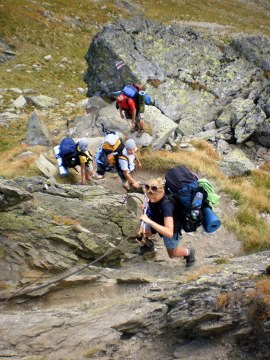 Chwilę później zobaczyliśmy łańcuchy...
fot. Marek Owczarek i inni
Pozostawiając naszego kompana na pastwę losu gdzieś w górach, ruszyliśmy w dalszą drogę, aby zdobyć nasz ostatni szczyt, jakim była góra Negoiu (2535 m n.p.m.), drugi pod względem wysokości szczyt Rumunii.
Przed zmrokiem dotarliśmy do ostatniej bazy wypadowej przed Negoiu, jednak aura, jaka nam sprzyjała przez cały wyjazd – piękna, prawie bezchmurna pogoda, zero deszczu – zaczęła się psuć.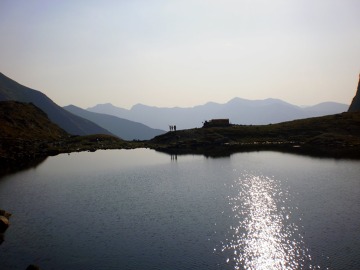 fot. Marek Owczarek i inni
Woda na biwaku okazała się niezdatna do spożycia i żeby zdobyć jej butelkę trzeba było wspinać się ostro pod górę, a później stać na małej skalnej półce i ryzykując życie nalewać życiodajny płyn. Na szczęście po długich poszukiwaniach Mateuszowi udało się odnaleźć kilkaset metrów niżej źródło pitnej wody, co uratowało nas od odwodnienia.
Następnego ranka wyruszyliśmy na szczyt. Niestety zastraszeni trudnością podejścia wyruszyliśmy tylko w 4 osoby, które były na tyle zawzięte, że chciały tam wejść za wszelka cenę. Anka, Kasia, Mateusz i ja ruszyliśmy zdobyć ostatni punkt naszej wyprawy – Negoiu.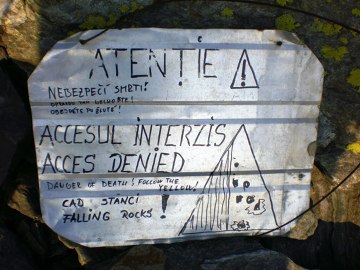 fot. Marek Owczarek i inni
Szczyt okazał się być o wiele łatwiejszy niż się spodziewaliśmy. Myślę, że ułatwiła nam to poprowadzona obwodnica szlaku, ponieważ stare podejście się waliło i było zagrożone osunięciem się skały. Droga na szczyt zajęła nam jakieś 2 godziny, jednak widoki, które tam ujrzeliśmy warte były i całego dnia podchodzenia.
Rozpoczęliśmy długą i wyczerpującą drogę do najbliższej wioski. Droga zdawała się nie mieć końca, a kolana po pewnym czasie odczuwały każdy krok i każdy kilogram, który mieliśmy na plecach. Jednak po jakichś 3 godzinach zejścia dotarliśmy do drogi transfogaraskiej. Stąd rozpoczęliśmy drugą część naszej wyprawy, którą była podróż autostopem. Ponieważ słońce miało się już ku zachodowi, postanowiliśmy spędzić jeszcze jedną noc w górach, nieopodal ośrodka, przy którym byliśmy już kilka dni wcześniej.
Pierwszego stopa złapaliśmy po niespełna 10 sekundach czekania. Niestety nasz kierowca okazał się nie mieć prawej ręki! Nie byłoby to może tak bardzo przerażające, gdyby jadąc serpentynami górskiej drogi nie rozmawiał przez telefon, trzymając go jedyną ręką, a samochód nie miał automatycznej skrzyni biegów... Tak więc po kilkudziesięciu minutach ciągłego stresu pędząc 120 km/h po górskich drogach z naszym nie do końca sprawnym kierowcą, dotarliśmy do celu. W niedługim czasie przybyli tam również inni członkowie naszej wyprawy. Ku naszemu zdziwieniu spotkaliśmy tam naszego starego znajomego psa Norrisa, który tym razem zaczepiał innych turystów, aby dali mu jakiegoś łakocia.
Ale nie pies był tym razem główną atrakcją wieczoru. Po kilkudziesięciu minutach poszukiwań miejsca, gdzie moglibyśmy rozbić namioty, odnaleźliśmy je. Było to w istocie gówniane miejsce. Jednak po odkryciu tego niemiłego faktu, że jest to kuweta dla stada owiec stacjonujących tam co noc, przenieśliśmy się na przyjemniejszy kawałek łąki kilkaset metrów dalej. Jednak nasze największe problemy miały dopiero nadejść. Gdy zapadł zmrok i skończyliśmy jeść kolację, ktoś zauważył, że nasza dolina jest jakoś dobrze oświetlona. Za dobrze. Wdrapaliśmy się na pobliską skałę osłaniającą nas od wiatru i naszym oczom ukazało się w oddali płonące zbocze doliny.
Nie znając tamtejszych zwyczajów gaszenia pożarów wysoko w górach jednogłośnie stwierdziliśmy, że będziemy robić cogodzinny obchód sprawdzający bezpieczeństwo naszego obozowiska. Moja druga kolej przypadła około godziny 3. Gdy wyszedłem z namiotu zdziwiła mnie zdecydowana ciemność – gdy ostatni raz robiłem obchód było zdecydowanie jaśniej od płomieni na zboczu doliny. Kolejna rzeczą, jaka mnie zaniepokoiła, było zniknięcie śpiącego nieopodal nas stada owiec. Postanowiłem podejść do drogi, aby dokładnie zobaczyć całą dolinę.
Gdy tam doszedłem, ogień znajdował się już po drugiej stronie doliny, a całe zgorzelisko wyglądało jak płonąca rafineria. Jednak od tej strony byliśmy już osłonięci wysokimi skałami, na których szczytach spaliśmy, więc ogień nam już nie zagrażał. Najdziwniejsze z tego wszystkiego było to, że pożaru nawet nie próbowano gasić. Już nawet nie chodzi o nas, bo o naszym istnieniu w tych górach mógł nikt nie wiedzieć, ale ośrodek znajdujący się nieopodal był głównym centrum turystycznym w tych górach z kilkoma schroniskami, gdzie na moje oko przebywało około 1000 osób, którym jedyną drogę wyjazdu odciął ogień.
W powrotnej drodze również czekało na nas sporo przygód. Nie chciałbym znudzić czytelników zbyt dokładnym ich opisem, o nie! Wspomnę tylko o najbardziej niezwykłych rzeczach, które nas spotkały w drodze powrotnej – może zainspiruje to was do odwiedzenia tych miejsc, a jak nie, to chociaż pokażę wam, że nie mają racji ci, którzy twierdzą, że powroty są nudne! Zapamiętajcie zatem, że:
– rodowici Rumuni nie znają tłumaczenia nazwy owocu catina, ale twierdzą że jest dobry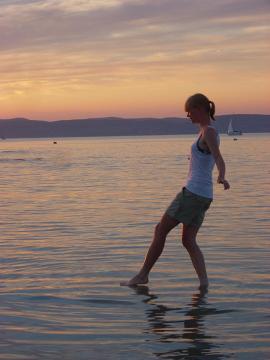 fot. Marek Owczarek i inni
– jeżeli zatrzymuje się po drugiej stronie drogi samochód wielkości busa, w którym siedzi 6-osobowa węgierska rodzinka, przy czym ani dzieci, ani rodzice, ani dziadek nie mówią w żadnym ludzkim języku, ale się do ciebie uśmiechają, to wcale nie znaczy, że nie zawiozą cię w dobrym kierunku i że nie poznasz babci, która nie jedzie z nimi...
– w Tokaju jest świetny kamieniołom, jakieś 10 minut piechotą od centrum w stronę wylotówki. Dobre miejsce na rozbicie namiotów.
– jak już wstąpicie do Tokaju, to nie bójcie się dwulitrowych plastikowych butelek, w których sprzedają wino. Najlepsze są te od babuszki z certyfikatem, trzeba wejść do niej na podwórko, na którym stoją 2 silosy, a potem po schodkach na tyle domu. Aczkolwiek czasem mylą się jej butelki półsłodkiego z wytrawnym.
– Balaton od strony Siofoku jest naprawdę płytki i nawet uparcie się i przejście 200 metrów wgłąb jeziora nie znaczy, że zamoczysz cokolwiek powyżej kolana. Za to możesz zbudować zamek, który wystaje nad wodę daleko od brzegu lub na zdjęciach chodzić po powierzchni jeziora;)
– pracownicy stacji benzynowych we wszystkich mijanych przez nas krajach rozumieją słowo karton, niektórzy wiedzą nawet, że potrzebny jest marker i nożyk do wycięcia odpowiedniego kształtu.
– jeśli kierowca zawodowy pokazuje ci filmik na telefonie i mówi czego on to na drodze nie widział, to nie znaczy, że na tym filmiku zobaczysz coś więcej niż jezdnię i usłyszysz radio, które grało mu w tle.
– Czesi też lubią "Gwiezdne Wojny"!