Wędrówkę rozpoczynamy w najdalej wysuniętym na południe zamieszkanym miejscu w Polsce – w Wołosatym, wsi liczącej zaledwie kilka domów, zamkniętej z jednej strony stokami Tarnicy, a z drugiej zalesionym górskim grzbietem, na którym kończy się państwo polskie, a zaczyna Ukraina. Szyldy wieszczą niechybnie, że znajdujemy się na krańcach cywilizacji. Jeden informuje o barze "Ostatnim przy szlaku", inny o sklepie "Ostatnim na szlaku", a ludzie powiadają, że diabeł mówi tu dobranoc. Kiedyś podobno żyły tu wyłącznie diabły, które dla równowagi swojej społeczności podzieliły się na Biesy reprezentujące zło i Czady reprezentujące dobro. Stąd dziś strony te nazywane są Bieszczadami.
Bieszczady. Połonina Wetlińska.
fot. Dorota i Marek Szala (http://gorskiewedrowki.blogspot.com/)
Pierwsze góry na trasie naszej wędrówki mienią się niezwykłością i odmiennością od tych wszystkich, jakie napotkamy później. Są to grzbiety okryte przez naturę trawiastymi połoninami. To dzięki nim grzbiety te zniewalają wspaniałymi, rozległymi panoramami. Na jednej z połonin znajduje się najwyżej położone w Bieszczadach schronisko tzw. Chatka Puchatka na Połoninie Wetlińskiej. Jest ono nie lada atrakcją turystyczną, oferującą przepiękne widoki oraz zapierające dech w piersiach wschody i zachody słońca. To dla nich turyści zatrzymują się w tym schronisku, nie bacząc na niewygody, takie jak brak energii elektrycznej, brak bieżącej wody i kanalizacji, czy wygodnych łóżek. To miejsce dla ludzi, którym do mycia i kąpieli wystarczy woda ze źródełka oddalonego o kilkaset metrów, a w razie potrzeby świadomego aktu defekacji lub mikcji zadowoli wychodek na zewnątrz.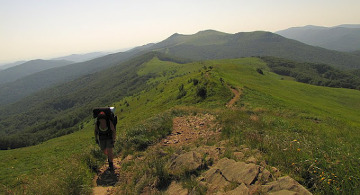 fot. Dorota i Marek Szala (http://gorskiewedrowki.blogspot.com/)
Bieszczady to również lasy, w których siedlisko ma flora i fauna typowa dla wschodniokarpackiej puszczy. Te lasy stały się naszym stałym towarzyszem wędrówki w połowie naszej drogi przez Bieszczady, kiedy już na dobre pożegnaliśmy się z połoninami. Zdaje się, że nie zapuszcza się tutaj wielu turystów. Śmiałków, którzy to zrobili udało się spotkać dopiero pod koniec bieszczadzkiej wędrówki. Trudno się chyba temu dziwić, bo to dość dzikie tereny, nie w pełni jeszcze poznane, będące ostoją licznych przedstawicieli zwierzyny grubej, takich jak niedźwiedź brunatny, wilk, ryś, czy żbik. Na szczęście nie udało się nam spotkać żadnego z nich, ale za to zostaliśmy onieśmieleni spotkaniem ze stadkiem żubrów na naszej ścieżce. Dobrze, że żubry były wystraszone bardziej niż my i spłoszone naszą obecnością zbiegły w dół leśnego zbocza.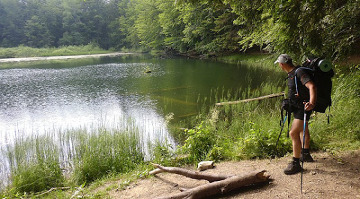 Bieszczady. Jeziorka Duszatyńskie.
fot. Dorota i Marek Szala (http://gorskiewedrowki.blogspot.com/)
Po Bieszczadach przechodzi kolej na jeszcze bardziej odludne, opuszczone przez człowieka miejsca, gdzie przyroda od lat pozostawiona jest sama sobie. Tutaj możemy wędrować całymi dniami i nie spotkać żadnego człowieka. Taki jest Beskid Niski. Nie zawsze jednak on tak wyglądał. Tereny te niegdyś tętniły życiem. Przy szlaku często widzimy ślady budzące wewnętrzny żal, smutek, czy też wzruszenie po czymś, co kiedyś tu było, po Łemkowszczyźnie, dawnych wsiach, po których pozostały jedynie resztki fundamentów domów i cerkwi, zdziczałe sady, przydrożne krzyże i cmentarze. Przechodząc obok nich nie można oprzeć się zadumie nad losami dawnych mieszkańców tych ziem. Wtedy myśli same rwą się w otchłań dziejów, tak jak to głosi inskrypcja na tablicy ustawionej w miejscu, gdzie kiedyś istniała wieś Wołtuszowa:
Stoisz, a myśli wędrują przez Ciebie;
Myślisz żeś wolny, a jesteś w potrzebie;
Odetchnij choć chwilę, odsapnij, bo trzeba;
To czasem ważniejsze jak kawałek chleba.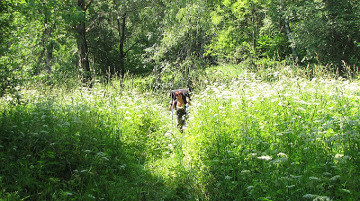 Beskid Niski. Kamień nad Rzepedzią.
fot. Dorota i Marek Szala (http://gorskiewedrowki.blogspot.com/)
Idąc przez wzniesienia i malownicze doliny Beskidu Niskiego zderzamy się z najdzikszą przyrodą. Przedzieramy przez zarośnięte, błotniste ścieżki, poszukując ukrytych znaków szlaku. Czujemy się jak pionierzy przeczesujący nieznane, które nie widziało człowieka od wielu lat. Nie trudno natknąć się tu na przecinającego nasz szlak zaskrońca, padalca, czy sunącą jadowitą żmiję. Z tego też względu trzeba patrzeć jednocześnie przed siebie za znakami szlaku, jak też pod nogi. Nie jest to łatwe, bo utrudniają to często wysokie chaszcze.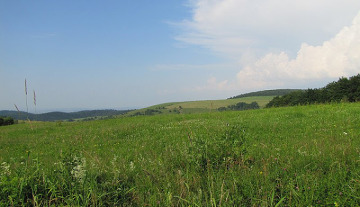 Beskid Niski. Pasmo Bukowicy.
fot. Dorota i Marek Szala (http://gorskiewedrowki.blogspot.com/)
Chwilowym odsapnięciem od dzikiego Beskidu Niskiego są piękne, uzdrowiskowe miejscowości, jak Rymanów-Zdrój, czy Iwonicz-Zdrój. Wytchnienie dają też wioski z pięknymi cerkwiami, zamieszkiwane przez niezwykle dobrodusznych ludzi, żyjących w harmonii i poszanowaniu różnorodności kulturowej.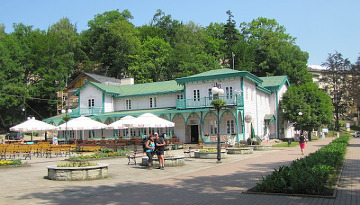 Beskid Niski. Iwonicz-Zdrój.
fot. Dorota i Marek Szala (http://gorskiewedrowki.blogspot.com/)
Beskid Niski kojarzy się nam również z pamiątkami po tragicznym okresie wojen światowych. Szczególne głęboko w duchu utkwiły nam cmentarze wojenne zbudowane po I wojnie światowej, szczycące się niepowtarzalnym artyzmem architektonicznym. Każdy z nich jest inny, lecz mimo to łączy je ta sama smutna kontemplacja nad bezsensownością wojny i jej ofiar. Wszak dziś ofiary zwaśnionych niegdyś stron pochowane są we wspólnych mogiłach, jednomyślnie głosząc światu to samo wołanie, jak choćby to na Rotundzie:
Nie płaczcie, że leżymy tak z dala od ludzi, a burze już nam nieraz we znaki się dały;
wszak słońce co dzień rano tu nas wcześniej budzi i wcześniej okrywa purpurą swej chwały.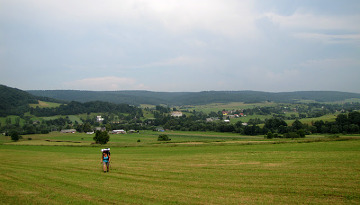 fot. Dorota i Marek Szala (http://gorskiewedrowki.blogspot.com/)
Przed nami Beskid Sądecki. Po dniach samotności na szlaku zaczynamy na nowo przyzwyczajać się to tego, że ludzie na szlaku są czymś zwyczajnym, o czym prawie już zapomnieliśmy. Szlak prowadzi nas teraz przez tereny pokryte bogatą siecią szlaków turystycznych i miejsc noclegowych.

Góry Beskidu Sądeckiego pokrywa górnoreglowy las, będący pozostałością po pierwotnej puszczy karpackiej. Może trudniej spotkać tu dużego drapieżnika niż w Beskidzie Niskim, czy Bieszczadach, ale jest to możliwe. Rysie, wilki i niedźwiedzie też są mieszkańcami Beskidu Sądeckiego. Występują tu wraz z jeleniami, sarnami, dzikami, kurakami i innymi ptakami.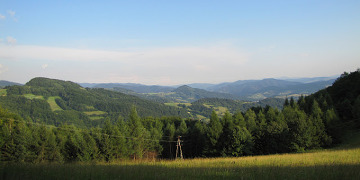 Beskid Sądecki. Kretówki.
fot. Dorota i Marek Szala (http://gorskiewedrowki.blogspot.com/)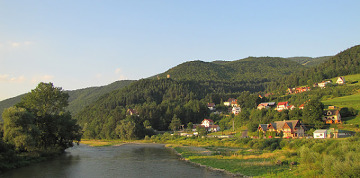 fot. Dorota i Marek Szala (http://gorskiewedrowki.blogspot.com/)
Stoki Beskidu Sądeckiego ukazują nam również coś ekscytującego, Tatry w imponującej postaci oraz Pieniny w swojej urodzie. Stało się to tuż za Wielkim Rogaczem. To wzruszająca chwila. Odczuwamy bliskość domu, choć do końca wędrówki sporo jeszcze pozostało. Ledwo co minęliśmy półmetek.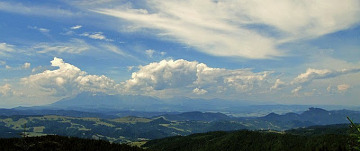 Beskid Sądecki. Widok na Tatry.
fot. Dorota i Marek Szala (http://gorskiewedrowki.blogspot.com/)
Z Beskidu Sądeckiego, w sąsiedztwie malowniczych Pienin i wyniosłych Tatr wspinamy się na Gorce, niejednokrotnie opiewane przez badaczy, czy też twórców poezji i literatury pięknej, takich jak Władysław Orkan, który "W roztokach" pisał:
Naprzeciw Tatr, między doliną nowotarską a wężowatą kotliną Raby, wspięło się gniazdo dzikich Gorców. Od romantycznych Pienin odciął je wartki Kamienicki potok, a od spiskiej krainy odgraniczył falami bystry Dunajec. Samotnie stoją nad wzgórzami. A wyżej jeszcze nosi głowę ociec ich rodu, zasępiony Turbacz. Nie wiadomo kto go chrzcił i skąd mu to miano...
Unikatowe w swoje krasie Gorce, pokryte licznymi polanami, będące pozostałością po dawnej gospodarce pasterskiej, są dziś ich nierozłącznym walorem krajobrazowo-przyrodniczym. Gorce najpiękniej prezentują przed nami ścianę strzelistych Tatr w pełnej rozciągłości. One też okazują się wspaniałym punktem widokowym na porozrzucane na północy szczyty Beskidu Wyspowego, przez który nasz czerwony szlak niestety nie przebiega.
fot. Dorota i Marek Szala (http://gorskiewedrowki.blogspot.com/)
Zanim wejdziemy do kolejnej krainy na naszym szlaku przechodzimy przez Miasto Dzieci Świata, Rabkę-Zdrój, słynącą dzięki swoim właściwościom przyrodoleczniczym. Tu oczarowuje nas przepiękny rabczański Park Zdrojowy o ujmującej atmosferze sielankowości.

Idąc dalej wchodzimy na chwilkę na południowe flanki Beskidu Makowskiego, pokrytego lasami, ale też połaciami pól uprawnych, łąk i pastwisk. Mamy tu łagodne wzniesienia, nad którymi unosi się donośne ćwierkanie ptaków i granie świerszczy w trawie. Na łące widać pasącą się krowę, a na polu pracujących ludzi, których pozdrawiamy tradycyjnym "Szczęść Boże". Tu i ówdzie mijamy piękną przydrożną kapliczkę, czy figurę Św. Jana Nepomucena. Krótką przechadzką Beskid Makowski zdążył zaimponować nam swoistą specyfiką i pięknem, zdaje się często niedocenianym – bezkresnym spokojem i ciszą, bytem ludzkim bez pośpiechu i zgiełku, klimatami dającymi czysty relaks dla umysłu.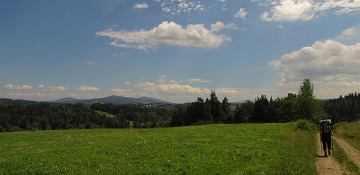 fot. Dorota i Marek Szala (http://gorskiewedrowki.blogspot.com/)
Zaraz za Jordanowem, malowniczo usytuowanym przy skrzyżowaniu dawnych szlaków handlowych, przeprawiamy się przez wijącą się Skawę i stajemy u stóp Beskidu Żywieckiego, drugiego pod względem wysokości pasma górskiego w Polsce po Tatrach. W Beskidzie Żywieckim pokonujemy najwyższą kulminację Głównego Szlaku Beskidzkiego, Babią Górę wznoszącą się 1725 m n.p.m. Góruje nad wszystkim, co ją otacza (no oczywiście za wyjątkiem Tatr), dlatego zwą ją Królową Beskidów, a widać ją z wielu odległych miejsc, nawet z Krakowa, jak opisywała Maria Konopnicka:
Pod Krakowem, między chmury,
Widać czuby Babiej Góry,
Wyprawiły ją Karpaty
prosić gości do swej chaty.
Magnetyzujący majestat Babiej Góry sprawia, że wspinamy się na nią z niejaką pasją, choć nie jest on nam obcy, jak też to co zobaczymy z jej grzbietu ponad granicą lasu, po pokonaniu Zubrzyckich Stromizn. Wybitność krajobrazowa tej góry nie ma sobie równych. Otaczające panoramy zwalają z nóg, bo widoki mamy na wszystkie strony świata. Na szczycie otacza nas coś fantastycznego, co oczywiście zawdzięczamy sprzyjającej aurze. Nie zawsze tak tu bywa, bo Babia Góra jak kobieta bywa kapryśną i nierzadko nazywana jest też Matką Niepogód.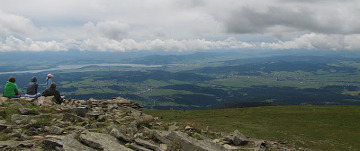 Beskid Żywiecki. Widok z Babiej Góry.
fot. Dorota i Marek Szala (http://gorskiewedrowki.blogspot.com/)
Zbliżając się do zachodnich kresów Beskidu Żywieckiego coraz częściej słyszymy specyficzny dialekt - ślůnsko godke. Do świadomości naszej dociera, jaki kawał drogi już przeszliśmy. Z niedowierzaniem patrzymy na pokonane do tej pory kilometry i z niedowierzaniem spoglądamy przed siebie na to, co pozostało – jeszcze trochę i wejdziemy na wzniesienia ostatniego już Beskidu. Kres naszej wędrówki jest już nieodległy. Wspominamy trudne początki, zadziwieni tym jak nogi same nas teraz niosą, a plecak nie ciąży na ramionach, choć waży tyle samo co na początku wędrówki.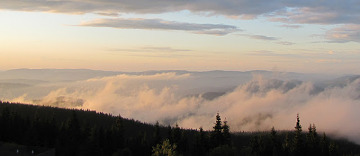 Beskid Żywiecki. Hala Miziowa.
fot. Dorota i Marek Szala (http://gorskiewedrowki.blogspot.com/)
Kolejne wzniesienia Beskidu Żywieckiego pokonujemy z łatwością większą niż podczas krótkiej, jednodniowej wycieczki, nawet forsowniejsze podejście stoków Pilska. Wkrótce znów otacza nas piękny, stary las, zachowany po dawnej Puszczy Karpackiej.

Schodzimy do doliny Węgierskiej Górki, zwanej po wojnie obronnej 1939 roku "Westerplatte południa", po czym wspinamy się na Beskid Śląski. Sceneria górnych partii stoków Beskidu Śląskiego zaskakuje zniszczeniami. Otaczają nas tu potężne wiatrołomy – powalone z korzeniami drzewa, które nie były w stanie oprzeć się naporowi huraganowych wiatrów. Tylko gdzieniegdzie sterczą pojedyncze kikuty drzew, które usiłowały się oprzeć huraganom i tyle właśnie z nich pozostało. Ten niesamowity i nieco nienaturalny krajobraz jest jakby z innej planety. Wiatrołomy Beskidu Śląskiego nie są jednak sprawką jedynie silnych wiatrów. Tu człowiek toczy obecnie walkę o odzyskanie leśnego drzewostanu z inwazją szkodników.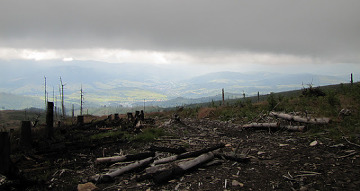 Beskid Śląski. Barania Góra.
fot. Dorota i Marek Szala (http://gorskiewedrowki.blogspot.com/)
Katastroficzne plenery wiatrołomów kończą się na szczęście na zboczach wiślańskiej Baraniej Góry, gdzie znajdują się źródliska Królowej Polskich Rzek. Tu rodzi się Wisła.

U kresu naszej wędrówki oddajemy się idylli panującej na stokach Czantorii i Równicy, pełnych ludzi radych z widoku słońca, chmur, powiewu wiatru i zapachu górskiego powietrza. Spotykamy się ze Ślązakami, ludem niezwykłym, rodzinnym, podchodzącym z nadzwyczajną starannością do zdrowego wypoczynku.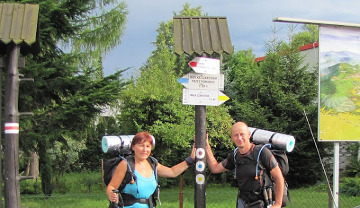 fot. Dorota i Marek Szala (http://gorskiewedrowki.blogspot.com/)
W tych sielskich klimatach kończymy fascynującą wędrówkę Głównym Szlakiem Beskidzkim, oczarowani niebywałością i różnorodnością napotkanych atrakcji, a przedstawionych tu jedynie przekrojowo. Wiele by jeszcze można pisać o nich, używając najlepszych słownych superlatyw, ale zastanawiamy się czy warto, bo i tak żadne słowa nie są w stanie oddać w pełni rzeczywistego piękna tego szlaku. Oczywiście nie udało się nam zobaczyć wszystkiego, bo żeby zapoznać się z wszystkimi atrakcjami nasza wędrówka musiałaby trwać dwa razy dłużej, a przecież i ta nie była krótka. Trwała 18 dni, ciągnąć się przez całą rozciągłość polskich Beskidów, biegnąc chwilami w pobliżu terytoriów trzech kolejnych państw – Ukrainy, Słowacji i Czech, przecinając cztery parki narodowe – Bieszczadzki, Magurski, Gorczański, Babiogórski, liczne rezerwaty przyrody, szereg wiosek i miast oraz niezliczoną liczbę wzniesień i dolin. Przebycie tak długiej trasy kosztowało nas wiele trudu i wysiłku, ale warto było, bo tylko na własnych butach mogliśmy dotrzeć do miejsc często niedostępnych w inny sposób, a lśniących wyjątkowymi walorami krajoznawczymi. To też pozwoliło na najbardziej bezpośredni kontakt z przyrodą i kulturą, a przy okazji dostarczyło wiele przeżyć, wrażeń i ogromu satysfakcji na wiele lat życia.
Dorota i Marek Szala
http://gorskiewedrowki.blogspot.com/