Mam to szczęście, że przez całe swoje życie robię tylko to co lubię. Czytam, piszę, maluję i podróżuję. Nie znaczy to, że moja praca nie jest trudna i wyczerpująca. Czasami mam zwyczajnie dość. Ale tylko czasami.
Moje podróże zawiodły mnie w potężne i magiczne Himalaje, w których zakochałam się od pierwszego wejrzenia, w groźny i nieustępliwy Kaukaz oraz spalony afrykańskim słońcem Atlas Wysoki. Wędrowałam szlakami baśniowego Durmitoru, tajemniczych i mglistych Gór Rif, szczytami ośnieżonych gór Sierra Nevada, przemierzyłam przestrzenie alaskańskiej dziczy oraz surowych gór Tien Szan.
Wielokrotnie stawałam na najwyższym szczycie Afryki Kilimanjaro (5895 m), najwyższym szczycie Kaukazu Elbrusie (5642 m), oraz Aconcagui (6962 m) zaliczanych do Korony Ziemi, a także na najwyższym szczycie Afryki Północnej Jebel Toubkal (4165 m). Wspinałam się na wiele czterotysięczników w Alpach, w tym kilkakrotnie na Mont Blanc (4810 m), a także na Denali – Mt McKinley (6194 m) na Alasce.
Off roadowo przemierzyłam wzdłuż i wszerz całe Maroko, w tym najtrudniejsze dakarowskie odcinki, a także malowniczy Basen Morza Śródziemnego i barwne Bałkany. Po bezdrożach, pustynnych wydmach, dnach wyschniętych jezior, uedach i górach pokonałam ponad 50 000 km.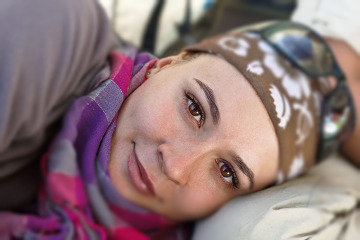 W obozie Shira na Kilimanjaro
fot. z arch. Oli Bieleckiej

Konno przebyłam najwyższe przełęcze Atlasu Wysokiego i Antyatlasu, a wraz z Nomadami na grzbiecie wielbłąda najdziksze pustkowia Sahary – "siedziby bogów zła i dusz zmarłych" – jedno z najbardziej nieprzyjaznych dla człowieka środowisk na Ziemi, a w Brazylii przedzierałam się przez tropikalną dżunglę.
Ukończyłam kurs survivalu i jestem instruktorem. Wielokrotnie uczestniczyłam w szkole przetrwania w najdzikszych i najbardziej niedostępnych rejonach Polski. Mam czarny pas w karate.
Jestem członkiem International Society for Mountain Medicine, The American Society of Tropical Medicine and Hygiene oraz Alpine Mountain Club.