Agnieszka: To Twoje pięć minut, przez chwilę możesz poczuć się jak gwiazda, jak Bear Grylls!
Mateusz: Przecież wiem, że wybrałaś mnie tylko dlatego, bo nie miałaś nikogo znanego pod ręką (śmiech). Ale w sumie to ja nie chcę być jak Bear Grylls, chcę być tylko sobą. Nie sądzisz, że większość podróżniczych celebrytów "zajeżdża nieco komerchą"? Ważne jest tylko to, aby robić coś pod "publiczkę", na pokaz, dla lansu...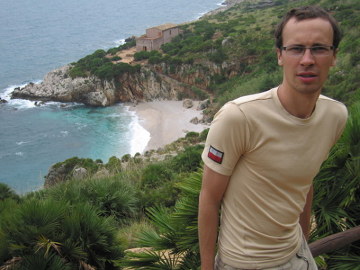 Włochy 2011, Sycylia, Park Zingaro
fot. Agnieszka Ryszka
A: No nie powiesz mi chyba, że w Twoim usposobieniu nie ma elementu lansu :)?

M: No cóż, tak już wygląda świat w dzisiejszych realiach. Lans jak to nazwaliśmy, skutecznie podwyższa poziom samooceny człowieka, co za tym idzie motywuje do dalszych działań, co popycha mnie tylko dalej. Pochwały, miłe słowa… To wszystko może sprawić, że sam rosnę w swoich oczach. Świetne uczucie, ale z tym trzeba ostrożnie, żeby nie przesadzić w drugą stronę.

A: Ale chyba nie jest to jedyny sposób motywacji. Jesteś człowiekiem jak dla mnie nieprzeciętnie aktywnym, nie usiedzisz długo w jednym miejscu, nie przepuścisz okazji do wyrwania się z domu, aż tak w nim źle?
M: Nie no skąd! Wszędzie dobrze, ale w domu najlepiej, ale BUJAKA MUSI BYĆ!
A: Rozumiem, że można potraktować to jako Twoje motto życiowe :)

M: Coś w tym jest, przecież nie mogę zamykać się w czterech ścianach, skoro tyle jest do zobaczenia, zwiedzenia i zdobycia. Zmusza mnie do tego siedzący tryb życia. Uwierz, jak 8 godzin spędzasz przy komputerze, to potem tyłek sam prosi się, aby gdzieś nim ruszyć. Najprostszy patent – zamienić samochód na rower.
A: Tak, wiem, że nigdzie bez Twojego rowerka się nie ruszysz... Ale w sumie to skąd ta pasja?

M: Rower we krwi płynie mi raczej po ojcu. Stwierdziłem, że skoro on za młodu "napinał" ostro na rowerku, to ja nie mogę być gorszy. Choć w moich młodszych latach pojawiały się opory ze strony rodziców (a w zasadzie mamy, bo ojciec stawał po mojej stronie) na dłuższe, forsujące wypady, warto było stawiać na swoim. Do dziś pamiętam pierwszą trasę Mikołów – Brenna – Mikołów jednego dnia (ok. 180 km) i minę mamy, która za nic w świecie nie chciała wypuścić mnie, 15-letniego chłopca z domu. Za to po powrocie była pewnie dumna…
A: Musisz zrozumieć, mamy już tak mają i za to je kochamy, ale czy coś jeszcze ograniczało Cię kiedyś do poznawania świata?

M: Muszę przyznać, że największa "faza na bujakę" zaczęła się stosunkowo niedawno, jakieś 2 lata temu, kiedy zrozumiałem jakie to proste. Wcześniej podróżowałem lokalnie. Myślałem, że wyrwanie się gdzie dalej i na dłużej wiąże się nie tylko z kosztami, ale też z utratą wówczas "cennego" czasu. Teraz czuję się ograniczony. Zatrzymują mnie praca i zobowiązania. Dopiero teraz widzę, na ile mogłem sobie pozwolić parę lat temu. Wiem, że można było wykorzystać ten czas lepiej.
A: Czyli czas zmienił Twój światopogląd?

M: Nie do końca czas. Tu miał swój udział wyjazd na semestr na Erasmusa do Włoch. Można nazwać ten moment punktem zwrotnym. Wtedy właśnie zorientowałam się, że latanie nie jest tak drogie, jak wszyscy myślą i że na bazie tego można zbudować niezapomniane przeżycia. Po za tym nie oszukujmy się, ale studenckie czasy to jednak najswobodniejszy okres w życiu. Człowiek jest głupi i chodzi na te wykłady zamiast spakować plecak i ruszyć gdzieś w drogę. Jak widać na załączonym obrazku, Ty nie powtarzasz moich błędów ;) Ponadto poznałem wielu ludzi, typowych "citizen of the world", którzy, nie ukrywam, bardzo mnie zainspirowali.
A: No i wreszcie podałeś prawdziwy powód Twojego udziału w tej rozmowie (śmiech). Wracając jednak do czasów sprzed Erasmusa, o ile dobrze pamiętam, to właśnie wtedy rowerowo podbiłeś Szwajcarię. Czyli jednak nie byłeś tak bardzo ograniczony, jak mówisz...

M: Można tak powiedzieć, że to już było mniejsze stadium ograniczenia (śmiech). Studenckie wakacje dały okazję do zorganizowania typowo męskiej, dość hardcorowej wyprawy do tego wielokulturowego kraju.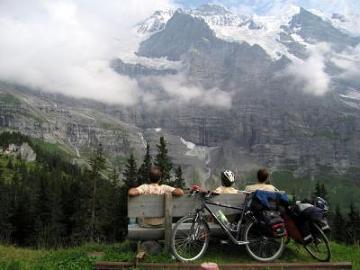 Wyprawa rowerowa Szwajcaria 2009
fot. Mateusz
A: Kim dla Ciebie jest "hardcore" – zdefiniuj proszę.

M: No… człowiek, który organizując podróż wpisuje w nią ryzyko, lubi adrenalinę i wysiłek fizyczny, często ponad swoje możliwości. Wyprzedzając Twoje kolejne pytanie – nie, nie uważam się za typowego hardcore'a. Może dla niektórych to co robię jest ryzykowne, ja pojmuję to póki co jako wyczerpujące, męczące zajęcia… Może jak urosnę, to zmądrzeję :)
A: Dlaczego Szwajcaria?

M: Dlaczego Szwajcaria? Bo ten kraj wydawał nam się krajem idealnym, idyllą i chcieliśmy to sprawdzić :) Poza tym mają zaje... to znaczy bardzo ładne foldery reklamowe oraz stronkę ze ścieżkami rowerowymi. Chcieliśmy tez sprawdzić czy faktycznie jest tam tak drogo i czy ludzie faktycznie są tam tacy fantastyczni. A pomysł się wziął kolokwialnie mówiąc z dupy, jak wszystkie pomysły, czyli Internet plus jakaś gadka przy ognisku i tak zrodził się pomysł.
A: Pomysł jak każdy inny. Ale wykonanie jedyne i niepowtarzalne, oczywiście low-costowe, jakby inaczej :)

M: No póki co mimo, że próbowaliśmy to nie powtórzyliśmy naszego dokonania z 2009 roku. 1500 km na dwóch kółkach, 14 dni, kilka przełęczy z czego najwyższą Furkapass wysokością można porównać do polskich Rysów... Aż miło to wspominać. I jeszcze ta pogoda, w którą się idealnie wstrzeliliśmy. Cud miód i orzeszki (śmiech)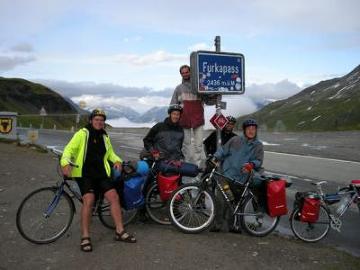 Wyprawa rowerowa Szwajcaria 2009, Furkapass
fot. Mateusz

A: Czy wśród tych miłych wspomnień znajdujesz coś, co sprawiło Ci najwięcej problemów podczas tej wyprawy?

M: Chyba tylko całe to planowanie, obmyślanie trasy na dwa tygodnie tak, aby jak najwięcej zobaczyć a nie zajechać się na śmierć, przygotowanie do wyjazdu. Nie jest to ulubiona część moich wypraw, a pakowanie to istna udręka.
A: Ale musisz przyznać że jesteś w tym dobry, przecież lubisz być organizatorem, masz w sobie coś z przywódcy.

M: Z skromności nie zaprzeczę (śmiech) A tak serio na wyprawach tego typu wierzę jednak w demokrację i kompromis. Kiedy podróżuje się w większej grupie – a tak zazwyczaj wyglądają nasze wyprawy – ważne jest, aby każdy miał takie wakacje, jakie sobie wymarzył i zrealizował je choć w małej części.
A: Twoje zamierzenia realizują się dość skutecznie. Co jest w tym najpiękniejsze?

M: Zdecydowanie satysfakcja z wykonanej roboty. Ze zdobycia szczytu, zanurzenia się w czystej wodzie wysoko usytuowanego jeziorka, uśmiech napotkanego człowieka – to podobało mi się w Szwajcarii najbardziej. Te zielone łąki i widoki na przełęczach. Druga sprawa – zaufanie ludzi, których spotkaliśmy. Uprzejmość i ich gościnność. Od tamtej pory wiem, że podróżowanie to nie tylko miejsca, a przede wszystkim ludzie.
A: Jeszcze chwila i zostaniesz poetą...

M: Romantykiem jest każdy, jeden mniej, drugi więcej. Ja mógłbym pisać jedynie o... dłubaniu w trawie i struganiu bukietów dla kogoś ważnego… yyy…
A: Nie wiedziałam że tyle w Tobie wrażliwości! Nie sposób będzie spytać Cię o wszystkie Twoje dokonania, ale sam chyba przyznasz, że z wyprawy rowerowej po Szwajcarii jesteś dumny najbardziej.

M: Zgadza się. Ale miło wspominam także nasze wyprawy tanimi lotami do Włoch. Przypominały mi one chwile spędzone w Italii na studiach. Generalnie lubię tam wracać, ludzie wydają się pogodniejsi, słoneczna pogoda jest jak stworzona dla mnie, a krajobraz wręcz idealny – góry, morze, jeziora – wszystko w zasięgu ręki.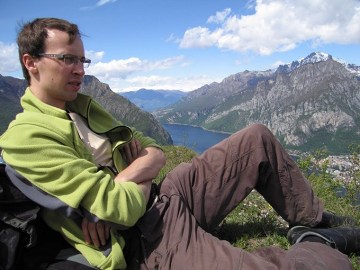 "Romantykiem jest każdy, jeden mniej drugi bardziej..."
fot. Mateusz
A: Oj, ja też je bardzo miło wspominam nasze wyprawy do Włoch i mam cichą nadzieję, że jeszcze niejedna przed nami. Jak myślisz, co składa się na sukces takich wypadów?

M: Po pierwsze – nie ma czym się przejmować, spać gdzie popadnie, oczywiście w namiocie, nie planować na zapas, nie rozliczać. Po drugie – dobrze jest oszczędzać wybierając tańsze alternatywy – autostop, tanie bilety lotnicze. Przyda się też trochę odwagi, aby przełamać stereotypy. To może zrobić na prawdę każdy. Ważne jest tylko, aby odpowiednio wcześnie zacząć szukać – najlepiej zanim zacznie się pracować, bo potem nasze ograniczenie sięga zenitu – jednym słowem "umoczyłem z tą robotą" i aż mnie ściska, kiedy widzę, jak Ty możesz sobie jeszcze na tyle pozwalać…
A: Czy w najbliższym czasie jest coś, co chciałbyś zdobyć, zobaczyć?

M: Przede wszystkim chcę wykorzystywać każdą wolną chwilę na aktywność – nieważne czy jest to wypad na rower, czy górska wędrówka. Najlepiej gdyby urlopu było tyle, żeby zdążyło się realizować każdy pomysł, jaki mi się narodzi w głowie, ale to raczej niemożliwe. Myślę nad wybraniem się we Włoskie dolomity na Via Ferraty w jakimś miłym towarzystwie. Drugim pomysłem jest Chorwacja z rowerami.
A: Czy jest szansa, że to Ci się kiedyś znudzi, że pojedziemy kiedyś na typowe beztroskie wakacje w hotelu?

M: Sam nie wiem, kiedy zabawa z takim podróżowaniem się skończy. Chciałbym żeby trwała jak najdłużej. BUJAKA MUSI BYĆ, a do Egiptu czy Turcji na all inclusive wybierzemy się na emeryturze (śmiech)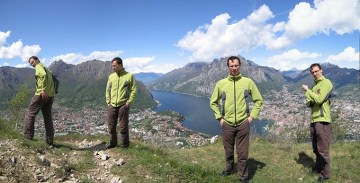 Mateusz. Prawdziwe oblicza.
fot. Mateusz