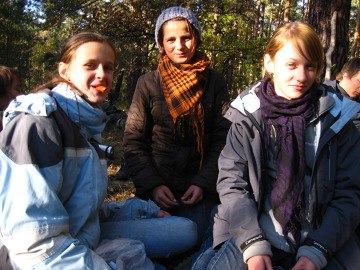 Zdjęcia z Rajdu 19 WDH "Płomienie" im. Jana Bytnara w Jabłonnie do Puszczy Kapinoskiej
fot. Agnieszka Królikowska
Pewnego październikowego wieczoru około godziny 19.00 wybrałam się z moją drużyną harcerską do Puszczy Kampinoskiej. Było nas 13 osób a liczba ta zapowiadała ciekawe wydarzenia, które nastąpiły tego wieczoru. Wieczór był bardzo chłodny ok. 2-3' C. Odbyliśmy około 4 km wędrówkę z garbami na plecach by dotrzeć do Dębiny gdzie mieliśmy spać na fortach.
Dotarliśmy po zmroku. Okazały się one ogromne i częściowo niedostępne. Wszędzie pełno było dziur wypełnionych wodą, korytarzy zawalonych gruzem a podłogi pokryte były odłamkami szkła. Jedyne wolne od tego bałaganu miejsce, które nadawałoby się na nocleg znajdowało się po części na zewnątrz. Postanowiliśmy rozłożyć biwak pod betonowym nawisem, pod którym znajdowało się wejście do korytarza głównego fortu. Nazbieraliśmy chrustu z zapasem na całą noc.
Rozpaliliśmy 3 ogniska i wokół nich rozłożyliśmy karimaty i śpiwory. Na ogniskach ugotowaliśmy sobie potrawę z tego, co akurat mieliśmy w plecakach oraz herbatę z gałązek świerku i ususzonych na obozie letnim ziół. A ponieważ harcerze to zawodowi smakosze na potrawce się nie skończyło. Ale o tym za chwilę. Ulotniłam się w angielskim stylu z obiadu. Nigdzie nie widziałam warty. Plecaki leżały niepilnowane. Karygodne niedociągnięcie! Pozabierałam z nich po jednym elemencie z umundurowania, po czym ukryłam je na rozległym terenie fortu.
Wróciłam i ogłosiłam alarm mundurowy - czas operacyjny - 2 minuty. Harcerze rzucili się do plecaków by wyjąć mundury. Zaczęło się wywracanie plecaków dnem do góry w poszukiwaniu brakujących rzeczy. Zostało 30 sekund. Temperatura powietrza była coraz niższa, lecz zbliżający się czas zbiórki podgrzewał już i tak napiętą atmosferę! Zbiórka! Harcerze ustawili się w szeregu w niewybaczalnym, niepełnym umundurowaniu. Harcerze stali w ciszy. Przestraszeni możliwymi konsekwencjami. W ciszy rozdałam im busole po jednej na parę i jedną trójkę. Powiedziałam, że za karę za to, że warta nie wypełniła swoich obowiązków fragmenty umundurowania zostały przeze mnie ukryte.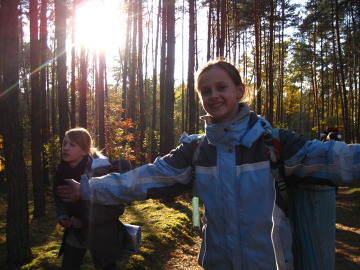 Zdjęcia z Rajdu 19 WDH "Płomienie" im. Jana Bytnara w Jabłonnie do Puszczy Kapinoskiej
fot. Agnieszka Królikowska
Muszą je odnaleźć wyznaczając podany im azymut, na którego trasie znajdą znaki patrolowe, wskazujące gdzie znajdować się mogą zaginione rzeczy. Ponad to mają za zadanie zdobyć produkty spożywcze, z których zrobią pożywienie na kolację i śniadanie. Kiedy znajdą miejsce ukrycia chusty czy rogatywki muszą wyznaczyć kolejne podane azymuty i odnaleźć na tej samej zasadzie, co wcześniej. Mieli na to 20 minut. Wbrew pozorom to bardzo krótki czas na takie zadanie. Dwóm osobom nie udało się znaleźć wszystkich produktów i dwóm obydwu tych rzeczy. Jednak ci, co byli kiedyś w drużynie harcerskiej wiedzą, że nie zostawiamy nikogo na lodzie. Pozostali poprosili mnie bym przedłużyła czas a oni pomogą przegranym znaleźć zguby. I tak się też stało. Kilka osób zostało by pilnować ognia a reszta działała w drużynie współpracując i pomagając sobie nawzajem.
Po wszystkim usiedliśmy zajęliśmy się robieniem podpłomyków z mąki, cukru i mleka oraz zapiekanek z tego, co akurat mieliśmy w plecakach:) - chleb, parówki, kabanosy... żelki - harcerze potrafią być pod względem robienia czegoś wspaniałego z niczego bardzo kreatywni! Po uczcie zaczęły się śpiewy przy gitarze. Omówiliśmy sobie również sytuację z minionej gry i sprawdzianu postawy harcerskiej. Harcerze byli bardzo przejęci całą sytuacją. Mimo, że bali się ciemności, i poruszania się po bunkrach tylko w parach to po fakcie bardzo podobało im się to wyzwanie. To niesamowite, do jakich wniosków i jak szybko dochodzą nastolatki, dopiero wtedy, gdy coś sami przeżyją. W szkole ciężej jest być harcerzem niż w drużynie.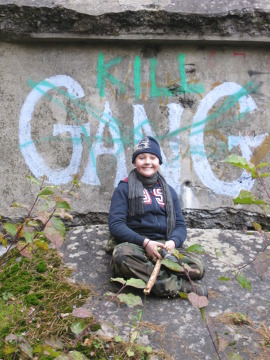 Zdjęcia z Rajdu 19 WDH "Płomienie" im. Jana Bytnara w Jabłonnie do Puszczy Kapinoskiej
fot. Agnieszka Królikowska
Po ognisku udaliśmy się poza teren biwaku i zagraliśmy w "dwie chorągwie". Podzieliliśmy się na dwa zespoły. każdy miał swoje terytorium i flagę, której miał bronić. Gra ta polega na współzawodnictwie dwóch grup. Zadaniem każdej z nich było odebranie flagi grupie przeciwnej i dostarczenie jej na swój teren, co oznaczało wygraną. Każdy miał 2 życia. Życie traciło się, gdy zostało się złapanym przez wroga na jego terytorium. Wtedy wracało się do mnie - sędziego po dodatkowe życie. To najpopularniejsza i najbardziej ulubiona gra harcerzy - wymaga sprytu, myślenia, umiejętności zwiadowczych, umiejętności współpracy w zespole oraz przede wszystkim umiejętności przegrywania i gry fair play.
Po jakże emocjonującej grze, w której akurat dziś nie wygrała żadna z grup udaliśmy się na spoczynek ściśnięci jak serdelki przy ogniu i rozgrzanej betonowej ścianie. Wartownicy na zmianę pilnowali naszego bezpieczeństwa i ciepła dorzucając drew do ognia. Rano obudziliśmy się po części przykryci szronem. Temperatura przekroczyła w nocy 0' C!. nasze plecaki wyglądały jak opryskane gaśnicą! Wznieciliśmy ogniska i przyrządziliśmy gorącą herbatkę. Rozgrzaliśmy się, zwinęliśmy biwak ( harcerz zostawia miejsce czystsze niż je zastał), odłożyliśmy garby i pobawiliśmy się jeszcze przez pół godzinki na forcie – trochę wspinaczki w górę… w dół… tam berek, to chowany, jakieś wyścigi..:) Aż w końcu ruszyliśmy w trasę by dojść do cmentarza w Palmirach. Postawiliśmy sobie za cel – tam gdzie nie było szlaku – iść na przełaj na azymut. Zeszło nam się dość długo, ponieważ natrafialiśmy na bagna na polach, na ogrodzenia posesji i dziki (!), które musieliśmy omijać szerokim łukiem lub czekać aż odejdą.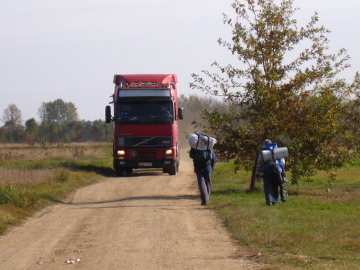 Zdjęcia z Rajdu 19 WDH "Płomienie" im. Jana Bytnara w Jabłonnie do Puszczy Kapinoskiej
fot. Agnieszka Królikowska
Raz, gdy szliśmy polną drogą naprzeciwko nas wyjechał tir! To było bardzo niespodziewane – zwłaszcza na takim odludziu! W końcu doszliśmy do granicy Narodowego Parku Kampinoskiego gdzie musieliśmy zejść już na szlak. Idąc przez las podziwialiśmy niespotykane elementy tamtejszej flory. Natrafialiśmy na coraz liczniejsze patrole Scoutów, harcerzy i nie tylko. Po dotarciu na metę zlotu spotkaliśmy się z zaprzyjaźnionymi drużynami, zjedliśmy prawdziwą wojskową grochówę i zapełniliśmy swój wolny czas przez różnego rodzaju zabawy i gry harcerskie z innymi osobami – Niezapomniane chwile!. O 17.00 dałam komendę "Garby na plecy" i ruszyliśmy kolumną na cmentarz śpiewając naszą obrzędową piosenkę drużyny oraz kilka zapożyczonych zwrotek "być harcerzem trudna rzecz! Trzeba dobre zdrowie mieć!... " Na cmentarzu zapaliliśmy świeczkę, pomodliliśmy się przy grobach i razem z innymi podpaliliśmy pochodnie by nadać uroczystościom klimatu. Po uroczystościach ruszyliśmy w dalsza drogę do Roztoki gdzie mieliśmy przespać się w stodole na sianie – Doszliśmy ok. godziny 23.00. Okazało się ze w stodole spać miało prawie 170 osób! Szybko rozłożyliśmy swoje śpiwory by zając miejsce i udaliśmy się do ogniska by zagotować wodę. Trzeba było trochę poczekać w kolejce na miejsce by położyć menażkę. Upiekliśmy kabanosy nad ogniem i potwornie zmęczeni położyliśmy się spać. Było znacznie cieplej niż poprzedniej nocy i bardziej miękko. Prawdziwy luksus!
Jak to w miejscu gdzie znajduje się 170 osób już o 5.00 rano obudziły się pierwsze osoby, zaczęły się szmery, które potem przerodziły się w potworny hałas, wyjścia do lasku na stronę, ubieranie, więc daliśmy sobie spokój ze spaniem i wstaliśmy, Poranna toaleta, śniadanie z ogniska i piękny widok na zewnątrz! Wyszło słońce! Pięknie oświetlało oszronione trawę i drzewa! Czekając na autokar, który miał nas zabrać do domu bawiliśmy się w słonia i przylepca, czym zaraziliśmy inne osoby, – których nie znaliśmy, – ale w harcerstwie nie ma to znaczenia – jesteśmy przecież braćmi.