Rekolekcje brzmiały jak coś stworzonego idealnie dla mnie. Autostop, Bóg i jeszcze słowa z plakatu: "Podejdź i przyłącz się do tego wozu – powiedział Duch" [Dz 8,29], które dobrze znam, a na które spojrzałam nagle zupełnie inaczej. Oczywiście, że się bałam, mimo różnych autostopowych przygód, zawsze pakując się miałam określony chociaż kierunek w którym pojadę, wiedziałam co wziąć, i z kim pojadę, choćby dzień przed wyjazdem. A teraz nie wiedziałam nic. Spakowałam się na każdą pogodę, wzięłam 10 euro, choć nie planowałam raczej jechać za granicę. Trzy dni w Łodzi minęły dość szybko wśród śmiechu, rozmów i modlitwy. Duch Święty nie patyczkując się wskazał mi na towarzyszkę podróży Agnieszkę, choć mnie to zupełnie zaskoczyło, bo po pierwszej "przypadkowej" rozmowie przy kolacji.
fot. Aga
Dość szybko obrałyśmy kierunek. Agnieszka miała znajomych pod Wenecją, bardzo chciała ich odwiedzić a ja bardzo chciałam zobaczyć to sławne miasto-wyspę, więc… jedziemy do Wenecji! Miałyśmy do wyboru różne drogi, ale wybrałyśmy trasę przez Częstochowę i tak pierwsze auto podwiozło nas na Jasną Górę. Później autobus kolonijny wziął nas do Wadowic, gdzie zjadłyśmy sobie kremówkę.
Na południu Polski łapie się wyśmienicie. Raz stałyśmy w jednym miejscu dłużej, zdążyłyśmy poznać kilka miejscowych dziewczyn, które pomagały nam łapać, a potem zaprosiły na nocleg. Ale my chciałyśmy jechać jak najdalej, w końcu mamy dojechać do Wenecji! Wziął nas turecki kierowca tira i dowiózł blisko granicy węgierskiej. Na nocleg Aga wypatrzyła niewykończoną budowę. Przeszłyśmy przez płot i rozłożyłyśmy się w "salonie". W takim miejscu spałam pierwszy raz, nieco się bałam. Dom zapowiadał się pięknie, byłyśmy pewnie pierwszymi jego mieszkańcami.
Rano obudziło nas szczekanie. Niedaleko nas stał niemały pies z postawnym właścicielem mówiący coś po słowacku najpierw do nas, a potem przez telefon. Jakbym miała taką pobudkę codziennie, to przestałabym się wszędzie spóźniać. W dwie minuty zawinęłyśmy manatki. Na najbliższej stacji benzynowej skąd łapałyśmy stały aż trzy radiowozy, ale żaden od nas nic nie chciał, więc nasz nocleg przeszedł chyba bez większego echa.
Tego dnia szło bardzo kiepsko, ale była ładna pogoda, odmówiłyśmy różaniec w przerwach bardzo krótkich stopów. Musiałyśmy szukać też miejsca, obok którego nie rozciągało się pole kukurydzy, bo miało ono swojego pasterza poganiającego stojących za blisko zbiorów autostopowiczów. Takie rozrywki tylko na Słowacji. Złapałyśmy stopa na Węgry i utknęłyśmy na kilka godzin w małym miasteczku. Miałyśmy widownię w postaci ludzi z kawiarni obok popijających kawę na werandzie. Jednego chłopaka zagadałam o kilka słówek węgierskich. Później się okazało się, że tylko [i]köszönöm[/i] było tym słowem, które chciałam, czyli dziękuję, nie mam pojęcia co powtarzałam wszystkim na ulicy myśląc, że mówię dzień dobry. Marzyła nam się kawa, ale nie miałyśmy za dużo pieniędzy, a już w ogóle węgierskiej waluty. Byłyśmy też nieco głodne. Agnieszka powiedziała, że zjadła by sobie langosza, czyli taką węgierską odmianę naleśnika. Szło tak kiepsko, że postanowiłyśmy zrobić przerwę i zorientować się czy w kościele na wzgórzu nie ma przypadkiem jakieś mszy, ale był zamknięty. Przypomniał mi się kawał zasłyszany u polskiego kierowcy: "Dlaczego na Węgrzech jest tak mało kościołów? Bo ich Bóg nie rozumie".
Blisko kościoła stał ładny, niebieski domek, pomyślałam, że może probostwo. Zajrzeć nie zaszkodzi, może nas proboszcz na obiad zaprosi? Otworzył nam na oko dwunastoletni chłopak, wystraszony tym, że próbujemy nawiązać z nim kontakt w kilku językach na raz. Zawołał nieco starszą dziewczynę, zapewne siostrę, ona po angielsku mówiła niewiele więcej. Za chwilę w drzwiach pojawił się chłopak w bluzce na lewej stronie i tyłem do przodu, w zmierzwionych włosach i zaspanym wzroku. No tak, przecież dopiero była jakaś jedenasta rano, w wakacje to dla mnie też czasem całkiem wczesna godzina.
Krzysztof, bo tak miał na imię, mówił nieco po angielsku, na słowa "ksiądz", "msza", "kościół" najpierw pokazał nam budowany dopiero dom parafialny, ale już pięć minut później prowadził nas gdzieś, tłumacząc na tyle, na ile potrafił, częściowo gestami, że rok temu był w tej miejscowości polski ksiądz na rowerze i idziemy do miejsca, gdzie wtedy nocował. Byłam ciekawa, a z drugiej strony miałam wrażenie, że marnujemy czas Krzysztofa i swój, bo po co mamy iść do miejsca, gdzie spał ten ksiądz. Może on tam zamieszkał? Albo mieszkają tam Polacy? Ale od czego ma się kompana podróży, Agnieszka czuła, że mamy tam iść, szczególnie, że Krzysztof nas prowadził, tym razem nie samochodem, ale imię świętego było wymowne.
Doszliśmy do bramy pięknego domu z ogrodem. Otworzyła nam niska przysadzista pani, Krzysztof coś tłumaczył, zza gospodyni domu wyłonił się brodaty pan budzący skojarzenie ze św. Mikołajem. Krzysztof powiedział, że ci państwo mogą nam dać nocleg i pytają ile dni byśmy chciały być. Popatrzyłyśmy na siebie i na Krzysztofa.
– To jest jakiś pensjonat? My nie mamy pieniędzy – Krzysztof powtórzył pytanie z uśmiechem a gospodarze domu gwałtownie zaprzeczyli, że nie chcą pieniędzy, że to normalny dom. Spojrzałam na Agnieszkę
– Jest wcześnie, nie chciałabyś jechać dalej?
– Ja bym została, jestem nieco przeziębiona, mogłybyśmy tu odpocząć i ruszyć jutro.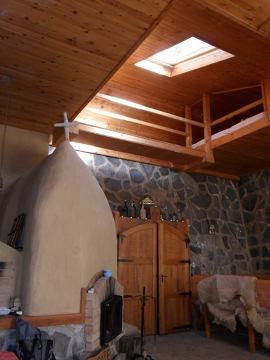 Niespodziewany nocleg w niecodziennym miejscu
fot. Sylwia Korczak
I tak Krzysztof poszedł, a my trafiłyśmy do małego węgierskiego raju na ziemi. Zostałyśmy zaprowadzone do oddzielnego pomieszczenia częściowo znajdującego się we wzgórzu. Gospodyni przyniosła mnóstwo pysznych rzeczy, między innymi najlepszą suszoną kiełbasę jaką jadłam w życiu a gospodarz co jakiś czas pokazywał gest picia i pytał: sznaps, sznaps? Jadłyśmy na wielkich drewnianych stołach stojących na drewnianej podłodze, siedziałyśmy na ławach wyłożonych skórami zwierzęcymi. W kamiennych ścianach wisiały świeczniki, pod drewnianym sufitem znajdowały się też łóżka, do których wchodziło się obok glinianego pieca. Średniowiecze? W domu obok gospodarze mieli w salonie plazmę a jacuzzi w łazience (jeszcze w Łodzi zanim wyjechałam rozmawiając z kimś, mówiłam, że mam ochotę na kąpiel w jacuzzi).
Zarówno w "naszym domku", jak i w domu obok wszędzie można było zobaczyć krzyż, zdaje się prawosławny, flagę węgierską i herb. Nawet na krzesłach i kieliszkach. Wyszłyśmy na podwórko i nagle z domu wybiegła trójka dzieci. Dwie dziewczynki i chłopiec, najmłodsza pociecha, dwuletnia dziewczynka wzięła mnie za rękę i poprowadziła do zabawek. Dogadywałyśmy się bez problemu, bawiłyśmy się jakiś czas. Pani domu przyniosła nam też... kawę, o której marzyłyśmy. Najlepszą jaką piłam, podaną razem z dzbanuszkiem śmietanki, miseczką miodu i brązowym cukrem. Do kawy, o której marzyłyśmy dostałyśmy nie tylko takie dodatki, ale też obiad, nocleg i mnóstwo radości. Wieczorem przyszła córka gospodarzy i ze swoim chłopakiem, który mówił po angielsku oprowadzili nas po okolicznych wzgórzach. Dowiedziałyśmy się, że w pomieszczeniu, w którym śpimy co tydzień zjeżdżają się przyjaciele, wspólnie się modlą, jedzą, piją. Jest to rodzaj wspólnoty wierzących w Boga i patriotów szanujących dawne tradycje, stąd nietypowe wyposażenie.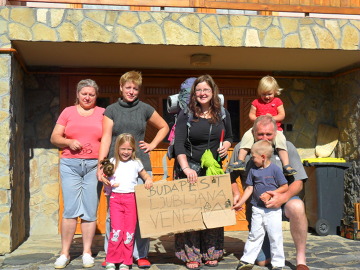 Rodzina z węgierskiego raju
fot. Aga
Po wesołym śniadaniu, na którym były langosze, pełne entuzjazmu złapałyśmy stopa do Budapesztu, ale kierowca w dostawczym aucie pokazał mi na kartce liczbę 16. Jeździliśmy razem od sklepu do sklepu zwiedzając małe miasteczka na drodze do stolicy, bo nasz kierowca był dostawcą mięsa. Pomyślałyśmy, że tajemnicza szesnastka oznacza liczbę sklepów, bo nie sądziłyśmy, że 16 godzin jazdy, do Budapesztu było przecież tylko jakieś 150 km!
Widoki były piękne, w radiu muzyka, pogoda przyjemna, wiatr we włosach, za oknem pola słoneczników, małe wioseczki, zatrzęsienie bocianów. Nie mogłyśmy porozmawiać z naszym Węgrem, bo on nie mówił w żadnym języku poza węgierskim, a my akurat w tym języku umiałyśmy tylko dziękuję, z czego gorliwie korzystałyśmy.
Do Budapesztu dojechałyśmy około szesnastej, więc zagadka się rozwiązała. Węgier zrobił dla nas mały [i]sightseeing[/i] po stolicy i już stałyśmy na drodze wylotowej. Aga chciała poważnie porozmawiać. Mija trzeci dzień, a my ciągle daleko od Wenecji. To było jej marzenie, ale może powinnyśmy odpuścić. Powiedziałam, że chętnie Wenecję zobaczę i ciągle możemy tam dojechać.
Dokładnie w tym momencie zobaczyłam samochód z włoską rejestracją wjeżdżający na parking. Zatrzymał się tuż przy nas. Wysiadła z niego kobieta, na pytanie czy jedzie do Wenecji kiwnęła głową i otworzyła drzwi. Maria jest Rumunką mieszkającą i pracującą we Włoszech, właśnie wracała z odwiedzin w domu rodzinnym. Przy dźwiękach rumuńskiej muzyki dojechałyśmy na parking, Maria chciała się przespać w samochodzie, a my rozłożyłyśmy namiot i zjadłyśmy pyszną kolację złożoną z rumuńskich kanapek i jogurtu od Marii.
Rano szybko dojechałyśmy do miasteczka pod Wenecją, w którym Aga pracowała wielokrotnie przez wakacje. Mina jej znajomych z hotelu na widok Agi z plecakiem była bezcenna. Mogłyśmy zostawić plecaki w pokoju koleżanki Agnieszki i poszłyśmy nad morze. Jak wróciłyśmy, czekało już na nas pyszne spaghetti.
Wenecję planowałyśmy zwiedzać nocą, w dzień był straszny upał i tłok. Do miasta dojechałyśmy ze starszym Włochem, który jadąc wypróbować swojego nowego kampera zauważył naszą kartkę z napisem Wenecja i już wiedział, w jakim kierunku się wybierze. Zjadłyśmy z nim kolację i dostałyśmy jeszcze mnóstwo jedzenia na drogę.

Wenecja to naprawdę magiczne miasto. Cały czas było ciepło, nawet o piątej rano, w powietrzu unosił się przyjemny zapach polskiego jeziora w upalne popołudnie. Dlatego nie zgadzam się z tym, że w Wenecji śmierdzi. Leżałyśmy długo na środku placu św. Marka i słuchałyśmy jazzu granego na żywo. Część z naszych 10 euro wydałyśmy na prawdziwe włoskie lody. Mniam. Dużo czasu spędziłyśmy też pod pałacem Dożów, bo Agnieszka ucięła sobie tam drzemkę. Wąskie uliczki, kanały, mostki, przycumowane łódki, wysokie kamienice, mnóstwo kościołów. Nie wiem, czy kiedyś Wenecja zrobi na mnie takie wrażenie jak wtedy, w tę ciepłą, niesamowitą noc. Odmówiłyśmy pod katedrą św. Marka różaniec i zapaliłyśmy świecę, którą dała nam nasza węgierska rodzina z prośbą o zapalenie jej w intencji ich i narodu węgierskiego.
Oczywiście rano byłyśmy padnięte, postanowiłyśmy znów poprosić o kawę... dostałyśmy ją w postaci dwóch Etiopczyków, którzy też zwiedzali Wenecję nocą, i co chwilę się z nimi mijałyśmy aż w końcu nad ranem na jednym z mostków przy Canale Grande przegadałyśmy z nimi godzinę, a może dwie? Rozmowa była bardzo interesująca, głównie zanosiliśmy się wszyscy śmiechem. Nie wiem czy to prawda, ale ponoć Etiopii zupełnie inaczej liczy się czas. Teraz jest tam 2005 rok.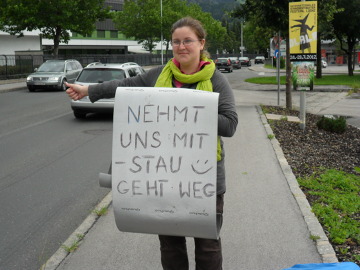 "Weź nas, a korek się skończy"
fot. Aga
Powrót do ojczyzny był trudniejszy. Jeden dzień w upale na parkingu pod Wenecją, kolejny w deszczach Austrii. Za resztkę pieniędzy kupiłyśmy kawę i bagietkę, przypomniały mi się poranki z kawą i croissantami w mieszkaniu studenckim. Rozmawiałyśmy z pół godziny jakiego rogalika i z czym byśmy sobie zjadły zapychając się bagietką, a chwilę później stałyśmy obok wielkiego korka z napisem po niemiecku: "Weź nas, a korek się skończy". Przez kilka godzin null. Ale Bóg o nas nie zapomniał. Dostałyśmy kierowcę, dziewczynę, która w okropnej ulewie wychodziła na parkingu pytać kierowców, czy nas wezmą. Nie udało się.
Austriaczka zostawiła nas na stacji, ale wcześniej... kupiła nam croissanty, z czekoladą! I niech mi ktoś powie, że marzenia się nie spełniają, albo Bóg nie ma czasu zajmować się duperelami.

Nie mogłyśmy stać na wyjeździe ze stacji, bo lało jak z cebra. Pokazywałyśmy polskim kierowcom, których było mnóstwo napis Polska. Była sobota, w niedzielę miałyśmy być w Polsce na wspólnej mszy w Łodzi, na zakończenie rekolekcji. Po niej mieliśmy sobie opowiedzieć o naszych podróżach. Nie chciałyśmy łapać nikogo na krótkie dystanse, więc na inne rejestracje nie reagowałyśmy.
– To jedziemy do tej Polski? – zaskoczyło nas pytanie zadane po polsku przez właściciela jeepa z włoskimi rejestracjami. Marek pracuje we Włoszech, ale często jeździ do domu i dzięki niemu rano byłyśmy w Polsce. Zanim jednak dojechałyśmy do Łodzi, pojechałyśmy do Częstochowy. Tym razem podziękować i prosić w intencjach zbieranych od kierowców. Kiedy pytałyśmy, o co się możemy pomodlić, wszyscy mówili, że za rodzinę, o zdrowie. A jak pytałyśmy, czy może chcieliby prosić za coś konkretnego, może dla siebie, to większość się wzruszała. Czasem to był początek rozmowy o marzeniach.
Na koniec Bóg dał nam jeszcze jedną lekcję pokory, jakich było kilka podczas tego tygodnia. Na parkingu w Częstochowie stałyśmy kilka godzin. Zrezygnowane wyszłyśmy z parkingu kierując się w stronę pociągu.
– To jedziemy do tej Łodzi? – na chodniku przed nami macha do nas kobieta. Patrzymy na siebie. Ale to do nas? Ale kobieta nadal nam macha, więc biegniemy w jej kierunku, nie wierząc oczom i uszom.
Okazało się, że to młode małżeństwo z uroczym dzieckiem pytałyśmy już o możliwość zabrania nas do Łodzi, tylko nie bardzo mieli miejsce. Ale jak nas zobaczyli po kilku godzinach, postanowili nas wziąć, co wymagało nie małej logistyki, bo poza nami do samochodu doszły jeszcze plecaki. Wspaniali ludzie o podróżniczym zacięciu i niesamowici rodzice, dowieźli nas w ciepłej atmosferze pod klasztor dominikanów, do którego chciałyśmy się dostać.
Wróciłyśmy jak wszyscy opalone i uśmiechnięte, a przede wszystkim całe bo: "Kto prawdziwe ufa Bogu, podróżuje bezpiecznie" – św. Teresa z Avila.

fot. Aga