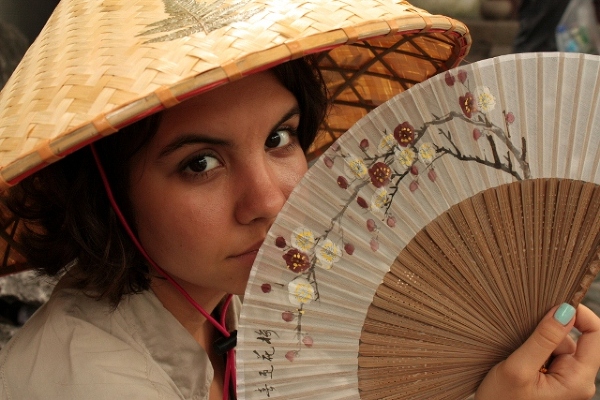 Ilona Lewan, fot. M. Wierzbicki-Dobowicz
Lewan, twoja pierwsza podróż…
Wyjazdy do Szczecina, jak byłam mała. <śmiech> Z małego miasteczka do Szczecina. Siedziałam na tylnym siedzeniu samochodu, to było duże wydarzenie, zwłaszcza, że miałam chorobę lokomocyjną. Myślę, że można życie podzielić na te małe podróże i duże. Prawdziwa podróż to były Chiny.
Ilona Lewan napisał:
Najtrudniej postawić pierwszy krok, a później już jeden za drugim i jakoś to idzie.

Czym jest dla ciebie podróżowanie?
Poznawanie ludzi. Zdecydowanie. Można jechać i oglądać zabytki, ale ja nienawidzę robić zdjęć. Ważniejsze jest dla mnie poznanie ludzi, zarówno tych, którzy jak ja podróżują, jak i tych, nazwijmy ich, tubylców. Dzięki temu mogę poznać ich, ich kulturę, zobaczyć na własne oczy, jak żyją, co jedzą i tak dalej. To jest coś czego nie odda żadne zdjęcie. No i także jedzenie. Podróżować, żeby jeść to coś, co uwielbiam.
Jak lubi podróżować Ilona Lewan?
Do pary, bez bagażu, ale z klasą. Nie lubię się zaniedbywać w czasie podróży.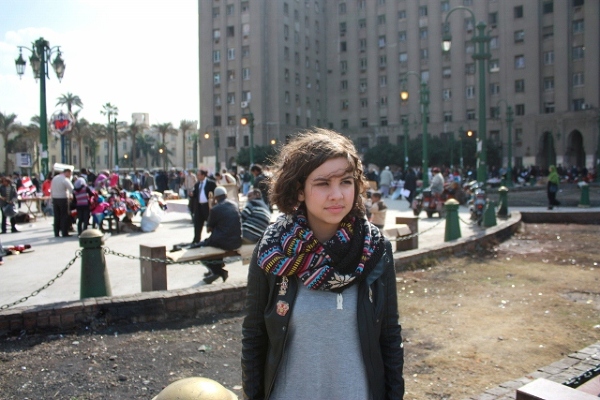 Na placu Tahrir w Kairze, fot. M. Wierzbicki-Dobowicz
Jakie jest twoje pierwsze wspomnienie związane z Chinami?
Ana i Thomas, dwójka chińskich studentów, których poznaliśmy w Szanghaju, przed Muzeum Szanghajskim. Jak się okazało, byli naciągaczami, którzy zabrali nas na herbatę. Ale nie czuję, że nas naciągnęli. Naprawdę sporo dowiedzieliśmy się o herbacie, o ludziach i o nich samych. Byli na przykład zdziwieni, gdy okazało się, że my razem jesteśmy z jednego kraju. Lewan ma przecież ciemne włosy, a Dobowicz blond, jak to możliwe?! Rozśmieszyło ich też to, że stolica Polski liczy sobie zaledwie dwa miliony mieszkańców. Tak czy siak, nie uważam, żeby nas naciągnęli, skoro i my, i oni mieliśmy z tego spotkania tyle korzyści. A o to chyba chodzi.
A najciekawsza przygoda w Chinach?
Hm… No przecież, dziewczynki z Longmen! To taka śmieszna historia. Gdy zwiedzaliśmy groty Longmen, zaczepiły nas trzy małe dziewczynki, w wieku 10-11 lat. Po krótkim przywitaniu okazało się, że dziewczynki mówią po polsku! I to zupełnie bez akcentu! Znały nawet sporo wyrażeń… A jak to się stało? Wszystkie trzy uczą się w amerykańskiej szkole i świetnie mówią po angielsku. Przychodzą natomiast do grot Longmen i zaczepiają obcokrajowców, żeby ci nauczyli ich czegoś w swoich językach. Małe spryciary znają więcej obcych języków niż ja sama!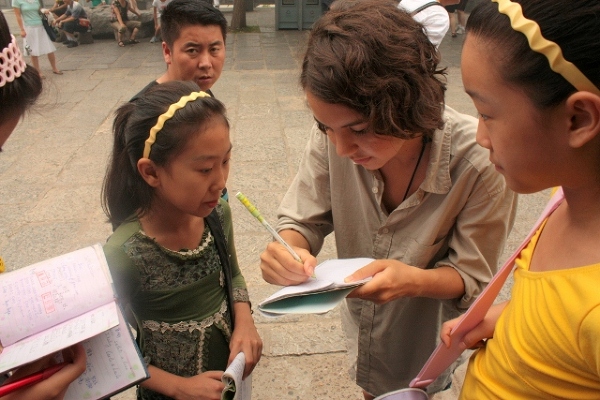 Ilona Lewan i Dziewczynki z Longmen, fot. M. Wierzbicki-Dobowicz
Kluczem do porozumiewania się jest w dzisiejszych czasach angielski, trudno się z tym nie zgodzić.
Pewnie, choć uważam, że jak już się jedzie do jakiegoś kraju to dobrze się nauczyć choć kilku zwrotów w danym języku. Po pierwsze to ciekawe, a po drugie bardzo miło w stosunku do mieszkańców tego kraju. Zanim pojechałam do Chin, wzięła kilka lekcji mandaryńskiego z rodowitą Chinką i przyznam, że bardzo wiele mi to dało – zwłaszcza przy targowaniu. <śmiech> Chińczycy są bardzo zaskoczeni, gdy laowai, obcokrajowiec mówi w ich języku. Pamiętam taką sytuację w Xi'an, gdy jedna Chinka omal nie zemdlała z wrażenia, gdy się jej poprawnie przedstawiłam po chińsku!
Ilona Lewan napisał:
Żyję od podróży do podróży, bo życie dzieli się na podróże małe i te duże.

Opowiedz o Egipcie, gdzie jak głoszą slogany – wszystko się zaczęło...
W Egipcie przeżyłam chyba najbardziej szalone 24 godziny w swoim życiu! Po nocnym locie z Warszawy do Kairu, pierwsze co pamiętam to ciebie, czekającego na mnie i chłopaków: Omara, Salaha i Raafata, którzy przyjechali razem z Tobą, żeby mnie odebrać. To było przemiłe! Pierwsze co zrobiliśmy to szalona, nocna wycieczka po całym Kairze, a trzeba wiedzieć, że egipscy kierowcy naprawdę są pokręceni. Później pojechaliśmy jeść, shawerme była naprawdę pyszna, ale oczywiście upaćkałam sobie od razu tłuszczem spodnie. Później mieliśmy krótką drzemkę i pojechaliśmy na Synaj. Wyjeżdżając z miasta, przejeżdżaliśmy przez protest, bo to był czas Rewolucji. Pikietujący zebrali się pod jednym z rządowych budynków, wymachiwali flagami, krzyczeli… Po kilku godzinach w autobusie, wysiedliśmy na pustkowiu Sharm El-Sheikh i na pace pick-upa dostaliśmy się do centrum. Szukaliśmy Hard Rock Cafe, ale się zgubiliśmy, co jest, powiedzmy, niepisaną regułą naszych wypraw. Znaleźliśmy jednak polskie biuro podróży, gdzie załatwiliśmy sobie transport na górę Synaj. A że mieliśmy do tej wycieczki jeszcze ze trzy godzinki, wyjazd następował jakoś koło północy, to poszliśmy na drinka do HRC, polskim zwyczajem uczcić alkoholem dokonany wysiłek. Zanim minęły 24 godziny od mojego przyjazdu do Egiptu, wspinałam się już na Synaj, w temperaturze bliskiej zera, w lekkiej skórzanej kurtce i wśród śmierdzących wielbłądów!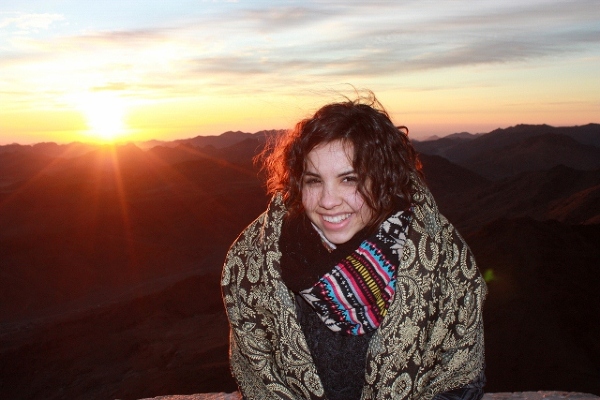 Świt na Górze Synaj, fot. M. Wierzbicki-Dobowicz
Wspinanie się na góry to taka twoja specjalność, trochę jak pandy Poh z Kung Fu Pandy.
Zgadza się! "Mój dawny wróg – schody!" <śmiech> Po Song Shan, jednej z pięciu świętych gór taoizmu, nie byłam w stanie wlec się w grupie, zatrzymywać na każdym przystanku i przepuszczać po drodze, co szybsze wielbłądy. Nie, razem ruszyliśmy w drogę, zostawiliśmy grupę i prosto na szczyt. Na Song Shan było kilka tysięcy stopni do pokonania, więc Góra Synaj to w zasadzie pestka, ale otaczały nas egipskie ciemności. Byliśmy pierwsi, grubo przed świtem, więc wynajęliśmy sobie najcieplejsze koce, ale i tak zmarzliśmy kompletnie! Za to jak zaczęło świtać… Nie ma co mówić o osobistych doznaniach, bo tego typu przygodę trzeba przeżyć na własnej skórze. Później nasz beduiński przewodnik nas skrzyczał, że poszliśmy jako pierwsi, a on na nas czekał, ale co zrobić? Za niezależność się płaci.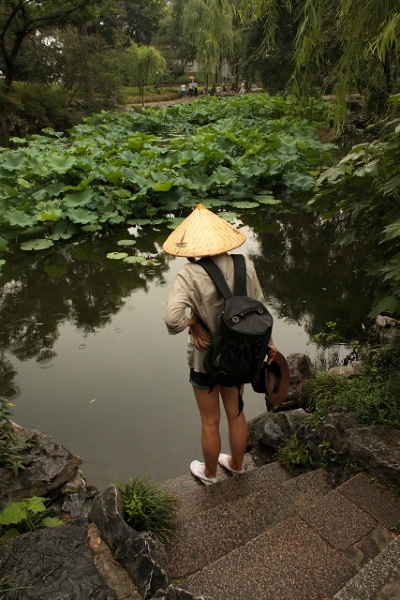 Ogród Pokornego Administratora w Suzhou, fot. M. Wierzbicki-Dobowicz
Co dały ci te podróże?
Przede wszystkim - w Chinach schudłam. <śmiech> Nie, serio, to ważne dla mnie. Ale te podróże dały mi też dużo pewności siebie, powiedziałabym też świadomości tego na co mnie stać i że podróżowanie to nie pokonywanie granic politycznych, ale tych w naszych głowach, jak to zawsze mówimy. Na przykład w Chinach, jak wdrapywaliśmy się na tą górę, myślałam, że umrę. Ale okazało się, że najtrudniej postawić pierwszy krok, a później już jeden za drugim i jakoś to idzie. Nigdy nie sądziłam, że objawi się we mnie taki podróżnik. Rzeczywiście każdy może podróżować!
A co jest dla ciebie najtrudniejsze w podróżowaniu?
Odciski. <śmiech> Serio, później muszę szukać w sklepach crocsów, kupować co tydzień nowe i tak dalej.
Ilona Lewan napisał:
Podróżowanie to nie kwestia pokonywania granic państwowych, ale tych w naszych głowach.

A jak podróżowało ci się jako kobiecie?
W Chinach? Bez problemów. Ale w Egipcie, jako że nigdy nie byłam nigdy w kraju muzułmańskim, trochę się tego obawiałam, jak tam będę postrzegana. Czy to że nie noszę chusty będzie tolerowane? Że noszę czerwone spodnie? I tego typu rzeczy. Ale jak się okazało, mimo że wszyscy myśleli, że jestem Egipcjanką, nie miałam żadnych problemów.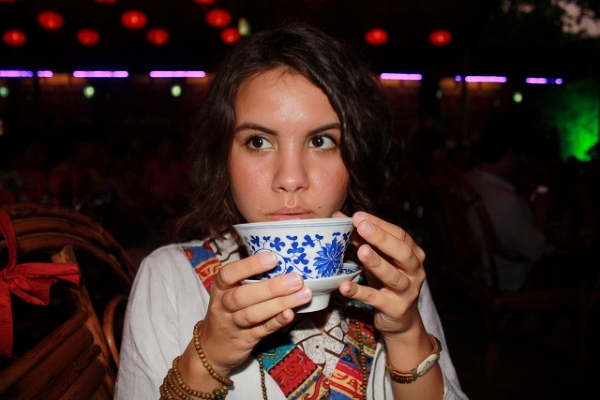 Pokaz Opery syczuańskiej, fot. M. Wierzbicki-Dobowicz
A podróżowanie jako druga połówka pary?
Podobnie jak w Chinach – bez problemów. Ale w Egipcie, żeby zapobiec potencjalnym problemom, kupiliśmy sobie fałszywe obrączki i wzięliśmy udawany ślub. I to nie byle gdzie, na placu Tahrir! Za plecami siedzieli protestujący i rewolucjoniści.
Ilona Lewan napisał:
Podróżować może każdy, a podróżnik może objawić się w każdym z nas.

Plany na kolejną podróż?
To jest tak, jak powiedział chyba Woody Allen: chcesz rozśmieszyć Pana Boga to opowiedz mu o swoich planach. Żyję od podróży do podróży, a pomysły, gdzie możne jechać zmieniają się w zasadzie codziennie. Wiem, że chciałabym pojechać do Stanów. Nie tylko dlatego, że moim marzeniem jest zagrać w amerykańskim sitcomie, ale po zobaczeniu dwóch totalnie różnych kultur, chińskiej i egipskiej chciałabym zobaczyć najprawdziwszy Zachód.