P.J.
Przypadek. Pracowałem przez parę lat w redakcji kolorowego tygodnika, który został rozwiązany. Dostałem sporą odprawę. Kupiłem dobry sprzęt fotograficzny, a że zbliżała się zima, której nie cierpię, wsiadłem w mojego starego terenowego nissana i wyruszyłem na południe Europy. W Neapolu wjechałem na prom i przepłynąłem na Sycylię. Potem była Korsyka, Sardynia, aż w końcu przeprawiłem się do Tunisu i dojechałem na Djerbę. Ta wysepka, połączona z lądem groblą jest doskonałym miejscem wypadowym na kontynent afrykański, a zwłaszcza na Saharę.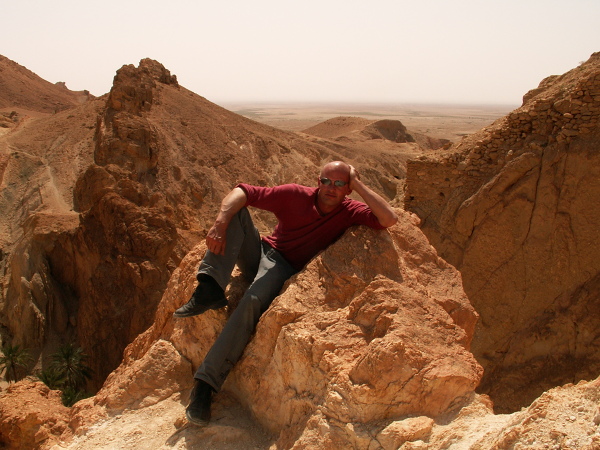 Jak długo pracuje Pan w zawodzie dziennikarza i fotografa? Czy to realizacja młodzieńczych marzeń czy pasja? Po powrocie z Djerby jak nastolatka gromadziłam wszystkie artykuły o podróżach, które pisał Pan do naszych kolorowych czasopism.
P.J.
W zawodzie dziennikarza pracuję od czasów studenckich, czyli już prawie 20 lat. Najpierw było radio, potem prasa. Fotografowanie to konieczność. Po prostu w pewnym momencie okazało się, że za jedno dobre zdjęcie dostaje się więcej pieniędzy niż za tekst, nad którym trzeba pracować kilka dni. Prasa (przynajmniej ta wysokonakładowa) staje się coraz bardziej obrazkowa i chcąc się utrzymać w zawodzie trzeba też fotografować.
Zwiedził Pan całą Tunezję? Zazdroszczę, że miał Pan możliwość dotarcia do miejsc na ogół niedostępnych dla turystów.
P.J.
To kolejny przypadek. Podczas jednej z moich samotnych, wówczas jeszcze nieśmiałych, wypraw na obrzeża Sahary spotkałem Alego. Stał się bohaterem mojego reportażu, który opublikowano w Zwierciadle, a potem w miesięczniku Globtroter, ale także moim przyjacielem.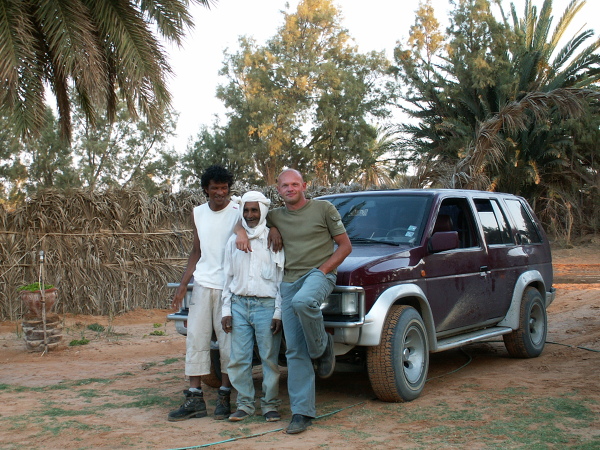 To dzięki niemu docierałem do miejsc, których nie ma na mapie. Od Libii po Algierię.
Jak długo przebywał Pan w Tunezji? Rozumiem, że z racji pozycji dziennikarza zwiedzał Pan ciekawe miejsca. Które z nich zrobiły na Pani największe wrażenie. Mnie uwiodła Sahara.
P.J.
Tunezja to bardzo malowniczy kraj. Bez wątpienia najciekawsze jest południe. Mało kto wie, ale saharyjska część Tunezji "udawała" w filmowych produkcjach wiele miejsc na ziemi, a nawet w kosmosie. W tym ostatnim przypadku chodzi oczywiście o kręcone w wiosce Matmata sceny "Gwiezdnych wojen". Warto jednak wiedzieć, że twórcy "Angielskiego Pacjenta" wykorzystali piękne pustynne oazy w Douz i Nefcie. Jedna z tunezyjskich fortec została w "Żywocie Briana" zamieniona w… Jerozolimę. To ostatnie miasto Tunezja udawała także w filmie "Jezus z Nazaretu". W amfiteatrze El Jem powstawały sceny do "Gladiatora". Na południu Tunezji kręcono też fragmenty "Indiany Jonesa", S. Spilberga. Zalety tego kraju odkryli również polscy reżyserzy. Na półwyspie Bon padły pierwsze klapsy do "Quo Vadis" Jerzego Kawalerowicza, a w Tamerzie kręcono ujęcia najnowszej wersji "W pustyni i w puszczy". Wszystkie te miejsca odwiedzałem wielokrotnie i naprawdę trudno powiedzieć, które jest najładniejsze.
Jak Pan wie Sahara na tyle mnie zauroczyła na tyle, że obdarował mnie Pan fantastycznymi zdjęciami. Są profesjonalne, ze świetnymi ujęciami. Nic dodać nic ująć. Po prostu fantastyczne.
P.J.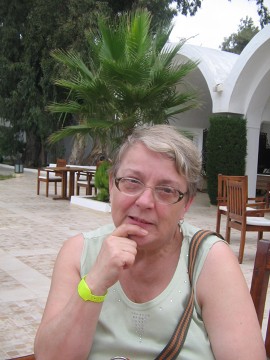 fot. Jadwiga Pawełkiewicz
Nie jestem fotografem. Znam teorię fotografowania z kilku książek i byłem z aparatem na większości równoleżników świata. Tematyka, którą staram się uwiecznić jest na tyle atrakcyjna i ciekawa, że trzeba by być naprawdę mało bystrym, żeby nie zrobić dobrego zdjęcia. Narażę się starym fotografom, ale zaryzykuję twierdzenie, że przy dzisiejszej jakości sprzętu fotograficznego i jego automatyce do zrobienia ciekawego zdjęcia potrzebny jest tylko pomysł i odwaga.
W Tunezji zazwyczaj najlepiej porozumieć się w języku francuskim, czy miał Pan z tym kłopoty, czy zdążył się Pan nauczyć arabskiego? Przyznaję, że ich mowa strasznie mi się podoba, o muzyce już nie wspomnę. Ale ciągle fascynuje mnie orient.
P.J.
Nie znam niestety francuskiego, a to język dominujący w wielu krajach Afryki. Ale nie stanowiło to większego problemu. Zawsze w wiosce znalazł się ktoś, kto znał angielski lub niemiecki. Po kilku miesiącach spędzonych w Tunezji mogłem już w sytuacjach kryzysowych porozumieć się po arabsku. To prosty język w warstwie fonetycznej. Nauki pisania lub czytania po arabsku nawet nie próbowałem.
Umowa na pobyt w Tunezji wygasła, gdzie Pan jeszcze podróżował?
P.J.
Tunezję opuściłem w mało przyjemnych okolicznościach. Jedna z rezydentek polskiego biura podróży doniosła władzom, że krytycznie piszę o sytuacji społeczno-politycznej w Tunezji. Służby bezpieczeństwa dały mi do zrozumienia (muszę przyznać, że w sposób bardzo taktowny i kurtuazyjny), iż będzie lepiej jeśli popłynę na pobliską Maltę. W publikacjach staram się unikać tematów politycznych, ale jeśli takie echa pobrzmiewały w moich reportażach, to wydarzenia "arabskiej wiosny 2011" i obalenie reżimu Ben Alego dowodzą, że intuicja mnie nie myliła. Po opuszczeniu Tunezji rzeczywiście mieszkałem kilka miesięcy na Malcie, a potem wyruszyłem na daleki Wschód.

Pamiętam tą sprawę opowiadał mi Pan o tym Z wymienianych przez nas emaili wiem, że był Pan w Kambodży, Buenos Aires, na Mauritiusie, na Filipinach, Bangkoku. To takie trochę życie inteligentnego włóczykija. Czy to konieczność pisania o tych krajach, czy był to wyjazd prywatny?
P.J.
Wszystkie moje wyjazdy są prywatne, tyle, że dzięki kilku zaprzyjaźnionym redakcjom, które drukują moje materiały, mogę sobie na nie pozwolić. Pod warunkiem, że żyję skromnie, mieszkając w hostelach za 3 USD i latając najtańszymi liniami. Zacząłem podróżować siłą inercji. Kiedy poleciałem do Indonezji, to nie opłacało się wracać po dwóch miesiącach do domu, skoro o dwie, trzy godziny lotu za 100 USD były Malezja, Singapur, Wietnam, Kambodża, nie wspominając o tysiącach wysp indonezyjskich, od Bali i Sumatry, aż po Papuę i Timor.
No to zwiedził Pan kawał świata. Przyznaję, że najbardziej mną wstrząsnęły zdjęcia dzieci z Kambodźy, nędza, wojna. Czy to Pana nie przerażało, nie bał się Pan?
P.J.
W Azji nie bałem się nigdy, a po kilku miesiącach życia wśród biednych ludzi, nędza staje się normalnością. W Azji Południowej ludzie są z reguły pogodni i przyjaźni. Bać można się w zasadzie tylko o swoje zdrowie. Bałem się za to w Afryce (tej czarnej Afryce – równikowej), kiedy dostałem nieźle po głowie w Nairobi. W dużej części sam sobie byłem winny. Przyleciałem do Kongo z Mauritiusa, który jest oazą spokoju, i wydawało mi się, że można sobie ot tak po prostu wyjść na ulicę i nią iść.
Nie przerażają Pana choroby? W końcu my Europejczycy trochę reagujemy inaczej na wszelkie choroby.
P.J.
Jakoś nie myślałem o tym. Jestem zaszczepiony, na to, na co można się zaszczepić (żółta febra, polio, WZW typu B itp.). Niestety na największego tropikalnego zabójcę szczepionki nie ma. Mam na myśli malarię. Można łykać tabletki, ale przez tydzień, najwyżej miesiąc. Potem skutki uboczne są straszne. Złapałem malarię na Flores, ale po 4 dniach organizm sam sobie z tym poradził (dostałem jakieś tabletki w lokalnej aptece, nawet nie wiem jakie, prawdopodobnie jakaś pochodna chininy). Malaria to bójka organizmu z wirusem. Jeśli organizm jest silny to, poradzi sobie z chorobą nawet bez leków. Niestety tzw. trzeci świat to ludzie niedożywieni, osłabieni, dlatego malaria zbiera tam większe żniwo niż AIDS.
Jakie plany na przyszłość? Gdzie następny wyjazd?
P.J.
Na razie jestem zmęczony podróżowaniem. Myślę jednak o uporządkowaniu spraw w Polsce i osiedleniu się na stałe na którejś z wysp Oceanu Indyjskiego. To trudna decyzja, nie mniej jednak, podczas podróży spotkałem tylu Europejczyków, którzy bezboleśnie szaro-burą północ Europy zamienili na słoneczne wyspy mórz południowych… Może się uda.

Mam nadzieję, że wszystko się ułoży po Pana myśli.Jak widać różnice wiekowe nie mają tu żadnego znaczenia. Rozumiemy się bez słów, oboje mamy pasję przezycia czegoś nowego, ekscytującego.