POGRZEB W TANA TORAJA
Pierwsze pojawiają się świnie. Dobiegający już z daleka przenikliwy kwik podsuwa myśl, że nie odbywają tej podróży z własnej woli. Unieruchomione w wyrafinowanej konstrukcji z bambusowych kijków, niesione są jak w odwróconej lektyce.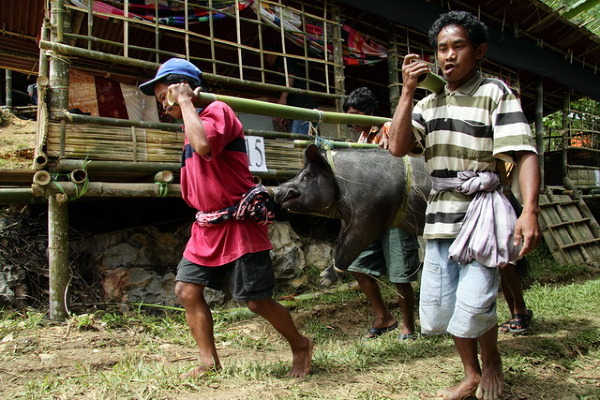 Świnie to podarunek od gości, którzy przybyli do wioski Buntao w górskim regionie Tana Toraja na wyspie Celebes w Indonezji na ceremonię pogrzebową.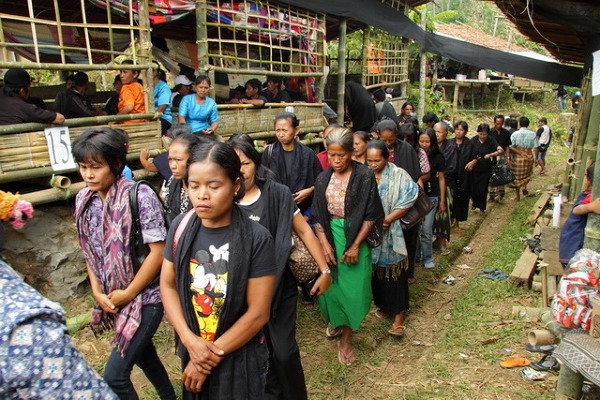 Właśnie rozpoczyna się ceremonia pogrzebowa, która trwać będzie przez trzy kolejne dni, a na którą dzięki szczęśliwemu zrządzeniu losu zostaliśmy zaproszeni. Czujemy się wyróżnieni, kiedy wnuk zmarłego, Serante, wraz z małżonką roztaczają nad nami opiekę, na jaką – będąc obcymi ludźmi – z pewnością nie zasługujemy.
۩
Zanim prosiaki spoczną na placu głównym, czeka je rejestracja w zaimprowizowanym biurze, gdzie zgodnie z wytycznymi rządowymi odprowadzany jest podatek od darowizny.
Darowizna ta stanowi zarazem zaopatrzenie kuchni. Tradycja przewiduje też inne podarunki: papierosy, tytoń i wino palmowe. Część z nich skonsumowana zostanie podczas uroczystości, część zatrzymana i przy następnej okazji przekazana innym również pod postacią prezentu. Zdarza się, że te same dobra wracają do pierwotnego właściciela.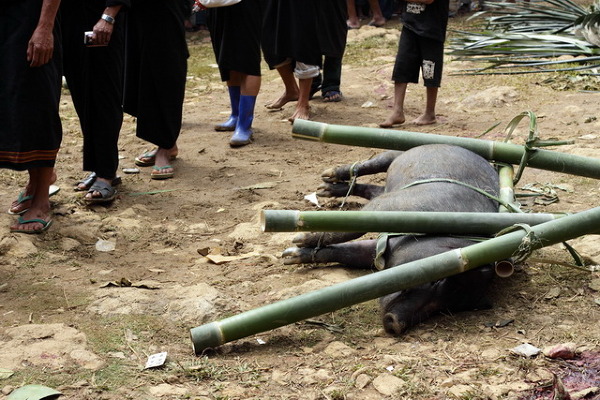 Kiedy na placu w centralnym punkcie gospodarstwa zalegną już kwiczące i wierzgające cielska, a goście, przybyli równym rzędem, zajmą miejsca w przygotowanych specjalnie na tę okazję boksach, powoli rozpocznie się ceremonia.
۩
Choć brzmi to dość paradoksalnie, w życiu Torajów śmierć jest kluczowym wydarzeniem. Ważniejszym niż choćby ślub czy narodziny.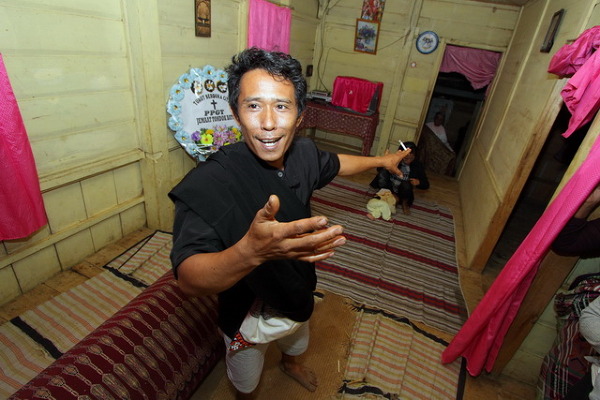 Kiedy dowiadujemy się, że boksy dla gości postawiono miesiąc wcześniej, zastanawiamy się, skąd wiadomo było, że człowiek umrze. Pytanie to zderza się z surową rzeczywistością: okazuje się, że dziadek Serante, dożywszy wieku 105 lat, umarł ponad rok wcześniej i od tamtej pory, zabalsamowany, w zamkniętej trumnie w centralnym punkcie domostwa, czeka aż rodzina uzbiera środki wystarczające na przeprowadzenie pochówku.
W budowie boksów – skonstruowanych z bambusowych kijów i blachy falistej – pomagają sąsiedzi z wioski, w zamian za co zostają zaproszeni na uroczystość. Jest to również rodzaj niepisanej umowy: każdy Torajanin, postawiony przed koniecznością zorganizowania uroczystości, zwykle przerastającej możliwości jednej rodziny, chętnie przyjmuje pomoc i czuje się zobowiązany do rewanżu.
Po uroczystości boksy są rozbierane i składowane pod wzniesionymi na palach budynkami mieszkalnymi, gdzie oczekują następnego pogrzebu.
Uroczystość oficjalnie rozpoczyna się około godziny 11.00, jednak już od samego rana praca w wiosce wre. Kobiety przygotowują poczęstunek, którym przywitają gości. Składa się on z kilku rodzajów ciasteczek własnego wyrobu oraz przeraźliwie słodkiej i wyjątkowo słabej herbaty jaśminowej.
Do naszej "zagrody" raz po raz zaglądają gospodarze, Serante lub jego żona, pytając, czy niczego nam nie potrzeba i przepraszając, że muszą nas opuścić, by zająć się sprawami organizacyjnymi, w tym witaniem setek gości.
Pojawiają się również inni turyści, uczestnicy zorganizowanych lokalnie wycieczek, zwabieni możliwością spojrzenia z bliska na egzotyczny rytuał.
۩
Uroczystość ma z założenia smutny charakter. U Torajów człowiek NIE jest bowiem uznawany za zmarłego, dopóki nie zostanie prawidłowo pochowany. Do tego czasu rodzina traktuje go jak chorego, przynosząc posiłki, przemawiając do niego.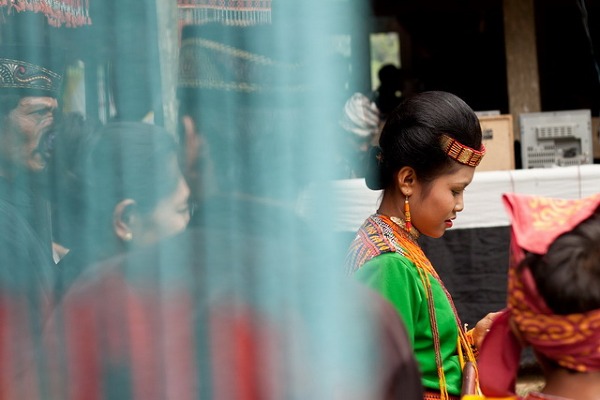 Teraz czas pożegnać się z nim na zawsze. Mimo to ludzie cieszą się ze spotkania.
– Toradżańskie rodziny są bardzo liczne – mówi Serante – pogrzeb to najlepsza okazja do tego, żeby zaktualizować drzewo genealogiczne.
Większość spotkanych przez nas Indonezyjczyków nie zna nawet dnia swoich urodzin. W przypadkach, gdy wymagane jest podanie dokładnej daty, na przykład przy wystawianiu paszportu, wymyślają ją sobie sami.
۩
Świnie, jedna po drugiej, zaczynają znikać z placu. Co chwilę grupa mężczyzn chwyta bambusową "lektykę", po czym hałaśliwy ładunek znika w głębi lasu. Cios nożem, zadawany pod uchem świni, nie zabija od razu. Śmierć przychodzi dopiero po kilku minutach. Następnie zręczni oprawcy rozcinają jamę brzuszną zwierzęcia i wydobywają wnętrzności. Korpus, rzucony na ognisko, by opalić szczecinę, skwierczy złowieszczo.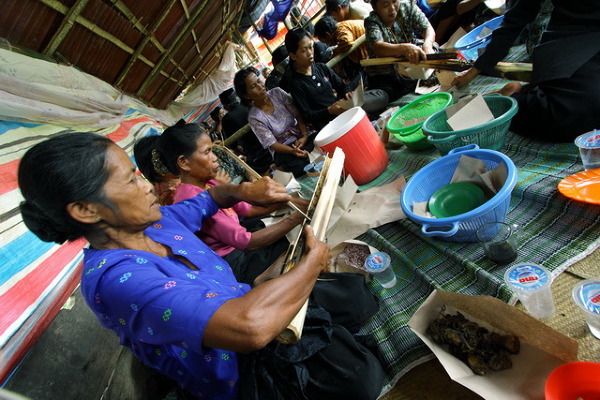 Wstępnie opalone świnie są skórowane, dzielone na części i krojone na kawałki, które, wraz z papryczkami chilli i liśćmi wodnego szpinaku, upychane są do bambusowych rurek układanych na palenisku. Tak przyrządzone mięso serwuje się z ryżem.
W krajach azjatyckich droga pomiędzy rzeźnią a talerzem jest bardzo krótka, dzięki czemu nie ma potrzeby faszerowania zwierząt ubojnych antybiotykami. W Buntao pobito rekord: świnie, których krzyki wciąż jeszcze odbijają się echem w pobliskich lasach, kilkanaście minut później są już gotowe do spożycia.
۩
Korzystając z uprzejmości Serante, staramy się dowiedzieć nieco o kulturze Torajów. Ciekawostką okazuje się torajańskie prawo.
Mimo przywiązania do animistycznego systemu legislacyjnego, w Tana Toraja spory rozstrzygane są na drodze sądowej. Nie zawsze jednak sprawiedliwości dochodzono w oparciu o oficjalny kodeks cywilny. Dawniej stosowano trzy stopnie postępowania. Każdy z nich nie tylko pozwalał wyłonić winnego i pokrzywdzonego, ale również dostarczał pierwszej klasy rozrywki stronom trzecim.
Pierwszy stopień postępowania, służący do rozwiązywania sporów mniej skomplikowanych, jak choćby: do kogo powinien przynależeć niewielki skrawek ziemi przy rzece, opierał się o znany i lubiany sposób spędzania wolnego czasu, jakim są walki kogutów. Człowiek, którego reprezentowało zwycięskie zwierzę – sprawniejsze, silniejsze lub zwyczajnie mające więcej szczęścia – wychodził ze sporu obronną ręką.
Druga "instancja" to próba wody. Ktokolwiek był w stanie dłużej utrzymać się pod jej powierzchnią w studni, wygrywał spór.
Jeśli i ta metoda z jakiegoś powodu uznana została za niemiarodajną, należało skorzystać z najwyższej instancji – próby wrzątku. Przedstawiciel każdej ze stron miał okazję dowieść swojej racji, heroicznie zanurzając dłoń w bulgocącej wodzie.
O ile w pierwszym etapie decydowały czynniki niezależne od człowieka, to dwie pozostałe metody stwarzały okazję do wykazania się determinacją, która była tym silniejsza, im pewniejszy swojej racji był poddawany próbie delikwent.
Dociekliwi zauważą, że system ten, pod względem osiąganych rezultatów, nie różni się tak bardzo od tego funkcjonującego w Europie. U nas również werdykt sądowy niekoniecznie odzwierciedla absolutną prawdę, a jedynie to, co strony biorące udział w sporze są w stanie przekonująco udowodnić.
۩
Zapada zmrok. Część gości wróciło już do domów, pozostali umilają sobie czas rozmową, żartami i grą w domino, niespiesznie popijając wino palmowe. Kiedy wydaje się, że uroczystość dobiega końca, a ludzie za chwilę ułożą do snu, na placu rozpoczyna się rytualny taniec.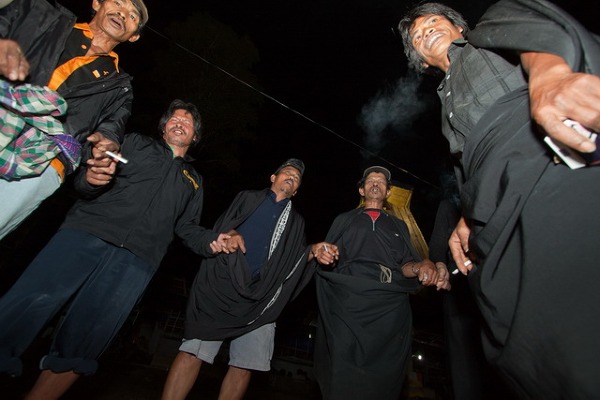 Grupa mężczyzn i kobiet kroczy powoli po okręgu zgodnie z kierunkiem ruchu wskazówek zegara, raz po raz wznosząc ramiona. Tańcowi towarzyszy śpiew, dla naszych uszu brzmiący jak zawodzenie bez treści, jednak później dowiadujemy się, że jest to pieśń opowiadająca historię życia zmarłego.
۩
Taniec, wino palmowe i rokoki. Tak, tutaj wszyscy mężczyźni palą produkowane w Surabaya kreteki. Jeśli nie palisz, jesteś ladyboy.
Kreteki to ogólna nazwa indonezyjskich papierosów, w których skład oprócz tytoniu wchodzą… goździki. Pochodzi ona od dźwięku, jaki wydaje żarząca się mieszanina.
Wino palmowe to osobna historia – smakuje jak serwatka połączona z alkoholem. Czy taka kombinacja może być smaczna? Cóż… de gustibus non est disputandum.
Połączenie środków oszałamiających działa kojąco. Kiedy zaczynamy szykować się do snu w naszym skromnym boksie, pojawia się Serante i zaprasza do spędzenia nocy w najbardziej honorowym miejscu tego wieczora – izbie, w której spoczywa sam nieboszczyk. W tej chwili staje mi przed oczami pewien młody człowiek, spotkany kilka dni temu na przystanku autobusowym w Makassarze. Twierdził, że Torajanie potrafią sprawić, iż "mumie zaczynają chodzić". Chociaż do dziś nie wiem, co miał na myśli, teraz, w mrocznej izbie, gdzie stoi trumna, której zawartości możemy się tylko domyślać, czuję się co najmniej nieswojo.
Kładziemy się na podłodze z desek. Próbujemy zasnąć. Po chwili jednak do pokoju wkracza rodzina zmarłego. Jeden z przybyłych, usiadłszy obok trumny, wyciąga zza pazuchy flet.
– On jest niewidomy, ale ma dar od Boga – mówi Serante.
Po chwili izbę wypełniają dźwięki. Melodia nie przypomina niczego, co kiedykolwiek słyszeliśmy. Urywana, tkliwa, tajemnicza.
Zmęczenie bierze górę i, mimo całonocnego niemal koncertu i twardego podłoża, zapadamy w głęboki sen.
۩
To-ri-aja, czyli ludzie gór, są bardzo przywiązani do tradycji, która w przypadku naszych gospodarzy łączy wyznawane tu chrześcijaństwo z prastarymi wierzeniami animistycznymi.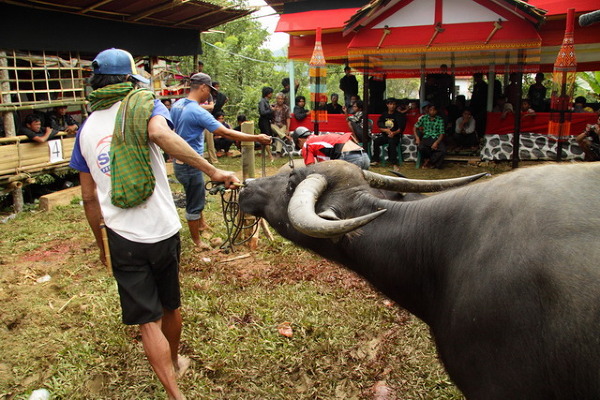 Stąd i długo wyczekiwany przez nas moment – ofiary z żywych bawołów. Drugiego dnia rano przyprowadzonych zostaje siedem dorodnych okazów o miękkiej skórze pokrytej pięknie połyskującym szarym włosiem.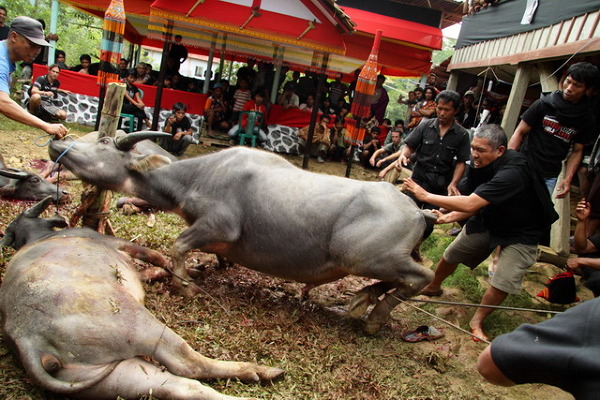 Pomiędzy boksem dla najbliższej rodziny a podwyższeniem dla przedstawicieli władz lokalnych wygospodarowano niewielki plac, którego środek wyznacza wkopany głęboko w ziemię bambusowy palik. Do palika przywiązany zostaje pierwszy bawół.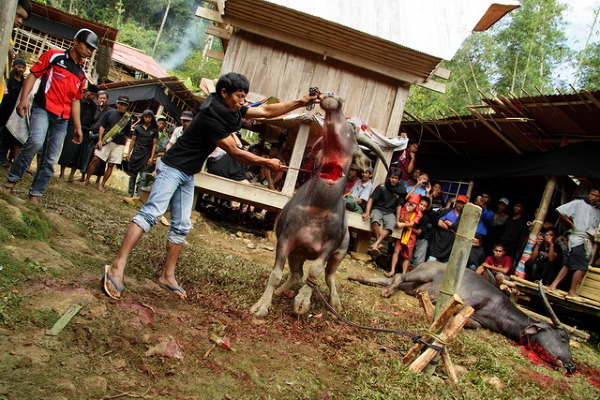 Oprawca unosi głowę zwierzęcia i szybkim uderzeniem maczety przecina gardło. Zwierzę oszołomione szarżuje, tryskając wokół krwią. Ten sam los spotyka kolejne ofiary. Krew miesza się z błotem, tworząc śliskie grzęzawisko, w którym spoczywa już kilka wydających ostatnie tchnienie bawołów. Kolejny cios – staram się lawirować między ciałami powalonych zwierząt, unikając szarży tego, które jeszcze z trudem trzyma się na nogach.
Po co to wszystko? Skąd to okrucieństwo? Czy rzeczywiście krwawe ofiary są uzasadnione i potrzebne? Torajowie wciąż stosują się do zaleceń starotestamentowych, według których "bez rozlania krwi nie ma odpuszczenia grzechów". Chrześcijaństwo nie wyparło jednak całkowicie wierzeń animistycznych.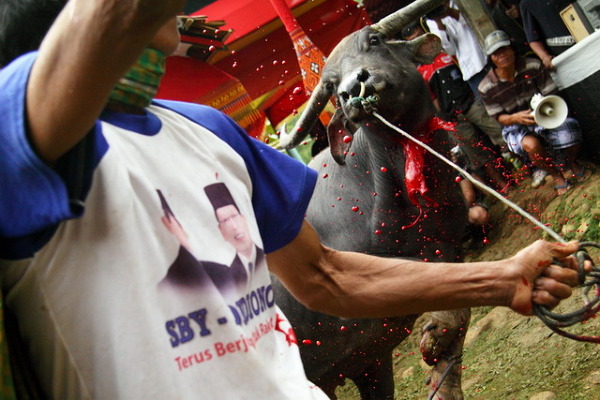 Aluk-To-Dolo, czyli "religia ludzi, którzy odeszli", bądź "droga przodków" opiera się na prostym schemacie świata. Na samym dole znajduje się świat podziemny, w którym króluje puang lalandong – władca pod postacią koguta, sędzia zmarłych. Na południowym-zachodzie, ponad naszym światem zwanym Lino, znajduje się, zwana także drugim rajem, Puya.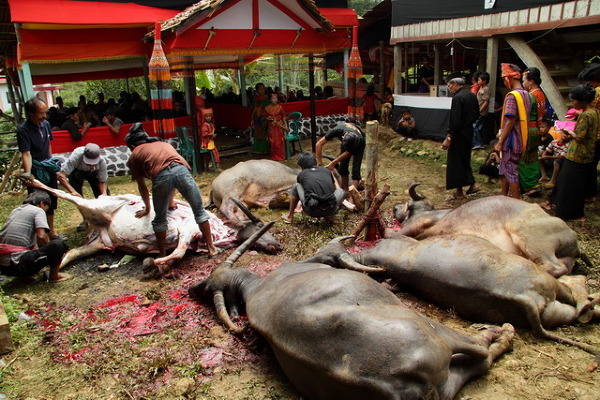 Według słów Serante, ofiary z bawołów gwarantują, że dusza zmarłego powędruje prosto do Puya. W przeciwnym wypadku może zostać uwięziona na ziemi. Torajowie wierzą, że ich życie po śmierci odzwierciedla to, które wiedli na ziemi, dlatego podczas pogrzebu starają się zamanifestować swoje bogactwo.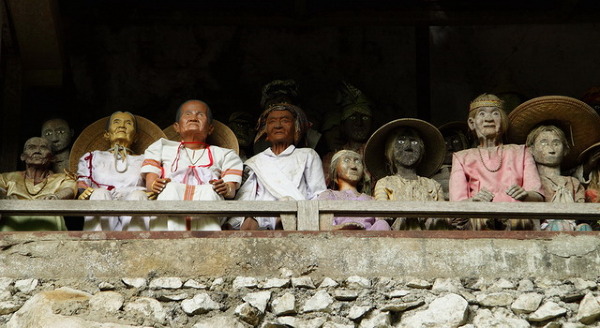 Koszt urządzenia pogrzebu ze stypą to ok. 100 000 000 rupii indonezyjskich, czyli ok. 32 000 złotych. Kwota niebagatelna, zważywszy na skromne w stosunku do europejskich zarobki przedstawicieli górskiego szczepu. Z tego powodu oszczędności na ceremonię pogrzebową zbiera się nawet przez 10 lat!
۩
Trzeciego dnia w korowodzie gości nieboszczyk odbywa ostatnią wędrówkę – niesiony jest do skalnej groty w pobliżu wioski, jednej z tych, w których Torajanie od setek lat chowają zmarłych. Liang, bo tak zwą się owe groty, zapewniają zarówno spokój zmarłemu, jak i bezpieczeństwo cennym przedmiotom, takim jak złoto i drogocenne kamienie, które mu towarzyszą w ostatniej podróży.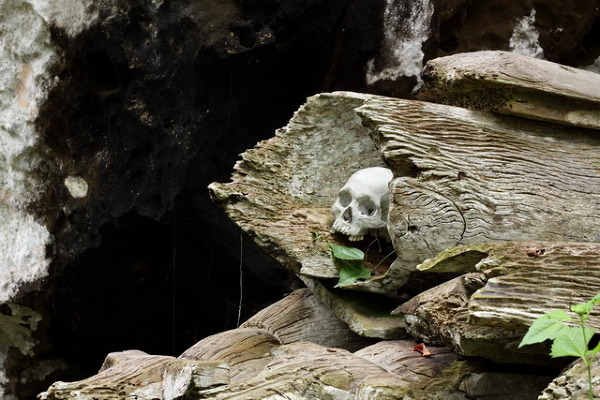 Elementem wieńczącym ceremonię jest umieszczenie przed grobowcem, na specjalnie skonstruowanym balkonie lub platformie wykutej w skale, drewnianego "awatara" zmarłego.
۩
Goście dziękują Serante i jego małżonce za wspaniałe przyjęcie, po czym rozpoczynają powolny marsz do swych domów.
Dla nas również przychodzi czas pożegnania z Torajami i ich niesamowitą kulturą, która przetrwała tak długo mimo licznych przeciwności losu.