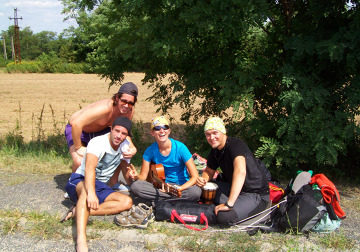 Piesza wyprawa Polska - Chorwacja 2012
fot. Emilia Mlak
I tak wszystko się zaczęło. Może też obejrzany pewnego dnia film "Into the wild", a może Martyna Wojciechowska i jej książki. Może widok zabieganych ludzi i rutyna pęczniejąca w nich do granic możliwości. Może wewnętrzna frustracja i chęć zrobienia czegoś… No właśnie. Po prostu czegoś. Padło na pieszy trip. A że z Polski na Chorwację? Po prostu chcieliśmy za granicę. Czy każdy wybór musi mieć sensowne wytłumaczenie?
Zgrało się idealnie. No może trochę na to wpłynęliśmy. Praca, studia, praca, studia… Ileż można? Czas na zmiany – zwolnienie z pracy, wydanie ostatniej kasy na sprzęt. Bo czemu nie? Upragniony 15 lipca nadszedł… Wyruszamy!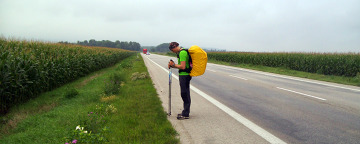 Piesza wyprawa Polska - Chorwacja 2012
fot. Emilia Mlak
Zgodnie z planem "wycieczkę" zaczynamy w Zwardoniu. Szczęśliwi, wolni, owładnięci cyklicznymi napadami adrenaliny i tak trzęsiemy portkami ze strachu. W zasadzie nic nie jest dopięte na ostatni guzik. Mamy tylko zarys trasy – wiemy, że pójdziemy przez Słowację i Węgry aż do granicy chorwackiej. A potem łapiemy stopa i odpoczynek na wybrzeżu… Któż mógł przewidzieć, że na wybrzeże nie będzie już siły… Ale tego jeszcze nie wiemy. Po prostu odczuwamy dwa razy silniej. Chłoniemy każdy krok, każde "majgnięcie plecaka" i rzucamy się w wir przygody. Jest świetnie! Uderza nas intensywność barw, piękne górzyste pejzaże, przytłaczają raz po raz przejeżdżające tiry…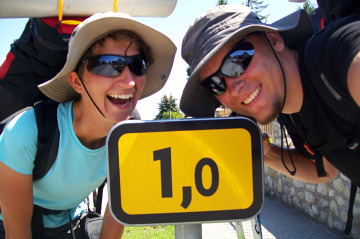 Piesza wyprawa Polska - Chorwacja 2012
fot. Emilia Mlak
Bo przecież nie zawsze jest kolorowo. Ze względów orientacyjnych wybraliśmy trasę prostą, acz uciążliwą, czyt. dosyć ruchliwe ulice. O ile kondycyjnie, na pierwszy rzut oka, nie wyglądają wymagająco, o tyle stan pobocza, którego w zasadzie nie ma i zawirowania powietrza wytworzone przez mijające nas pojazdy zwalają z nóg. Po kilku dniach przeklinamy wszystkich kierowców jadących za szybko, za wolno, a nawet tych niejadących. Dlaczego Międzynarodowy Dzień Bez Samochodu nie trwa miesiąc? Nie musielibyśmy wtedy pochłaniać hektolitrów mleka – odtrutki (na ile skuteczne, nie wiadomo – pozdrowienia dla babci i przeuroczego placebo) a i droga byłaby spokojniejsza… Ale wybór to wybór. W naszym mniemaniu także konsekwencja. Choć czasem wypadamy poza obrany schemat…
Tworzymy flagę. Dla urozmaicenia ciągłego marszu postanawiamy nie być incognito. Skoro już na nas trąbią, machają, pozdrawiają to niech wiedzą, że Polacy. Kupujemy jakiś ręcznik, coś na kształt flamastra… Jest! Od razu lepiej. Potrzeba przynależności to jednak nie żarty. Odbudowujemy swoją tożsamość. A ręcznik może przyda się i do kąpieli…
Piesza wyprawa Polska - Chorwacja 2012
fot. Emilia Mlak

… której nie zażywamy za wiele. To ta gorsza strona wypadu, ale także nieprzypadkowa. W zasadzie mamy sporo okazji, by zażyć dobrodziejstwa przydrożnego strumienia czy wpaść w objęcia rzeki wzdłuż dwupasmówki… Jednak nie zawsze się chce. Powód? Dwudziestokilogramowy plecak w połączeniu z dwudziestoma kilometrami marszu dziennie (wypróbowaliśmy opcję trzydzieści i podziękowaliśmy). Niby niewiele, do zrobienia… Spróbujcie – my spróbowaliśmy. I skończyło się na prawie nietkniętym mydle w plecaku…
…ale szło się przednio. Poza kryzysami, kilkoma scysjami i sinusoidalnym zniechęcenio – umieraniem bywało, że człowiek po prostu frunął. Oczywiście – najczęściej uczucie to pojawiało się w momencie ściągnięcia plecaka i błogiego odpoczynku, ale zdarzało się, że niepostrzeżenie przylegało do nas, napadało i obezwładniało podczas marszu. Nierzadko brnąc przez pokłady frunięcia człowiek niepostrzeżenie napotykał dodatkowo dobry humor. I tak to trwało. Idziemy, potykamy się, śmiejemy, trochę śpiewamy. Nadrzędną pieśnią okazuje się ta o małym Indianinie, co to napiął łuk – a potem zdechł – a to pech…
… a ten też czasami nas napotyka. Na szczęście nieczęsto i nie chodzi parami. Zdarzyło się, że człowiek przez nieuwagę zgubił bluzę, nawet majtki (jakkolwiek to brzmi), czy jakaś mysz dobrała się do kijka… Na szczęście zawsze następował niejaki "happy end". Rzeczy znajdowały się, a myszka miała posiłek…
… które z kolei u nas nierzadko bywały obfite. Na potrzeby głodomorów krótka klasyfikacja: miejsce pierwsze zajmuje zacny "biszkopt-burger", czyli dwa biszkopty połączone przepysznym trzydniowym serem, palce lizać – podróżny nie pogardzi, a McDonald's zbiłby fortunę. Miejsce drugie – słowackie bułki z serem, a raczej ser z bułką. Dopiero opuszczając Słowację uprzytomniliśmy sobie, co tak naprawdę stało się krótkoterminowym celem każdego dnia… Poza tym standardowe marketowe menu, a czasem ciasto i warzywa od napotkanych ludzi z własnymi ogródkami, hodujących zaciekle własne dobre serca.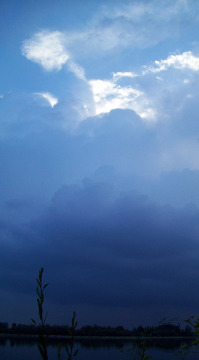 Piesza wyprawa Polska - Chorwacja 2012
fot. Emilia Mlak
Trasę wspominamy dobrze. Co prawda pogoda płatała nam figle od samego początku, co nierzadko kończyło się noclegiem w skrajnie dziwnych warunkach (pod mostem, na stacji kolejowej, przystanku autobusowym) czy opóźnieniami w stylu przeczekania niepogody w rozbitym na wale "okołokanałowym" namiocie, ale dodawało to też adrenaliny – jakże nieraz potrzebnej. Same odpoczynki uzależnialiśmy początkowo także od pryszniców odgórnych, a więc w pierwszej kolejności wybór padał na przystanki autobusowe, a potem już gdzie popadło. Najlepiej czuliśmy się na zielonych łąkach i pagórkach, z dala od cywilizacji, ale przydrożne rowy również okazywały się przytulne. Zdarzyło się nawet, że w jednym z nich znaleźliśmy puzzle… O których dzień wcześniej rozmawialiśmy. I jak tu nie wierzyć w przeznaczenie?
Kontakty z rodziną i znajomymi ograniczyliśmy do minimum. Wzięliśmy ze sobą jedną komórkę, której nawet nie ładowaliśmy w trakcie wyprawy. Esemes średnio co dwa dni, jedna rozmowa, próba wysłania e-maila z budki na Węgrzech (notabene nie doszedł). Mimo cywilizacji ciągle dreptającej obok, staraliśmy się ją odepchnąć w jakikolwiek sposób. W tym względzie w miarę nam się udało. Poza tym odbijanie na polne ścieżyny, obijanie się pod drzewami i podziwianie bezkresnych pagórków, słoneczników i wyładowań atmosferycznych.
Jedną z najważniejszych odskoczni od marszu okazała się muzyka. Wzięliśmy ze sobą gitarę i djembe. Początkowo, ze względu na ilość kilometrów przebywanych w ciągu dnia, nie mieliśmy czasu i siły na granie. W miarę upływu czasu wyluzowaliśmy i na dłuższych odpoczynkach zabieraliśmy się do roboty. Cudownie było, będąc w podróży, wybrać się w tę zupełnie inną… duchowo-instrumentalną…
A jeśli nie, to przynajmniej poznać nowe osoby, których nie brakowało. W końcu duże plecaki, rozłożona gdzie popadnie karimata i dwoje grajków. Jak zwykle staraliśmy się nie zwracać na siebie uwagi…
Dla zarysowania wyprawowej rzeczywistości dołączamy fragment pisanego przez oboje dziennika:
"(…) Dzień 25 – 8.08.2012
Planowo jeszcze pięć dni samego chodzenia, może sześć – góra tydzień. Ale trzymam się tej pierwszej myśli;). Tradycyjnie mieszane uczucia. Dzisiaj pierwszy raz poczułam, że powoli zbliża się koniec. Że to już całkiem niedaleko. Najpierw dostałam dzikiego pędu na tę myśl, a potem tak trochę smutno…
Ale od początku. Co do wczoraj. Ruszyliśmy spod drzewa o 17:00. Wszystko fajnie, czas okej, do zrobienia było około 10 km, a chyba zrobiliśmy więcej… Poszliśmy prosto według znaku "na Keszthely" – okazało się, że są dwie drogi, a to akurat nie nasza. Trzeba było zawrócić. Bolało, bo z 1,5 kilometra w jedną stronę… Może nawet dwa. Byliśmy więc godzinę do tyłu. Na szczęście bez większych problemów znaleźliśmy tę prawidłową "ścieżynę". Trochę ludzi nam zamachało, trochę pozdrowiło – idziemy dalej. W końcu postój (akurat w miejscu, gdzie pięknie pachniało ekskrementami). I cały widok na Sümeg. Fajne miasto. Już takie mega turystyczne, pewnie ze względu na zamek, który króluje nad całą okolicą. Średnio przepadam za zamkami, ale ten robi wrażenie. Aż chce się na niego wspiąć.
Poszliśmy dalej. Całkiem ładne tereny. A akurat wczoraj narzekaliśmy na nudę widokową na Węgrzech (w porównaniu do Słowacji). Góry, pola, dziko. Cud, miód. Szkoda tylko, że piękno krajobrazu poszło w parze z przewyższeniami na drodze;) Cóż, trzeba było cisnąć (aj, ten czas przeszły – a już niedługo wszystko to będzie przeszłością…) I poszliśmy. Odpoczynek w Bazsi i szukamy noclegu. Troszkę ciężko, bo wszędzie góry i lasy. Decyzja – śpimy za krzakami przy drodze. Trochę widoczni z jednego domu i polnej drogi, kawałek od lasu…
Śpimy. Znowu dziki. Tym razem jeden. Budzę się – Paweł oczywiście już nie śpi – czuwa i ogarnia. Wytłumaczył, że jeden i że się kręci. No to cisza – zasnęłam… Budzę się znowu – zimno. Nasłuchuję… Nic. No to się dobrałam do śpiwora najciszej jak mogłam (nie da się tego zrobić cicho, szczególnie, gdy wszędzie wokół jest mega cicho…) Obudziłam dziada (mowa o dziku, nie o Pawle;)). Beczy to i beczy, ale tak jakoś żałośnie. Chyba nie miał, co jeść. Stres oczywiście duży, ale tak jakoś dziada żal… Paweł nawet słyszał jak mu burczało w brzuchu. Szkoda go, ale jeszcze bardziej szkoda ewentualnie staranowanego namiotu. Życie. Przetrwają silniejsi.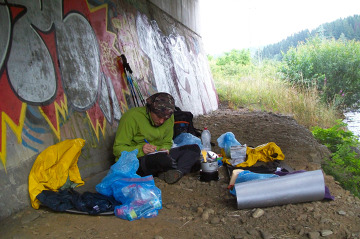 Piesza wyprawa Polska - Chorwacja 2012
fot. Emilia Mlak
I przetrwaliśmy… Ale rano jakoś super silni się nie czuliśmy. Choć humory nawet dopisywały. Szybka zwijka, potem pośpiewaliśmy sobie coś na żarty i około godziny 6:00 przenieśliśmy się na pobocze, żeby zjeść i odpocząć przed wysiłkiem (przed nami, według znaku, 4 kilometry dzikiego zwierza – trzeba było odczekać poranny żer). Posiedzieliśmy trochę, potem zmógł nas sen… I sobie miło pospaliśmy.
Pobudka, pakujemy się, a tu… Policja – Rendőrség (nawet policja musi inaczej brzmieć po węgiersku!). I niestety nie przejeżdża. Wychodzą dwaj funkcjonariusze i grzecznie coś do nas po niemiecku. Hmmm, no to ja oczywiście angielski – oni zbici z tropu… Młodszy próbuje wytłumaczyć, co robimy źle, ale mu nie wychodzi – ja oczywiście rżnę głupa. Coś pobocze, coś, że wąskie. A, sorry – nie wiedzieliśmy – nie możemy tutaj być. Kontrola paszportów, weszli do radiowozu – no to pakujemy się, a że trochę tego było… Akurat zgrał się nam czas z funkcjonariuszami. Wrócili do nas, wszystko okej, jeszcze grzecznościowe "where are you going" (chyba, że sprawdzające). No to, że Letenye. I to by było na tyle. Zdziwiło nas tylko jedno - odjeżdżając zawrócili w kierunku, skąd przybyli, czyli podjechali tu specjalnie. Ktoś nas podkablował, przypuszczamy, że ktoś z wioski. Wniosek – nie spać więcej na poboczu. (…)
Piesza wyprawa Polska - Chorwacja 2012
fot. Emilia Mlak
(…) I tak zaczął się nasz dzień. Dobrze, że zdążyliśmy się obudzić, gdybyśmy spali pewnie nie byłoby tak różowo;) Chociaż…
A potem była góra, trochę kilometrów i wioska. Tam market, zakupy i pies;) Taki duży kocmołuch, mega grzeczny – siedział sobie z nami i żądał zagłaskania na śmierć. Postój – miło, fajnie, ale kupiłam za dużo wody i potem już się męczyliśmy (trzeba było ją nieść…). Ale humory poprawiły nam puzzle. Dzień wcześniej rzekłam do Pawła na jakimś poboczu: "Ciekawe jak reagowaliby ludzie, gdybyśmy układali tutaj puzzle". I masz. Dzień później zatrzymujemy się i w rowie znajdujemy aż dwie pary z "Epoki lodowcowej" – takie małe. Ależ to była radość. Ułożyliśmy z Pawłem, potem znowu kilometry, a teraz chowamy się przed słońcem w przedsionku lasu. Paweł dosypia, ja gryzmolę. Zapomniałam tylko dodać, że teraz bezchmurne niebo, ale rano nam pokropiło. Na szczęście był przystanek;)
Łoo, a jakie tu mają przystanki. W każdej wiosce chociaż jeden zamykany, omurowany lub drewniany – wyglądają jak kapliczki. Jakby nie było namiotu to na 100% w którymś z nich byśmy spali – bardzo zadbane (…)"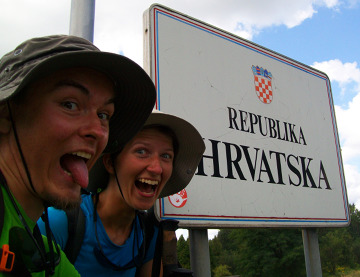 Piesza wyprawa Polska - Chorwacja 2012
fot. Emilia Mlak
Podsumowując – wyprawa udana. Dotarliśmy do granicy węgiersko – chorwackiej, przekroczyliśmy rzekę Murę i bramki graniczne, by po chwili (ku zdziwieniu wszystkich obecnych) zawrócić i zacząć zabawę w powrotnego stopa. Wracaliśmy autostopem 4 dni, trochę zmęczeni, ale bogatsi o nowe doświadczenia, masę wrażeń i cudownego zżycia z naturą. Przeszliśmy na nogach około 500 kilometrów, a łącznie ze stopem przebyliśmy około 1100 kilometrów. Zajęło nam to łącznie 32 dni. Pokonaliśmy tysiące wewnętrznych barier i przesunęliśmy delikatnie własny horyzont. Ciekawe, gdzie poniesie nas następnym razem… I w jaki sposób będziemy się przemieszczać. Może tym razem Azja na rolkach?