Janusz Kurczab, ur. 6 IX 1937 w Warszawie. Taternik, alpinista, szermierz (olimpijczyk z Rzymu 1960, w 1961-73 trzykrotny indywidualny i 14-krotny drużynowy mistrz Polski w szpadzie), pływak i narciarz wysokogórski. W 1972 roku uczestniczył w wyprawie w Hindukusz. Kierownik wielu wypraw w najwyższe góry świata – Himalaje i Karakorum. Z wykształcenia trener alpinizmu.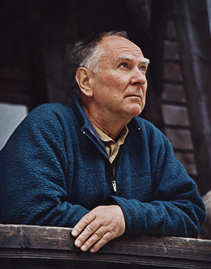 Janusz Kurczab na ganku schroniska przy Morskim Oku
fot. J. Słupski
Ponadto redaktor "Taternika" oraz autor wielu książek o tematyce górskiej i przewodników. Jako taternik poprowadził wiele wybitnych dróg zarówno zimą, jak i latem. Laureat prestiżowej nagrody Explorer 2003.

A.K.: Przy okazji wypraw górskich, w Hindukusz, Himalaje czy Karakorum, poznał pan wiele egzotycznych miejsc. Był czas na ich odkrywanie, czy wtedy liczyły się tylko góry?

J.K.: Specjalnie się nie spieszyliśmy. Jechaliśmy ciężarówką, o którejś tam godzinie już byliśmy zmęczeni, więc się zatrzymywaliśmy. I chodziło się po okolicy. Pamiętam sytuację, kiedy zepsuła nam się ciężarówka w Maszhadzie, świętym mieście Iranu. No to trzy dni się reperowało, bo to była poważna sprawa – trzeba było odlać nowe panewki. Znów mieliśmy czas na zwiedzanie. A samochód dojechał potem w góry, w Hindukusz, i wrócił do Polski.

A.K.: Wyprawa ciężarówką aż z Polski?

J.K.: Tak, tam i z powrotem. To była pierwsza moja wyprawa, pierwsza wielu ludzi, między innymi Wanda Rutkiewicz z nami była. Po drodze zwiedzaliśmy. Kabul chociażby.


Zobacz galerię zdjęć z wypraw Janusza Kurczaba


A.K.: A jak to było z Nepalem? Dużo pan o nim pisze.

J.K.: Nie zliczę ile razy byłem w Nepalu. Wyjeżdżało się tam specjalnie na trekking albo na wyprawę i przy okazji się tam siedziało. Któregoś razu nam się samochód rozsypał, też ciężarówka, tylko Jelcz, jeszcze w Indiach. Już wtedy byłem w Nepalu, polecieliśmy w trzy osoby wcześniej załatwiać formalności. 1978 rok, wyprawa na Makalu. Sprzęt i reszta uczestników jechała ciężarówką.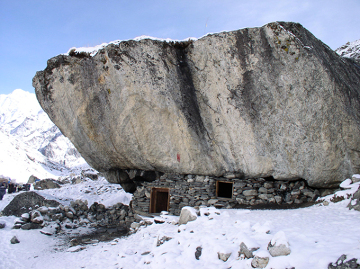 fot. J. Kurczab
Siedzieliśmy w Katmandu ponad miesiąc, nie wiedzieliśmy co z samochodem i nagle dostaliśmy wiadomość, że się rozkraczył w Delhi i trzeba sprowadzić z Polski wał korbowy. No więc co my robimy? Zwiedzamy! Jeździliśmy na rowerach w różne miejsca. Wybraliśmy się nawet do Dardżylingu, czyli bardzo daleko.

A.K.: Do Nepalu wraca pan chętnie. Czy jednak jest tam takie miejsce, gdzie absolutnie nie chciałby pan wrócić?

J.K.: Nie wiem czy ktokolwiek chciałby, jeżeli nie musi, przekraczać granicę w Sonauli. W ogóle przekraczanie granicy lądowej z Indiami jest nieprzyjemne, bo są cholerne komary, marne hoteliki i autobusy. Nie przejeżdża się granicy, tylko trzeba wziąć cały majdan na siebie i przejść ją na piechotę. A wracając do komarów – dlaczego Anglicy nie zawojowali Nepalu? Stanęli w Indiach, próbowali, ale niestety komary ich pogryzły, zaatakowała malaria i padło pół wojska.

A.K.: Skoro mówimy o granicy nepalsko-indyjskiej – miał pan okazję zwiedzić Indie?

J.K.: Oczywiście. Byłem na przykład w Amritsarze, w złotej świątyni, w Agrze, w Puri, czy na Goa. W Delhi siedziało się długo, i to wielokrotnie. W zasadzie po przejechaniu granicy niewiele się zmieniało. Ta sama religia, bo na południu Nepalu też jest hinduizm. Język podobny, ludność praktycznie ta sama, bo grupy etniczne z południa Nepalu to są praktycznie hindusi.

A.K.: Zanim pojechał pan do Nepalu, pewnie sporo pan o nim czytał. Czy coś jednak było zaskoczeniem?

J.K.: Nie zdawałem sobie sprawy, ile tam jest tych świąt religijnych. Ludzie 1/3 roku nie pracują, tylko świętują. Przynajmniej tak było za czasów króla.

A.K.: Spędził tam pan dużo czasu, poznał interesujące miejsca, także te nieoczywiste.

J.K.: Może nie jest to aż tak piękne miejsce, ale ciekawe – najstarsza świątynia w Dolinie Katmandu, nazywa się Changu Narayan. Pochodzi mniej więcej z XV wieku, przynajmniej jej fragmenty. Pojechaliśmy na rowerach najpierw do Bhaktapuru, potem na północ przez pola ryżowe, w końcu trzeba było wjechać na wzgórze.

A.K.: Wygląda na to, że rower jest świetnym sposobem podróżowania po Nepalu.

J.K.: Znakomitym, szczególnie jeśli chodzi o Dolinę Katmandu.

A.K.: Jakie są pana najbliższe plany podróżnicze?

J.K.: Wybieram się do Kanady. Podróżowałem po niej ponad 15 lat temu, odwiedziłem też wtedy Stany. Kanada jest przepiękna, wspinałem się tam – zrobiliśmy 300-metrową skalną ścianę o indiańskiej nazwie Yamnuska. Weszliśmy też na lodowy szczyt Mount Athabasca. Dużo jeździliśmy. Wśród prerii jest rejon, który nazywają Badlands. Rzeczywiście paskudne miejsce. Zerodowane doliny, w których odkryto kości dinozaurów, wybudowano tam muzeum.

A.K.: Zupełnie inny świat – tu Azja, tu Ameryka Północna.

J.K.: Prawda. Azja to dla mnie nie tylko Nepal, chociaż tak się może wydawać. Byłem też chociażby w Hongkongu, na Tajwanie, na Filipinach.

A.K.: Czyli nie tylko najwyższe góry, ale też po prostu podróżowanie.

J.K.: Góry w pewnym momencie się dla mnie skończyły. Ostatni trekking miałem w 1999 roku dookoła Dhaulagiri. Poza tym rzeczywiście dużo podróżowałem. A czego nie znam? Ameryki Południowej. Na południe od Stanów Zjednoczonych byłem tylko krótko w Meksyku.

A.K.: Ciężko jest zwiedzić wszystko, co ciekawe. Wobec tego kiedy pan podróżuje, ma pan jakiś plan?

J.K.: W latach 90. na wiosnę wyjechałem z grupą przyjaciół i wszystko mieliśmy zaplanowane. Hongkong, potem Filipiny. Chcieliśmy dostać się na piękną wyspę Boracay i pojawiły się problemy – agencja twierdziła, że nie ma miejsc.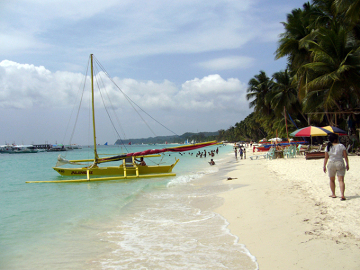 fot. J. Kurczab
Więc poszedłem do linii lotniczych i sam to załatwiłem. Następnego dnia dolecieliśmy do Kalibo na sąsiedniej wyspie Panay, na Boracay nie ma lotniska. Dalej busem, potem trimaranem, taką charakterystyczną łódką. I bez żadnej rezerwacji weszliśmy do pierwszego lepszego bungalowu i oczywiście były wolne miejsca. Agencja wynajęłaby nam najdroższe.

A.K.: Lepiej wszystko załatwiać samemu?

J.K.: Oczywiście! W wiele miejsc tak jechałem. W ciemno, a i tak zawsze coś znalazłem. Najczęściej podróżowałem bez żadnych planów i rezerwacji. Tak samo dostałem się na Goa, z Bombajem po drodze. Bombaj nie zrobił zresztą na mnie dobrego wrażenia. Kupa ludzi, moloch. Chociaż może mniej żebraków niż w Kalkucie. I nad morzem jest ładnie, tylko wewnątrz miasta nic ciekawego.

A.K.: Jakie są inne miejsca, które dobrze pan wspomina?

J.K.: Poza wyprawami i trekkingami – wspomniany wyjazd do Hongkongu, na Filipiny i Tajwan oraz Stany Zjednoczone i Kanadę. Zacząłem zwiedzanie od Nowego Jorku, łaziłem na piechotę, opłynąłem Manhattan ze znajomym, ciekawe przeżycie. Potem San Francisco, tam siedziałem długo, przepiękne miasto. Musiałem się nauczyć, jak się prowadzi samochód w Ameryce, tam są te charakterystyczne skrzyżowania, z czterema stopami. Zasada jest taka – kto pierwszy dojeżdża do skrzyżowania, ten ma pierwszeństwo.

A.K.: Kiedy myślę o Stanach, mam w głowie Yosemity. Udało się panu je zobaczyć?

J.K.: Oczywiście, wspinałem się tam, choć miałem już 59 lat. Przechodziłem nawet trudne drogi. Zobaczyłem dwa rejony – dolną, zasadniczą dolinę z El Capitan i Half Dome oraz górną, Tuolumne Meadows, o innym charakterze.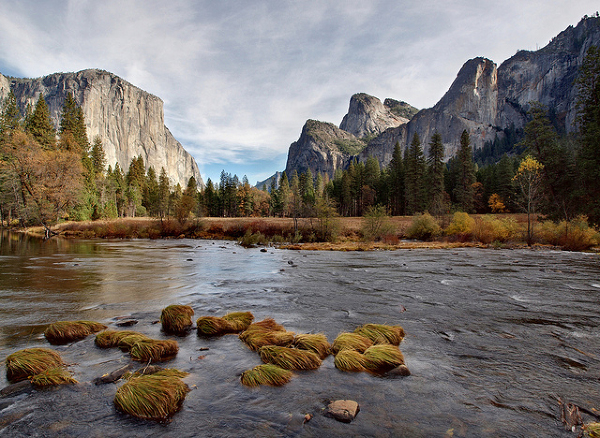 Yosemite. Fot. D. H. Parks


A.K.: Odwiedził Pan też inne rejony wspinaczkowe w Stanach?

J.K.: Byłem też nad jeziorem Tahoe, na granicy Kalifornii i Nevady. Po drodze wstąpiliśmy jeszcze w skałki Lovers Leap, nazwa powstała od wypadku dwojga kochanków. I oczywiście Wielki Kanion, chociaż nie miałem na niego dużo czasu. Ale zeszliśmy prawie do rzeki. Jak się tam wszystko zmienia! Na górze zimno, a schodzi się w tropiki. Stamtąd przejechaliśmy do kanionu Bryce, też pięknego. Było -13 stopni. Potem znowu przeskok temperatury, bo Las Vegas, gorąco jak cholera.

A.K.: Skąd się wziął pomysł pisania przewodników trekkingowych po Nepalu?

J.K.: Wzięło się to stąd, że tam tyle razy byłem. Nie tylko na wyprawach i trekkingach. Będąc w Indiach, też się przecież wyskakiwało do Nepalu.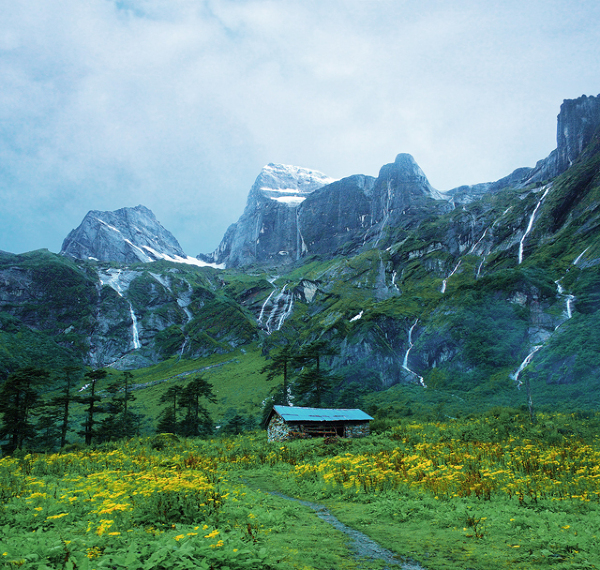 Dolina Barun koło Nehe Kharka. Fot. Janusz Kurczab


A.K.: Ma pan jakieś nowe plany książkowe?

J.K.: Trzecie wydanie "Himalajów Nepalu".

A.K.: Dużo się zmieniło?

J.K.: Ogromnie. Wszystko się rozbudowuje. W tej chwili naokoło Annapurny już ponad połowę trasy można przejechać dżipem. Na szczęście miejscami szosę poprowadzono inną drogą niż szlak pieszy. Również Dolina Kali Gandaki teraz jest cała przejezdna. Zdecydowanie ją odradzam. Mało ciekawa, a teraz jeszcze pełna dżipów.

A.K.: Wznowienie przewodnika – i co dalej?

J.K.: Na razie nic poza tym. Jakbym się wcześniej za to zabrał... – przecież nic nie napisałem ze wspomnień wspinaczkowych. Poza artykułami. Teraz to już jest za stare, zatarło się w pamięci. Zresztą trzeba być zdolnym pisarzem. Lepiej mi przychodzi pisanie o historii, jak napisane przeze mnie "Polskie Himalaje". Na przykład napisać o historii wszystkich szczytów ośmiotysięcznych.

Rozmawiała Agata Kozłowska
Dwa zdjęcia ze Stanów:
http://www.flickr.com/photos/nikonvscanon/3450020446/sizes/z/in/photostream/ - Manhattan