Palcem po mapie.
Znaliśmy się od paru lat, nie widzieliśmy przez kilka. Wpadłam na prezentację chłopaków z wyprawy do Tadżykistanu. Oczywiście skończyło się na głupiej gadce: "Też bym chciała pojechać". "Tak? To jedźmy". "Gdzie?".
Jak się potem okazało, wcale nie było to takie bezpodstawne i puste gadanie, jak wtedy myślałam. Osobiście bardzo chciałam odwiedzić Tybet, ale okoliczności okazały się niesprzyjające, żeby nie powiedzieć, prawie uniemożliwiające wyjazd. Mówię "prawie", ponieważ znam osoby, które mimo wszystko tego dokonały. Niemniej, zdecydowaliśmy się na Pakistan. A skoro Pakistan, to i Karakorum Highway. A skoro Xinjiang, to może i Kirgistan? Tak właśnie powstała nasza trasa: Kazachstan, Kirgistan, Chiny, Pakistan i Indie.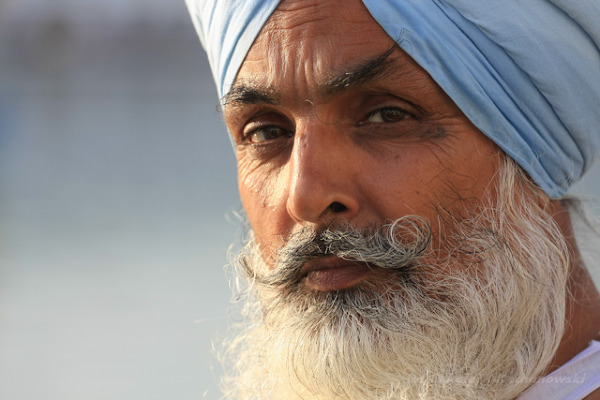 Postanowiliśmy jechać na rowerach. Chcieliśmy zrobić coś więcej niż zwykłe przejechanie trasy stopem czy autobusem. Chcieliśmy, żeby było to dla nas wyzwaniem sportowym, kondycyjnym, walką z samym sobą i własnymi słabościami. Od momentu kiedy wsiedliśmy na rowery, pokochaliśmy ten sposób podróżowania z całego serca. Gdy teraz myślę o kolejnych wyprawach, w jakich chciałabym w przyszłości wziąć udział, nie wyobrażam sobie innego środka lokomocji niż rower.
Do tej pory nie mogę się nadziwić reakcji moich rodziców, gdy pewnego dnia weszłam do domu i powiedziałam: – Mamo, jadę do Pakistanu! – Tak? Ale jak to? – Na rowerze. – Dobrze – odpowiedziała mama jakby to było coś najnormalniejszego na świecie. Żadnego sprzeciwu, negacji, walki. Od początku do końca miałam pełne wsparcie ze strony rodziców. W końcu skoro wychowuje się dzieci, w oparciu o hasło, że "Trwanie w bezruchu jest dla człowieka stanem nienormalnym (...)" (Liv Arnesen, "Grzeczne dziewczynki nie chodzą na biegun" przekład: Anna Marciniakówna, Wydawnictwo Literackie MUZA, Warszawa 1998), trzeba ponosić tego konsekwencje. W przypadku moich rodziców na szczęście skończyło się na licznych pożyczkach, wielu esemesach z pozdrowieniami, całej masie zdjęć i wspomnień, i zapachu nowych potraw oraz mlecznej herbaty.
Trudne dobrego początki.
Przylecieliśmy do Ałma Aty w Kazachstanie. Wybraliśmy to miejsce na start głównie ze względów ekonomicznych, a mianowicie ceny biletu, która była stosunkowo niska. Stąd rozpoczęła się nasza rowerowa podróż przez Azję Centralną. Szybko uporaliśmy się z trasą do Biszkeku w Kirgistanie, ale te kilka pierwszych dni na długo potem pozostawiło w pamięci najnudniejsze, najbardziej płaskie i gorące fragmenty z możliwych.
Przejechaliśmy blisko 200km ruchliwą "autostradą", pośród najbardziej wypasionych samochodów, jakie zdarzyło nam się widywać w tym rejonie. Temperatury były bardzo wysokie nawet dla Mikołaja, który już nie raz, nie dwa spędzał wakacje w dżungli. Słońce prażyło, a droga była prostą kreską niekończącą się w naszych głowach nawet na horyzoncie. Rowery dużo cięższe od tych, jakimi normalnie poruszaliśmy się po górach w okolicach Krakowa i nie tylko, stanowiły kotwicę. Na szczęście dalej było już tylko lepiej. Droga zaczęła się wznosić, pojawiły się góry, przełęcze i górskie wioski pełne pasterzy.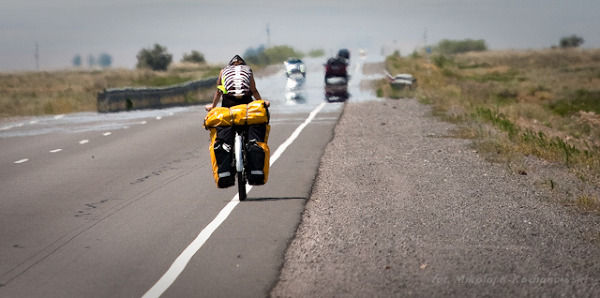 W Biszkeku spotkaliśmy się z Olą i Krzyżanem i stamtąd wyruszyliśmy na podbój pierwszej wysokiej przełęczy na naszej trasie. Mieliśmy do podjechania 2 tysiące metrów w pionie i zajęło nam to, bagatela, dwa dni. Przed samym szczytem spotkaliśmy parę Amerykanów w wieku naszych rodziców, którzy z łatwością jak przy jeździe do sklepu po bułki, pokonali tę samą drogę w kilka godzin. To dało nam do myślenia, że może jeszcze nasza forma to nie wyżyny możliwości.
Zatem systematycznie trenowaliśmy nasze nogi, płuca i co najważniejsze silną wolę, pedałując cały czas w kierunku jeziora Song Kul w centralnym Kirgistanie. Pejzaże, które przesuwały się przed naszymi oczami, co godzinę, co minutę zapierały dech w piersiach. Powoli docierało do nas, że oto właśnie znaleźliśmy się w centrum Azji, miejscu zapomnianym przez czas, przez europejski pośpiech i nowoczesny rozwój, w którym ludzie żyją jak sto lat temu, dalej wypasają krowy i uprawiają ziemniaki, mleko kupuje się prosto od krowy, a chleb pani gosposia wyjmuje z pieca. Tylko od czasu do czasu pojawiali się ludzie dzwoniący z telefonów komórkowych, odpalający samochód bądź jedyny w wiosce komputer.
Oczywiście na każdym kroku, a raczej metrze przejechanym na rowerze, wywoływaliśmy nie lada zdumienie i zainteresowanie. Jednak to przyjazne, otwarte zainteresowanie, a nie wścibski zapęd, by komuś innemu nadmuchać w kaszę. Regularnie zapraszani byliśmy do domów na obiady, kolacje i wódkę, która jak we wszystkich postsowieckich republikach, wydaje się być oznaką najwyższej gościnności. Zastawiano dla nas stoły wszystkim, co było w domu, a drugie tyle wpakowywano do sakw na drogę. Wódkę po drodze można było kupić wszędzie, w szczególności w plastikowych jogurtowych kubeczkach zamykanych sreberkiem, w których mieściło się po jednym dużym hauście trunku. Do tej pory żałujemy, że takowych nie przywieźliśmy do Polski jako jeden z kirgiskich artefaktów.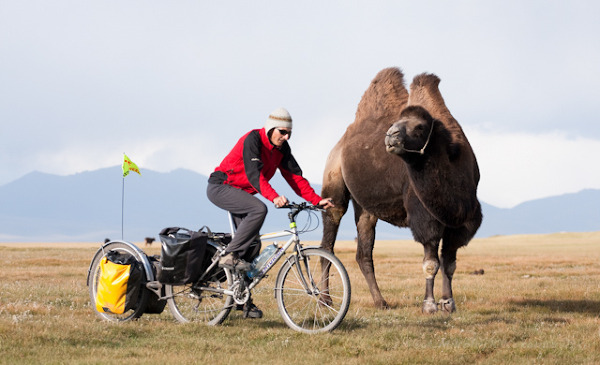 Kilometr po kilometrze, dzień po dniu, przemieszczaliśmy się wśród kirgiskich łąk i pól, pokonując górskie drogi i przełęcze w stronę jeziora Song Kul. Był to pierwszy wymarzony i wyczekany przystanek na naszej trasie. Tereny pełne pastwisk i pasterskich jurt przewijały się przed oczami, a gdy wreszcie dotarliśmy nad jezioro, oczom ukazały się tereny o niespotykanej w Europie przestrzeni, pełnej dosłownie niczego. Tak niezaludnionych i niezagospodarowanych połaci łąk, wód i lasów na naszym kontynencie ciężko jest uświadczyć.
Awarii rozmaitych początek
Przed wyjazdem długo dywagowaliśmy na tematy związane ze sprzętem i zastanawialiśmy się, co może, co nie powinno i co prawdopodobnie zepsuje nam się podczas wyprawy. Wydawało nam się, że dosyć sensownie opracowaliśmy plan naprawczy dla naszych rowerów. Jak się potem okazało, niewiele z rzeczy, które zawiodły, przewidzieliśmy na początku. Mój rower sprawował się fantastycznie i, prawdę mówiąc, niczego mu nie mogę zarzucić. Natomiast problemy z rowerem Mikołaja rozpoczęły się właśnie nad jeziorem Song Kul, gdzie odkręcił się support w jego ramie. Zmuszeni byliśmy ciężarówką wydostać się stamtąd do miejscowości Naryń, co wcale nie było proste, gdyż ruch samochodowy w tym rejonie ograniczony był do góra jednego pojazdu dziennie. Co warte zaznaczenia, Kirgizi rejon jeziora Song Kul uważają za bardzo ruchliwą turystycznie część ich kraju...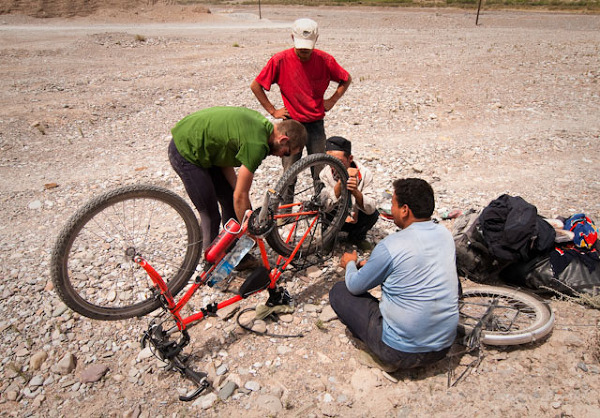 Po wielu perypetiach w Naryniu i wielogodzinnej wycieczce autobusowej Mikołaja do Biszkeku i z powrotem, udało się naprawić rower i mogliśmy wyruszyć w dalszą drogę. Przeprowadzony przeze mnie w międzyczasie research ukazał niestety kolejny problem, z którego zdawaliśmy sobie już sprawę w Polsce, jednak mieliśmy nadzieję, że uda się jakoś sprawnie ominąć to utrudnienie. Okazało się, że przejście graniczne, którym chcieliśmy się przedostać do Chin – Torrugart jest zamknięte dla rowerzystów i mimo różnych kombinacji i spekulacji nijak nie da się ominąć tego przepisu. Pozostało nam do wyboru zapłacić 200$ za samochód, co przy bardzo niskim budżecie całej wyprawy było nam kompletnie nie w smak, bądź nadłożyć ponad 1000 km drogi i objechać cały centralny Kirgistan do przejścia granicznego w Irkesztam.
Wybraliśmy to drugie. Przybiliśmy ostatnie piątki Oli i Krzyżanowi, pożegnaliśmy się i zostawiając ich w Kirgistanie, sami zaczęliśmy pedałować w stronę granicy chińskiej i jeszcze dalej.
Kotlina Ałajska
Kotlina Ałajska to miejsce, do którego zostaliśmy rzuceni trochę przez przypadek i był to jeden z najpiękniejszych przypadków podczas całej naszej wyprawy. W momencie, w którym zdecydowaliśmy się na przejście graniczne w Irkesztam, różnymi środkami transportu przedostawaliśmy się z powrotem do Biszkeku, potem do Osz, ostatecznie na rowery wsiedliśmy ponownie w rejonie miejscowości Sary – Tasz. Miejscowość ta znajduje się właśnie w Kotlinie Ałajskiej. Było to pierwsze miejsce na naszej trasie, które po prostu powaliło mnie na kolana. Przepiękna, rozległa dolina, ciągnąca się przez wiele kilometrów na wysokości ponad 3 tysięcy metrów, otoczona z południowej ściany murem iskrzących się w słońcu, białych szczytów pokrytych lodowcami z Pikiem Lenina na czele zrobiła swoje. Gdy wstawaliśmy o poranku i otwieraliśmy namiot, naszym oczom ukazywały się te fantastyczne pejzaże na kompletnym odludziu, czuliśmy od stóp palców po czubki nosów sens całej tej wyprawy.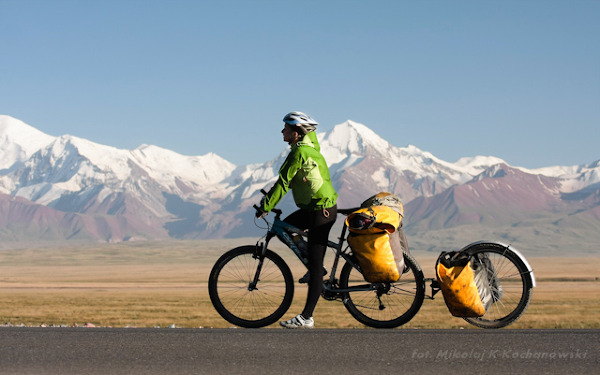 Kaszgar – miasto chińskich wieżowców, ujgurskiej starówki i śmieciarek wygrywających "Happy Birthday". To tytuł mojej Facebookowej notatki, zamieszczonej w Internecie za pomocą mojej siostry podczas naszego pobytu w Kaszgarze. Akcja ta wymagała pośredników ponieważ, jak już powszechnie wiadomo, Chińczycy mają zablokowany dostęp do Facebooka. Pojawiły się nawet serwery umożliwiające obejście tego nieudogodnienia, niestety albo nie funkcjonują do końca sprawnie, albo udało im się mnie pokonać po tym krótkim czasie izolacji od wszelkich nowinek technologii cyfrowej.
"Przyjechaliśmy do Kaszgaru dwa dni temu. Ostatni odcinek kilku kilometrów pokonaliśmy autostradą, na której mijaliśmy niezliczoną ilość skuterów, oraz wozy zaprzęgnięte w osły i ludzi poruszających się pieszo, dzierżących w rękach kosy, sierpy i inne dziwne narzędzia. Po wielu różnych dziwnych sytuacjach, przebywając drogę dłuższą niż 2 tys. km, różnymi środkami transportu (ROWER, autobus, taksówka, tir) udało nam się zawitać w Chinach (...).
Przeprawa przez granicę kirgisko-chińską dostarczyła nam wielu niezapomnianych wrażeń, trwało to około 1,5 h, na przestrzeni 10 km przekroczyliśmy 6 posterunków i na każdym z nich sprawdzali nam paszporty. Staliśmy się również wielką atrakcją dla chińskiej telewizji i mamy teraz na pewno oglądalność większą niż Kuba Wojewódzki. Cała biurokracja chińska jest jak to powiedział nasz znajomy z USA jak "pain in the ass". Czasami aż nie mogę uwierzyć w to, co się tutaj dzieje . W Kaszgarze udało nam się znaleźć nocleg w hotelu pokroju naszego Orbisu za 10$ od osoby, więc teraz korzystamy z ciepłej wody pod prysznicem w bardzo komfortowych warunkach. Jutro rozpoczynamy naszą przygodę z KKH. Przed nami największa do tej pory przełęcz do przekroczenia – 4500 m n.p.m. Za tydzień mamy nadzieję być już w Pakistanie (...).
Kaszgar jest przepięknym miastem. Panuje tutaj totalna mieszanka kulturowa. Stare miasto otoczone jest wielkimi chińskimi wieżowcami. Na ulicach spotkać można drogie samochody, skutery oraz wozy zaprzęgnięte w osły. Sprzedaje się wszystko i wszędzie, za każdą cenę.
Turyści oraz Chińczycy przemieszczają się w tłumie tradycyjnie ubranych Ujgurów. Sierpień jest okresem ramadanu dla tych ostatnich, w związku z tym restauracje zamknięte są do zachodu słońca i wszędzie na ulicy spotkać można ludzi zmierzających do meczetów na wielogodzinne nabożeństwa.
Kaszgar na prawdę nas urzekł i aż przykro, że musimy tak szybko stąd wyjeżdżać. Jednak czekamy na więcej w Pakistanie, po drodze do Hunzy (...)".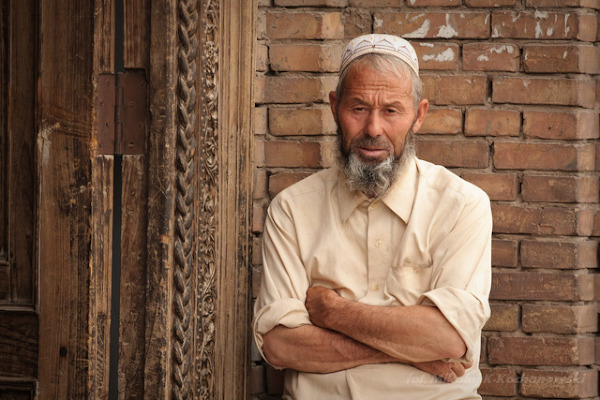 I LOVE Pakistan!
20 sierpnia (wreszcie!) przekroczyliśmy granicę z Pakistanem. Był to punkt kluczowy naszej wyprawy, dlatego, gdy wreszcie przejechaliśmy rozklekotanym autobusem przez wielką bramę na granicy pakistańsko-chińskiej, a pojazd wjechał z równego asfaltu na wertepiastą drogę, nasi lokalni towarzysze podróży kompletnie nie mogli zrozumieć, czemu absolutny uśmiech rozradowanego dziecka nie schodzi nam z ust.
Przez wcześniejsze kilka dni przemierzaliśmy chińską część Karakorum Highway. Na początku droga ta więcej miała wspólnego z autostradą, niż z Karakorum – był to koniec pustyni Takla Makan, czyli po raz kolejny płasko, nudno i gorąco. Jednak z momentem, w którym zaczął się podjazd na przełęcz przed jeziorem Karakul, po raz kolejny oczom naszym ukazały się niebywałe widoki. Walcząc z epizodycznymi przypadkami choroby żołądkowej oraz pomimo tego, że nie do końca racjonalnie przeliczyliśmy porcje żywieniowe, co skończyło się małą awarią i brakiem sił na trasie, dotarliśmy wreszcie do stóp Muztagh Aty. Był to kolejny przystanek na naszej trasie, który wspominamy z rozrzewnieniem.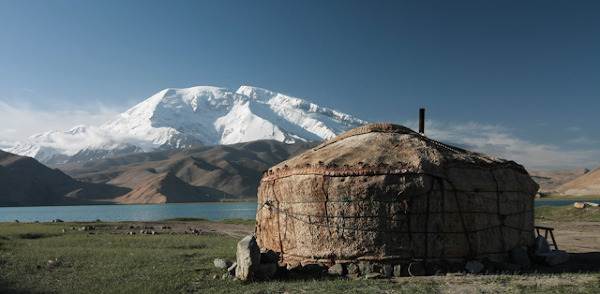 Po drodze znad jeziora Karakul do miejscowości Taszkurgan przejechaliśmy przez drugi co do wysokości punkt położony na Karakorum Highway czyli 4152 m n.p.m. Wtedy po raz pierwszy przybiliśmy sobie wysoką piątkę za postęp w kwestii kondycyjnej i aklimatyzacyjnej.
W miejscowości Taszkurgan po raz kolejny zmuszeni byliśmy załadować rowery do autobusu i ponownie przekroczyć granicę chińską, tym razem z Pakistanem, pod nadzorem dwóch uzbrojonych Chińczyków z wyrazem twarzy nic nie rozumiejącego psa burka.
Po wjeździe do Pakistanu mój długopis pozostawił na kupowanych po drodze kartkach pocztowych taki wpis: "Do tej pory przejechaliśmy 1480 km na rowerach oraz 1280 innymi środkami komunikacji!".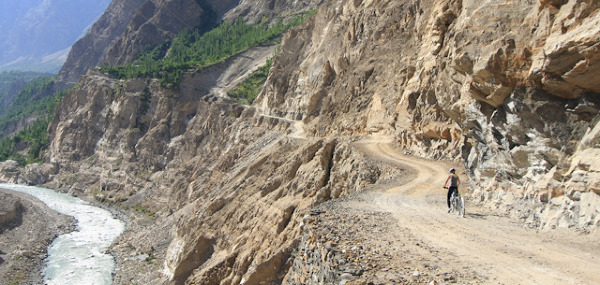 W momencie, w którym pozostawiliśmy za plecami Chiny, naszym oczom ukazał się kompletnie inny świat niż ten oglądany do tej pory. Brytyjska kolonizacja zostawiła w Pakistanie wbrew pozorom wiele dobrego – przede wszystkim język. Wreszcie mogliśmy swobodnie komunikować się ze sporą grupą osób po angielsku. Oczywiście używaliśmy podstawowych słów i najprostszych konstrukcji gramatycznych, w innej sytuacji nasi rozmówcy zazwyczaj gubili się, zaczynali kiwać głowami i mruczeć pod nosem rzeczy w stylu "Yes, yes, no, no...".
Poza tym ludzie w rejonie północnym, szczególnie w okolicach Hunzy, okazali się być bardzo otwarci, znacznie lepiej wykształceni, niż się tego spodziewaliśmy, posiadali dosyć szerokie horyzonty i co najważniejsze, okazali się bardzo tolerancyjni dla innych kultur i religii. Mówię tutaj w szczególności o odłamie muzułmanów, którzy nazywają się Ismaili.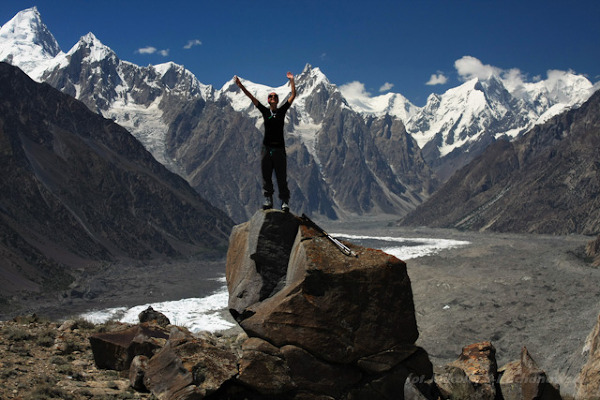 Kolejną rzeczą, która nas niewątpliwie zaskoczyła, była baza turystyczna w rejonie Passu, Karimabadu i Gilgit. Na każdym kroku zauważaliśmy oznaki tego, że miejsca które przemierzamy, kiedyś były pełne turystów z całego świata. Niestety, od pamiętnych wydarzeń z 11 września 2001 r., bardzo mało osób odwiedza Pakistan. Hotele stoją puste, a przewodnicy górscy zamiast prowadzić wycieczki przez lodowce, wożą trawę wózkami. Przykre, ponieważ dla ludzi w tamtym regionie nic się nie zmieniło, dalej jest bezpiecznie i spokojnie, tyle że pusto...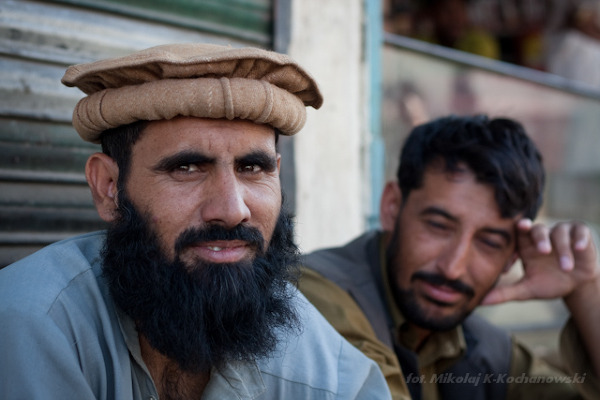 Natomiast utrzymanie KKH po stronie pakistańskiej to ciągła walka z żywiołem. Droga jest sukcesywnie wymywana przez rzekę i zasypywana przez osuwiska, czego najbardziej ekstremalnym efektem jest jezioro Attabad na trasie Karakorum Highway, które powstało podczas zeszłorocznych powodzi. Osuwisko zmiotło z powierzchni ziemi miejscowość Attabad, zatamowało rzekę, przez co woda zalała cztery kolejne wioski i 23 km drogi. Teraz cały transport jest utrudniony przez konieczność ładowania towaru na łodzie i przeprawiania się nimi przez wąskie jezioro. Miejsce to niewątpliwie jest jednym z najbardziej urokliwych na całej trasie, jak dla mnie było to najpiękniejsze jezioro, jakie do tej pory widziałam, stanowi niestety olbrzymie utrudnienie dla mieszkańców.
Mimo wszystko doszliśmy z Mikołajem do wniosku, że nic za darmo, ludzie, którzy mają z okien widok na ośnieżone ośmiotysięczniki, muszą mieć trochę trudniej.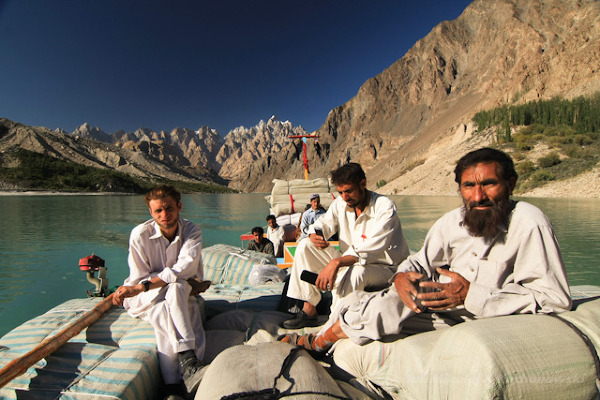 Pobyt w górskim rejonie Passu, Karimabadu i Gilgit był długo wyczekiwanym przez nas czasem. Miejsca te okazały się jednymi z najpiękniejszych na naszej trasie. Monumentalne góry, które jak to określił Mikołaj, zaginają czasoprzestrzeń, na tle idealnie błękitnego nieba, jezioro, miejscowości jak zielone oazy na zboczach suchych gór, kipiące bujną roślinnością oraz wyryta w skale półka, po której biegnie KKH. Poza tym spotkania z miejscowymi ludźmi, wizyty w ich domach, posiłki przygotowane przez pakistańskie rodziny i niezliczone ilości czasu spędzonego na rozmowach to tylko urywki tego, czego doświadczyliśmy w tamtym rejonie.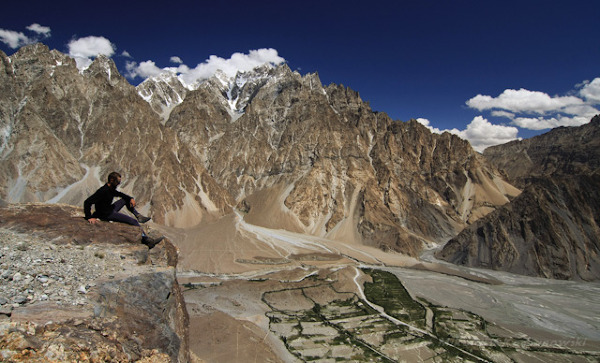 Płaskowyż Deosai.
Pamiętam, jak w Gilgit Mikołaj powiedział: "Czuję, że Deosai nam ładnie wybierze". Nie chcę mówić, że wykrakał, gdyż było to absolutnie do przewidzenia. Niemniej jednak wiele się nie pomylił. Na przestrzeni trzech dni, na odcinku trasy liczącym 110 km zrobiliśmy podjazd z 1500 m n.p.m. na 4300 m n.p.m.
Maratończycy powiedzieli by, że to pestka, w końcu robią tyle podczas jednego wyścigu. My jednak, wlokąc za sobą ciężkie jak ta lala wózki w 40-stopniowym upale, uznaliśmy to za nie najgorszy wyczyn. Momentami, pod koniec, trasa prowadziła tak stromo, że pchaliśmy we dwójkę każdy z rowerów, bo żadne z nas w pojedynkę nie było w stanie ruszyć swojego pod górę. Ale z pewnością było warto.
Od momentu przekroczenia 2000 m n.p.m., na drodze w stronę Astore, otworzył się przed nami zupełnie inny świat. Zaczęło być zielono, pojawił się pierwszy las, jaki mieliśmy okazję oglądać od momentu opuszczenia Polski, drewniane domki i górskie potoki, a góry charakterem zaczęły troszkę, ciut ciut, przypominać Tatry Zachodnie. Dlatego poczuliśmy się niemalże jak w domu. Czasami tylko przejeżdżający z zawrotną prędkością jeep, wyładowany Pakistańczykami po dach i nawet wyżej, przypominał nam gdzie tak na prawdę jesteśmy.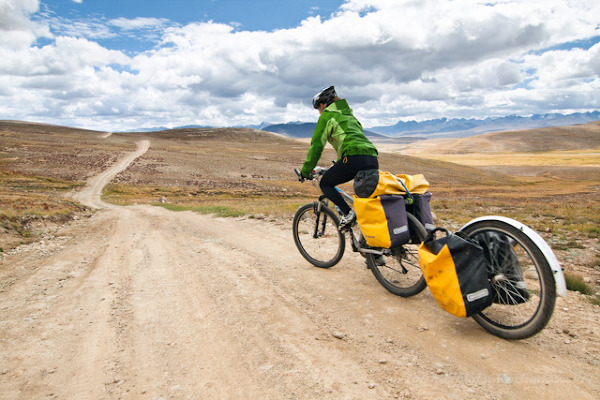 Przekroczenie Deosai stanowiło dla nas trzydniowe spotkanie z absolutnie nieskalaną naturą, przemierzaliśmy miejsca praktycznie niezamieszkałe przez ludzi, mieliśmy czas, żeby trochę odpocząć od, niewątpliwie momentami uciążliwego, zainteresowania jakie wywoływaliśmy pośród miejscowej ludności, wyciszyć się i kontemplować w spokoju piękno i spokojny oddech tych potężnych gór.
Zjeżdżając z Deosai, odwiedziliśmy jeszcze Skardu – bazę wypadową dla wielu wysokogórskich ekspedycji, zaliczyliśmy 70-kilometrową wycieczkę piękną pakistańską ciężarówką, która poruszała się w tempie naszych rowerów, albo jeszcze wolniej, ale za to bardzo przyjemnie dzwoniła wszystkimi dzwoneczkami przytwierdzonymi do karoserii. Potem przeskoczyliśmy przez przełęcz Babusar i powoli, ale systematycznie, krok po kroku dotarliśmy do Islamabadu. Przez kolejnych kilka dni zwiedzaliśmy stolicę Pakistanu i walczyliśmy o indyjskie wizy, po czym przemieściliśmy się do Lahore.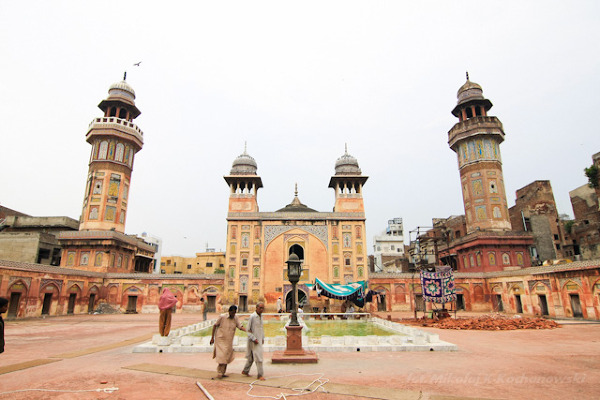 Gdy czyta się różne przewodniki po Pakistanie, bądź śledzi relacje podróżników, często można natknąć się na opinię, że Islamabad jest jak Warszawa, a Lahore jak Kraków. Myślę, że w tym porównaniu jest wiele prawdy. Islamabad to duże, współczesne miasto, pełne wieżowców i nowoczesnych budynków, w którym na pierwszy rzut oka trochę przycichł ten wschodni gwar i bałagan. Oczywiście są to tylko pozory, niemniej jednak pierwsze wrażenie jest bardzo betonowe.
Lahore natomiast jest nieporównywalnie bardziej gwarne i charyzmatyczne, poza tym uważane jest za stolicę kultury Pakistanu. Przez te kilka dni, które spędziliśmy w Lahore, mieliśmy okazję odwiedzić przepiękne meczety, fort i wiele innych, skądinąd fantastycznie zachowanych zabytków, uczestniczyliśmy w koncertach muzyki suficznej oraz spacerowaliśmy zatłoczonymi handlowymi uliczkami tego miasta, robiąc ostatnie zakupy w Pakistanie.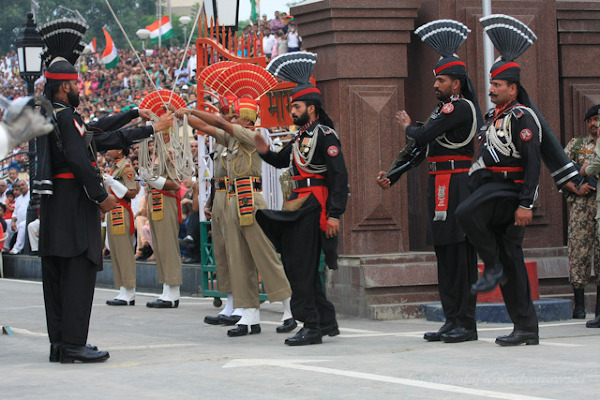 Gdy przekraczaliśmy granicę z Indiami, Wagha Border, z jednej strony zafascynowani mocno nietypową ceremonią zamknięcia, z wielkim uśmiechem na ustach na myśl wszystkich tych wspomnień, które ze sobą zabieramy, jestem pewna, że obydwojgu nam było niewymownie przykro, że ten etap podróży mamy już za sobą. Przed nami pozostało jeszcze kilka dosłownie miejsc w Indiach, między innymi zapierająca dech w piersiach Złota Świątynia Sikhów w Armritsar i ten nie raz wyczekiwany, nie raz niechciany samolot do domu. Z jednej strony, im bliżej było końca, tym bardziej chcieliśmy zobaczyć się z bliskimi, z drugiej zaś – rękami i nogami broniliśmy się przed powrotem, który oznaczał koniec przygody, tej bajki z tysiąca i jednej nocy, w której na chwilę utknęliśmy.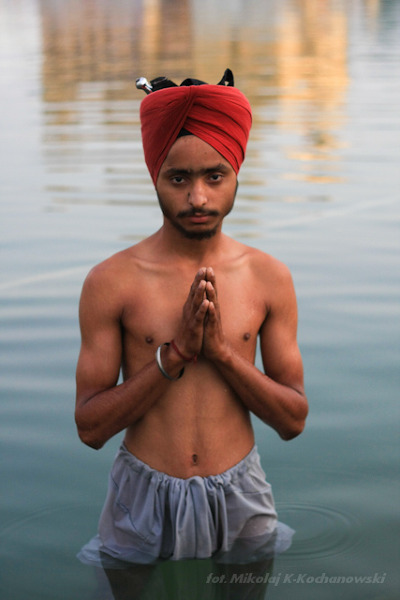 Całe to podróżowanie
Jakiś czas temu przeczytałam: "Johan Giaever po dwóch latach spędzonych w Antarktyce napisał <<Dwóch mężczyzn to sytuacja idealna. Trzech mężczyzn to o jednego za dużo. Dziesięciu mężczyzn to piekło>>. Ja sądzę, że sytuacja idealna to jedna kobieta" (Liv Arnesen, "Grzeczne dziewczynki nie chodzą na biegun", przekład: Anna Marciniakówna, Wydawnictwo Literackie MUZA, Warszawa 1998). Napisała to kobieta, która w 1994 roku jako pierwsza zdobyła biegun południowy na nartach. Zafascynowały mnie te słowa.
Wiele razy podczas całej wyprawy marzyłam o tym, żeby wysłać Mikołaja na księżyc. Przypuszczam, że on w podobny sposób myślał o mnie. Nie wiem, czy gdyby moje pobożne życzenia w którymś z tamtych momentów uległy spełnieniu, byłoby mi bardzo do śmiechu. Z pewnością, mimo wszystko, nie byłoby to porównywalne z samotnym podróżowaniem do bieguna południowego. Przebywając z kimś trzy miesiące dzień w dzień, bardzo trudno jest zachować dobre relacje. Tak czy inaczej, zdając sobie sprawę z każdej sytuacji, zdecydowałabym się na ten wyjazd jeszcze sto razy.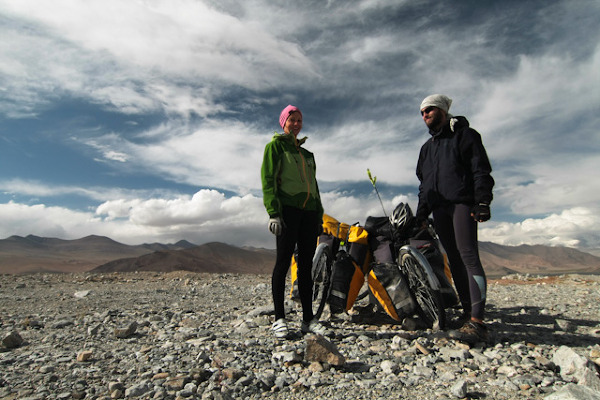 Bagaż doświadczeń i wspomnień, jaki pozostaje po takiej wyprawie, jest absolutnie nieocenionym skarbem, który każde z nas będzie pamiętać jeszcze przez długie, długie lata.
Jak to się mówi, apetyt rośnie w miarę jedzenia, dlatego mam wielką nadzieję, że ta wyprawa będzie wielkim początkiem do jeszcze większych przygód w przyszłości.