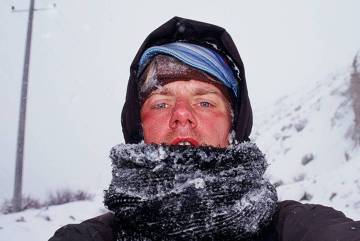 fot. Piotr Strzeżysz
To wcale nie tak, jak mawiają znajomi, że bardzo lubię zimno. Owszem, lubię zimę, ale po śniegu rowerem zbyt często nie jeżdżę. Skąd się wziął zatem pomysł przejechania Tybetu i pasma Himalajów w styczniu i lutym?
Pojechałem po swój pozostawiony kilka miesięcy wcześniej rower. Dlaczego go zostawiłem? Bo chińscy służbiści nie pozwolili mi go zapakować do pociągu, którym zamierzałem wrócić do Pekinu. Kiedy dziesięć dni wcześniej kupowałem bilet, zapewniano mnie, że nie będę miał żadnych problemów z przewiezieniem roweru pociągiem.
Jakież więc było moje zdziwienie w dniu odjazdu, kiedy to nie tylko nie pozwolono mi wejść do wagonu, ale nawet nie mogłem wejść na teren dworca. Na nic zdawały się tłumaczenia i prośby i byłbym pewnie zostawił rower pod ścianą, a sam wsiadł do pociągu z odczepionymi sakwami, gdybym w porę nie spostrzegł znajomej Chinki Song Lee. Jednak nawet jej nie udało się przekonać upartych służbistów, szybko więc postanowiłem, że zostawię rower w Lhasie, a sam wrócę po niego w następnym roku. Song Lee obiecała, że się nim zaopiekuje. Dotrzymała słowa. Choć w sumie nie do końca dotrzymała, bo rower przetrzymał jej przyjaciel Pubu, ale to było nieistotne. Istotne było to, że kiedy przybyłem w styczniu do Lhasy, dostałem z powrotem swój rower, paradoksalnie, nawet nie poznawszy tajemniczego Pubu.
Z chłopakiem byłem umówiony o siedemnastej pod muzycznym sklepem. Kwadrans przed czasem zjawiłem się w umówionym miejscu. Spacerowałem sobie wzdłuż ulicy i nagle, pomiędzy innymi jednośladami, zobaczyłem oparty o murek sklepu mój rower! Nawet nie był przypięty! Nie posiadałem się z radości, widząc go w stanie, jakim zostawiłem go kilka miesięcy wcześniej. Brakowało jedynie bagażnika z przodu i prędkościomierza, ale najważniejsze, że koła były całe i kierownica, i rama!
Już miałem odjechać, kiedy to z pobliskiego sklepu wyszło kilka osób, wykrzykując coś w moją stronę, mocno przy tym gestykulując. Zacząłem tłumaczyć, że to jest mój rower i przyprowadził go tutaj dla mnie kolega Pubu. Bariera językowa uniemożliwiała jakąkolwiek komunikację. Do tego, jakby spod ziemi, zjawił się policjant i sytuacja mocno się zaogniła. Wpadłem na pomysł, aby zadzwonić do Song Lee i tak też zrobiłem. Za moment wszystko było jasne. Dziewczyna przekonała policjanta, że to ja jestem właścicielem roweru i za moment ruszyłem z powrotem do hotelu. Pubu nie podziękowałem, ale najważniejsze, że miałem swój rower i mogłem kontynuować podróż do Katmandu.
Gdyby nie przenikliwe zimno, dające się we znaki podczas jazdy, czy widok szczelnie opatulonych mijanych postaci na drodze, to patrząc na krajobraz można by pomyśleć, że jechałem w środku lata. Ten całkowity brak śniegu przez pierwsze dni jazdy był dla mnie bardzo przyjemną niespodzianką. Problemem pozostawał jednak wiatr, który na otwartych przestrzeniach tchnął lodowatym, przejmującym zimnem.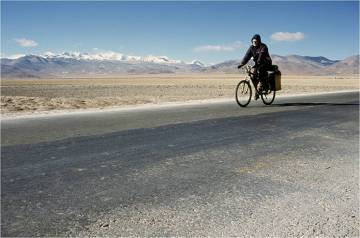 fot. Piotr Strzeżysz
Ubranie, które zabrałem z Polski, okazało się daleko niewystarczające. Na tybetańskim targu, za równowartość trzydziestu złotych, kupiłem grubą, puchową kurtkę i spodnie. W Shigatze, w hotelu Tenzin, spotkałem poznaną rok wcześniej panią Dicki, która załatwiała pozwolenia na podróż. Samotna wyprawa rowerem po Tybecie jest bowiem zabroniona i w dodatku nielegalna. Tak więc, aby być z zgodzie z prawem, należy wykupić udział w wycieczce, albo próbować kupić pozwolenie. Ta ostatnia opcja w Lhasie jest teoretycznie niemożliwa, ale bez problemu cenny papierek można dostać w Shigatse. Według informacji z większości przewodników pozwolenia powinny być wydawane przez PBS (Public Security Bureau), ale w praktyce jest to niemożliwe. Pozostają więc prywatne osoby, takie jak pani Dicki z hotelu Tenzin, która załatwia pozwolenie prawie od ręki. Dicki mnie poznała, ale na kupno papierka drugi raz nie dałem się nabrać, choć musiałem wysłuchać jeszcze kilku morałów o konsekwencjach bycia przyłapanym na 'nielegalnej jeździe' w drodze do Katmandu.

Monotonny, bezśnieżny krajobraz, urozmaicany wizytami w przydrożnych wioskach, towarzyszył mi przez następne dni podróży. Jadąc uparcie na zachód, pokonywałem kolejne kilometry, dzielące mnie od granicy i cieplejszego Nepalu. Noclegi zazwyczaj spędzałem u tubylców, będąc bardzo serdecznie przyjmowany. Częstowano mnie prostym, ale sycącym i pożywnym jedzeniem, do którego obowiązkowo podawano całe litry słonej i tłustej herbaty.

Im bliżej granicy, tym więcej śniegu. Z każdym dniem jechało się coraz trudniej, ale świadomość, że prawie dotarłem do celu, dodawała sił.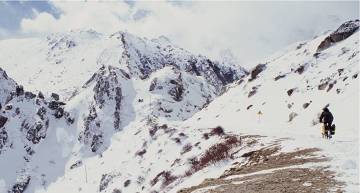 fot. Piotr Strzeżysz
Przed wioską Nesar zerwałem łańcuch. Tragedia. Nie zabrałem ze sobą spinki, nie miałem odpowiednich narzędzi, zakładałem, że te tysiąc kilometrów z Lhasy do Katmandu łańcuch powinien wytrzymać. Próbowałem za pomocą kamieni i wąskiego klucza. Bez rezultatu. Z opresji uratowali mnie przejeżdżający w ciągniku Tybetańczycy. Rower na przyczepkę i jedziemy do wioski. Tam, z pomocą gwoździa i młotka udało się spiąć łańcuch. Z radości w chałupie zostawiłem kurtkę puchową. Do granicy zostało kilkadziesiąt kilometrów, nie sądziłem, że jeszcze mogłaby mi się przydać…
W miasteczku Nyalam dowiaduję się, że z powodu zasp droga na południe została zablokowana i nie wiadomo, kiedy będzie odśnieżona. Trochę trudu kosztowało mnie przekonanie żołnierzy, że dam radę przejechać rowerem po śniegu, który był już trochę rozjechany przez wojskowe ciężarówki i pług.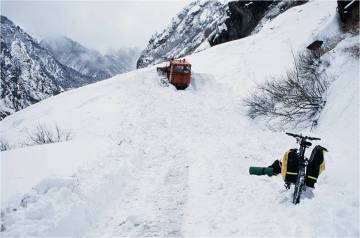 fot. Piotr Strzeżysz
Pierwsze dziesięć kilometrów rzeczywiście jakoś sobie radziłem, choć było bardzo ślisko, więc co jakiś czas zaliczałem niegroźną wywrotkę na białym puchu. Jeszcze kilka kilometrów zjazdu i oczom moim ukazała się wielka góra śniegu, z którą nie mógł poradzić sobie napierający pług. Prawdopodobnie z pobliskiego zbocza zeszła potężna lawina i w poprzek przecięła drogę. Zsiadłem więc z roweru i chcąc nie chcąc, musiałem przypatrywać się, ciekawemu skądinąd, spektaklowi bezkrwawej walki techniki z żywiołem, od której odstąpili w końcu panowie z pługa. Maszyna napierała, prychała, dyszała, aż w końcu wydała z siebie jakby ostatnie tchnienie, zakończone wielkim 'łup' i stanęła pod niebezpiecznie wyglądającym kątem pośrodku białej góry. Łudziłem się jeszcze przez chwilę, że może to tylko tak na przerwę obiadową pług wyłączono, ale niestety, trzej panowie wyraźnie dali mi do zrozumienia, że na dzisiaj rezygnują z kolejnej próby podjęcia nierównej rozgrywki.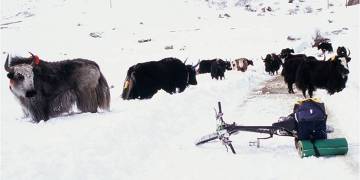 fot. Piotr Strzeżysz
Decyduję się na dalszą jazdę, a raczej spacer do granicy, po nieodśnieżonej drodze. Do Nepalu zostało dwadzieścia kilka kilometrów. Marsz był o wiele cięższy, niż się spodziewałem. Śnieg oblepiał rower i nie było mowy o jakiejkolwiek jeździe. Z trudem pchałem rower po zaspach. Co kilkaset metrów musiałem się zatrzymywać na porządny odpoczynek. Śnieg oblepiał rower, koła z trudem się obracały. Chwilami myślałem, aby zostawić rower pod skałą i dalej iść z samymi sakwami i plecakiem. Wreszcie za którymś zakrętem dostrzegłem hotel, gdzie przez kilkunastoosobową rodzinę zostałem bardzo ciepło przyjęty.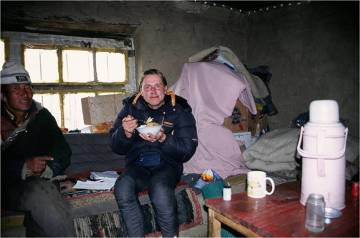 fot. Piotr Strzeżysz
Wieczorem pług odgarnął drogę i następnego ranka mogłem ruszyć dalej. Było bardzo stromo, ślisko i niebezpiecznie, do tego prawie zupełnie starłem ostatnią parę klocków hamulcowych. Kiedy śnieg się skończył, rozpocząłem brawurowy, szaleńczy zjazd do granicznego Zhangmu (Dram). Wreszcie Nepal, gdzie straciłem już resztę pozostawionej odrobiny rozsądku i pędziłem na złamanie karku po muldach, kamieniach i wybojach, za hamulec mając grube podeszwy od trekingowych butów.
W Katmandu kolejna niespodzianka. Rankiem następnego dnia spadł śnieg, pierwszy od sześćdziesięciu dwóch lat w całej kotlinie! Co prawda promienie słoneczne roztopiły go do południa, ale nadal było bardzo zimno i pogoda nie zachęcała do spacerów. Miałem jednak jeszcze kilka rzeczy do załatwienia, między innymi pudło na rower. Owszem, pudła były, ale pieniędzy za nie żądano ode mnie astronomicznych. Na nic się zdały tłumaczenia, że w moim kraju takie pudło mogę dostać za darmo, więc tutaj jeszcze im robię przysługę, chcąc za nie zapłacić. Cóż, w Nepalu pudło jest towarem deficytowym i można na nim, jak widać, nieźle zarobić.

Znalazł się wreszcie jakiś uczynny Nepalczyk, który zaproponował, że zaprowadzi mnie do krawca, który w kilka godzin, za niewielką opłatą, uszyje mi wspaniały pokrowiec. Naiwnie poszedłem za 'wybawcą'. Podejrzenie moje powinno wzbudzić już to, że krawiec okazał się być pracownikiem sklepu z biżuterią a podobnych sklepów odwiedziliśmy kilka. Każdy z właścicieli był kolejnym 'kuzynem' mojego nowego znajomego. Przez każdego byłem bardzo gorąco i wylewnie przyjmowany, przy okazji częstowany koniaczkiem i pysznymi słodyczami. Kiedy wreszcie przejrzałem na oczy i domyśliłem się, że oni w ten pokrowiec chcą wszyć jakieś kamienie, było już mi bardzo niezręcznie się wycofać. A kiedy i oni zorientowali się, że ja wiem, to już bezpardonowo, otwarcie zaproponowali przewóz kamieni, dzięki czemu miałem zarobić, bagatela, pięćdziesiąt tysięcy euro. W szczegóły nie wnikałem.
Koniaczek pomógł dyplomatycznie się wycofać. Zgrabnie udałem zainteresowanie i umówiłem się na wieczorne spotkanie u jednego z kuzynów. Wszyscy wydawali się zadowoleni. Kiedy znalazłem się z powrotem na ulicy, pomknąłem do hotelu, mając nadzieję, że szukać mnie tam nie będą. Na szczęście Katmandu jest duże, a ja nie powiedziałem, w którym hotelu się zatrzymałem.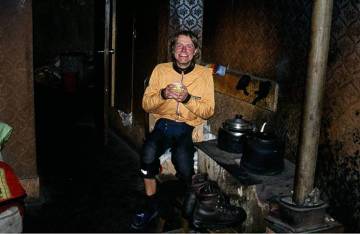 fot. Piotr Strzeżysz
Rankiem za astronomiczną sumę kupiłem pudło, a raczej karton i włożywszy go pod pachę, ruszyłem na lotnisko. Przyzwyczajony do problemów w przewozem roweru samolotem i tym razem oczekiwałem jakichś nowych kłopotów. Ku mojemu zdziwieniu, tym razem wszystko odbyło się bez żadnych niespodzianek. Odprawa przebiegła wyjątkowo sprawnie i szybko. Ponieważ najpierw leciałem do Delhi, musiałem jeszcze zatroszczyć się o przełożenie bagażu na indyjskim lotnisku do odpowiedniego samolotu, gdyż, z niewiadomych mi przyczyn, nie mogłem nadać pakunków od razu z Katmandu do Polski. Na lotnisku w Warszawie odebrałem opakowany w strzępy kartonu rower, złożyłem go na miejscu i wbiłem się w poranny korek na Żwirkach.
Rower służy mi do dziś, głównie latem, bo zimą jeżdżę tylko po Tybecie, ewentualnie po Kordylierach, ale to już inna historia, do której przeczytania zapraszam w książce "Makaron w sakwach, czyli rowerem przez Andy i Kordyliery" i na blogu: www.onthebike.pl.