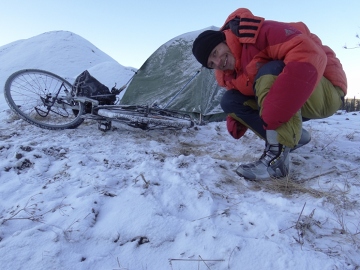 Rowerem zimą przez Kordyliery
fot. Piotr Strzeżysz
Rzuciłem pracę, aby podróżować dłużej niż miesiąc. Ponieważ nie miałem pracy, nie miałem też pieniędzy, ale miałem czas, więc postanowiłem spożytkować go na szukanie sponsorów. W końcu nic z tego nie wyszło, więc aby zdobyć pieniądze, musiałem coś wymyślić. Sprzedałem stary sprzęt fotograficzny, zapożyczyłem się u znajomych i ruszyłem na Alaskę.

Miałem trzy miesiące wolnego, wybór początkowo padł na Kanadę, USA i Meksyk. Do Meksyku w końcu nie dojechałem, podróż zakończyłem w Stanach Zjednoczonych, w Las Vegas, po przejechaniu sześciu i pół tysiąca kilometrów, w jesienno-zimowych warunkach. Z dziennym budżetem dwunastu dolarów, musiałem się mocno nagimnastykować, aby przeżyć. Nocowałem w schroniskach dla bezdomnych, zbierałem puszki i butelki, pożytecznie utylizowałem resztki ze stołów w fast-foodach. Czasem byłem goszczony przez życzliwych, gościnnych ludzi, ale najczęściej nocowałem w namiocie, bądź pod przysłowiowym płotem. Niestety, po raz pierwszy podczas jednej podróży, zdarzyło mi się również spotkać z często okazywaną ludzką obojętnością, a czasem nawet ze słowną agresją.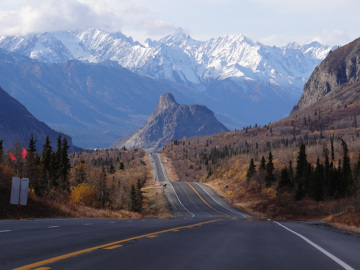 Rowerem zimą przez Kordyliery
fot. Piotr Strzeżysz
Na Alasce i w Jukonie ostrzegano mnie przed niedźwiedziami, stąd noce zawsze próbowałem spędzić w pobliżu zabudowań. Z uwagi na ogromne odległości pomiędzy osiedlami na tych terenach, nie zawsze było to możliwe, tym bardziej więc próbowałem korzystać z okazji, widząc zabudowania i pytając o możliwość rozbicia namiotu.

Nie oczekiwałem wiele. Po całym dniu jazdy w kilkunastostopniowym mrozie, marzyłem tylko o bezpiecznym miejscu na nocleg i zagrzebaniu się w ciepłym śpiworze. Zazwyczaj ludzie zgadzali się, abym się rozbił w pobliżu, ale zdarzały się sytuacje, że kazano mi wracać do kraju, a raz postraszono strzelbami.

Przez pierwsze tygodnie jazdy w Jukonie, często nocowałem na tzw. government campings, a ponieważ miejsca te były już zamykane "na zimę", nie musiałem płacić za rozbijanie namiotu. Zresztą nieliczni, powracający do domu turyści w wielkich motor homes, też z nich korzystali za friko.

Choć był to dopiero październik, w północnej Kanadzie jest to początek zimy. Turystów jak na lekarstwo, misie szukają już nory na zimę i chodzą głodne, temperatury w dzień oscylują w granicach zera stopni, a w nocy spadają do minus kilkunastu. Dużym problemem w takich temperaturach jest dobranie odpowiednich ubrań, choć właściwie, rozwiązania dobrego nie ma – człowiek po godzinie i tak jest mokry od potu, a częste zjazdy na interwałowym terenie jeszcze bardziej wyziębiają organizm.

Często nocowałem przy opuszczonych motelach, nieczynnych stacjach benzynowych i przydrożnych zajazdach. Pozabijane deskami okna i ziejące pustką popsute dystrybutory na pewno nie były najprzyjemniejszymi miejscami na odpoczynek po całym dniu pedałowania, ale z drugiej strony, chroniły od wiatru i dawały namiastkę bezpieczeństwa i ochrony przed misiami. Po trzech tygodniach jazdy myślałem, że już niedźwiedzi po drodze nie spotkam, aż tu któregoś dnia, wieczorem, podczas rozbijania namiotu, z lasu wyszedł mały miś. Na szczęście bez mamy i bez chęci do zabawy, ale i tak przeraził mnie do tego stopnia, że gdy tylko zniknął w lesie, zwinąłem namiot i jak w amoku jechałem przez kilka następnych godzin, aż w końcu, ledwo żywy, rozbiłem się przy jakichś pustostanach, nawet już nie troszcząc się o jakiś posiłek...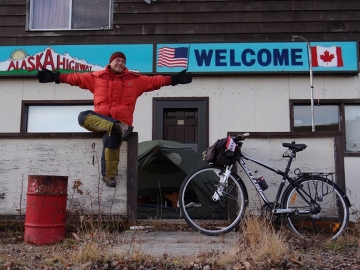 Rowerem zimą przez Kordyliery
fot. Piotr Strzeżysz


Kilka dni później zdarzyło mi się raz jeszcze spotkać niedźwiedzie, ale i tym razem miałem szczęście. Zatrzymałem się na drugie śniadanie na małej polance i kiedy ze smakiem zajadałem kolejną kanapkę, dosłownie naprzeciwko mnie, z lasu wyszła duża niedźwiedzica z dwójką małych. Wydawała się tak samo mocno zaskoczona, jak ja, ale do konfrontacji nie doszło. Stała przez chwilę jak wryta, a potem nagle odwróciła się i czmychnęła do lasu, a za nią, pokracznym krokiem, pobiegły dwa niedźwiedziątka.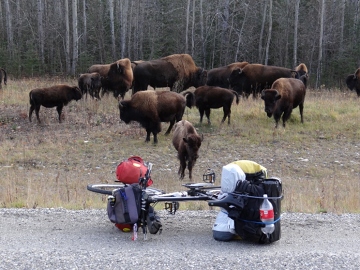 Rowerem zimą przez Kordyliery
fot. Piotr Strzeżysz
Poza misiami, bardzo często spotykałem inne zwierzęta, jak łosie, bizony, czy jelenie. Wszystkie one pierzchały zazwyczaj na mój widok, biorąc mnie pewnie za jakieś dziwne, niezidentyfikowane, do tego szybko poruszające się stworzenie. Na wszelki wypadek więc brały nogi za pas i uciekały do lasu.

Przez pierwsze tygodnie jazdy jakoś udawało mi się uciec od nadciągającej zimy. Ale czas płynął nieubłagalnie, temperatury spadały błyskawicznie i w końcu, na północ od Fort Nelson, w przeciągu kilku godzin napadało od razu kilka cali śniegu. Okazało się, że również w Kanadzie zima potrafi zaskoczyć drogowców. Ciężki sprzęt wyjechał na drogę dopiero następnego dnia, a ja nie ryzykowałem jazdy po oblodzonej drodze, bo łańcuchów nie zabrałem, a na jezdni zrobiła się prawdziwa ślizgawka.



Rowerem zimą przez Kordyliery
fot. Piotr Strzeżysz


Śnieżna aura towarzyszyła mi aż do samych Stanów… Potem śnieg zamienił się w deszcz aż do samego stanu Oregon. Za Portland skręciłem w stronę wybrzeża Oceanu Spokojnego. Jest to tak zwana scenic route, latem przyciągająca tysiące turystów z całego świata. Ponieważ jechałem zimą, poza sezonem, liczyłem, że ruch na tej trasie będzie mniejszy. Niestety, o kontemplowaniu przepięknych krajobrazów w ciszy i spokoju mogłem zapomnieć. Coraz trudniej przychodziło mi ignorować klaksony kierowców na drodze, którą według wszelkich przepisów miałem prawo jechać, co więcej, nierzadko byłem na niej uprzywilejowanym użytkownikiem, o czym informowały gęsto rozstawiane znaki.

Po kilku dniach jazdy miałem już dość hałasu, spalin. Postanowiłem odbić na wschód, w stronę gór, pomimo niesprzyjającej prognozy pogody, zapowiadającej obfite opady śniegu.

Niestety, kolejny raz się rozczarowałem, bowiem natężenie ruchu drogowego było ciągle ogromne. Jeden za drugim, ciągnęły terenowe samochody, pikapy, no i wielkie ciężarówki, dla których jestem mięsem na kółkach... Jak było w miarę płasko, to jeszcze mogłem je znieść, ignorować trąbienie, nieprzepisowe wyprzedzanie, nadmierną prędkość... Najgorzej, kiedy zaczynał się podjazd, a że wjechałem w góry, to podjazdy były konkretne i odpowiednio długie.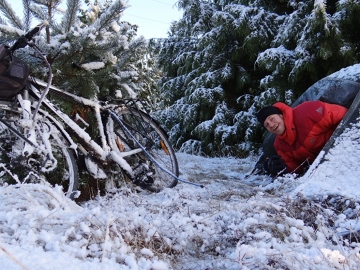 Rowerem zimą przez Kordyliery
fot. Piotr Strzeżysz


Przez ostatnie tygodnie w Stanach wszędzie odczuwało się już ducha świąt. Choinki, stroiki i przebrani Mikołaje są wszechobecni już od końca listopada. Przed każdym sklepem, punktem usługowym, bankiem, pocztą, całe mnóstwo santas. Duch świąt na pewno w całości przenikał kobietę, która w małej miejscowości Mina przebrała się za Mikołaja i kręcąc hula hop, pozdrawiała przejeżdżających kierowców. Zatrzymałem się na moment, aby jej zrobić zdjęcie, ale kiedy wyraźnie przywoływała mnie dłonią, podszedłem na chwilę rozmowy. Urocza kobieta o imieniu Laura zaprosiła mnie do domu na kolację i nocleg.

Mąż, którego przedstawiła mi jako wielkiego gbura, okazał się fantastycznym człowiekiem, zabrał mnie rano na śniadanie do miejscowego pubu i przedstawił kolegom i koleżankom jako żywy towar eksportowy, prosto z Polski. Okazało się, że Amerykanie potrafią być niesamowicie gościnni, wylewni i serdeczni. Wróciłem do domu prosto w objęcia zimy. Trochę czasu zajęło odreagowanie trudów wyjazdu i przestawienie się na polską rzeczywistość, choć właściwie chyba do dziś jeszcze się nie przestawiłem. Długie zimowe wieczory pozwoliły na spisanie wspomnień z podróży, które w okrojonej wersji można przeczytać na blogu www.onthebike.pl, a w dłużej w wydanej właśnie książce: "Makaron w sakwach, czyli rowerem przez Andy i Kordyliery".