Śladami Marzeń – azjatyckie smaki, robaki i przysmaki

Pasja podróżowania w wersji hardcorowej
Czyż nie każdy z Was marzy o podróżowaniu? Jeżeli tak, to tylko wyznaczcie cel i go zrealizujcie! Nasza pasja odkrywania świata zawiodła nas wprost do Azji Południowo-Wschodniej. 88 dni włóczęgi po Malezji, Singapurze, Indonezji, Tajlandii, Laosie oraz Kambodży obfitowało w wiele niezapomnianych smaków, zapachów, przygód oraz sytuacji, które czasami ciężko wytłumaczyć w sposób racjonalny. Nasz wyjazd miał jasno sprecyzowany cel, a była nim podróż kulinarna. Zresztą tak się składa, że nasza każda włóczęga to połączenie zwiedzania z poznawaniem miejscowej kuchni – potraw, przypraw, zwyczajów, napojów. Chłoniemy te zapachy i kolory po to, aby w miarę możliwości również przenieść najlepsze z nich do Polski. Azja okazała się miejscem, w którym nie sposób nie znaleźć czegoś naprawdę ohydnego, paskudnego.
Europejskie potrawy nietrudno oczywiście spotkać, choćby ze względu na turystów, jednak na stołach królują miejscowe specjały. Są to między innymi: robaki i owady bogate w białko, potrawy z węży, psów, żółwi, a czasem nawet tygrysów. Podczas wyjazdu spróbowaliśmy wszystkiego, co wydawało się dla nas, Europejczyków hardcorowe. Czasami trzeba było zacisnąć zęby, a czasami zamknąć oczy, żeby poczuć pełnię smaków.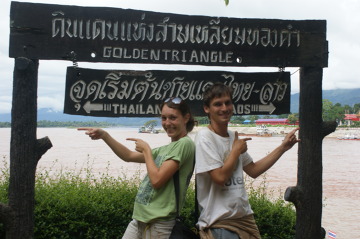 Bo najważniejsze mieć marzenia i podążać ich śladem.
fot. Tomasz Labus
Czym jest hardcore?
Zastanawialiście się kiedyś głębiej nad definicją pojęcia "hardcore"? Wikipedia powiada, że oprócz odmiany muzyki punk to także: "określenie ekstremum w jakiejś dziedzinie, np. hardcore'owy sport (ekstremalny), hardcore porno (wyuzdana pornografia) itp. Hardcore to słowo używane w slangu młodzieżowym na określenie czegoś wyjątkowego w swoim rodzaju, wywierającego duże wrażenia".
Podróżując, każdy zwraca uwagę na coś innego, każdy przywozi swoje subiektywne wrażenia i osobiste przeżycia, każdy odczuwa i przeżywa na swój wyjątkowy sposób. My zawsze staramy się, aby nasza podróż była wyjątkowa, pełna smaków, zapachów i wspomnień, do których będziemy często wracać. Nie lubimy siedzieć w jednym miejscu, czasem mam wrażenie, że na własne życzenie utrudniamy sobie życie, jadąc stopem, śpiąc w dziwnych miejscach i jedząc różne, czasem obrzydliwe, rzeczy. Podróż bez takich przeżyć byłaby jednak zwykłym, prawie codziennym życiem, tylko w innym otoczeniu.
W poszukiwaniu smaków, przygód, zapachów pokonaliśmy ponad 35 000 km najróżniejszymi środkami transportu. Niejednokrotnie trafialiśmy na coś wyjątkowego w najmniej oczekiwanym momencie. Chcieliśmy, aby ta podróż byłą pełna wspomnień, aby rozbudziła naszą wyobraźnię. Pragniemy zabrać Was w hardcorowy świat azjatyckiej kuchni. Mamy nadzieję, że kilka najciekawszych i najbardziej dziwacznych potraw, miejsc i trunków przekona was, aby podążyć naszymi śladami.

Indonezyjska myśl kulinarna
Wyspa Samosir (Sumatra) na jeziorze Toba okazała się bardzo ciekawym miejscem na ekstremalną, kulinarną wyżerkę. Od dnia przyjazdu robiliśmy intensywne rozeznanie, próbując dowiedzieć się jak najwięcej o miejscowej kuchni. Czym nas mogą zaskoczyć ludzie, którzy jeszcze w poprzednim wieku szczycili się kanibalizmem, a teraz są żarliwymi chrześcijanami? To była nasza zagadka, którą udało się rozwiązać szybciej, niż przewidywaliśmy.
W miejscowości Panguguran znaleźliśmy to czego szukaliśmy. W jednej z przydrożnych knajpek szefowa kuchni serwowało do wyboru: wołowinę, kurczaka, wieprzowinę oraz mięso z psa w pikantnym sosie. Wybór był prosty i oczywisty, a już po chwili na stole znalazł się talerz ryżu z kawałkiem smażonego mięsa w niezwykle pikantnym sosie chili. Tomek przystąpił do degustacji.
Mięso nie posiadało ani specyficznego zapachu, ani smaku. Było jednak niezwykle żylaste i ciągnące. Emocje potęgowały psy biegające po restauracji, szefowa kuchni łamanym angielskim wytłumaczyła nam jednak, że do celów "spożywczych" czworonogi są specjalnie hodowane. Ta wiadomość pozwoliła nam spokojnie dokończyć obiad, po którym pozostały bardzo mieszane uczucia.
Kopi luwak – czysta kawa z nieczystości
Ciekawe i czasami lekko odstraszające smaki to nie tylko okolice jeziora Toba. Nieopodal miejscowości Bukittinggi (Sumatra) mieliśmy okazję odwiedzić fabrykę, a właściwie mini fabryczkę najdroższej kawy świata. Kopi luwak to rodzaj kawy charakterystyczny dla Indonezji, a w szczególności Bali i Sumatry. Rośliny kawowca rosną w dżungli, a nasiona są najpierw zjadane przez Civet Cat'a czyli łaskuna muzanga (gatunek drapieżnego ssaka), następnie są trawione i fermentują w jego żołądku, a na koniec wydalane.
Miejscowi rolnicy zbierają odchody i dostarczają je do lokalnej fabryki. Tam przechodzą proces oczyszczania, suszenia i ewentualnie mielenia.

Kawy, której cena w kawiarniach Europy dochodzi do 20 euro za filiżankę, w rodzimej produkcji można skosztować zaledwie za 20 000 rupii. To niewiele ponad 2$, więc warto się na takie ekstremalne smaki zdecydować. Niestety aromat i smak nie był tak intensywny, jak się spodziewaliśmy. Być może jest to spowodowane sposobem parzenia i podawania. Bądźcie jednak świadomi, że kopi luwak to czysty aromat kawy, a nie... no sami wiecie czego. Kawa jest także importowana do Polski, a dokładnie do Krakowa. Właścicielka fabryki wysyła jedną paczkę na miesiąc, a potwierdziła to, pokazując nam wykaz nadawanych przesyłek.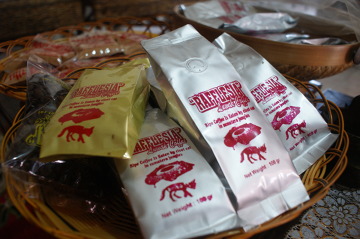 Coffee Luwak - najdroższa kawa świata
fot. Jaśmina Jurecka
Malezyjska dieta
Pomyślał ktoś z was kiedyś, że podczas podróży kulinarnej można zrzucić 10 kg w 21 dni? Tak, Tomek okazał się mistrzem odchudzania. Cały proces rozpoczął się na Sumatrze i trwał aż do momentu opuszczenia Malezji. Powód? Ramadan, czyli święty miesiąc w islamie. Małe indonezyjskie wioski oraz niezwykle konserwatywne wschodnie wybrzeże Malezji to miejsca gdzie za dnia próżno szukać czegokolwiek do zjedzenia. Musieliśmy się zatem zadowolić miską ryżu, którą od czas do czasu udało się nam dostać w restauracji (większość punktów gastronomicznych było pozamykanych na cały miesiąc).
W ramach "rekompensaty" od godziny 18 na specjalnych targach z okazji święta przygotowywano tony przepysznego jedzenia. Wyobrażacie sobie nasze miny, kiedy po całym dniu o pustym żołądku naszym oczom ukazywały się dziesiątki pieczonych kurczaków, ryb, płaszczek, szaszłyków, ciastek, wszelkiego rodzaju dziwnych napojów i oczywiście ogromnej ilości ryżu. Ryż towarzyszył nam non stop podczas całej podróży. W przypadku wielu dań była to główna część posiłku. Tak jak u nas główną częścią obiadu zazwyczaj jest mięso, do tego trochę ziemniaczków i surówka, tak tutaj proporcje są odwrócone. Zamiast konkretu w postaci mięsa, pojawia się konkretna góra ryżu.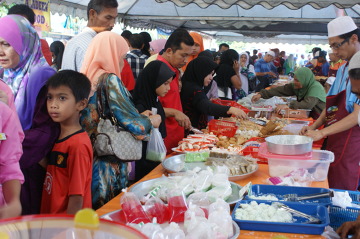 Bazar podczas Ramadanu - tuż przed zachodem Słońca trwa gorączka zakupów
fot. Jaśmina Jurecka
Co pełza, to do gara!
W podróży bywa tak, że jesteśmy zaskakiwani w najmniej oczekiwanym momencie. Nie inaczej było w Kambodży. Bardziej europejskie dania, takie jak żaby z grilla zeszły na dalszy plan
(mimo że przepyszne, a ich mięso było lepsze od kurczaka). W Kambodży okazało się, że Khmerowie ewidentne lubują się w gadach. Podczas jednej z rowerowych wycieczek, wjechaliśmy do niepozornej knajpki. Zaintrygował nas fakt, że nie ma w niej krzeseł i stołów, a jedynie hamaki. Idealne miejsce, aby się na chwilę położyć i napić czegoś zimnego.
Gdy dostaliśmy menu, było jasne, że trzeba jeszcze coś przekąsić. Pierwsza strona wyróżniała się lokalnymi, khmerskimi daniami – lok lak, smażony ryż, kurczak amok, smażona cukinia z pomidorami i wieprzowinką – same pyszności, które już poznaliśmy! Druga i ostatnia strona to dopiero prawdziwy hardcore! Gdy ją czytaliśmy, nie wierzyliśmy własnym oczom: zupa z węża, zupa z żółwia, smażony żółw, smażony wąż, kobra i jajka węża w każdej dowolnej postaci. Po chwili szef kuchni polecił nam smażone węże.
Podeszliśmy wraz z nim do kuchni, mijając jeszcze klatkę z krokodylami. Kucharz wyciągnął węże z wielkiego pojemnika, zamachnął się i chlast! Krew bryzgała wszędzie! Po chwili trzy obślizgłe i przerażające węże były już wypatroszone i rozpoczął się proces ich smażenia. Niesamowite przeżycie, które skończyło się gadzią ucztą! Polecamy wam serdecznie takie wężowe dania, gdyż obgryzanie wężowego szkieletu to nie lada gratka dla podniebienia.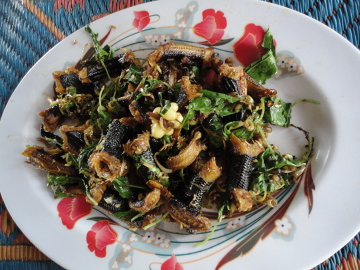 Smażone węże z dodatkiem bazylii- prawie jak kurczak.
fot. Jaśmina Jurecka
Czas na… pająka
Pająki dorwaliśmy w Phnom Penh – stolicy Kambodży. Właściwie to one dorwały nas, od tyłu i z zaskoczenia! Podczas obiadu w Central Market, podeszła pewna staruszka, poklepała po plecach, odwróciliśmy się, a tu cały talerz włochatych tarantul! Patrzyliśmy na siebie z mały niedowierzaniem – kilka minut wcześniej o nich rozmawialiśmy. Mieliśmy wyrzuty sumienia, że nigdzie nie udało nam się ich spotkać. A taka potrawa znajdowała się na naszej długiej liście zadań. Bez zastanowienia kupiliśmy kilka i zaczęliśmy się zajadać. W smaku przypominały dobrze wysmażone chipsy, które jednak trzeba było długo, długo mielić zębami, aby móc je przełknąć. Najlepszą częścią był zdecydowanie odwłok. Nie tak mocno spieczony, a wręcz soczysty, przypominający kawałeczek wołowiny. Zapasy białka zostały uzupełnione.
Cały pobyt w Kambodży zakończył się niezłym hadcorem, ale dla miejscowych. Na stacji autobusowej przez przypadek dostaliśmy się na imprezę urodzinową jednego z kierowców. Dostał on od nas w prezencie ćwiartkę czystego spirytusu, który zaczął popijać wprost z nakrętki. To jedyna polska specjalność jaką zafundowaliśmy Azjatom podczas pobytu.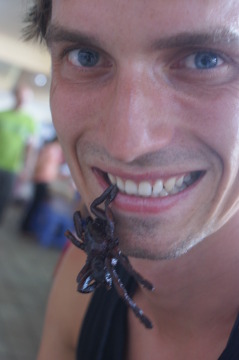 Pyszne kambodżańskie pająki.
fot. Jaśmina Jurecka
Tajlandia dała nam popalić
O tajskiej kuchni można pisać dużo. Uważana za jedną z najlepszych na świecie, zaskoczyła nas swoją różnorodnością. Okazało się na przykład, że tak popularne robale, chrząszcze, cykady i wszelkiego rodzaju inne owady są wyśmienitym dodatkiem do piwa. Smaczne, usmażone, chrupiące i niesamowicie bogate w białko okazały się idealnym uzupełnieniem naszej codziennej diety. W Tajlandii mieliśmy także wątpliwą przyjemność skosztować największego paskudztwa podczas naszego wyjazdu. Jajka z kurzymi embrionami w środku, smażone na grillu niemal wywoływały reakcję zwrotną. Ostatecznie i to udało się przełknąć, chociaż w smaku, a właściwie zapachu przypominało fekalia. Popularnością cieszą się także w wersji gotowanej. Na skorupce zaznacza się dzień rozwoju embriona. Im starszy zarodek w środku, tym droższe jajko.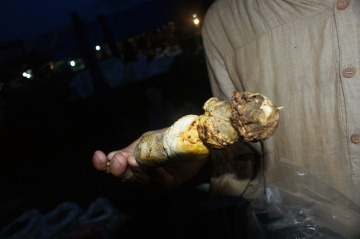 Kurze embriony - najgorsze co nas spotkało w Tajlandii.
fot. Jaśmina Jurecka
Laotański hardcore wszech czasów
Laos – dziwny kraj. Będziemy to powtarzać wszystkim. Kraj kontrastów, w którym niewyobrażalne bogactwo przeplata się w nieokiełznaną biedą! W takich warunkach człowiek musi sobie jakoś radzić. Dlatego tak powszechne w górskich wioskach jest polowanie na wszystko, co się rusza. Szczury, ptaki, węże, małpy – nie ma znaczenia, najważniejsze, aby wyżywić rodzinę.
Nas najbardziej zaintrygował proces produkcji whisky z najróżniejszymi dodatkami. W butelkach z laotańską whisky znaleźć można dziesiątki gatunków lokalnych węży, jaszczurek a także skorpiony. Hitem okazały się dwa wielkie dzbany. Pani zaprasza nas do degustacji. W pierwszym ogromna ponad dwumetrowa kobra. To nic, czas na kolejny kieliszek! Coś dziwnego tam pływa?! – What is inside? –Tiger penis! – odpowiada nieporuszona kobieta. Tak właśnie, to był wielki, czarny penis tygrysa. Sprzedawczyni wyciągnęła go z dzbana. Naszym oczom ukazało się coś długiego z dwoma kulkami, a raczej jajkami na końcu. Nie pozostało nam nic innego jak wypić najbardziej hardcorowy kieliszek whisky w naszym życiu. Alkohol zabije wszystko, a w Laosie ma naprawdę dużo roboty.
Proces produkcji lao whisky to coś, czego prawdziwi smakosze tego trunku nie powinni oglądać. Produkuje się ją oczywiście z ryżu, który fermentuje w dzbanach przykrych najróżniejszymi foliami i szmatami. Ryż przekłada się do wielkich beczek, wokół biegają kury, kaczki i świnie, które wypatrują resztek jedzenia. Cuchnie to niesamowicie, nie ma też mowy o żadnej higienie. Finalnie wszystko jest wlewane do butelek, głównie z odzysku. Cena za to była niezmiernie atrakcyjna bo jakieś 3 zł za butelkę 0,7. Może warto zacząć ją importować?!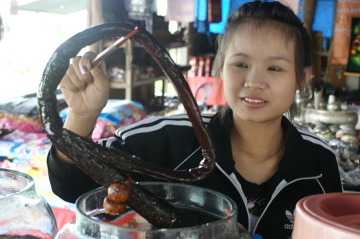 Penis tygrysa w laotańskim whisky! Ktoś z Was próbował?
fot. Jaśmina Jurecka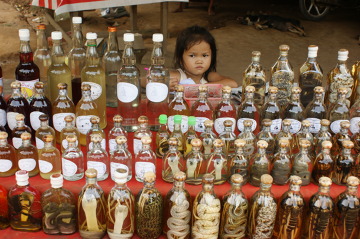 Którego węża wybieramy do towarzystwa? Młoda sprzedawczyni handluje laotańskimi smakołykami.
fot. Jaśmina Jurecka
Bazarowo mi!
Bazary są esencją każdego odwiedzanego przez nas państwa. Pełne kolorytu i lokalnego folkloru na pierwszy rzut oka wydają się podobne, wręcz takie same, a w rzeczywistości kiedy bazar cię pochłonie, odkrywasz jego niezliczone zakamarki i zachwycasz się wyjątkowymi smakami i zapachami. To w wersji przyjemnej, bo równie często wszędzie roztacza się przeraźliwy odór i panuje nieokiełznany bałagan.
Zapach duriana jest chyba najprzyjemniejszym ze wszystkich! Na podłodze resztki zgniłych owoców często mieszają się z krwią świeżo zabijanych ryb i obieranych z piór kurczaków. W Laosie na kilogramy można kupować żywe czy zdechłe żaby (te drugie nieco tańsze). Zaraz obok, w kolejnym wiadrze na nabywców czekają obślizgłe węże. Takie obrazy na zawsze pozostaną w naszych głowach. Często sami nie zdajmy sobie sprawy, do czego używane są niektóre przyprawy, warzywa, owoce, korzenie. W takiej sytuacji zawsze pomocni bywają lokalni mieszkańcy, którzy służą swoją wiedzą i pomocą. Tak przekazana wiedza jest dla nas zawsze najcenniejsza. Podróże, zarówno te dalekie jaki i bliskie kształcą co do tego nie ma wątpliwości. Warto mieć cel i podróżować tak, aby uczyć się jak najwięcej!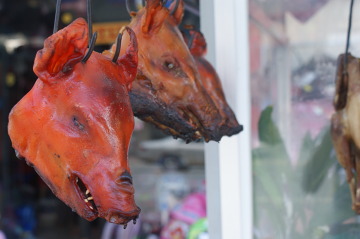 fot. Jaśmina Jurecka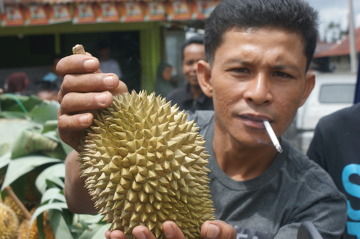 Durian - król wszystkich owoców
fot. Jaśmina Jurecka

Więcej naszych przygód na www.sladamimarzen.pl oraz www.facebook.com/sladamimarzen